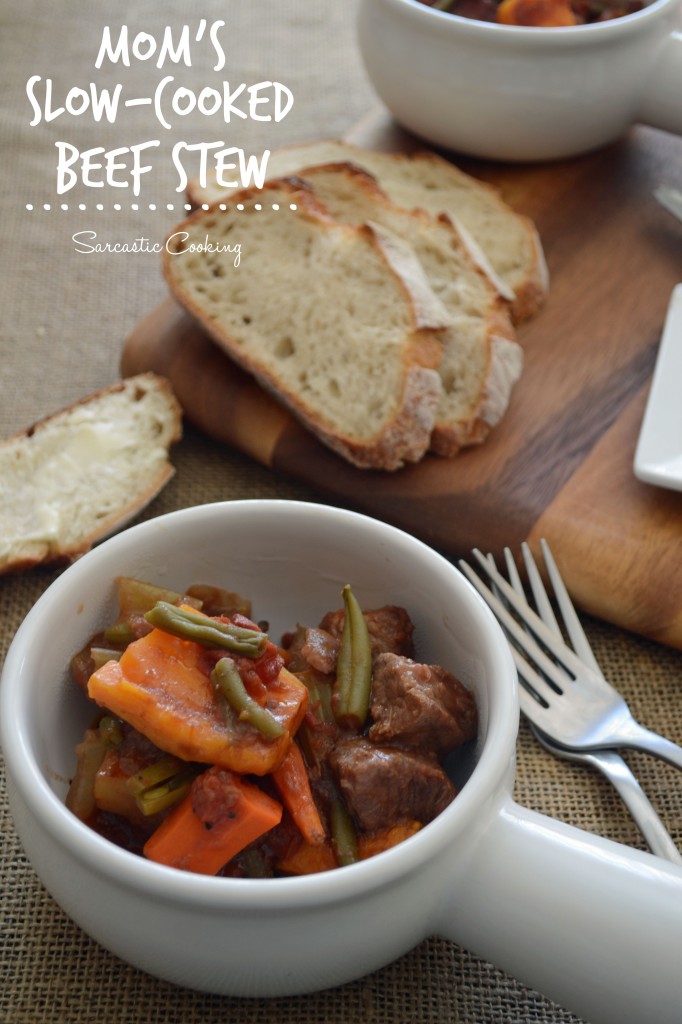 You guys! Real talk, this is one of my most favorite meals my mom makes ever! I am so excited she gave me the recipe to share with you. It is the perfect time of year for a good slow-cooked stew. It is just chilly enough where you can have your oven on for hours and not even care.
But, I mean with the smells coming from this cooking away in your oven, why would you care if your house was a little toastier than normal? Seriously!
Growing up, my mom would only make one dish of stew and it would feed all five us. However, as we got older, my poor mom would have to make two separate big dishes of this stew just to get through one dinner.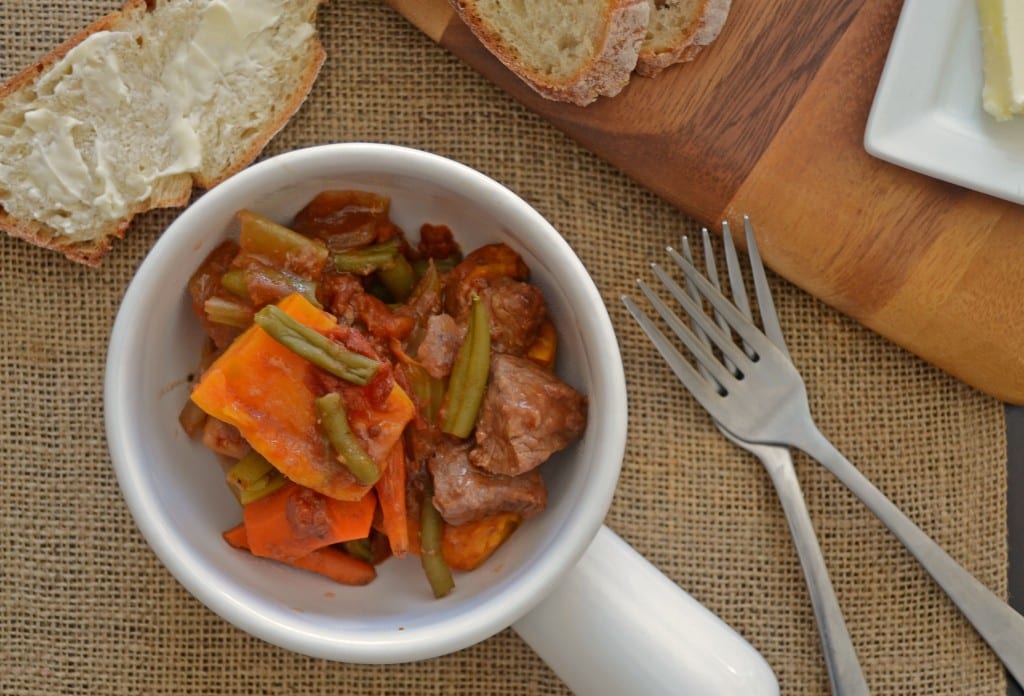 I mostly blame my brothers and dad for that. They would shovel down serving after serving of stew as if frickin' Goldie Locks was beating down their door trying to get her little hands on their food. Savages.
Ok, maybe I put a good dent in the stew too. I would do my share secretly though. I would come home from school and see the stew cooling on the stove. I would quietly peel back the foil. Let the steam clear, then pluck out a green bean or potato or two with my fingers, and shove it in my mouth quickly before my mom heard or saw me. I'd place the foil back on and go on my merry way. I may or may not have suffered a burnt finger or tongue in the process.
Well worth it though!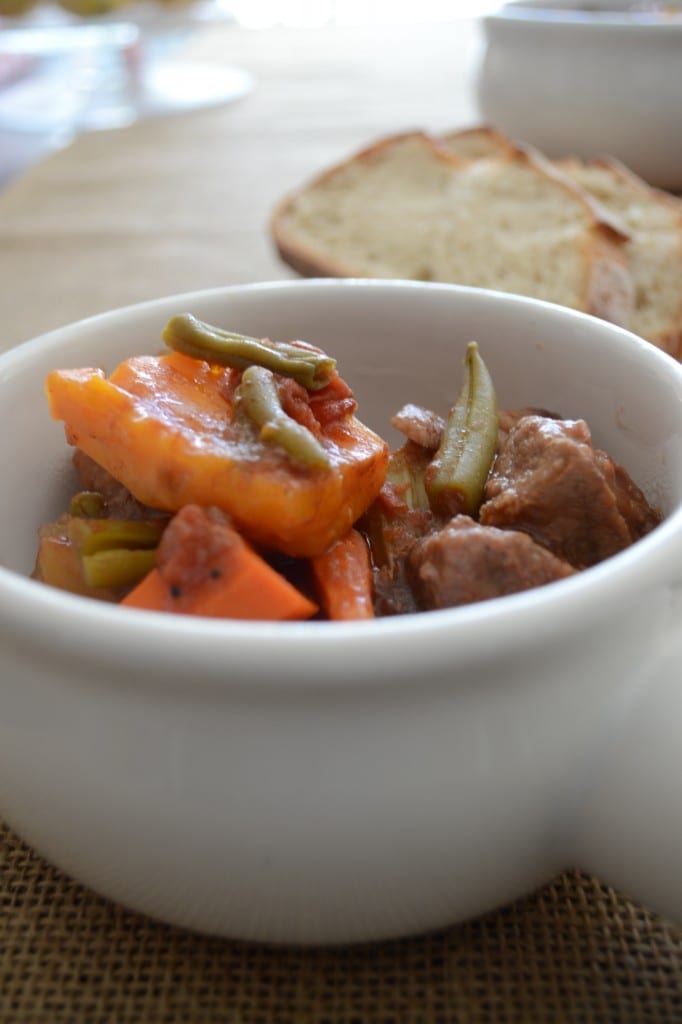 You know what is awesome about this stew? You just do some peeling, chopping, and measuring, then throw this baby in the oven, and let the oven do the rest. It is that easy! Plus it freezes and reheats like a dream. My mom always says it tastes even better the next day.
Oh! My second favorite thing about this meal is that we would always eat the stew with big seedy slices of rye bread and butter on the side. You know that for me, it's all about the carbs!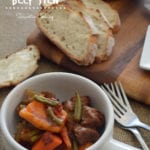 Mom's Slow-Cooked Beef Stew
Cook Time
3
hours
30
minutes
Total Time
3
hours
40
minutes
Ingredients
2

Pounds

Beef

round steak, stew meat, or tenderloin

6

Small Potatoes

peeled*

1

Yellow Onion

peeled and chopped

3

Carrots

peeled and sliced

3

Stalks Celery

chopped

2

Tablespoons

Cornstarch

1 14.5

oz

Can Crushed Tomatoes

1 13

oz

Can Tomato Sauce

1-2

Cups

Low-Sodium Beef Stock

1

Can Whole Green Beans

drained*

Salt and Pepper to Taste
Instructions
Preheat oven to 325 degrees F.

Add beef chunks to a large glass baking dish, preferably around 9x13-inches. Season the beef with salt, pepper, and corn starch. Toss to evenly coat.

Add the potatoes, carrots, celery, and onions to the dish. Arrange in one even layer as best you can.

Pour in the canned tomatoes, tomato sauce, and beef stock. Only use enough beef stock to cover the beef and vegetables.

Cover the dish with foil and bake in the oven for three hours.

After three hours, remove the dish from the oven, remove the foil, and add the green beans. Place the dish back in the oven for another thirty minutes.

Let the stew cool for ten minutes at least before serving. Dish will last up to four days in an airtight container stored in the refrigerator or up to a month if frozen.
Recipe Notes
*You can substitute peeled and chopped sweet potatoes and thawed frozen green beans if you like.