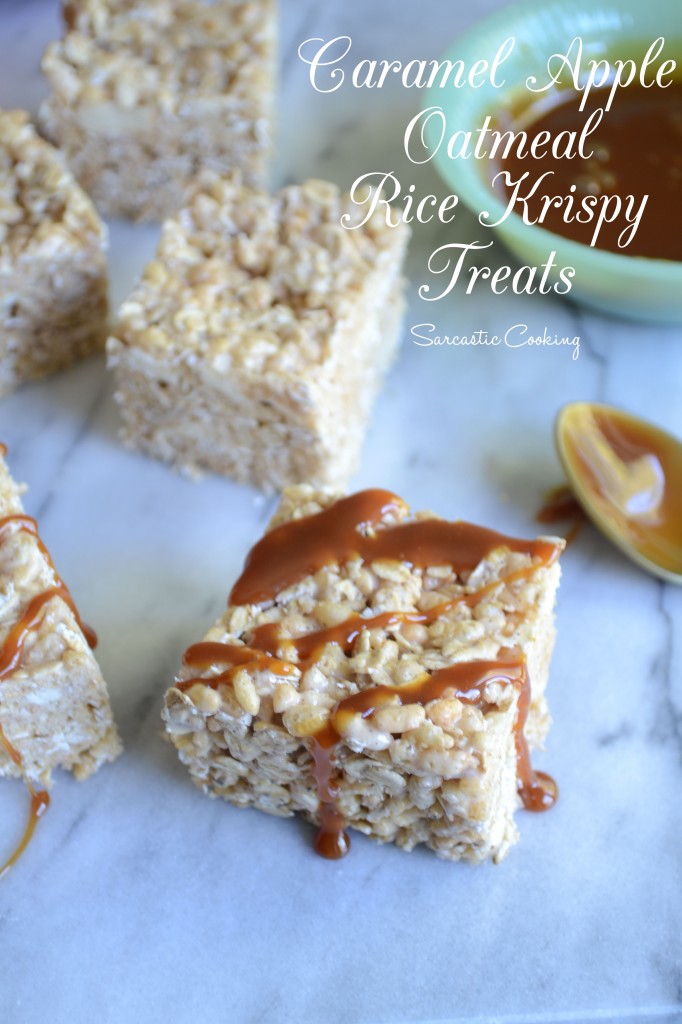 Can I confess something to you all? Too bad, I'm going to anyway. When I was younger, I never really liked Rice Krispies treats. I don't even remember my mom making them quite often, honestly. And, I am pretty sure my brothers didn't really like them either.
Maybe it had something to do with how sticky your fingers would get while you held the Rice Krispies treat. I don't know. Or maybe it had something to do with the fact that sweet and cereal were two things that did not go together in our house.
We were always the family with the plain, unsweetened cereal selections. Chex, Crispix, Cheerios, and Rice Krispies. Those were the cereals my mom bought and those were the cereals we ate. I don't recall asking my mom to buy any Lucky Charms or Froot Loops. I know all my friends loved those cereals. I know my husband would die and go to heaven if I came home with a box of Fruity Pebbles. But, I am just content with what I grew up on.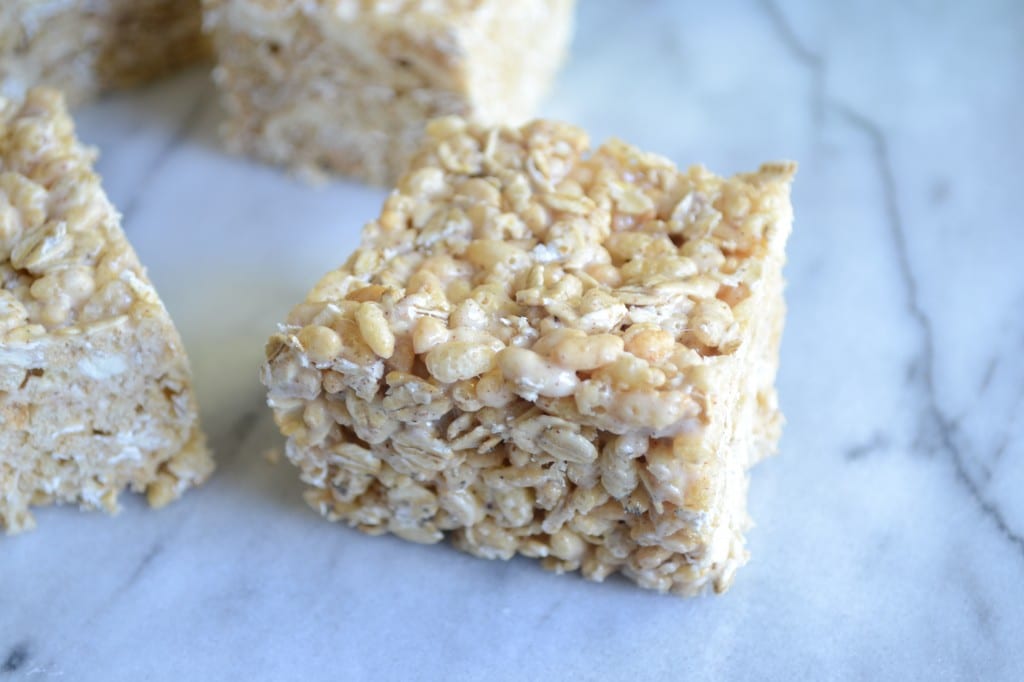 To this day I have never eaten a bowl of Lucky Charms, Coco Puffs, or Fruit Loops. Quite honestly, I don't really think I am missing anything. I know some of you sugar cereal lovers are going to give me flack for that statement. I am not trying to humblebrag and be like, "Oh, I was such a healthy child." Because trust me, we ate enough Pop Tarts and Toaster Streudel (yaaaahhhh) to balance out all the plain cereal.
It wasn't until recently when I discovered a love for this marshmallow coated treat. I think it had something to do with the addition of some adult flavors like apples, cinnamon, and salted caramel. Yep, that's what definitely did it for me.
So, I still may not eat sugary cereal, but I can get down with some gooey cereal treat bars for sure! Another thing I can for sure get down with is a big bowl of Raisin Bran. Yeah, apparently pregnancy has turned me into a 75 year-old man.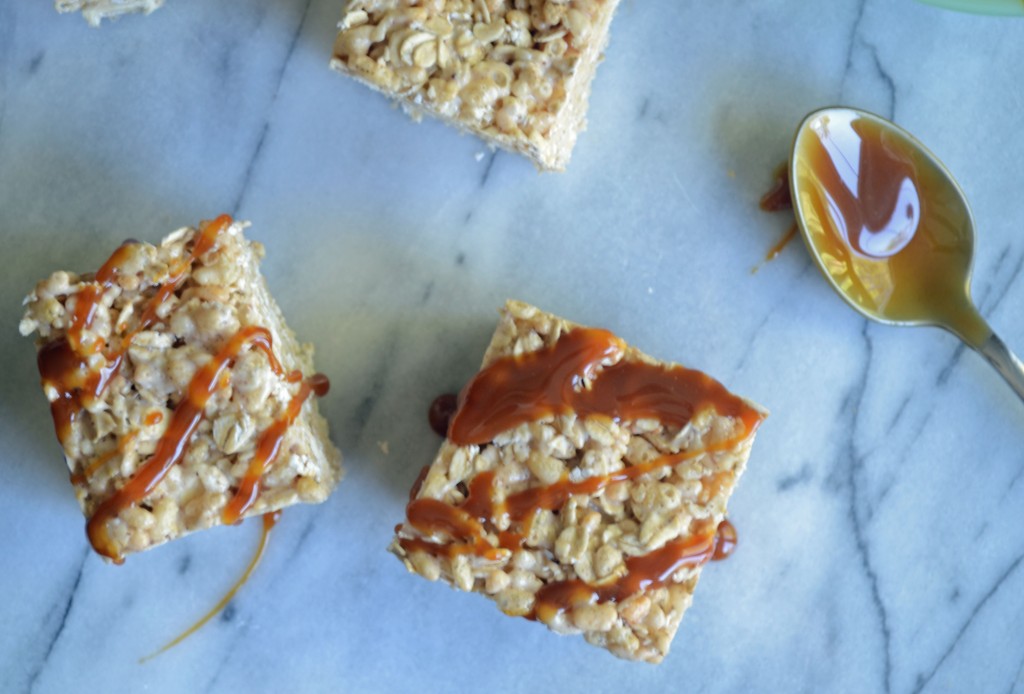 Caramel Apple Oatmeal Rice Krispy Treats
Author:
Prep time:
Cook time:
Total time:
Ingredients
10 Ounce Bag + 1 Cup Mini Marshmallows, about 5 cups total
2 Tablespoons Unsalted Butter
1 Teaspoon Vanilla Extract
1 Tablespoon Cinnamon
1 Teaspoon Nutmeg
1 1/2 Cup Diced Dried Apple
2 Cups Quick Cooking Oats
4 Cups Rice Krispies Cereal
Salted Caramel Sauce
Instructions
Add butter to a large saucepan. Melt the butter over medium heat. Add in the marshmallows. Stir until the marshmallows are completely melted. Remove pan from the heat and add in the vanilla, cinnamon, and nutmeg. Stir to evenly combine.
In a large mixing bowl, combine the apple, oats, and Rice Krispies. Stir to evenly distribute all the ingredients. Pour in the marshmallow mixture and carefully stir until every little bit is coated.
Butter a 8×8-inch baking pan. Spread a little butter on your hands too. It will allow you to pat down the mixture without it sticking to your hands. Press the mixture into the baking pan, making sure it is in every corner and the top is even.
Let the treats cool for fifteen minutes before slicing and topping with a salted caramel sauce.
Recipe from FoodieCrush.
Related posts: