Cheesy beef and quinoa taco bake starts with ground beef, bell pepper, and onions. Toss in some spices, a little enchilada sauce, and quinoa. Cover with cheese and finish in the oven for a quick weeknight meal.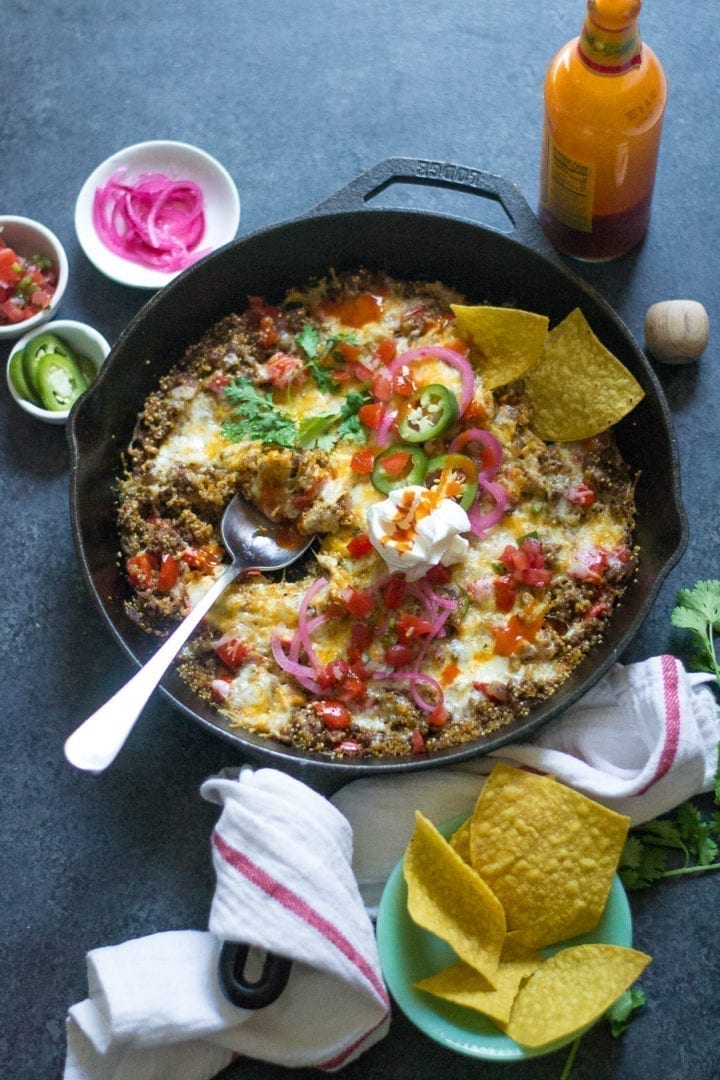 Ugh. Back to school, time is here, people.
Gone are the days of last minute take out orders because the kids were playing outside until the sun went down.
It is time to get back to a schedule for most parents out there.
Let me make at least one weeknight dinner a bit easier for you with this no brainer, one skillet dish.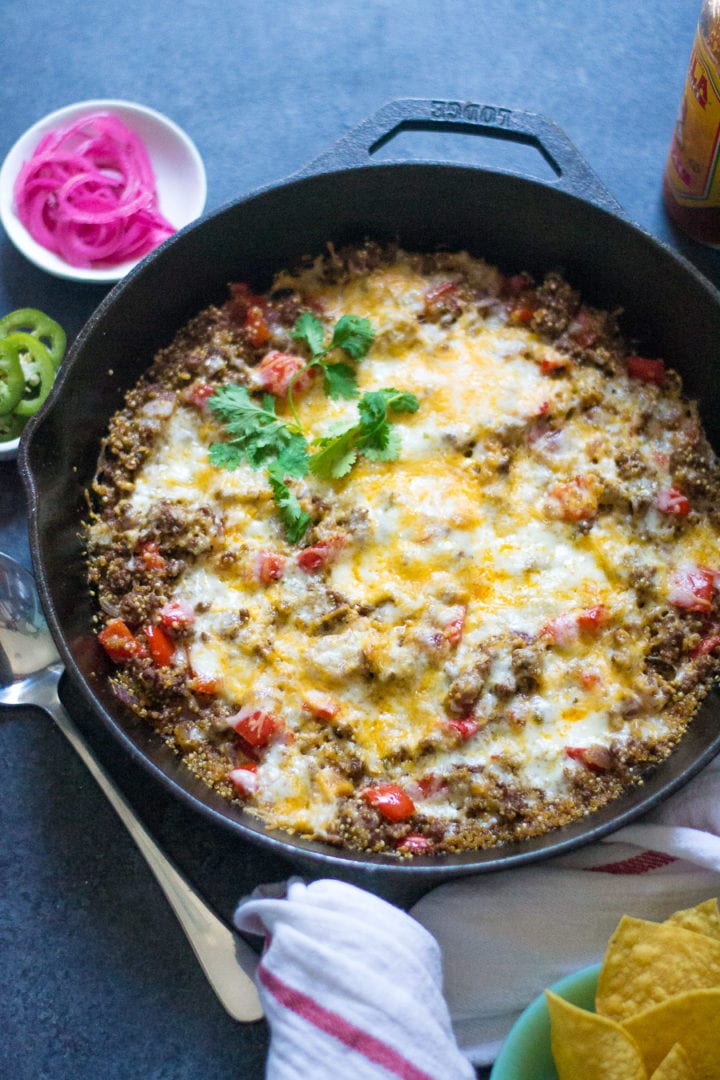 Taco Tuesday is our family jam!
I love tacos any day of the week to be honest, but I like to switch up the vehicle in which taco toppings enter my face.
Feel me?
It keeps things interesting.
My girl Serena is the queen of quinoa bakes. I also have a different bacon cheeseburger quinoa situation that is suited for the Instant Pot. Just in case, you want to skip the whole oven step.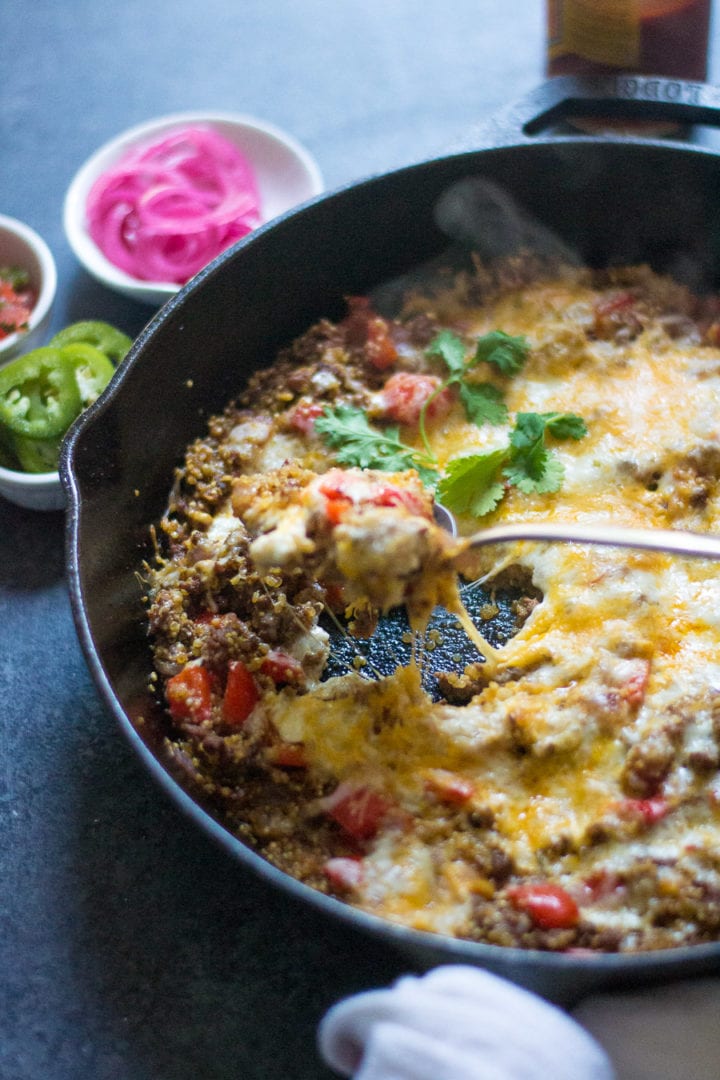 One pan or skillet (whichever you prefer) cheesy beef and quinoa taco bake cooks up in about 30 minutes.
Start off with sautéing beef, onion , and red bell pepper in an oven safe skillet. Mix in some chili powder, cayenne, cumin, salt, pepper, and garlic.
Add the quinoa to the pan, mix and toast it all up!
Mix in the red enchilada sauce and water. You could even use green enchilada sauce if you wanted.
Want more protein? Add some beans. Want a vegetarian friendly option? Use ground soyrizo instead of ground beef.
After the quinoa simmers away for about 10 minutes, remove from heat, cover with cheese, and bake in the oven until the cheese melts, the quinoa is fully cooked, and the edges get nice and crispy.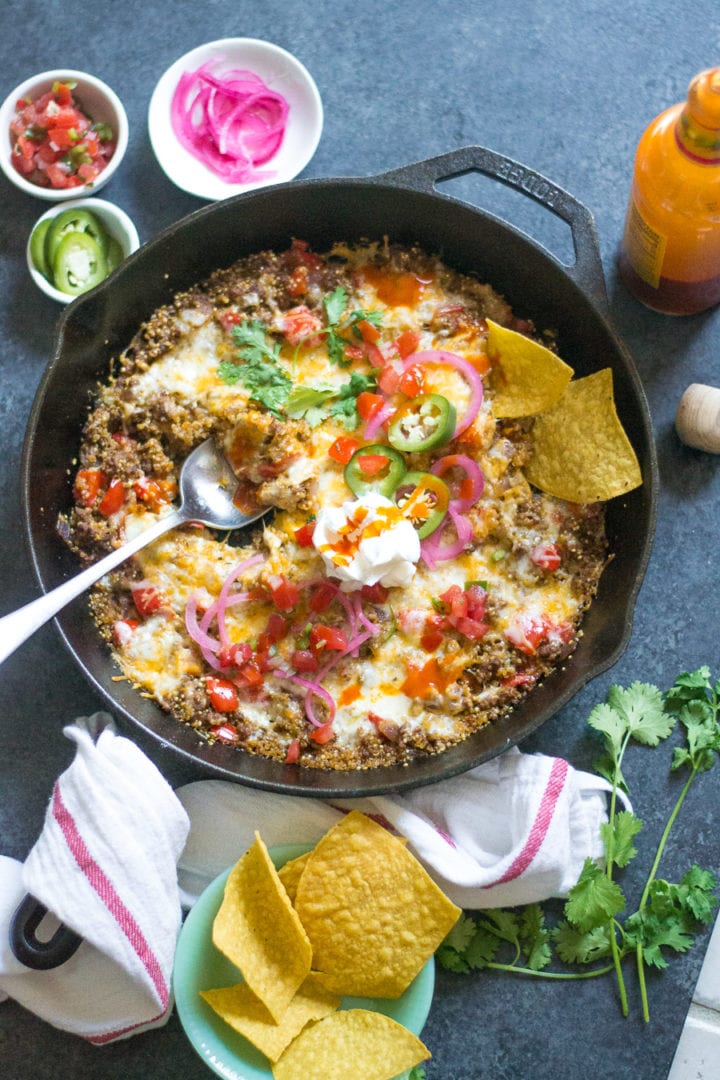 I love a quick and tasty dish like this any night of the week.
One dinner down, now all that is left to do is maybe get around to ordering school supplies.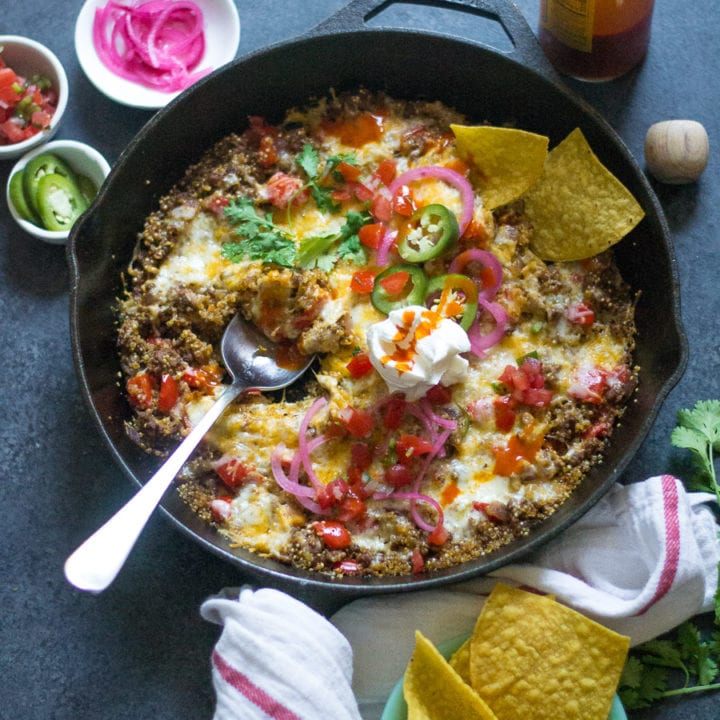 Cheesy Beef and Quinoa Taco Bake
Yield: Serves 4

Prep Time: 5 minutes

Cook Time: 30 minutes

Total Time: 35 minutes

One skillet filled with ground beef, red onion, bell pepper, quinoa, and spices all baked up and covered in cheese.
Ingredients
1 tbsp avocado oil or extra-virgin olive oil
1 red bell pepper, diced
1/2 cup diced red onion
1lb lean ground beef
1 tsp salt
1/2 tsp garlic powder
1 tbsp chili powder
1/4 - 1/2 tsp cayenne pepper
1/2 tsp ground cumin
1 cup dried quinoa
1 cup water
1/2 cup red or green enchilada sauce
4 oz pepperjack cheese, shredded
1 cup shredded Mexican blend cheese
Instructions
Heat a large cast iron skillet or oven-safe frying pan over a medium heat. Add the oil, swirl to coat, and allow the oil to heat through for 1-2 minutes.
Add the beef, red onion, and bell peppers. Sauté, while using a wooden spatula to break apart the beef for about 7 minutes.
Once the beef is cooked through, add the spices. Mix to combine.
Stir in the quinoa and toast for about 3 minutes.
Preheat the oven to 375 degrees F.
Reduce the heat to low and add the water and enchilada sauce. Mix to combine. Cover with a lid and simmer over low for about 10 minutes.
Remove from heat and remove the lid. Cover the top with cheese and bake for about 12-15 minutes until cheese is melted and the edges are crisp.
Carefully remove from oven and top with sour cream, cilantro, pico, salsa, gauc, or whatever you like!
Notes
Add in black beans for extra protein or use soyrizo instead for a meatless version.
Recommended Products
As an Amazon Associate and member of other affiliate programs, I earn from qualifying purchases.