A while ago a dear friend of mine asked me, via a group text message with our other BFF, if I had a basic mac and cheese recipe. Being the wealth of food knowledge that I am, I said I didn't have one on the blog, but I could spout off a basic recipe if she wanted it.
My other friend recommended she Google a recipe for mac and cheese. Umm… Excuse me?
Being a food blogger who kind of depends upon lovely people like you all visiting my site for my livelihood, hearing one of my friends tell another friend to Google a recipe instead of referencing my blog, was like a slap in the face. Well, maybe not that dramatic, but you get the gist.
Later my dear Google loving friend and I got into a discussion about this debacle. No hard feelings, just laughs, don't worry. She told me that she clearly already searched my site for a plain mac and cheese recipe to make for her one-year-old daughter, but didn't find one. And, I highly doubt her daughter or any one-year-old for that matter, would like Cider Mac and Cheese or Chorizo Mac and Cheese.
We then went on a tangent about how I was going to be a mom and I didn't even have a plain mac and cheese recipe on my site. How is that possible? I know how much all my sister-in-laws depend upon mac and cheese to feed my gaggle of nieces and nephews. As a future mother, I had to correct this wrong and share with you a fellow blogger's recipe for the best, easiest, stove-top mac and cheese.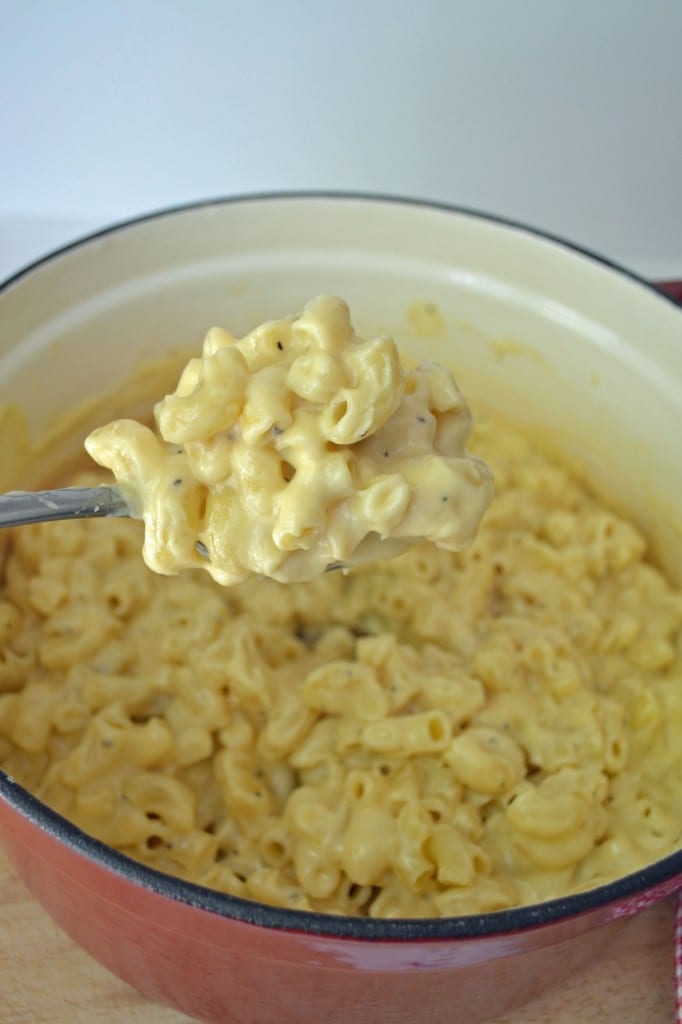 So, now, nobody can complain about there being no traditional mac and cheese recipe on this site and be forced to use Google.
Take that, Google!
Come join Mac and Cheese Mania at Nutmeg Nanny andRachel Cooks sponsored by Door to Door Organics and OXO!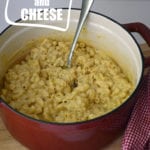 Traditional Mac and Cheese
Ingredients
1

Pound

Dry Small Pasta

macaroni/elbow noodles

1

Stick

1/2 Cup Unsalted Butter

½

Cup

All-Purpose Flour

1

Teaspoon

Salt

½

Teaspoon

Black Pepper

2

Cups

Milk

skim

2

Cups

Shredded Cheddar Cheese

mild/medium/sharp
Instructions
Bring a large pot of heavily salted water to a boil. Drop the pasta into the boiling water and cook according to package directions. When al dente, drain pasta and set off to the side.

In a large pot/Dutch oven, melt the butter over medium heat. Once melted, whisk in flour, salt, and pepper. Cook the roux for 4 minutes, whisking occasionally, until the roux turns slightly golden in color.

While whisking, slowly pour in the milk. Whisk occasionally to eliminate any lumps. Cook for 2 minutes.

Add the shredded cheese to the sauce, stir until melted and combined.

Add the cooked pasta to the pot. Stir to evenly coat all the noodles. Serve right away!

Note: This is a very rich/thick sauce recipe. If you want to thin it out add more milk. Also, if you want to cut the fat content, you can cut the butter and flour in half and the recipe will still work.
Recipe from Picky Palate