Today, I have a rarely heard from person around these blog parts taking a part in my post, my husband Mike. He wanted to make a sort of rebuttal to yesterday's post about how tough it is being married to a "guy's guy." I don't think there was anything wrong with it but, here he goes…
How to live with a girly-girl (nail-polish-purse-obsessed-reality-tv-junkie)
It's really hard not to glorify bachelor life.  It's a simple world, and I sure loved it.  You eat whatever you want, you watch ESPN 75% of the time, and get to keep the house only as clean as you see fit.  Your buddies come over, you hang out, maybe even play video games (what says "easy life" more than playing video games?), and you just don't have anyone to impress 90% of the time. You also don't have to do laundry until you're tired of going to Target for clean new black socks for work (every bachelor has an endless supply of t-shirts and underwear, so it's really just socks that ever run out, I found).
Things change in marriage, or when you move in with a girl.  Men and women may very well be from different planets.  So Stefanie says I'm a "guy's guy."  Well, whatever that means…
But for anyone who is either taking a similar plunge or knows someone who is, here is my "how to transition from bachelor life to true domestic life."
Be ready for the favor adjustment: Marriage is about cooperation and compromise, but sometimes just downright kindness.  Do her a favor, whether prompted or not, but be ready for the audible.  She'll ask for a glass of water, so you'll fill it up from the Brita filter in the fridge, and then she'll ask for tap water with an ice cube because "cold water hurts my throat" (no, I don't get it either). Just adjust the favor.  Trust me, she appreciates it.
Aim her away from the Target: Don't let her go to Target alone, at least not with the joint checking account.  There are things there a man could never dream of needing, but things a woman could never dream of being without. She's lying to you and herself when she says she just needs paper towels and toilet paper. She can get those anywhere.  That's not why she's going to Target. If you do allow her in a Target, check her car, bags, and receipts for secret nail polish or kitchen wares.  Trust me, she's got 'em somewhere.
Plan ahead: Plans can no longer materialize as the weekend approaches.  Think in full weeks, weekends, and months, not just by week and weekend.  You can't just "see what's happening this weekend."  You have to know what's happening next weekend and weigh it against all the other potential plans that you've collected together and considered.  It doesn't mean that you'll never be spontaneous again, but it does mean that your spontaneity will come in the form of abandoning exciting plans to watch Sex and the City reruns on the couch, rather than "seeing what's happening this weekend."
Hide the Disney movies: At the very least, don't let her watch
Up!

or

Wall-E

alone.  It means, to her, that you don't care about her and you'll never be there to protect her when she needs you the most.
Get used to it: Because for all of the greasy double bacon cheeseburgers and pepperoni pizza deliveries, there are buffalo turkey burgers and breakfast pizzas.  You will have MUCH nicer stuff (I have fake lemons on my kitchen table, for cryin' out loud), your house will be not just livable, but clean (even if it comes as the product of a constant nagging), and you'll know that it's the kind of home life you really want, deep down, but could just never manage without your alien partner.
Sure, she'll make you eat vegetables…a lot.  She'll even find your least favorite and try to sneak them into your dinner.  But it's worth it.  Just look at that zucchini!
Ingredients (Serves 4-8)
1 Small/Medium Zucchini, sliced into 8-10 ½ inch thick slices
½ Cup Hummus
Whole Grain Demi-Baguette, sliced into 8-10 1-inch thick slices
4 Chives, chopped
For the Zucchini Marinade:
1 Tablespoon Balsamic Vinegar
1/3 Cup Olive Oil
½ Teaspoon Salt
¼ Teaspoon Pepper
1 Tablespoon Italian Seasoning
1 Clove Garlic, grated

Slice the zucchini and baguette. Set off to the side while you make the marinade.
Using a whisk; combine the balsamic vinegar, olive oil, salt, pepper, Italian seasoning, and garlic in a small mixing bowl. Arrange the sliced zucchini on a deep dish or in a large bowl and pour the marinade on top. Give them a good toss with your hands to make sure they are all evenly coated.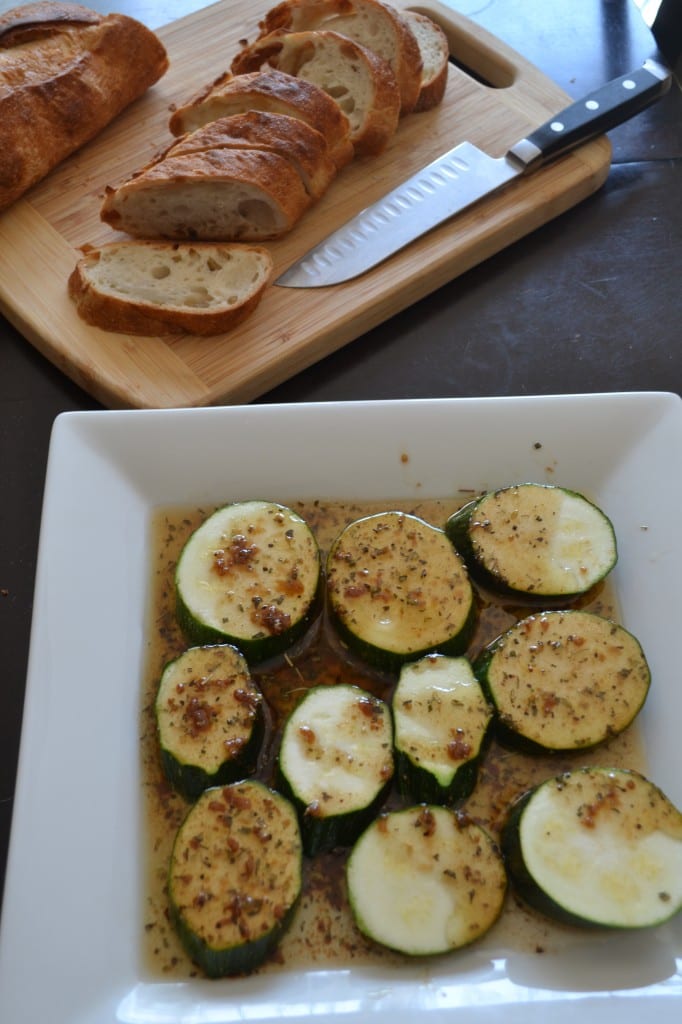 Heat your grill or grill pan over medium heat. In order to get good grill marks, grill each slice of zucchini for about five minutes per side.
The last three minutes of grilling, add the bread, and grill until toasty and slightly golden on the edges.
After the bread and zucchini are grilled, begin assembling your crostini. Place a heaping teaspoon of hummus on each piece of bread, gently nestle a slice of grilled zucchini into the hummus, and then sprinkle some chopped chives on top.
Serve and eat right away once assembled, otherwise it gets kind of soggy and cold.