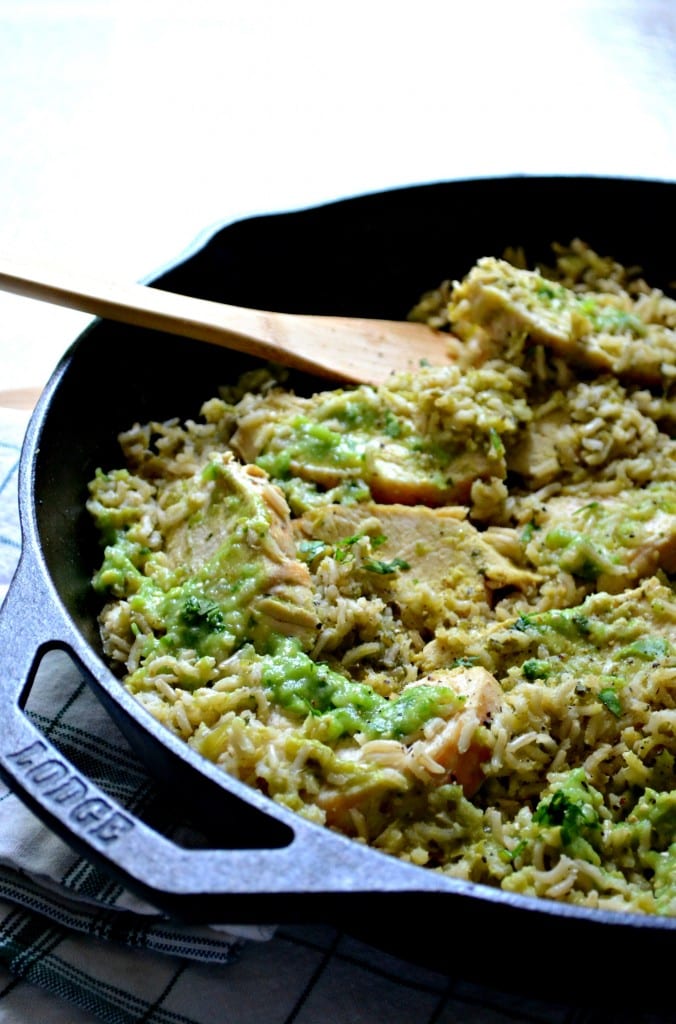 This is my least favorite time of year. Summer is over, technically. Mike is back in school and football season has started. However, the 80 degree weather we have been having says, "Hey, guys I'm still here!" Oh, that was summer shouting by the way.
I went shopping with my mom last weekend and fall clothes were everywhere! On one hand, I was super excited for the return of layers and covered up jiggly arm fat. My own arm fat of course. On the other hand, I was kind of pissed. All these cute clothes are out now, when I am still sweating my butt off every single day. But, when the season of fall actually begins, all these cool clothes will be gone. Ugh!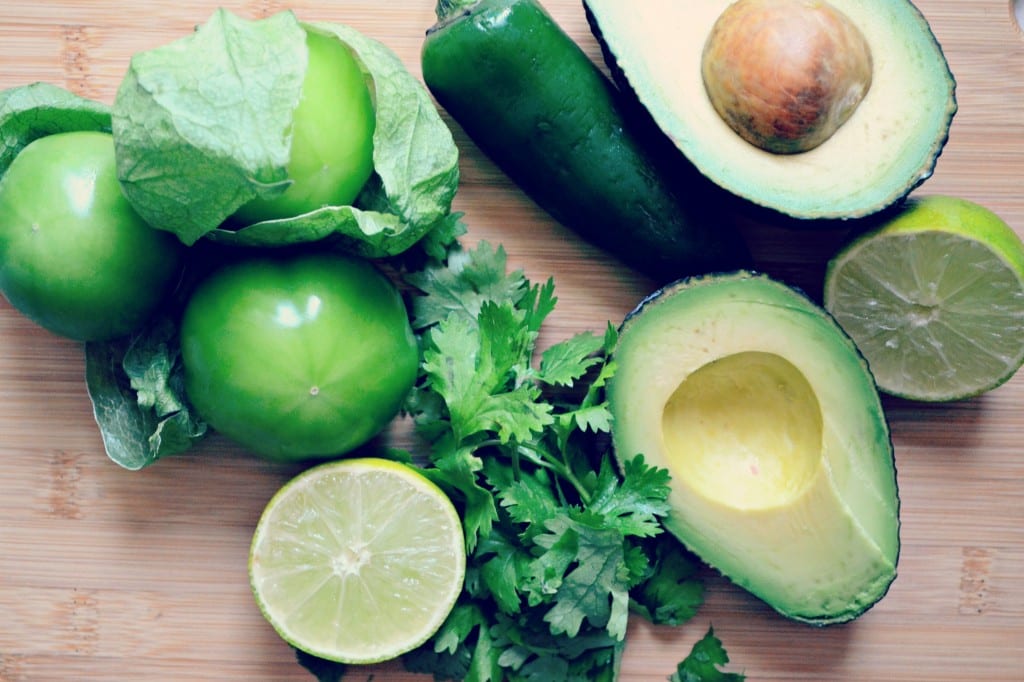 It is a lose-lose, people!
I cannot justify purchasing a whole new fall wardrobe, let alone a single scarf when the rainstorms that are supposed to cool off the Midwest are actually just making it hotter. Talk about a delayed summer. I guess I will try and have restraint and wait until at least the end of September to binge shop.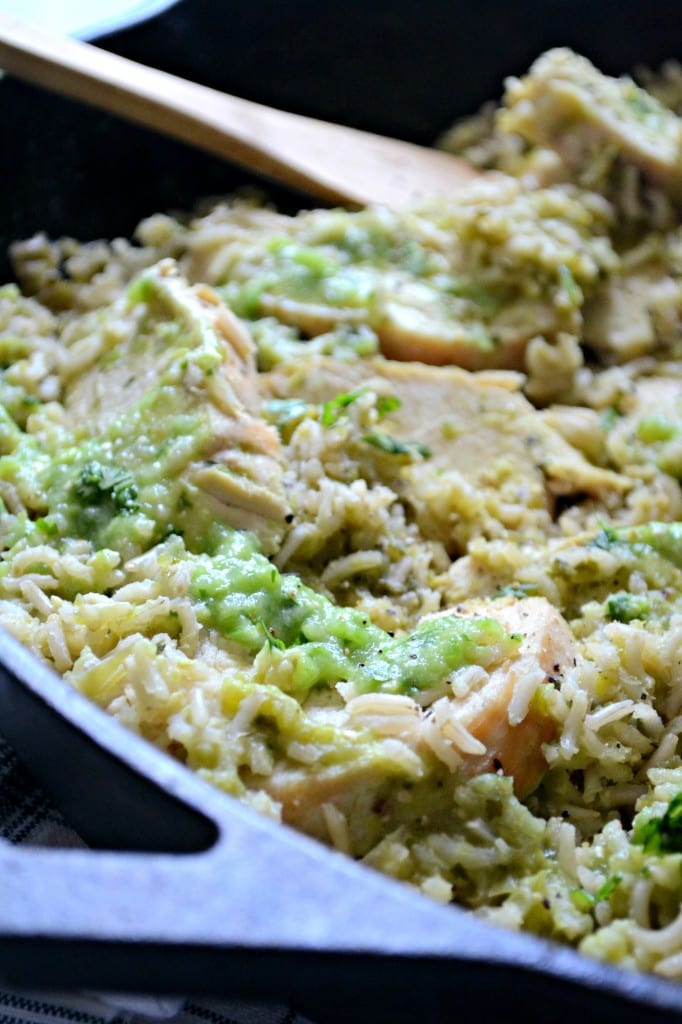 Oh man, and don't even get me started about the pumpkin people. Should we all just put our Christmas trees up now too? Ok, sorry, that was a little too grouchy. I am just so conflicted.
It is still summer!!! Or is it?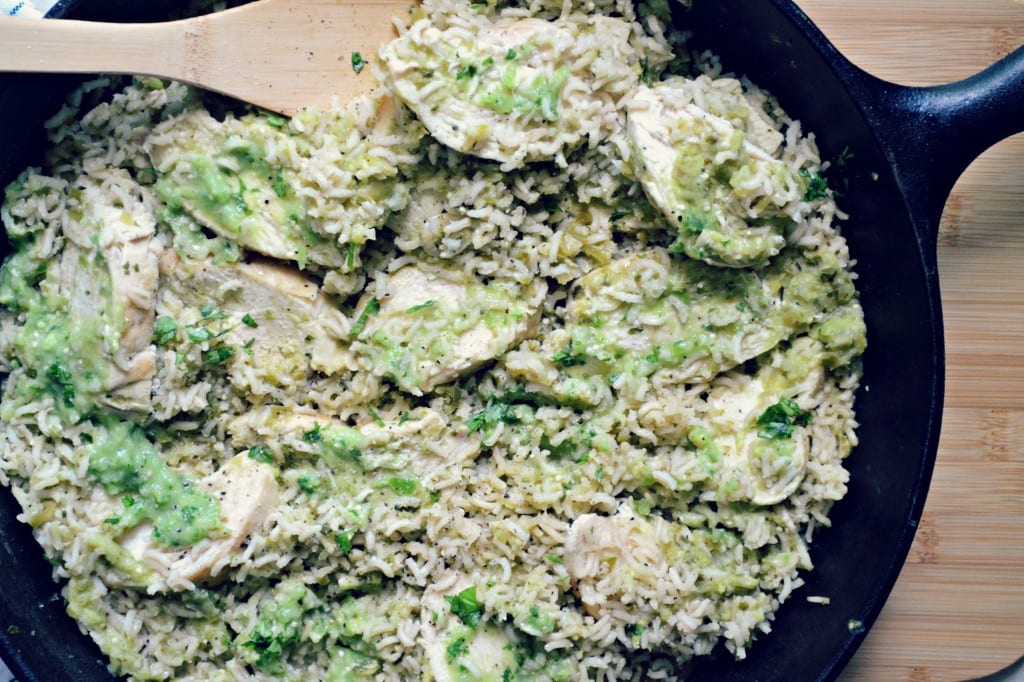 This meal is the perfect dish for any time of year. It doesn't discriminate. Plus the fact that it is all in one pot will make your seasonally confused life so much easier. Hopefully.
One Pot Meal: Green Chicken and Rice
A delicious salsa verde chicken and rice all made in one pot!
Ingredients
For the Green Sauce:

½

Avocado

3

Tomatillos

chopped

1

Jalapeno

seeded and chopped

1

Clove

Garlic

chopped

Handful of Fresh Cilantro

Pinch

of Salt

Pinch

of Pepper

Juice of 1 Lime

¼

Cup

Water

For the Main Dish:

1

Tablespoon

Olive Oil

2

Large Boneless Skinless Chicken Breasts

1

Teaspoon

Salt

½

Teaspoon

Black Pepper

½

Teaspoon

Cumin

1

Cup

Brown Rice

2

Cups

Low Sodium Chicken Stock
Instructions
To make the sauce, add all of the ingredients to a food processor or blender and puree until smooth. Set off to the side for later.

Add olive oil to a large heavy-bottomed skillet and heat for a minute or two over medium/high heat. Season chicken breasts with salt, pepper, and cumin. Add to the skillet and cook for 5-7 minutes on each side. Once golden on the outside, remove from the pan and set on a plate off to the side.

Reduce heat to low. Add the chicken stock. Bring to a simmer while stirring up the bits of chicken from the bottom of the pan using a spoon/spatula. Add the rice and cover with a lid. Simmer on low for 20 minutes or as long as the instructions on the packaging of rice direct.

Add the chicken back in just before the final five minutes. Cover with a lid. Once the rice is tender, fluff with a fork. Stir in the sauce and serve right away.