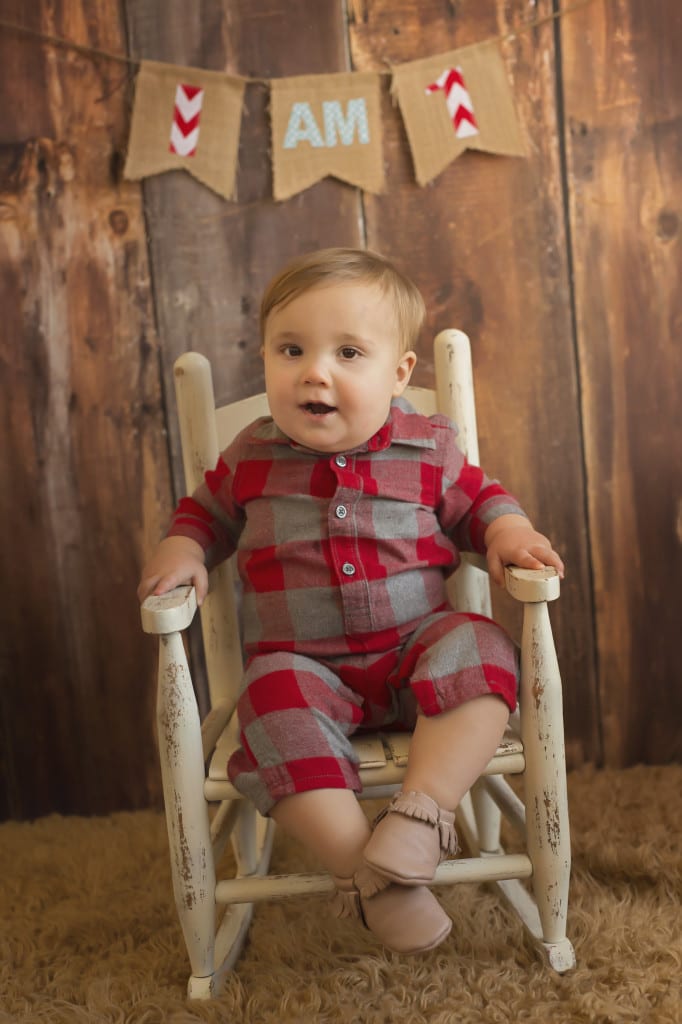 Is it weird that I still look at Andy and ask myself the question, "Are you real?" Probably, but I do it on a daily basis. Andy dances to a hip hop song, he uses a fork the right way, he starts walking using his little old man walker… These are all instances where my heart just fills with joy and I start asking myself, "Is this real life?" Before we go any further, I need to apologize for my lengthy, wordy, gushy post.
On this day one year ago, I was packing up my bags, putting the JJ Cole Bundle Me on the carseat (freaking out at Mike because we always do everything last minute), and feeling every feeling known to mankind all at once as we got ready to head to the hospital. I seriously felt excited and terrified, nervous and terrified, calm yet terrified. See the trend?
Aside from the time being pushed back a jillion times, Andy was brought into our lives at 1:30pm. The first words out of my mouth when they showed him to me over the curtain was, "Oh! He's cute!" I totally wish I would have said something like, "Oh. He looks so smart." But, it is what it is.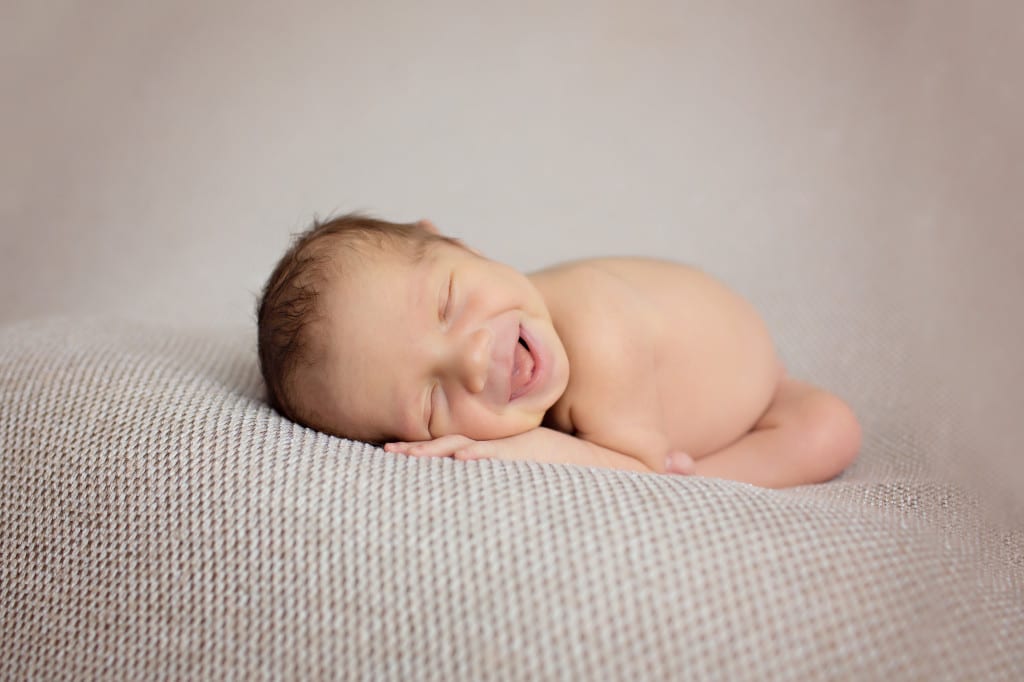 But, man, I was right!
He is suuuuper cute. So cute, in fact, that he knows it and uses this to his advantage to get out of trouble. Yep, already. I am raising a troublemaker of the first degree. I blame Mike.
Before Andy was even here, I did what all moms do. I came up with an idea of what kind of mom I would be once he was here. For all you future/soon-to-be moms out there, keep in mind that everything you say you don't want to be or do, you will, guaranteed!
Here are some of the many things I said I would never do as a parent.
I would never let my kid watch TV.
I would never breastfeed.
I would never give my kid formula.
I would never buy baby food.
I would never buy those little baby food pouches.
I would never give my kid mac and cheese.
I would never let my kid cry it out.
I would never give my baby a pacifier.
Yeah, the list goes on. I have done every single one of those things since Andy was born. The important thing is, when you do something that goes against your preggo-code, and trust me you will, don't feel bad about it. Each kid is different and you have to do what you have to do. Mom's gut is never wrong. No matter how many times I have second guessed myself and did way too much research, everything turned out ok in the end.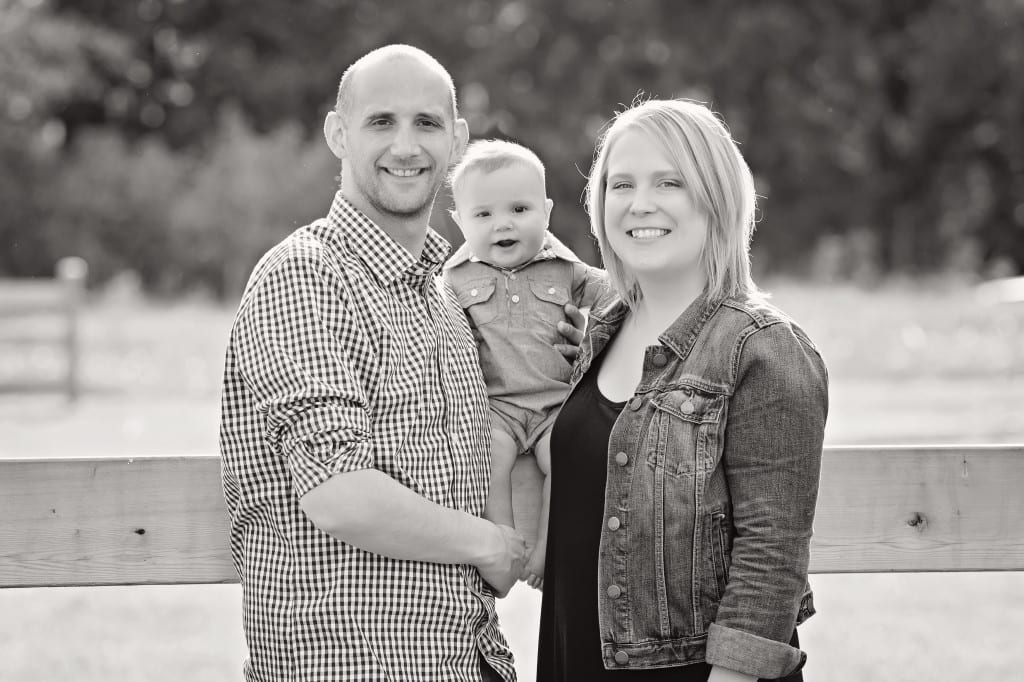 I mean, look at Andy. Yeah he is slightly temperamental and has his moments, but generally speaking he is a pretty happy and playful kid. One year of change and development and I still feel like I did on the day he was born. That moment of him over the curtain still plays in my mind and I am sure, God willing, it will replay when he goes off to school, graduates, gets married, etc, etc.
Getting pregnant and having a baby is such a precious miracle in itself, so no matter how annoyed I get that Andy won't sleep or keeps flipping Weezer's water bowl over, I just think, some people would kill to have those feelings towards a lil one. Each day is different, and challenging, and super awesome all at once. I look forward to year two with my lil gentleman.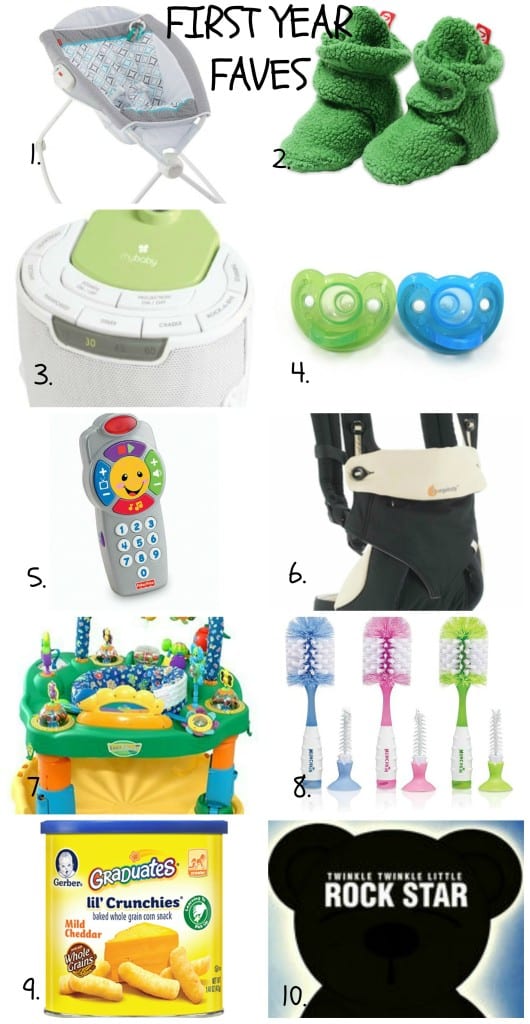 Ok, so this my little list of things to get you through the first year along with little tidbits of my sage advice.
Fisher-Price® Rock 'n Play: Andy slept and napped in this for the first one, almost two months of his life. It was convenient for sleepovers and fit perfectly in our small bedroom.
Zutano Fleece Booties: I still haven't found a sock that stays on Andy's foot. Problem solved, booties! Andy was born in a snowstorm and newborns really don't wear shoes, so I was left with a conundrum. They adjust when your baby's foot gets bigger too.
myBaby Soundspa Lullaby Sound Machine and Projector: Once you start having your babe fall asleep on his own, this lullaby and light projector will come in handy to keep them calm as they settle into their crib. Andy has slept with this for the past three months.
GumDrop Pacifiers: Now, I didn't want to be a pacifier person, but if it keeps them calm, go for it! These were curved and still had that soft, gummy feel that Andy liked from the hospital issued pacifiers. Buy them in bulk; they disappear like socks in the dryer.
Fisher-Price Laugh and Learn Click'n Learn Remote: We like to call this guy, "Motey." He has been Andy's favorite toy since he could see six inches past his face. The flashing light, volume control, and the songs all entrance him and keep him occupied during car rides.
Ergobaby 360: This is kind of on the expensive side, but it is so worth it! From 3 months to 6 months, Andy only wanted to be carried during his fussy periods. Sometimes you want to clean, do laundry, or microwave some food and this carrier helps you carry on while carrying baby. I started using it again recently with the side and back carry so I could make dinner without Andy freaking out.
Evenflo ExerSaucer: Register for this! I did not listen to so many people and kept these big items off the baby registry. I fought my in-laws when they dropped this at my door. Boy was I wrong. Andy used this for a good five months. He would play with the things on the top and then bounce his brains off and be HAPPY the whole time!
Munchkin Deluxe Bottle Brush: We don't have a dishwasher so we wash A LOT of bottles. This brush gets used three or four times a day! It is great. It also cleans wine glasses very nicely too. Just sayin!
Gerber Lil Crunchies: Once we started to be brave enough to take Andy to restaurants, these puffs, maybe six or seven, would be just enough to hold him over until we ordered and gave him his food. He still east them occasionally for a post-nap snack.
Twinkle Twinkle Little Rock Star: Andy loves music. Since birth we have played him the Twinkle Twinkle Little Rock Star lullabies. The songs eventually turn into a fun guessing game of "name this song" between mom and dad. They have tons of music on Spotify.
Thank you to all of you for offering words of advice, for saying the baby food I make for Andy looks good enough that you would eat it, for staring at tons of baby pics on Instagram, and most often just listening to me vent through this adventure of a year. Love you all!
Related posts: