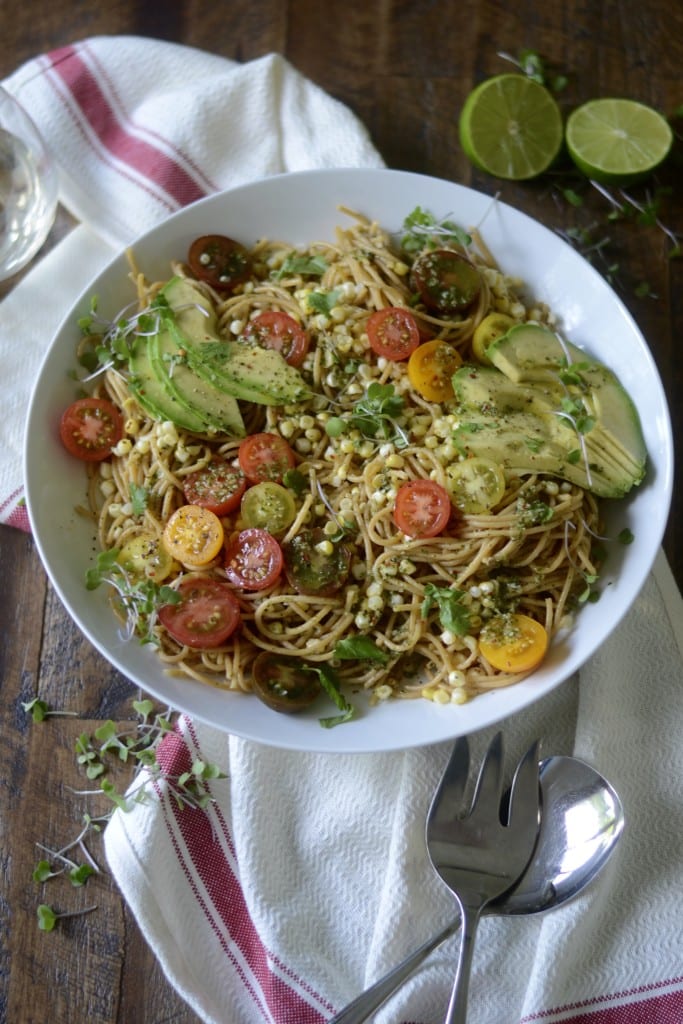 Holy moly (in Andy's words). What a long ass recipe title and what a weekend. If you followed along on Snapchat and Instagram, you know what I am talking about. If not, ummm, why aren't you following along on, like, the one weekend a year I go out with my gal pals???? I understand. I am sure you live a more exciting life than me so you didn't want to see all the over drinking and over eating I did all weekend long in my beautiful Chi town. (Recap post coming soon).
All good things must come to an end though. I am back home, reunited with all my boys. I came home to a semblance of order and normalcy. The house wasn't a total mess, so that's a plus. But, I did get back and demand a nap during the kids nap time. I also demanded a 15 minute drive to pick up a Lou Malnati's pizza. After the weekend of solo parenting, Mike let me have the nap but put his foot down to the idea of him driving with both kids to go get me a pizza.
Sigh, a girl can dream, right?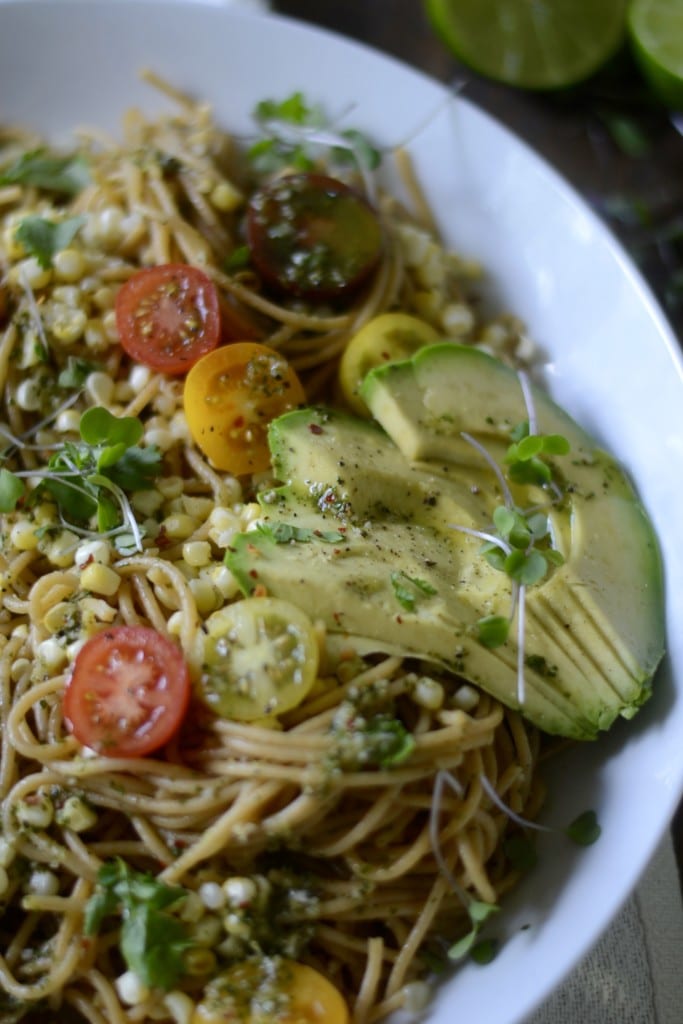 I looked at my unpacked suitcase with a feeling of disgust and then went to put my hair in a pony (goodbye lovely blowout), pop on some sweatpants, and just give in to the lazy Sunday night vibes. All of a sudden I got a text from my Mom. "Hey wanna meet me and your father at said Mexican restaurant?"
Hmmm…
Sweatpants and an unwashed ponytail are awesome. So that's one point towards staying home. Not cooking or having to do laundry right now… YES! That is the tipping point. We are going to meet you! I really didn't feel like leaving the house but I reeeeeeeally didn't want to figure out dinner or start the laundry. Plus, having my parents there to visit and help with the kiddos is a triple plus. We headed out for a lil Mexican dinner and Sunday funday. Heck yeah, I will continue my girls weekend shenanigans for another day!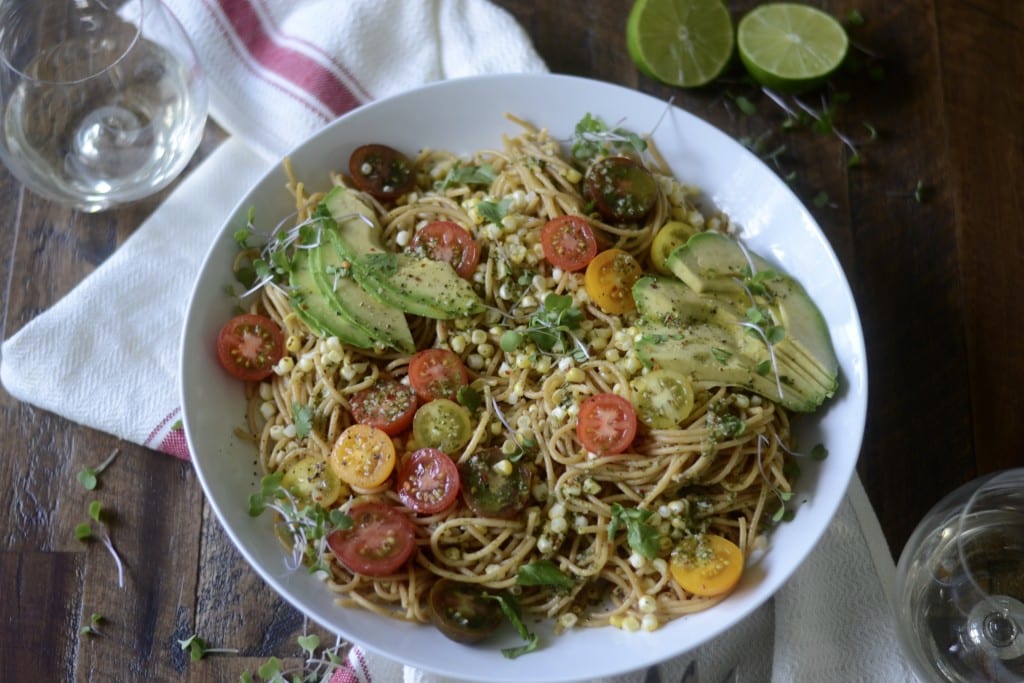 I was brought back to reality by a bad, quick onset, diaper rash and a looming bed time for the other child. #putthatdrinkdownyoureamom
We get back home. Get small boy fed, furry male dog fed, and larger boy child's diaper rash under control. Mike offers to put my laundry in the washing machine if I do bedtime.
Fast forward to 9:45pm.
Clearly I should have taken the laundry option.
I think I am still foggy minded from the weekend. I apologize for not thinking far enough in advance to either have written this post before I left or have more frame of mind currently to come up with a transition to the recipe below.
Enjoy the recipe.
Sarcastic cook, signing off!
Avocado, Charred Corn, and Heirloom Tomato Pasta with Cilantro-Chile-Lime Sauce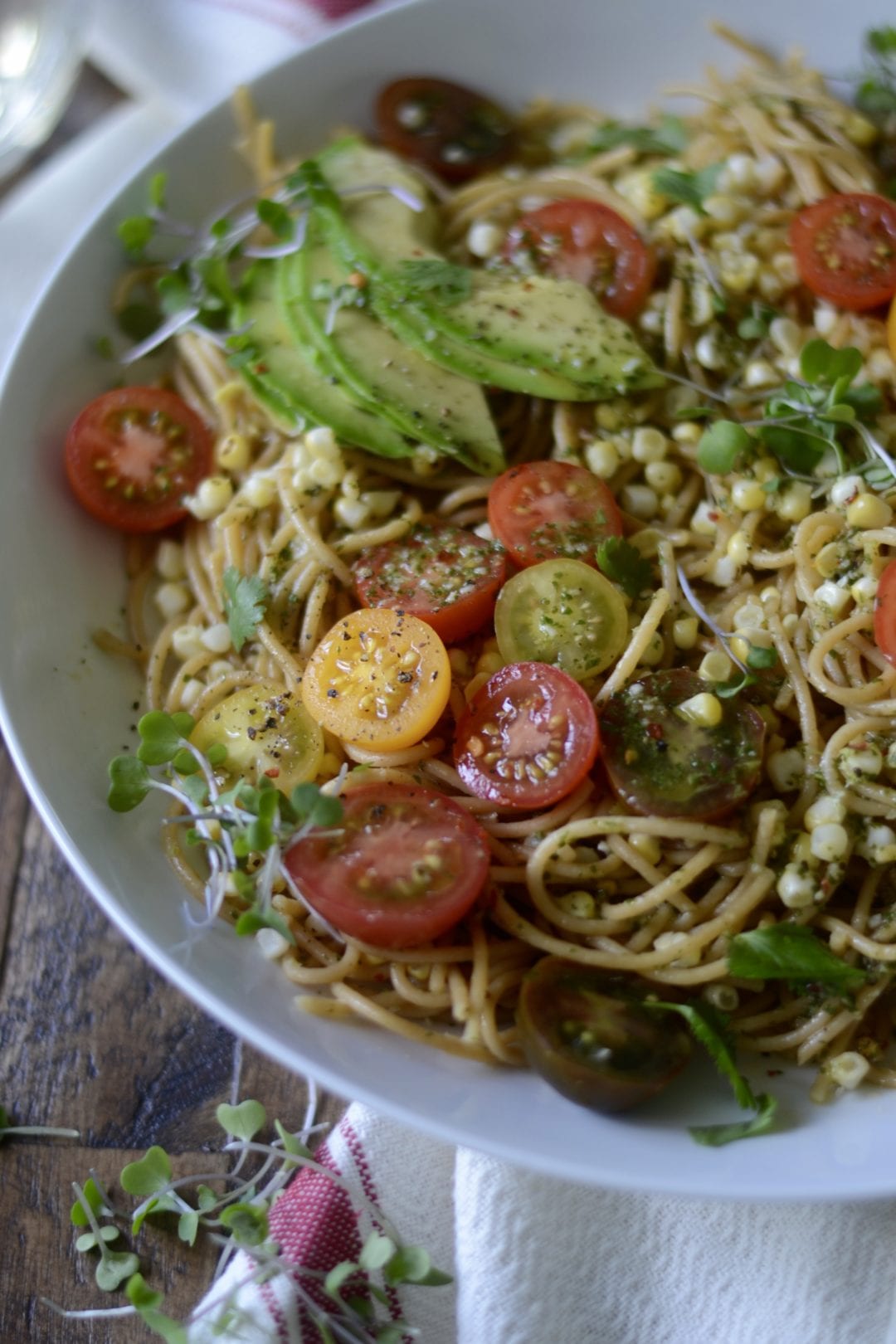 A summery, Mexican, vegetarian pasta. Cilantro-Cile-Lime Pasta sauce coated noodles served with charred corn, sliced avocado, and mini heirloom tomatoes.
Yields: 4-6 Servings
For the Sauce:
Small Handful Fresh Cilantro
1/2 Cup Extra Virgin Olive Oil
Juice 1 1/2 Limes
1/2 Teaspoon Sea Salt
Freshly Ground Black Pepper (About 5 Grinds)
1 Garlic Clove, roughly chopped
Pinch of Crushed Red Pepper Flakes
For the Pasta:
1 LB of Cooked Whole Wheat Spaghetti
1 Ripe Avocado, peeled, pitted, and thinly sliced
1 Cob of Corn
6 Ounces Mini Heirloom Tomatoes, sliced in half
Radish or Kale Microgreens, for garnish
Add the cilantro, salt, pepper, chile flakes, lime juice, and olive oil to a food processor. Puree/Grind for three minutes until combined.
Cook the pasta according the instructions. Pour into a colander and then let sit until the rest of the ingredients are prepared.
To char the corn, you have three options. Husk the corn and set over a medium flame stovetop or over an open grill flame. Or you can char the corn under a broiler in the oven set to high. Once charred, sit the corn upright in the serving bowl. Use a sharp knife to cut the kernels off the cob. Turn the cob and slice the other side. Continue turning and slicing until all kernels are sliced off the cob.
Add the pasta to the large bowl in which the kernels are also in. Toss the pasta, corn, and sauce together in the bowl.
Top the pasta with halved tomatoes, sliced avocado, and microgreens. Serve!
Preparation time:

10 minutes

Cook time:

17 minutes

Total time:

27 minutes