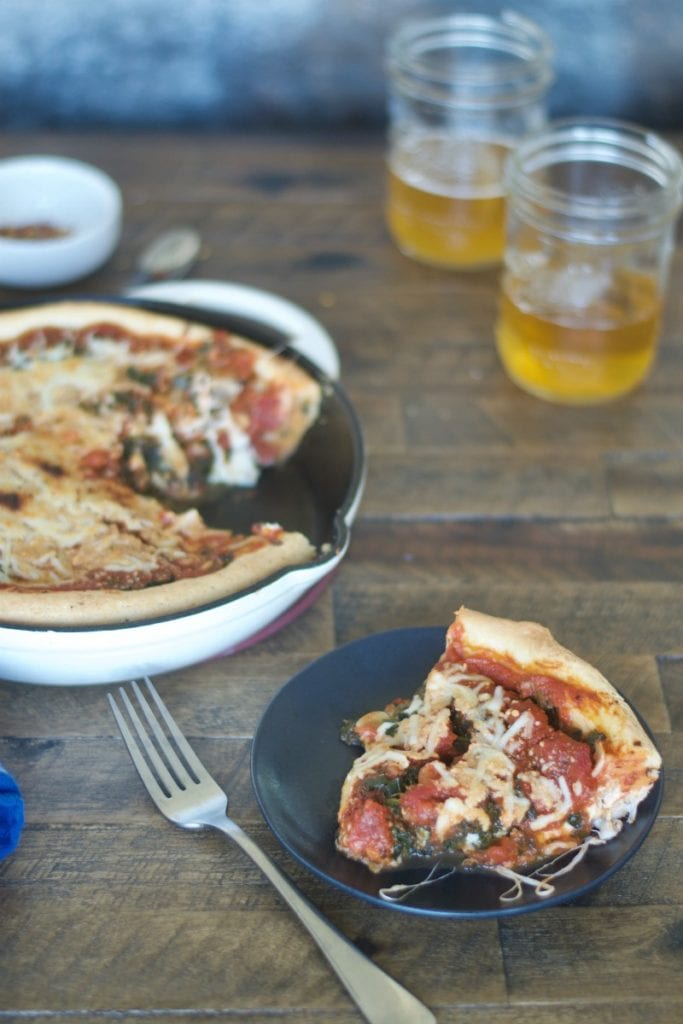 Buuuuuutttaaaahhhhhh cruuuuuust! Did you hear that, my fellow Chicago loving pizza friends? Butter crust! Not only is this deep dish pizza, but it has that buttery, crispy, flaky crust that unfortunately not every person knows to ask for when they order Lou Malnati's.
And, before you try and spout any garbage talk about MY pizza, just know I do not discriminate. I will eat all kinds of pizza from wherever. You can like whatever pizza you wish, you're entitled to that. But don't knock my precious Lou's. It is the pizza I order when I want deep dish.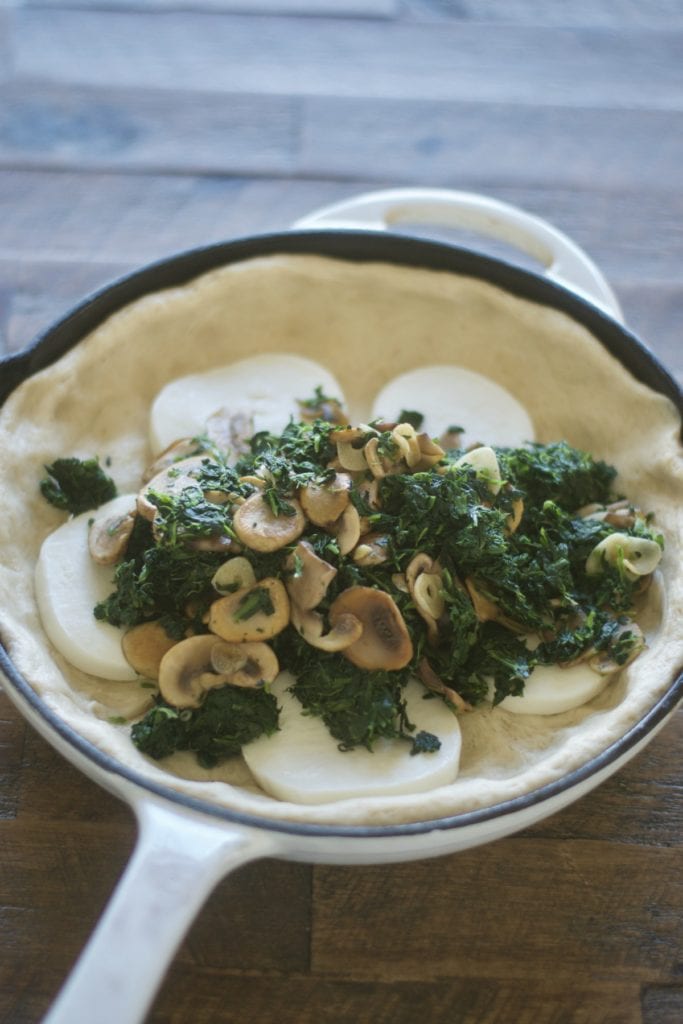 Honestly, I never had deep dish until I started dating Mike. He and his family were all about the Lou Malnati's talk and praise. I just shrugged it off. Eh, I had deep dish before and I didn't like it that much. In fact, I think that one of my high school best friends used to tell me that it made a bunch of people, including her, very sick, and she never ate it again. I think over time I kind of adopted that as my go to reason why I didn't eat it. Who knows why? I was a dumb high school kid.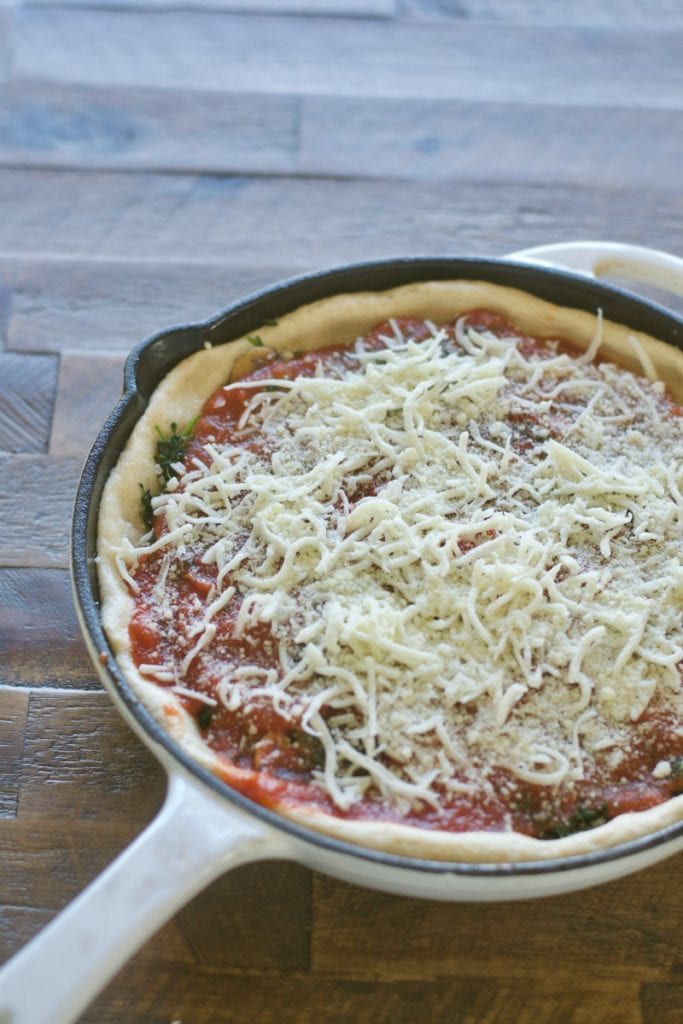 Mike and I finally went on a date to the original Lou Malnati's. We split a pitcher of beer and talked for an hour until the pizza was ready. You would think, knowing how I am, that I would have been annoyed. But, I wasn't.
The pizza came out piping hot. They cut it using big metal spatulas right at the table side to keep the crust as crispy as possible. The oozing cheese was magical. The sauce, mmmm! But, the crust!!! I saved that crust for last. Just a little bit of sauce and cheese and filling left on that golden edge. Yaaaasss! Mike's family was insistent that if you order the pizza you have to get it with butter crust. There is no other way.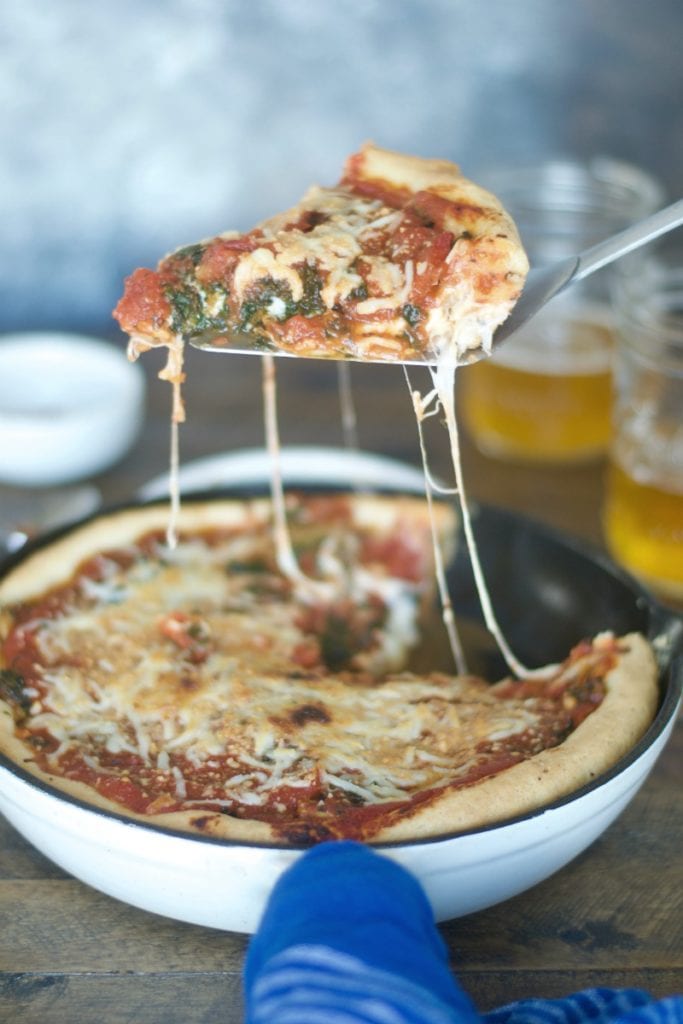 When Mike and I moved in together, we were lucky enough to have a Lou's (yes, we are on a first name basis) that delivered. You can put good money on the fact that, come Sunday, that delivery guy, rain or snow, was going to be pulling up to our house between 5 and 6pm. Now we have to drive like 20 minutes for this pizza. We don't do it as often because dinner time is the bewitching hour for our boys, and then over in a blink of an eye.
That's why today, for my birthday, as a present to myself, family, and you too of course, I had to replicate this pizza to fill in the off weeks from our beloved Lou's.
Chicago-Style Deep Dish Mushroom and Spinach Pizza with Butter Crust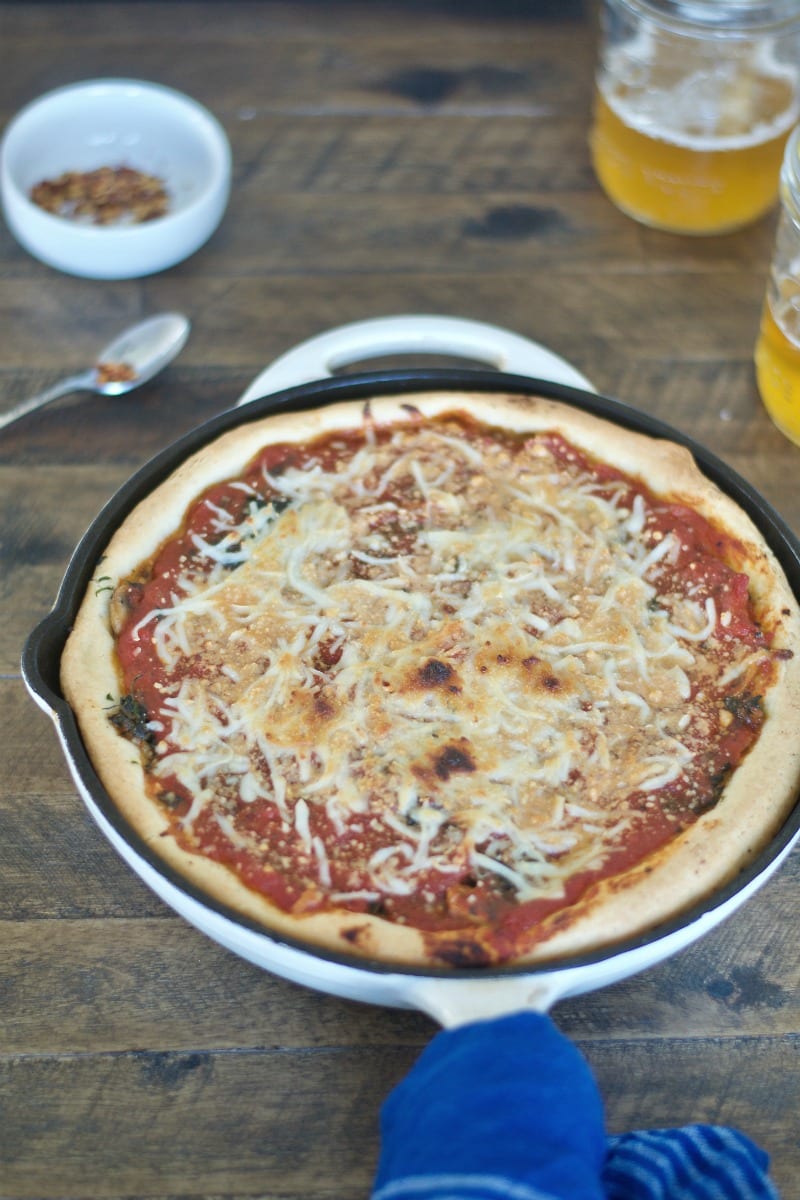 Flaky, buttery deep dish pizza crust filled with lots of spinach, mushrooms, and cheese. I like to call this the Lou Malnati's copycat pizza.
Yields: 6-8 Slices
For the Crust:
1 Cup Warm water, 110 degrees F
1 Teaspoon Honey
2 1/4 Teaspoons Dry Active Yeast
2 1/2 Cups All Purpose Flour
1/2 Cup Whole Wheat Flour
1/2 Cup (1 Stick) Unsalted Butter, at room temperature
1 Teaspoon Salt
1 Tablespoon Extra Virgin Olive Oil
For the Filling:
1 Tablespoon Extra Virgin Olive Oil
5 Mushrooms, thinly sliced
1 Clove Garlic, thinly sliced
9 Ounces Frozen Chopped Spinach, thawed and drained and drained some more
Salt and pepper
8 Ounces Sliced Fresh Mozzarella (I use this one from BelGioiso)
1 Cup Marinara Sauce
1/4 Cup Shredded Mozzarella
2 Tablespoons Grated Parmesan
Add the warm water and honey to the bowl of an electric stand mixer fitted with the hook attachment. Whisk to combine. Add the yeast and whisk. Let the yeast sit for five minutes until super frothy and foamy.
Add the flours, butter, salt, and olive oil to the bowl. With the mixer on low, mix until a sticky dough starts to form. Knead on medium for four minutes.
Grease a medium mixing bowl with a little olive oil. transfer dough to the bowl, coat evenly all over in olive oil, and then cover in plastic wrap. Set in a warm location and let the dough rise for 1 1/2 hour until doubled in size.
Transfer dough to a well floured surface. Cut the dough in half, but not evenly, make one half slightly larger. You will use the larger half for this recipe. Place the other half in a freezer storage bag and put int he fridge for later or in the freezer for up to a week.
Cover the half loosely with plastic wrap and let rise for another 40-50 minutes.
While the dough is on the second rise, preheat the oven to 450 degrees F and cook the filling.
Add olive oil to a medium skillet. Heat over a medium flame. Add mushrooms and sautee for 10 minutes until golden and crispy on the edges. reduce heat to low, add the garlic and cook for a minute. Turn the heat off, add the well-drained spinach. Toss in the oil and garlic until the spinach is heated through. Season with salt and pepper.
Gently place the dough into a 9 or 12 inch cast iron skillet that has been rubbed with olive oil. Press the dough into all the edges of the pan and about 3/4 of the way up the side of the pan.
Place all the fresh mozzarella slices on top of the dough. Cover with toppings and then top off with sauce, some of the shredded mozzarella, and finally the grated parmesan.
Bake the pizza in the oven for 30 minutes.
Let the pizza rest for about 10 minutes before slicing.
Preparation time:

2 hours 10 minutes

Cook time:

40 minutes

Total time:

2 hours 50 minutes