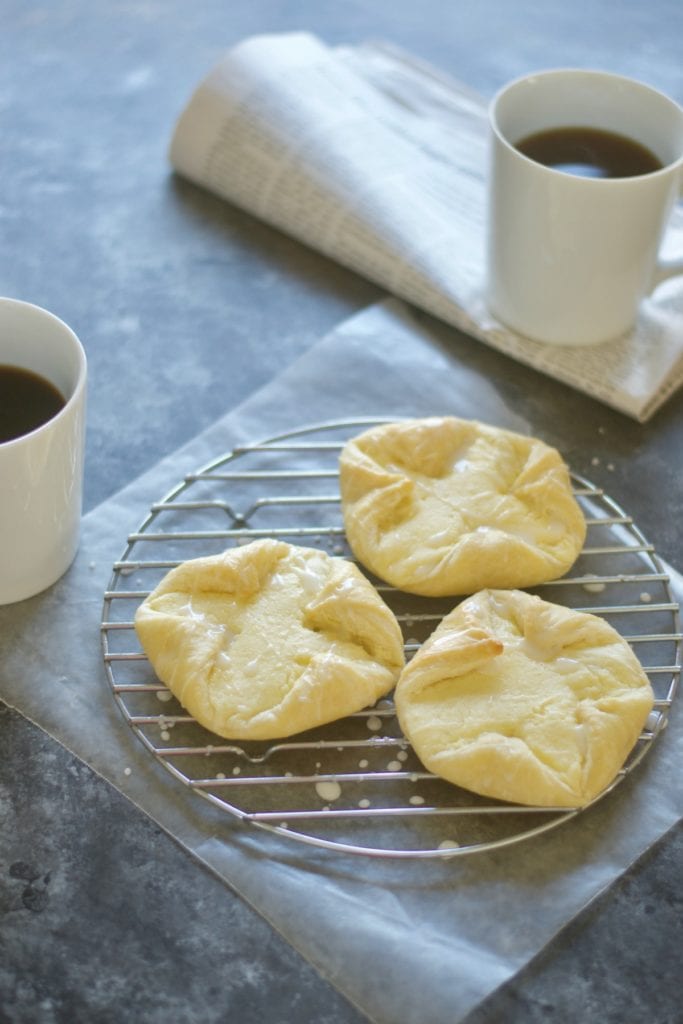 Mike and I had the amazing privilege of going away for two nights over this long (for some) Casimir Pulaski Day weekend. God bless that beautiful Pole and the city of Chicago for kind of still keeping it a holiday. We went away to Lake Geneva, Wisconsin. We stayed at The Abbey Resort which was super cozy and vintage but still modern and in good condition, if that makes any sense.
It is a good thing that we stayed two nights because if we had to come back and parent after night one, I would not be a happy mommy. Let's just say that it all started around 1am with a fighting couple in the room next to us. To clarify, we also shared one of those doors like if we wanted to adjoin the rooms, which I think made things a lot more crystal clear sound wise. About 3am, the fighting stops.
Something else starts up. You know what I mean.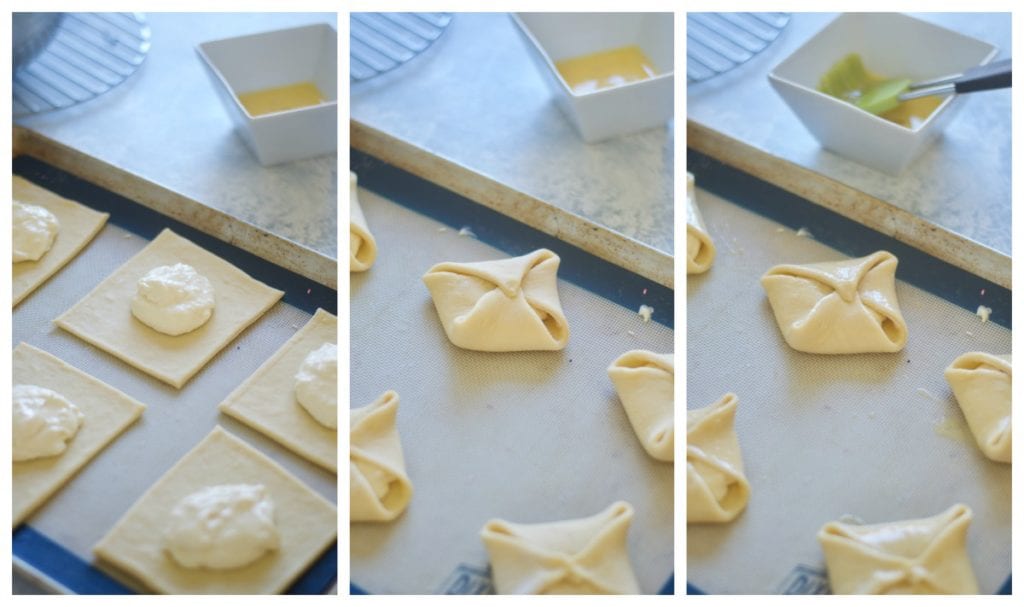 Let's just say nobody should have to hear those sounds through a shared wall at 3am, especially when that person is a tired mom who only wants to sleep. I wasn't even asking for much, maybe a solid 8 hours. Heck, I would have taken 6! Lucky for us, Good Will Hunting drowns out noise a little and these crazy neighbors checked out on Sunday. The whole hotel and town turned into a ghost town. It was exactly what I wanted after the night before.
Mike and I packed bottles of wine and a few six packs for our trip. I don't know when we thought we were going to drink these over two nights. I also think we may have thought we were still 21. Um, not so much.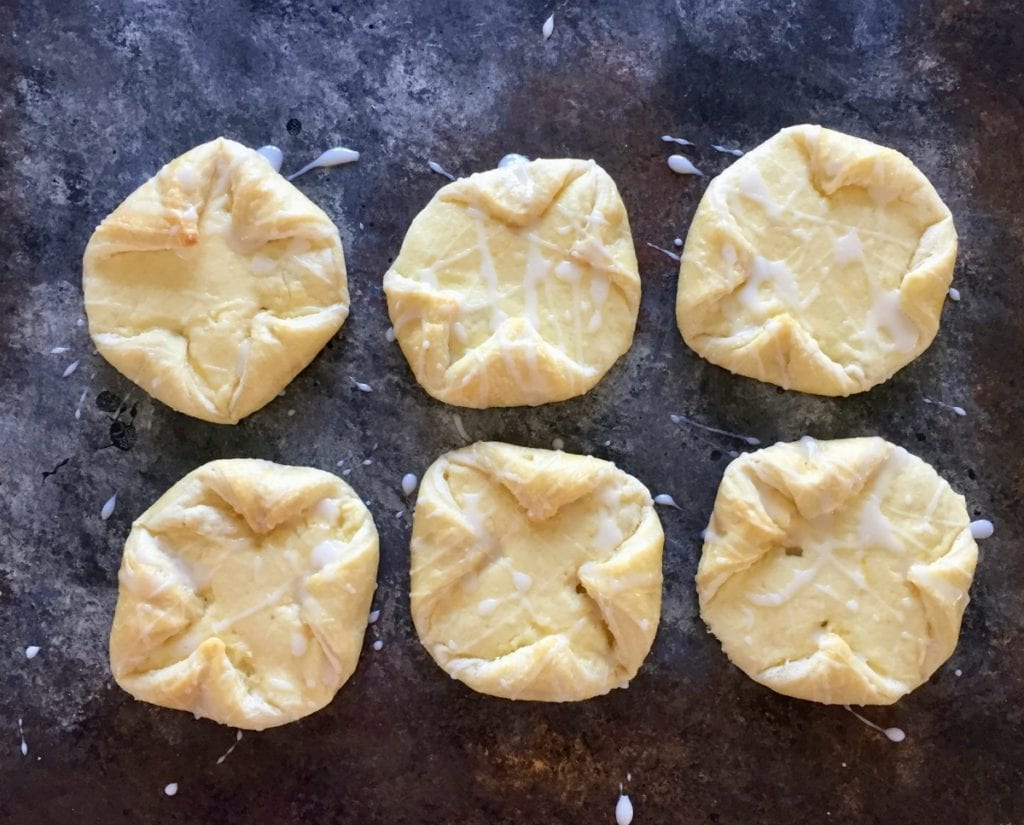 All the beer and wine we brought got packed back up and brought back home.
We also napped for 2 hours on Sunday after a heavy carb-filled brunch. Then went to dinner and fell asleep by 10. Restful and relaxing… On night 2. You know how when you come back from a vacation you now need help getting back into real life? Unloading bags and doing dirty laundry, unpacking, and wishing you would have hit up the grocery store before you went away. These are all things hanging over my head.
One thing that is not hanging over my head–breakfast! Good thing I checked another complicated pastry off my bucket list and made these danishes ahead of time. Me and the boys will be eating them all week long.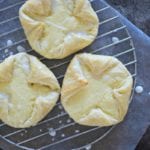 Cream Cheese Danishes
Cream cheese danishes are light and crisp puffed pastry filled with a lemony cream cheese filling. A labor of love on the weekend that pays off with a quick breakfast during the week.
Ingredients
For the Dough:
1/4

Cup

Whole Milk

warm about 110 degrees F

1

Large Egg

room temperature

2

Large Egg Yolks

room temperature

1

Teaspoon

Vanilla Extract

2 1/2

Cups

All Purpose Flour

2 1/4

Teaspoons

Instant Yeast

2

Tablespoons

Sugar

1

Teaspoon

Salt

4

Tablespoons

Unsalted Butter

room temperature

12

Tablespoons

Unsalted Butter

cold and cut into cubes
For the Filling:
6

Ounces

Cream Cheese

room temperature

1/4

Cup

Sugar

1

Large Egg

1/2

Teaspoon

Pure vanilla Extract

2

Teaspoons

Grated Lemon Zest

Pinch

of Salt

1

Tablespoon

Unsalted Butter

melted and cooled

Egg Wash

1 Large Egg, 1 Tablespoon of Water
For the Glaze:
1 1/2

Cups

Powdered Sugar

3

Tablespoons

Milk
Instructions
Grease a large mixing bowl.

Whisk together the milk, egg, yolk, and vanilla in a large measuring cup.

In the bowl of an electric stand mixer, fitted with the paddle attachment, mix the flour, yeast, sugar, salt on low just to combine. Add the room temperature butter and mix on low until completely combined.

Add the cold butter and mix on medium until only small bits of butter are visible. Use a spatula to scrape down the sides. Pour in the milk mixture, mix on low until combined. Scrape down the sides, dough will be very sticky. Transfer dough to prepared bowl. Use the spatula to sort of form dough into a ball. Cover bowl in plastic wrap and transfer to the refrigerator. Refrigerate dough overnight at least or up to 3 days.

To make the filling, add the cream cheese to the bowl of an electric stand mixer fitted with the paddle attachment. Beat the cream cheese on high until light and fluffy. Add the egg, sugar, zest, vanilla, salt, and butter to the bowl of the mixer. Mix on medium until smooth and combined. Scrape down sides as needed.

Transfer to a small bowl, cover in plastic wrap, and refrigerate until ready to use.

The next morning, transfer the dough to a well floured surface. Use the heel of your palm and knead the dough 12 times to form a ball, adding more flour if needed. Cover lightly with flour and let the dough come to room temperature.

Pat the dough into a 6x6-inch square. Then using a floured rolling pin, roll the dough out into a 16x20 inch rectangle. Taking the shorter ends, fold the dough in on itself into thirds, using a bench scraper. Add more flour if the dough sticks at all. This is the first turn.

Flour your work surface again, flip the dough over, seam side down. Roll out into a 8x16-inch rectangle. Fold the two short ends in on the middle again. Turn and roll out again, two more times. For a total of four turns.

After the last turn, gently press the layers together with your hands, cover with plastic wrap, and then refrigerate for an hour.

After an hour, remove dough from fridge, transfer to a floured work surface. Cut the dough in half. You can make 12 cream cheese danishes or save the dough for later and make a danish with a different filling. If you aren't using the other half, wrap it in plastic wrap and refrigerate for up to 3 days.

Roll the dough out into a 10x14-inch rectangle. Use the pastry cutter to trim off and rough edges. Cut the dough in half horizontally, then into thirds vertically to make six small rectangles.

Transfer rectangles to a parchment or silpat lined baking sheet. Place a spoonful of the filling into the center of each rectangle. Gently fold each corner into the center and pinch the edges together in the middle of the pastry.

Lightly brush each pastry with egg wash and cover lightly in plastic wrap. Place in a warm location and ket rise for 1 1/2 - 2 hours.

Preheat the oven to 350 degrees F. Place a rack in the middle position in the oven.

Bake the danishes for 15-17 minutes until lightly golden.

Transfer to wire rack to let cool.

Prepare the glaze. Whisk together the powdered sugar and milk in a small mixing bowl. Dip the whisk into the glaze and then drape falling glaze over the danishes.

Let cool completely before serving.
Recipe from The Vanilla Bean Baking Book