Weekends in call for a breakfast burrito suizo. A burrito filled with hash browns, peppers and onions, soft scrambled eggs and cheese. Coat the breakfast burrito suizo in a red enchilada sauce and enjoy!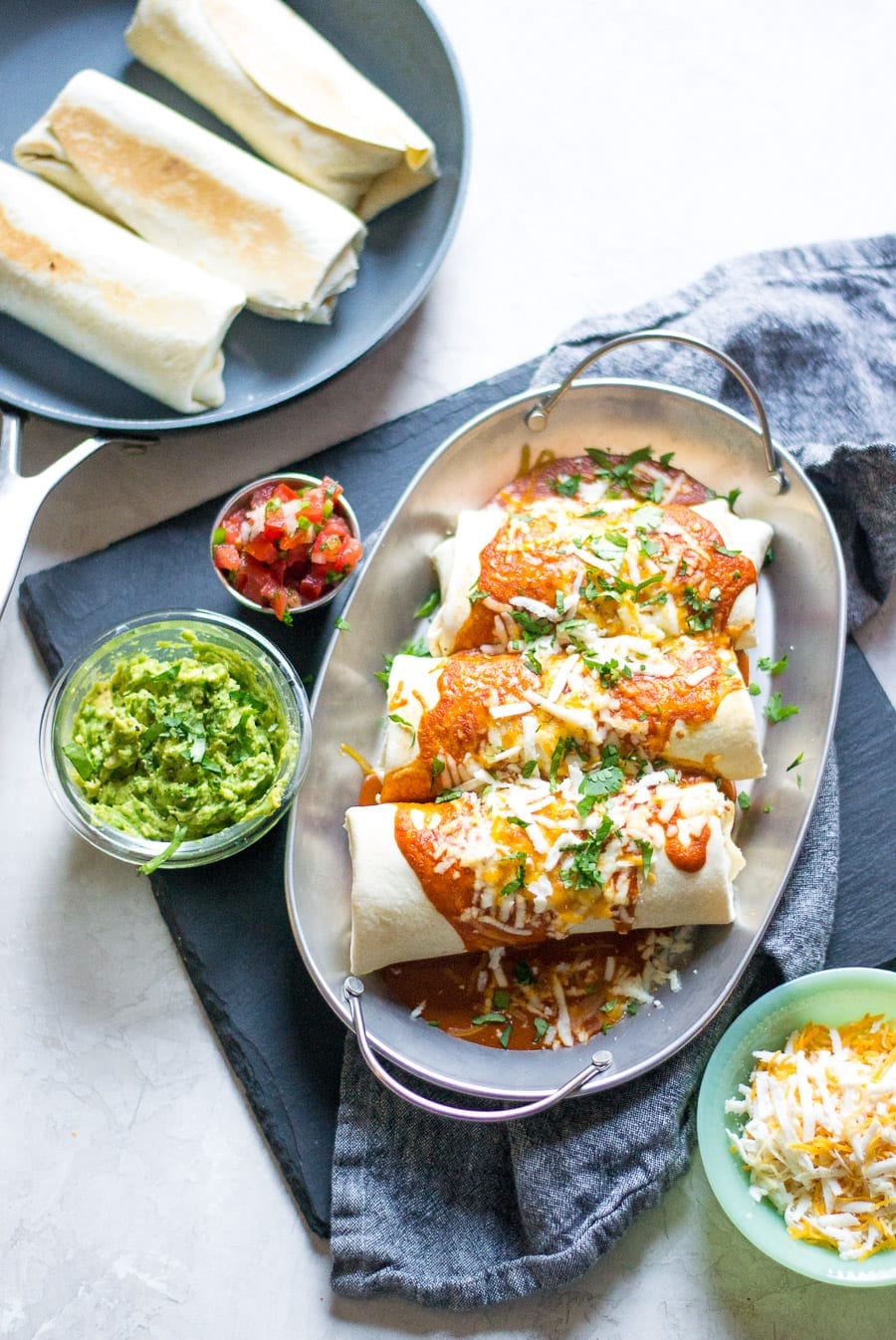 Are you a breakfast person? I am 100% a breakfast person.
The days I do not eat breakfast, I feel nauseous.
You can see that I am a creature of habit over on Instagram. Every single morning I eat my Instant Pot jammy eggs (recipe from my first book) and avocado toast.
I am married to a anti-breakfast-ite. During the week, Mike would rather get as many extra seconds of sleep as possible than wake up and grab an egg or even a pre-made breakfast burrito.
He tells his family, most of which do not like breakfast as well, that he hates breakfast.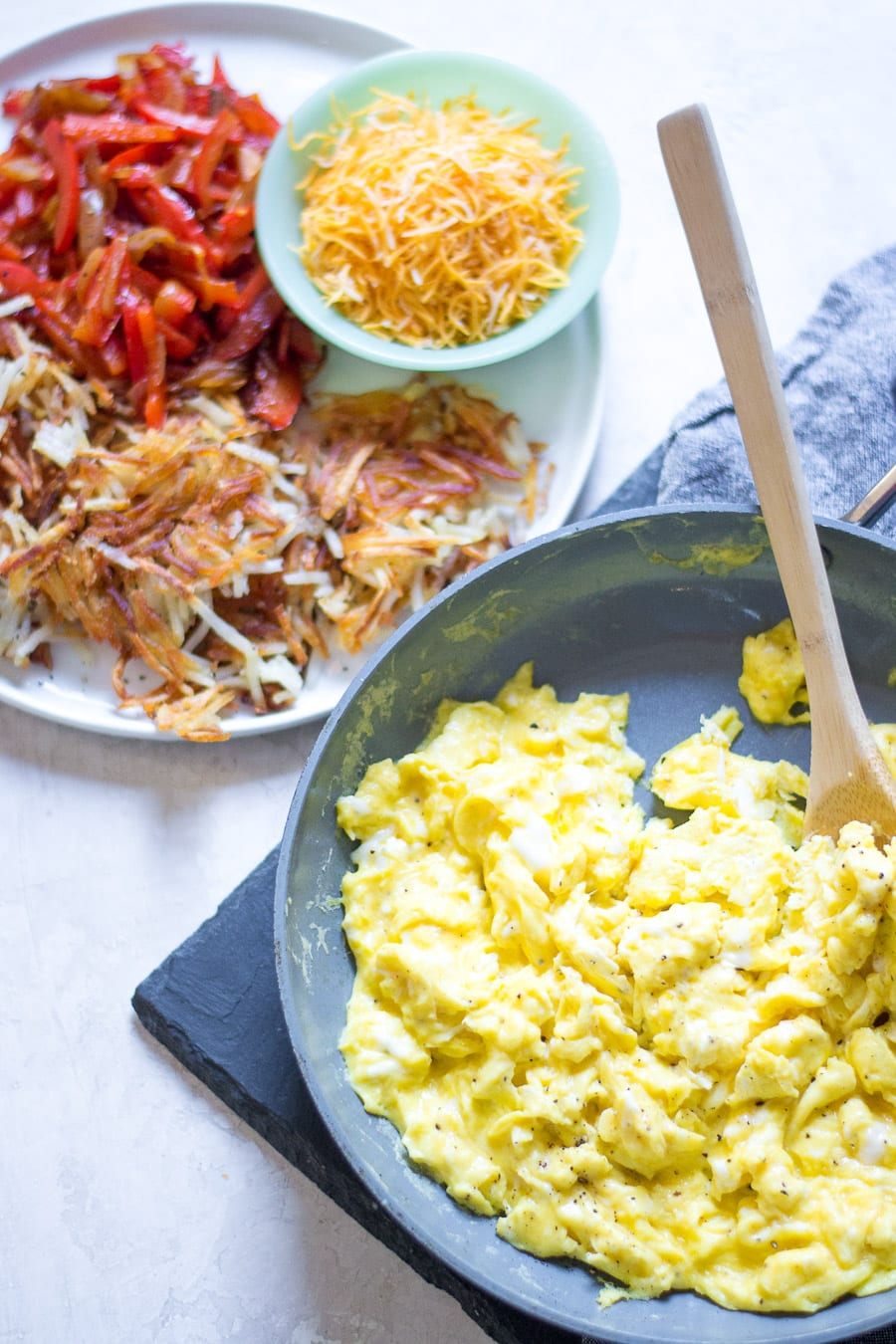 Then the weekend comes around and by 9am he may as well be sitting at the table with a fork and knife in each hand, drooling like a cartoon character.
Maybe I have spoiled him with lavish breakfasts through the years like shakshuka, breakfast enchiladas, and poached eggs.
He is just used to crazy awesome breakfasts with sides of bacon on the weekend.
I made these burritos on the weekend with the intention of freezing them and wrapping them individually so Mike could grab one throughout the week. Unfortunately for him, after I made and assembled them, I wanted a burrito ASAP, except covered in red enchilada sauce.
Suizo style.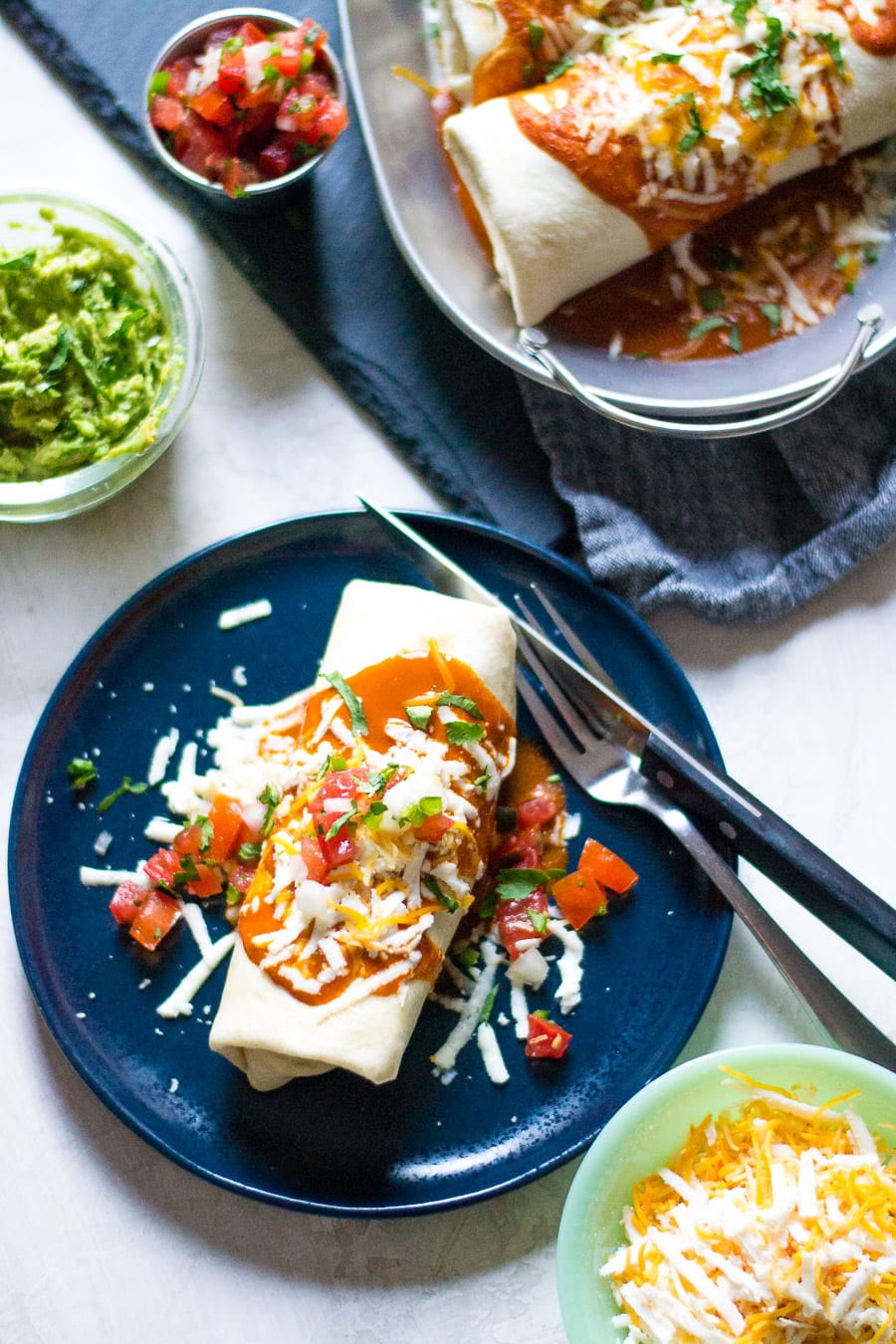 Things covered in red enchilada sauce don't really work well as a grab and go breakfast option.
That is why I am saying this is the weekend breakfast at home must make recipe. Breakfast burrito suizo is not only covered in red enchilada sauce; it is filled with peppers and onions, soft scrambled eggs, cheese, and crispy hash browns.
I didn't add meat to them because, in the breakfast world, there are either the meatless ones, the bacon lovers, or the sausage lovers.
These burritos please everybody.
You can add in whatever meat you want or serve it on the side.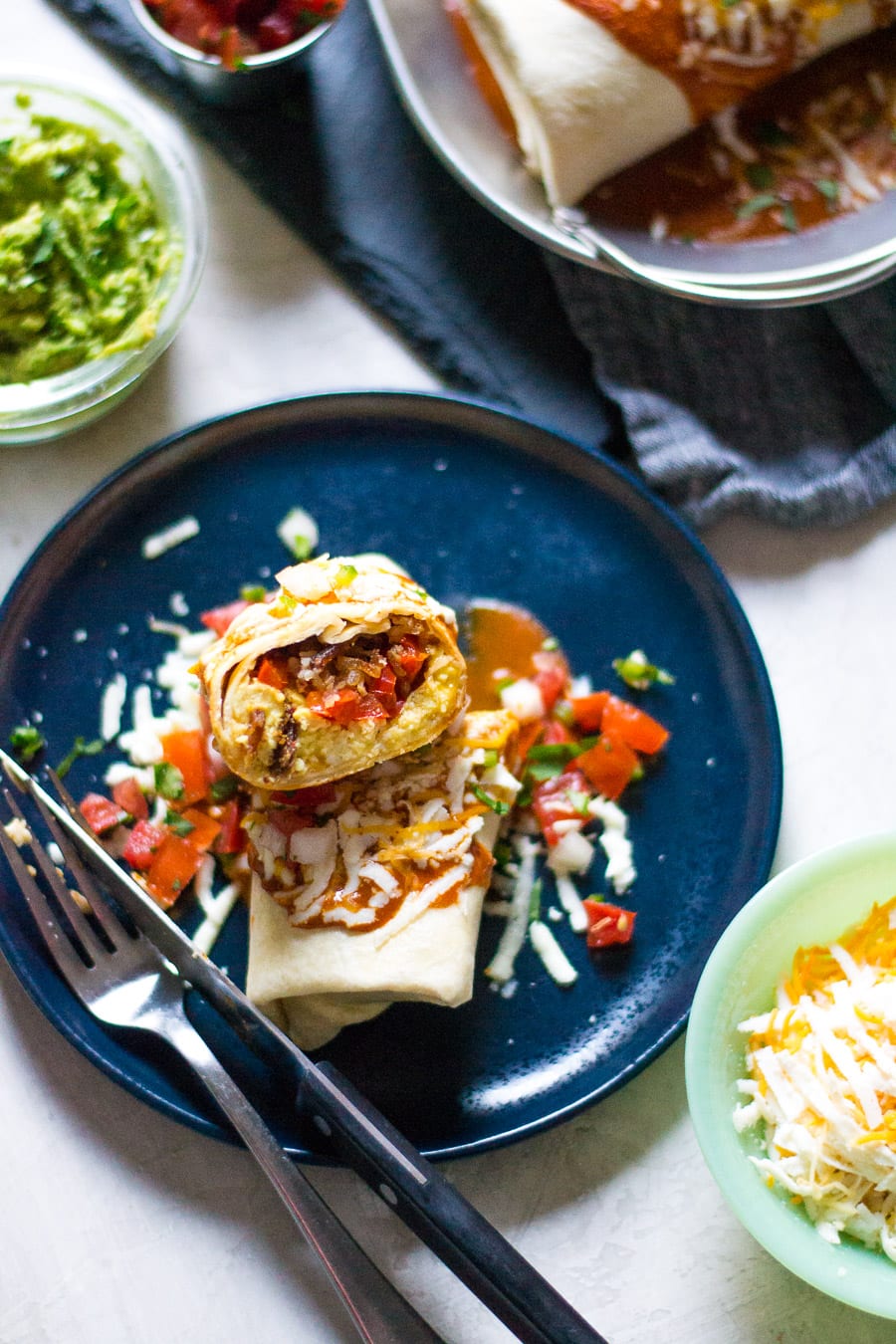 Skip the red enchilada sauce and these work as meal prep freezer burritos. All you have to do is wrap them in a damp paper towel and then microwave them for 2 1/2 – 3 minutes.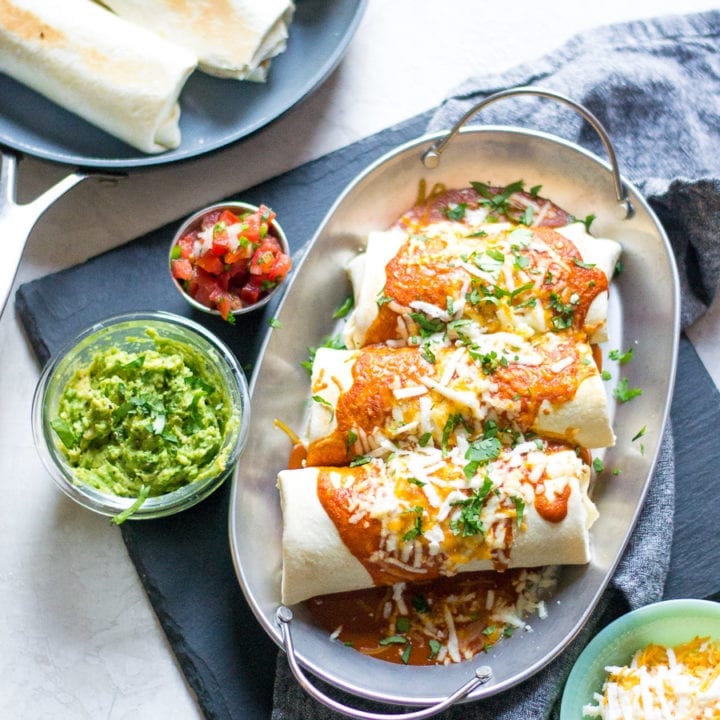 Breakfast Burrito Suizo
Make ahead burritos stuffed with hash browns, peppers and onions, soft scrambled eggs, and cheese. Freeze, then reheat, and eat on the go. Or serve them coated in red enchilada sauce and cheese, suizo style.
Ingredients
2 red bell peppers
1/2 yellow onion
1 tbsp avocado oil
1 tsp taco seasoning
2 cups frozen hash browns
2 tbsp canola oil
pinch of salt
1 tbsp unsalted butter
1 tbsp extra-virgin olive oil
10 large eggs
1/4 cup heavy cream
1/2 tsp salt
1/4 tsp black pepper
8-10 large flour tortillas
1 1/2 cups shredded Mexican Cheese Blend
1/2 - 1 cup red enchilada sauce
Instructions
First make the hash browns. Heat a medium skillet over medium high flame for 1 minute. Add the canola oil and heat for 1 minute. Swirl to coat the pan. Add the hash browns and cook for 5 minutes over medium/high before carefully flipping, seasoning with salt, and cooking for 5 more additional minutes on the second side. Keep the skillet over a very low flame to keep warm.
Heat the avocado oil in a medium skillet over a medium flame. Add the onion and pepper. Cook for 5-7 minutes until tender. add the taco seasoning and cook, 2-3 more minutes. Transfer the veggies to a small plate until ready to assemble.
Add the eggs to a medium mixing bowl in addition it heavy cream, salt, and pepper. Whisk to combine and "scramble." Place a small/medium skillet over a medium/low flame. heat through for 1 minute. add the butter and olive oil. Once the butter melts, add the egg mixture. Gently push the eggs side to side using a rubber spatula until softly scrambled, when just about all the egg is set. Remove the pan from the heat. The eggs will continue to cook and if you are using these as freezer burritos they will cook even more when you microwave them later.
Cover the tortillas in a damp paper towel and microwave for one minute. This will make them easier to work with. Place a few tbsp of each ingredient inside each tortilla, center but more towards the side nearest you. Sprinkle with a pinch of cheese.
Fold the side closest to you over the filling. Fold the left and right side inward towards the center, then roll the burrito forward, gently pressing down to make a burrito. Continue until all burritos are prepped.
Wipe out one of the skillets you used for hash browns or veggies. Place over a medium/low flame. Put the burritos in the skillet, seam side down, to slightly crisp up the burrito and make sure it doesn't spill open.
To make wet or suizo burritos, add the burritos seam side down to an oven-safe dish. Cover with sauce and about 1/2-1/4 cup of cheese. Place under a high broiler for 2 minutes to melt the cheese and warm the burritos.
To save the burritos, not the wet/suizo version for later, wrap them individually in foil and then freeze. To reheat, remove from foil, wrap in a damp paper towel, and heat for 2.5 -3 minutes.
Recommended Products
As an Amazon Associate and member of other affiliate programs, I earn from qualifying purchases.