Roasted tomato and tomatillo salsa is so easy to make you'll be making it every weekend! Quickly roast tomatoes, tomatillos, and one jalapeño. Pop them in the food processor along with some spices and lime juice. Puree and then boom, the best roasted tomato and tomatillo salsa.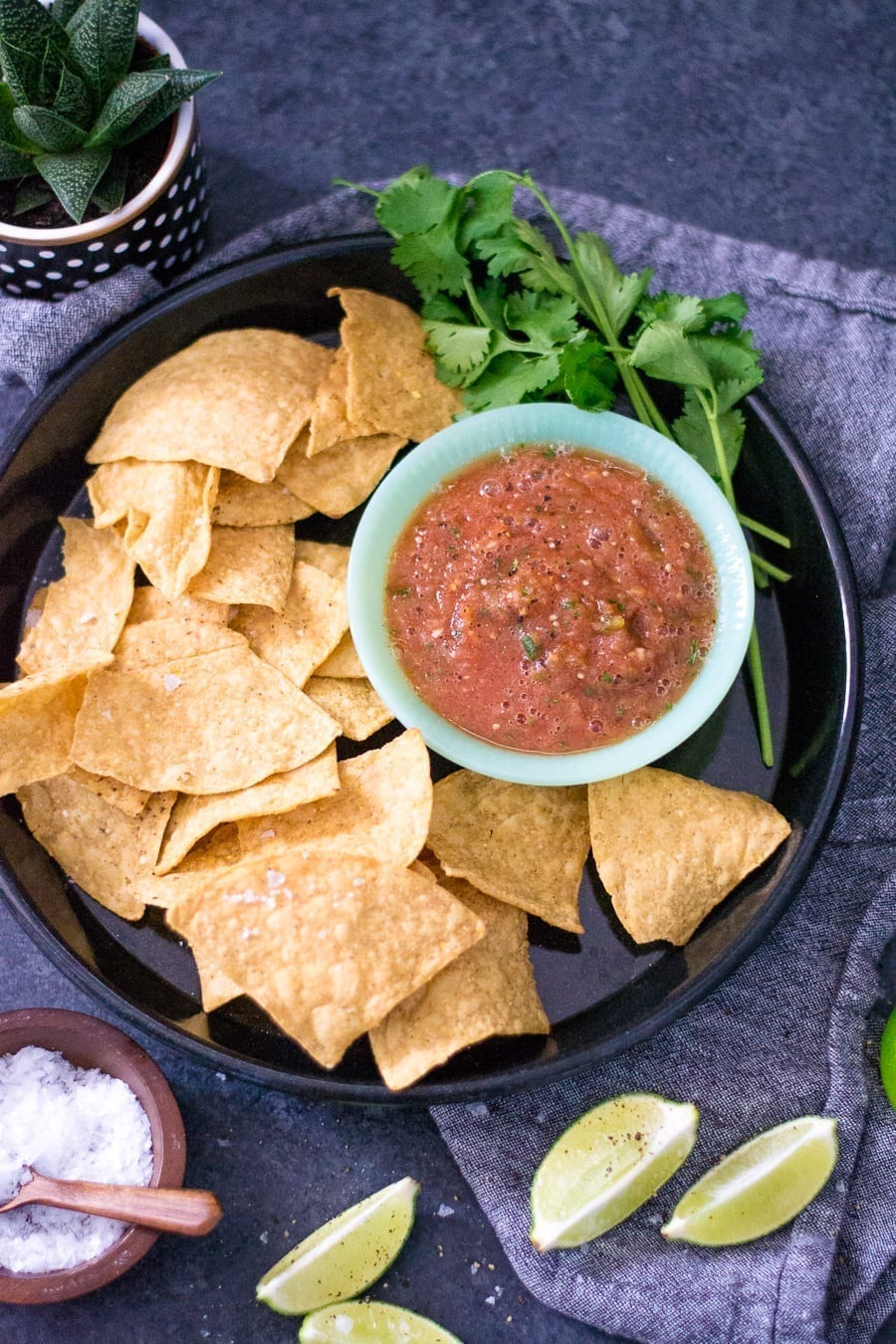 How many salsa recipes is too many?
The answer is the limit does not exist.
I hope you got the Mean Girls reference. I wish I was the one that came up with that clever response. In reality, it was all you amazing Instagram followers that came up with that gem.
You're so smart.
That must be why so many of you have sent me messages asking for this salsa recipe.
It is basically a fresher version of my homemade restaurant style salsa recipe from Quick Prep Cooking.
The same premise still applies to this recipe. Throw a bunch of stuff in the food processor and puree. Homemade salsa in a pinch!
This year for Christmas we did a Mexican food feast. I have big plans to share the entire menu with you this weekend, just in case you wanna fiesta too.
I made a batch of this quick and easy pantry salsa from Ashleigh. Then to switch it up I made roasted tomato and tomatillo salsa.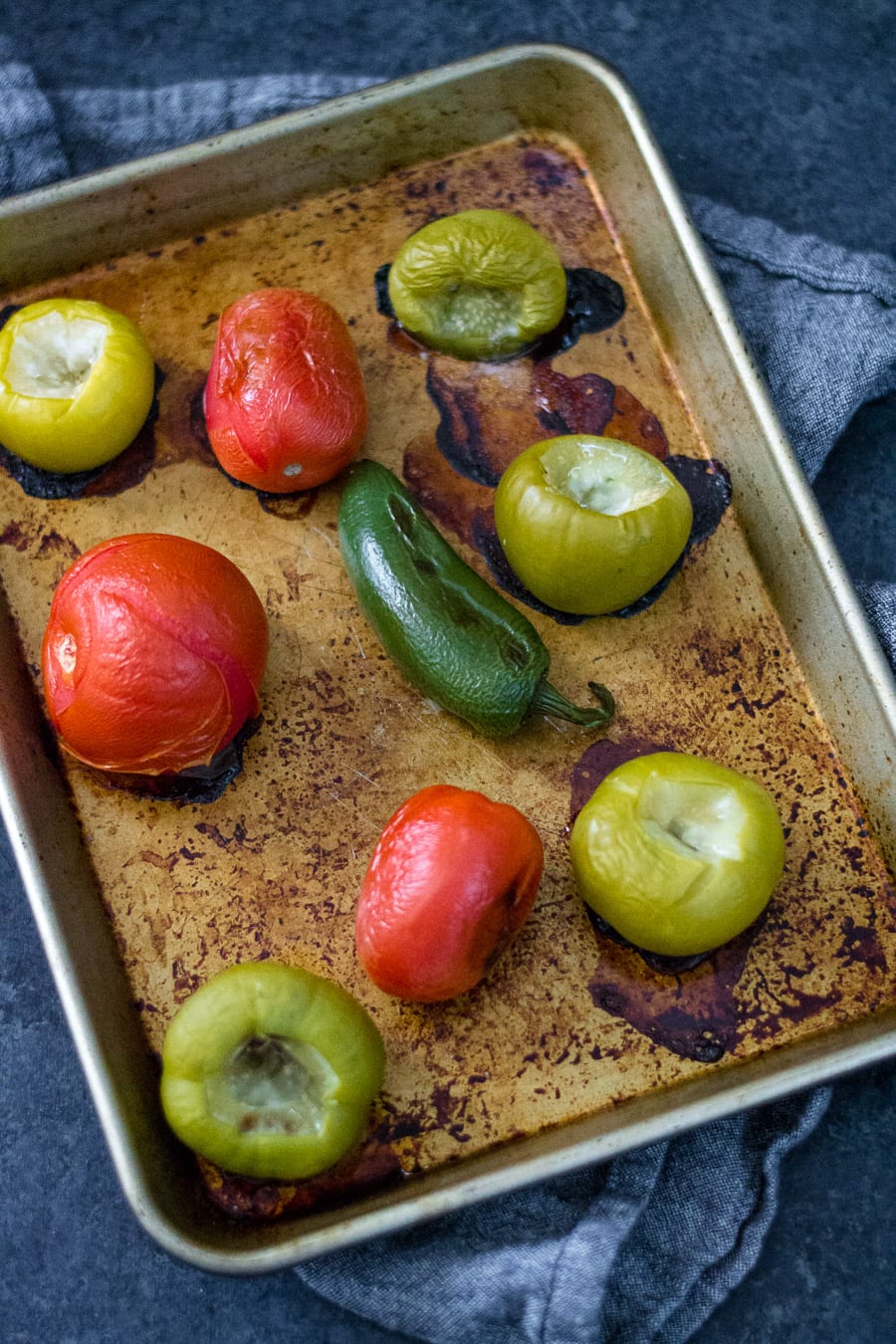 Like you guys said, you can never have too many salsa options.
This recipe is made very easily by removing the cores from 2 Roma tomatoes and 4 tomatillos. Toss them on a baking sheet with a jalapeño pepper. Roast them in the oven for 20 minutes.
Remove the pepper from the pan and transfer to a container with a lid to steam. Gather the cilantro, garlic, onion, lime, salt, pepper, and cumin while the pepper chills out for a bit.
Pulse the onion, garlic, and cilantro together in the food processor until finely minced. Get your jalapeño out of captivity and use a paper towel to peel back most of the skin. Remove the seeds and stem.
Roughly chop the pepper, tomatoes, and tomatillos. Add them to the food processor with the remaining ingredients and you have yourself one fresh, homemade salsa.
I love this recipe because the tart tomatillos and the lime juice really play nicely together.
It is something different you cannot buy in a store. I mean, you probably can, let's be honest.
This salsa recipe however, is totally able to be customized. Don't like too much garlic? Skip it! Don't like cilantro? Skip it! Like more spice? Add another pepper or a different pepper to the roasting pan.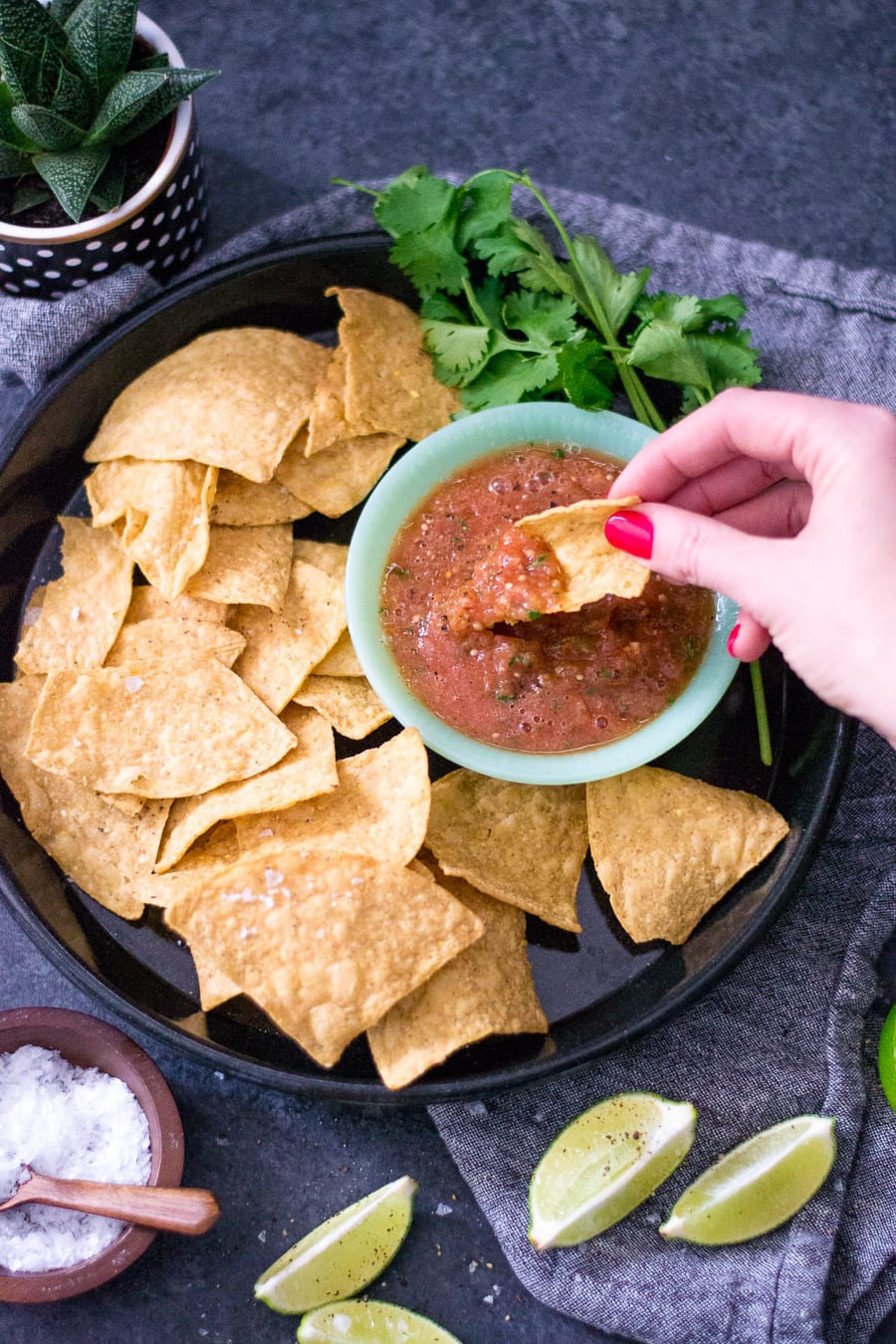 The choice is up to you.
I was also thinking this recipe would be perfect for a football related viewing party which is looming around the corner!
Amiright?!?!?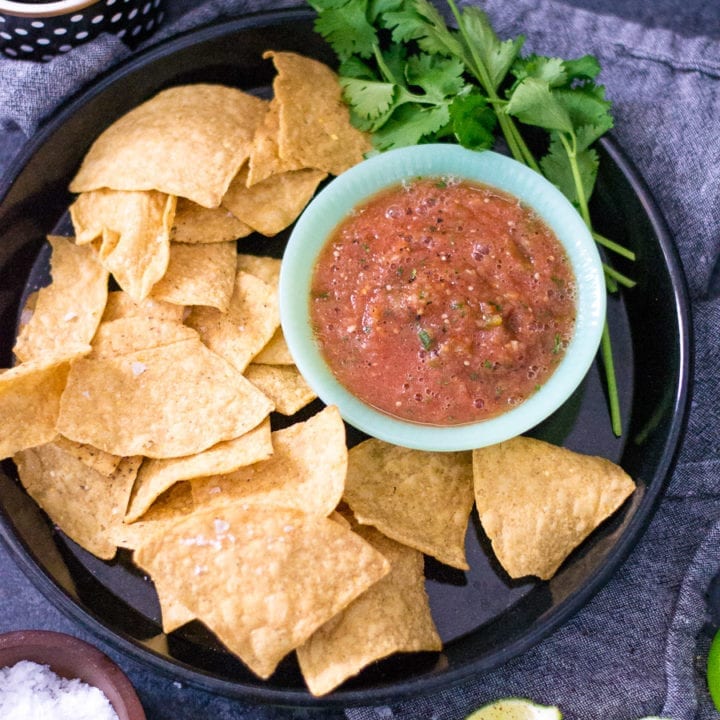 Roasted Tomato and Tomatillo Salsa
Yield:
About 2 - 2 1/2 cups
Roasted Roma tomatoes, tomatillos, and jalapeño pepper are pureed with onion, garlic, cilantro, cumin, lime juice, salt, and pepper for one amazing homemade salsa.
Ingredients
2 Roma Tomatoes, cores removed
4 -6 Tomatillos, husks and core removed
1 Jalapeño pepper
1/2 small yellow onion, roughly chopped
1 small bunch fresh cilantro, roughly chopped
1 garlic clove, peeled and roughly chopped
1 tsp ground cumin
1 tsp salt
1/4 tsp black pepper
juice of 1/2 a lime
Instructions
Preheat the oven to 400 degrees F. Add the tomatoes, tomatillos, and jalapeño to a small baking sheet. Roast in the oven fr 20-25 minutes, until blistered.
When the roasting time has finished, remove the jalapeño from the pan and transfer to a container with a lid to steam off the skin.
While the pepper steams, add the roughly chopped, onion, garlic, and cilantro to your food processor. Pulse until minced.
Remove the jalapeño from the container and use paper towels to peel off most of the skin, Remove the stem and seeds and roughly chop the pepper.
Add the tomatoes, tomatillos, jalapeño, lime juice, salt, pepper, and cumin to the food processor. Puree until the salsa is the desired consistency.
Adjust the salt and pepper to taste.
Store in an airtight container with a lid for up to 10 days.
Notes
Feel free to use other spicier peppers in the place of the jalapeño if you want more heat.
Recommended Products
As an Amazon Associate and member of other affiliate programs, I earn from qualifying purchases.