Homemade restaurant style salsa is easier to make than you think. The key to this recipe is a can of fire-roasted diced tomatoes. The whole salsa comes together in a matter of minutes in the food processor. Make a batch today!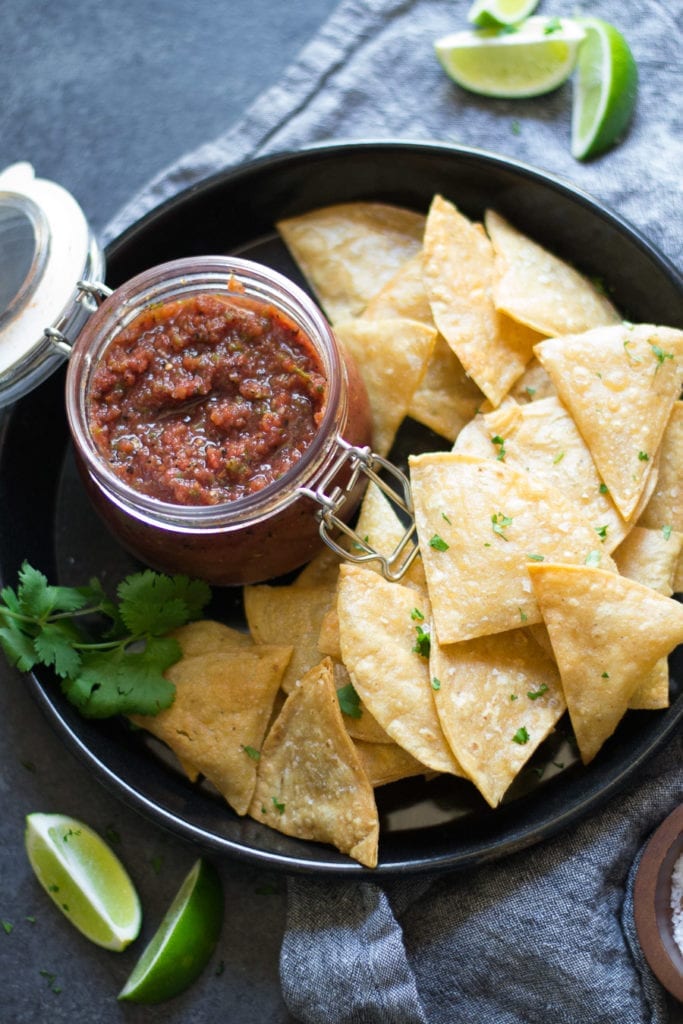 Better late than never, right? I think I did the same thing last year. I planned this epic bean dip for Cinco de Mayo and forgot to post it here for you guys before Cinco de Mayo. Oops! Maybe next year I will be more put together… That's a big maybe.
This salsa recipe is good any time of year. The recipe for this salsa, or Not Another Restaurant Style Salsa, is from my cookbook. It is in the back section of staples.
Since it is made in a food processor, it is easy to throw together at any time. People will see and taste this and liken it to Chili's salsa. Don't hate on me, but I actually really, really love their chips and salsa.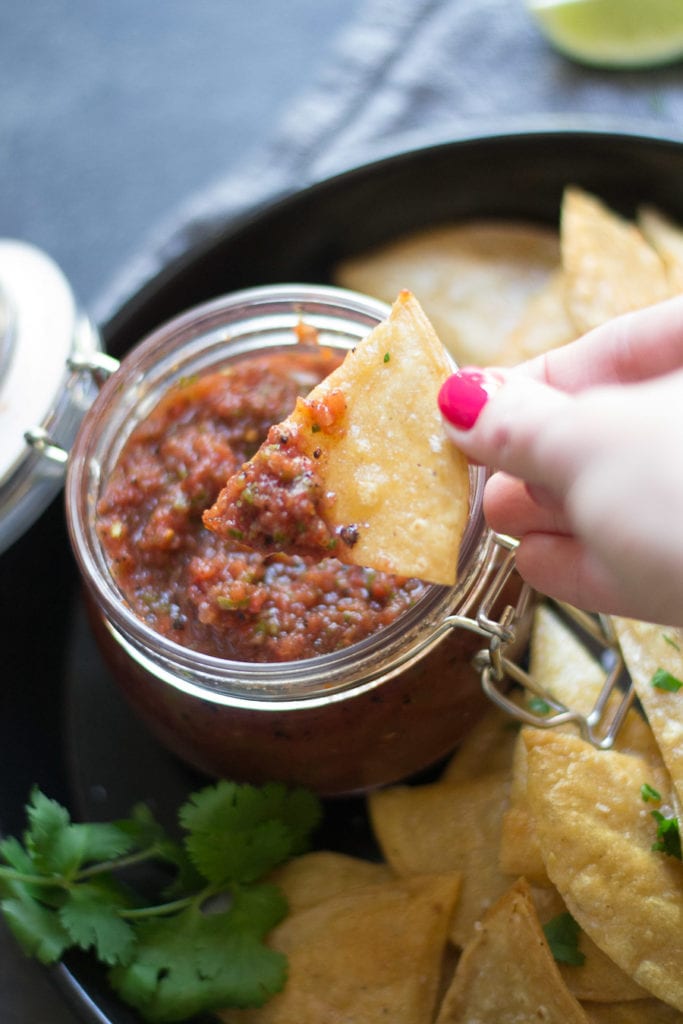 Maybe it's a good thing my basic white girl self didn't post this recipe for Cinco de Mayo. In no way is this a traditional style salsa.
The secret to the amazingness of this recipe is a can of fire-roasted diced tomatoes. From there you can add in jalapeño or a canned chipotle pepper. If you want to mix it up, add in some pineapple or mango for a little sweetness. This salsa can be changed to fit your demands.
Last week I was on WGN Midday Lunchbreak making Drunken Chicken Tortilla Soup. PS If you go check out the link, the full recipe is there for all you non-book buyers. The whole week was prep for that segment. I brought along a big batch of the salsa to show off too! Then Friday I got hit right in the emotions at Andy's Mother's Day Tea at school.
I am still recovering from that super cute performance.
So today and this week, I am keeping it simple. Homemade restaurant style salsa simple. You'll love it.
Tomorrow be sure to head to my Instagram because Ashleigh and I are doing a little giveaway. Here is a hint: the thing we are giving away rhymes with smishstant bot. Get it?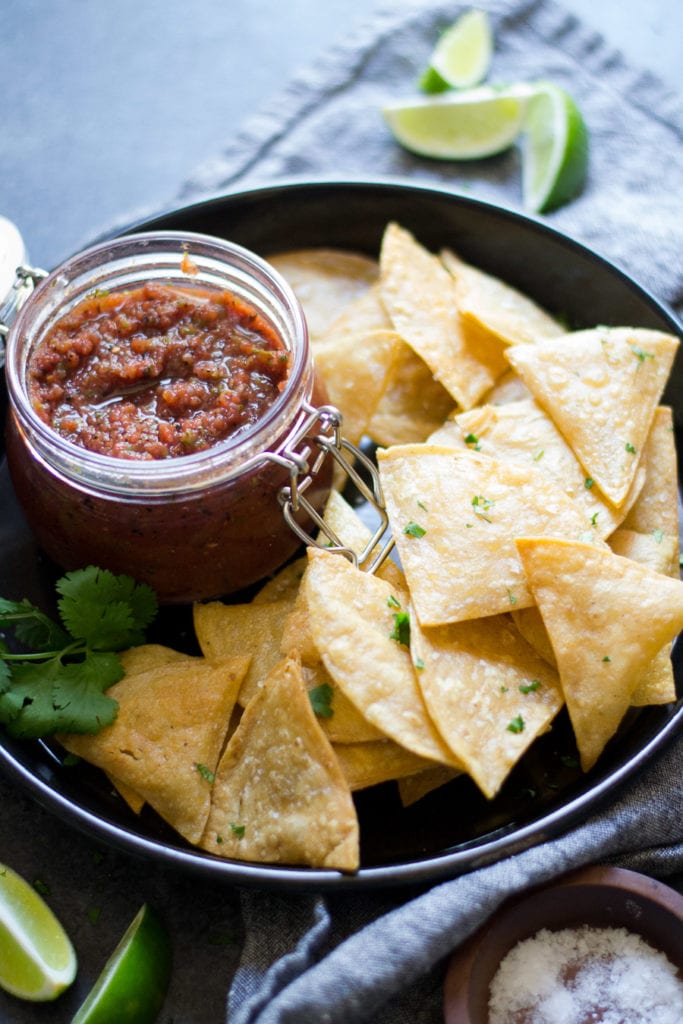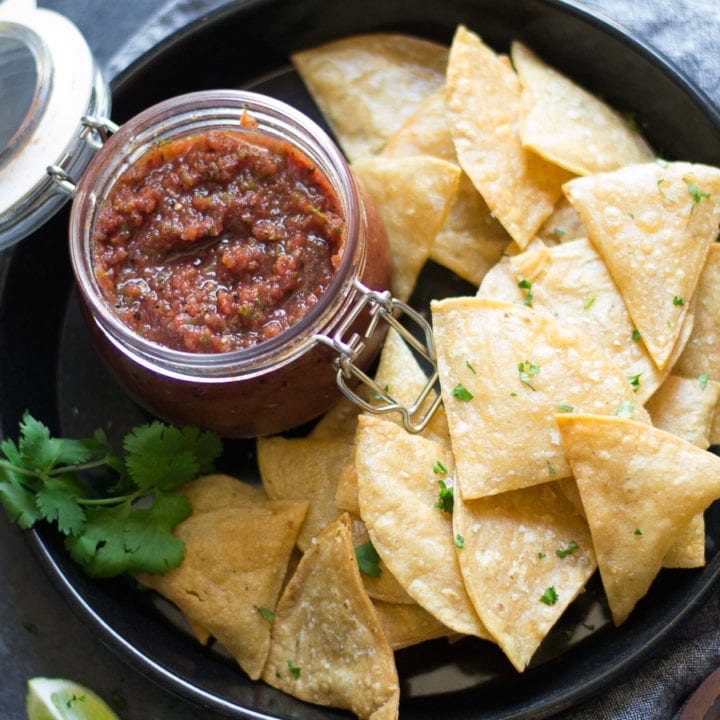 Homemade Restaurant Style Salsa
Yield:
About 2 cups of salsa
Homemade restaurant style salsa made with canned fire-roasted diced tomatoes, lime juice, garlic, onion, jalapeño pepper, and spices all in your food processor.
Ingredients
1/2 a small yellow onion, diced
2 garlic cloves, chopped
juice from 1 lime
1 jalapeño, seeded and diced
handful of fresh cilantro, roughly chopped
1, 14.5oz can fire-roasted diced tomatoes
1/2 tsp salt, plus more to taste
1/4 tsp black pepper
1/2 tsp ground cumin
pinch of crushed red pepper flakes
Instructions
Add the onion, garlic, lime juice, jalapeño, and cilantro to the food processor. Pulse until finely minced.
Scrape down the sides. Add the tomatoes and remaining seasonings. Puree until the consistency you like best, chunky or more watery and smooth.
Taste the salsa and add more salt if needed.
Notes
Feel free to use a different pepper instead of jalapeño like a chipotle or habañero if you like more heat. Adding in 1/4 cup of drained canned pineapple is a fun twist for the summer too.