Nothing says I love you more than home baked chocolate chip cookie bars. A classic and simple recipe that will cure any sweet tooth and please any crowd.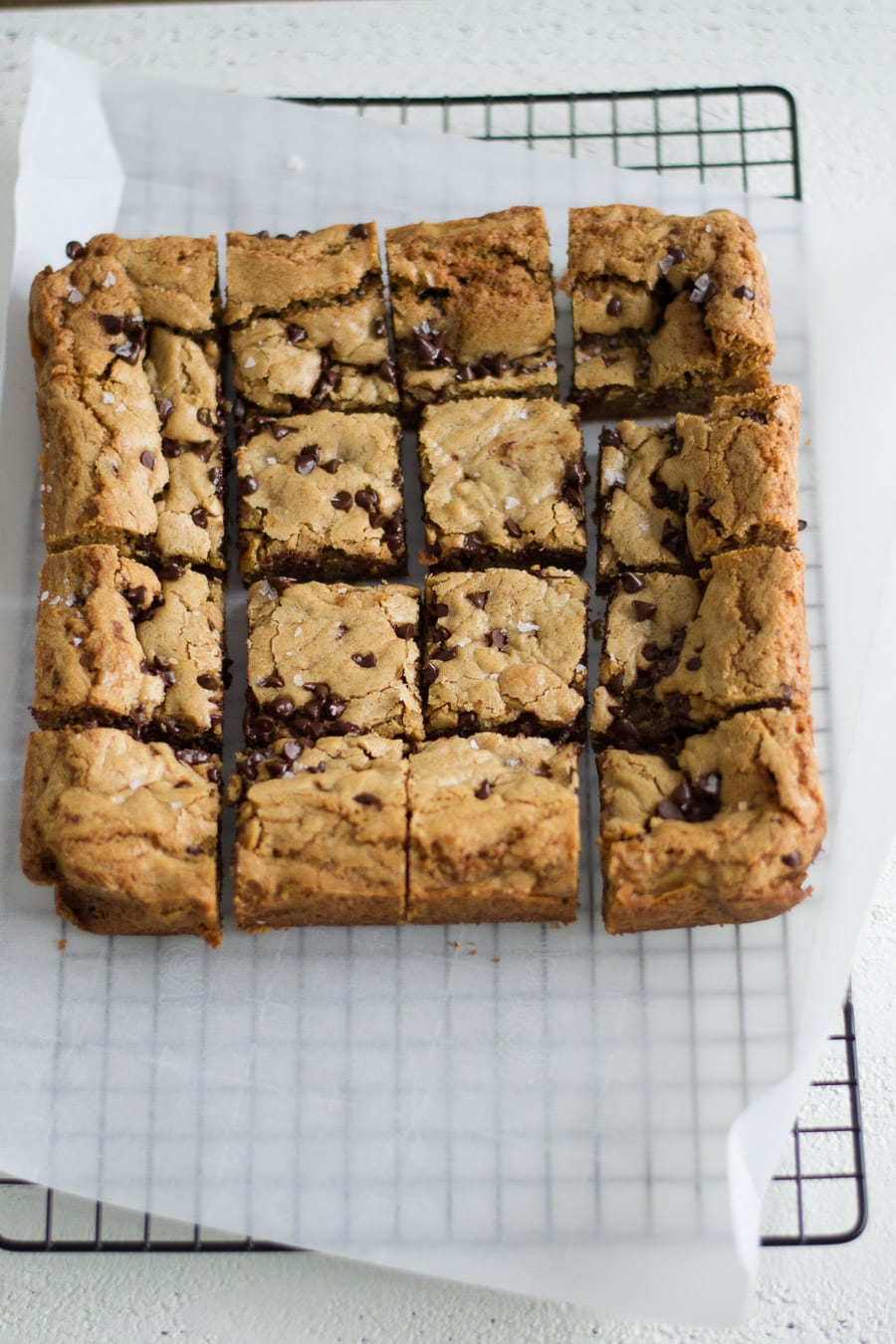 I may have become a Valentine's Day Grinch. I cannot say when and how it happened. Back in the day, I used to plan elaborate Valentine's Day dinners with scallops and lobster tails for Mike. Before that, back in our college dating days, we even always went to the same pizza place or ordered a heart-shaped Lou Malnati's pizza.
Ah, pure romance.
Valentine's Day isn't up there with the same level of dislike I hold for Halloween. It just feels like another day. Don't I show you guys enough love throughout the year? Hmm, better not answer that if you know what's good for you *cough* Mike.
At least with Halloween, having kids actually made me start to like the holiday a little more. It's fun to see them get into their costumes and work up the courage to trick-or-treat door to door. Now, Andy asked me, "Will you be my Valentine?" And my heart swelled but then in the back of my mind, I was thinking, "Do I have to buy you something for this, too?"
You are probably thinking I am an awful person. I swear I'm not!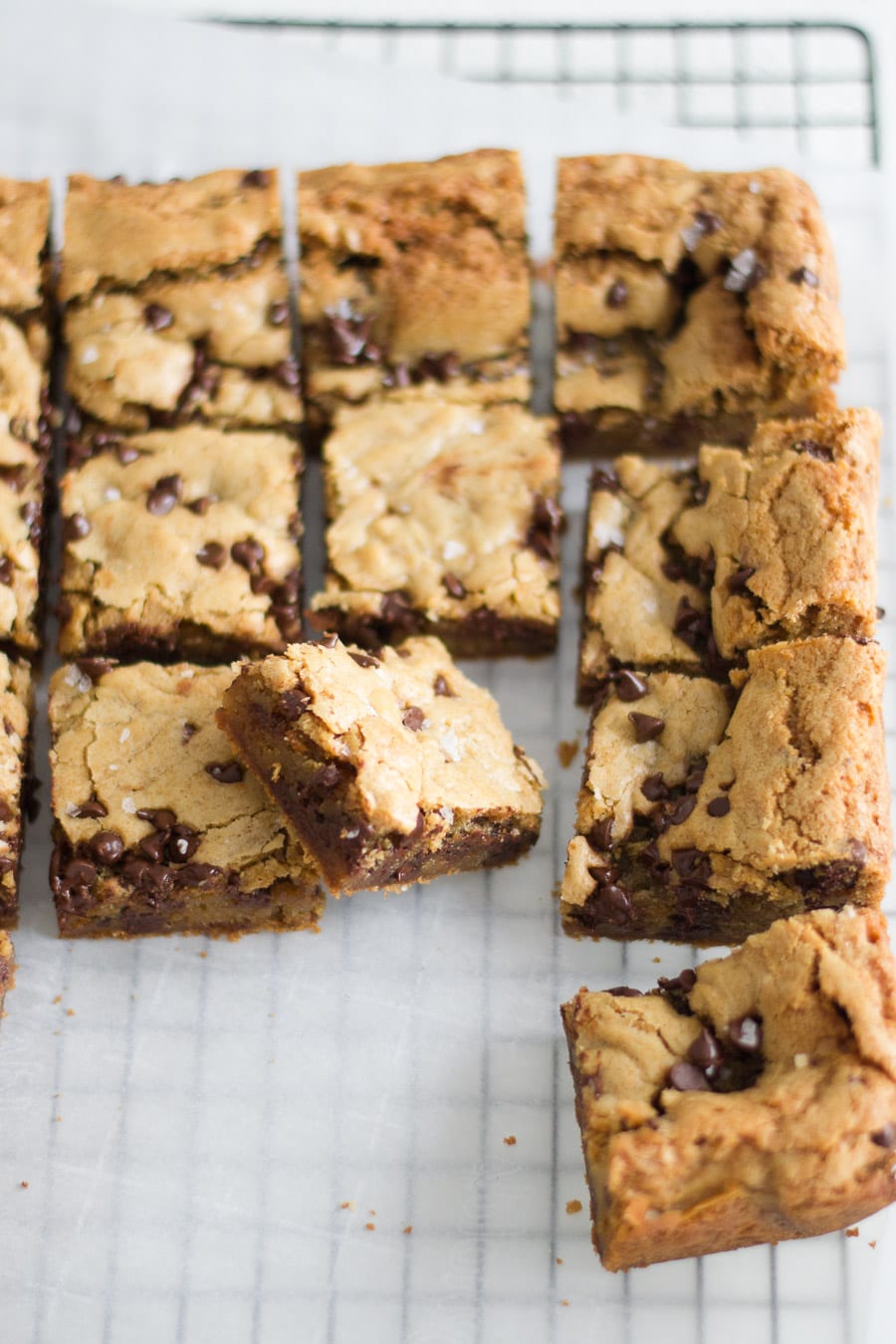 To prepare for Valentine's Day, I sat down with the boys and we went through all my favorite sweet treat cookbooks from Bakers Royale to Dessert for Two. I asked them to pick out ANYTHING from the books. As long as they could decide on one treat together, I told them we could make it.
See?!?! NOT an awful person after all.
The boys picked out Gooey Chocolate Chip Cookie Bars from What's Gaby Cooking. Excellent choice, I thought. I had this fear they would pick out a pie or some sort of amazing Molly Yeh layer cake and I would be forced to rise to the occasion.
We had all the ingredients in the house. I got to work. I let the boys do the mixing and some measuring. The recipe is so easy and still came together even though I think Andy may have under measured the baking soda by a lot.
The cookie bars came out of the oven. I let them cool and then sliced them up. Now, before I go any further, just remember WHO picked this recipe!
The boys came in and saw the cookie bars on the cooling rack. "I don't want these." said Andy. "M&M Chocolate chip cookies, pweease?" asked Jack.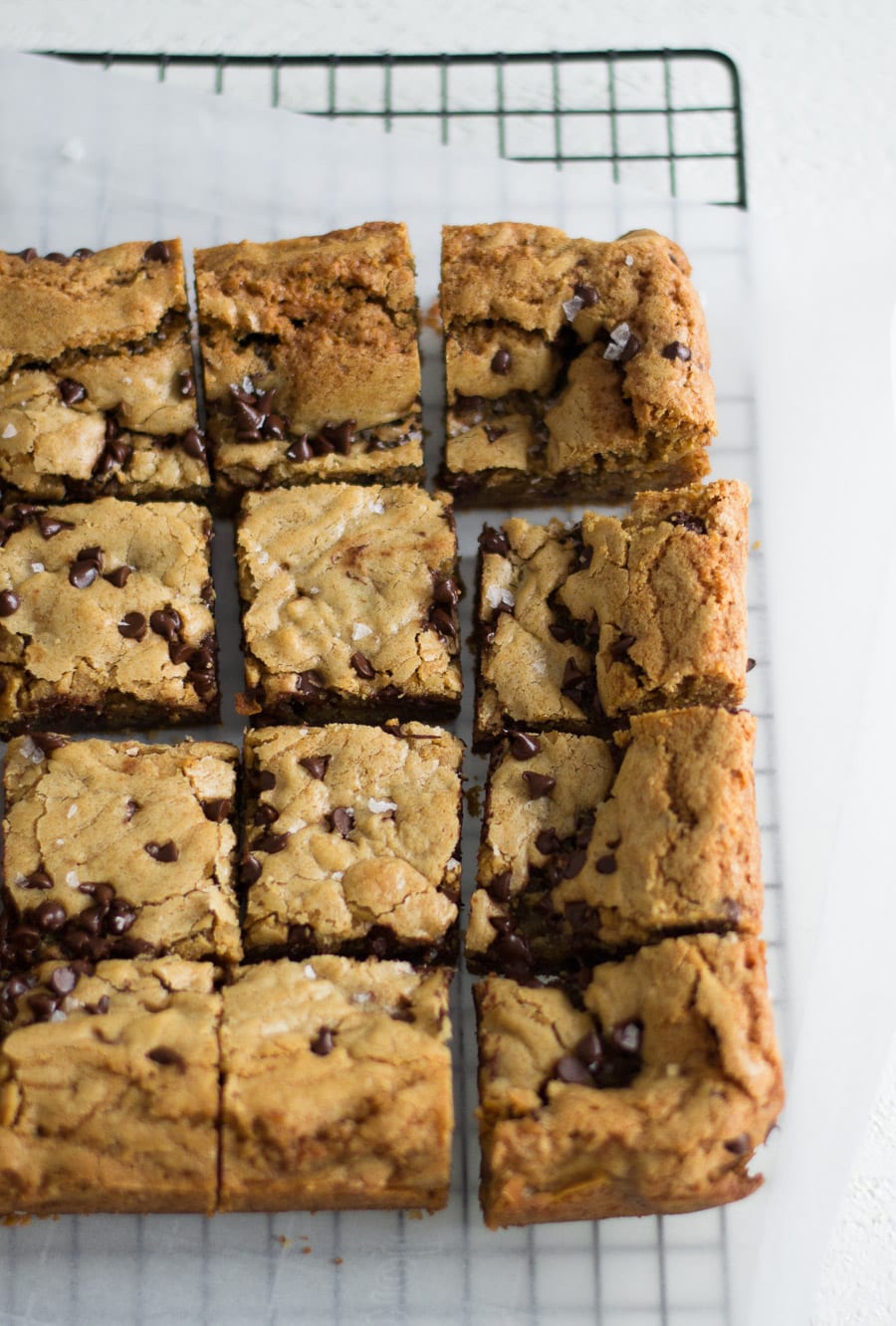 Can you now get a little clue as to why I don't want to go all out for the day of love?
FYI I know I talk a big game here on the blog, but the truth is I am probably going to buy them some heart balloons and let them pick their dinners that night because I am not a full Valentine's Day Grinch. My heart may have only grown 2 sizes instead of 3, so let's revisit my Grinch-hood next year.
In the meantime, Happy Valentine's Day and chocolate chip cookie bars for all!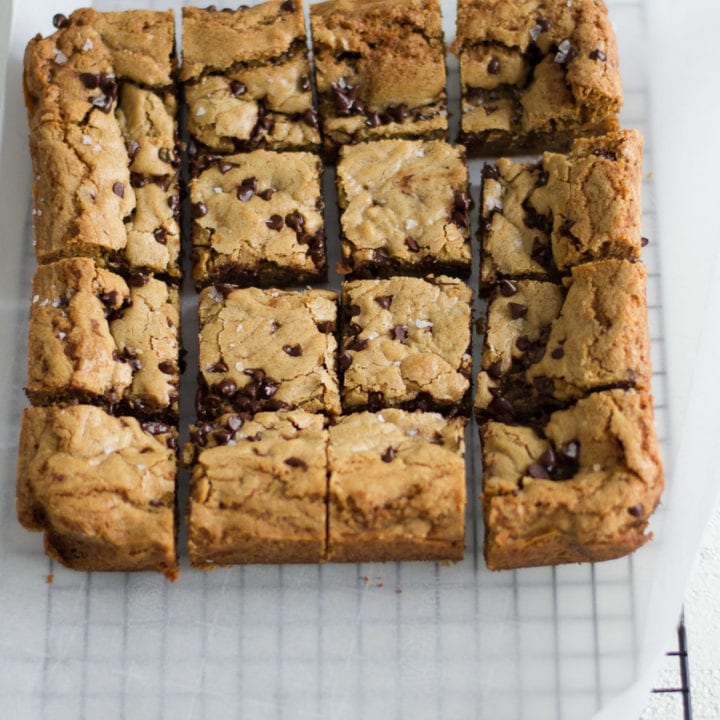 Chocolate Chip Cookie Bars
Total Time:
2 hours
40 minutes
Gooey chocolate chip cookie bars are simple and so tasty. You can whip them up any time a sweet tooth craving hits!
Ingredients
1 cup (2 sticks) unsalted butter, melted
2 cups light brown sugar
4 tsp vanilla extract
2 large eggs
2 cups all-purpose flour
1 tsp baking powder
1/4 tsp baking soda
1 cup semi-sweet chocolate chips
1/4 tsp Maldon sea salt
Instructions
Preheat the oven to 350 F. Grease a 9x9-inch baking dish with butter and then line with parchment paper.
Combine the melted butter and brown sugar in the bowl of a stand mixer fitted with the paddle attachment. Mix on medium until combined and lighter in color.
Add the vanilla and eggs. Beat on medium/low until combined.
Whisk together the flour and baking powder in a small mixing bowl. Add to the wet ingredients and mix on low until just combined.
Add the chocolate chips and mix on low until combined and no more flour is visible.
Transfer the dough to the prepared baking dish. Use a spatula to press the dough into one even layer. Sprinkle salt on top.
Bake the cookie bars for 30 minutes, until the edges are golden and the center is still slightly jiggly.
Let the cookies cool in the fridge for 2 hours before cutting. Or cool on the cookie rack overnight and then slice for best results.
Recommended Products
As an Amazon Associate and member of other affiliate programs, I earn from qualifying purchases.