March Madness is upon us. Cheer your favorite teams on with the finest array of Olli Salumeria meats and cheese on this DIY March Madness Meat and Cheese Board. There is something for everybody.
Disclaimer: Today's post, March Madness Meat and Cheese Board is sponsored by Olli Salumeria. I was compensated for my work. All thoughts and opinions are solely my own. Sponsored posts help me keep this blog machine rolling and allow me to share things I genuinely use and like.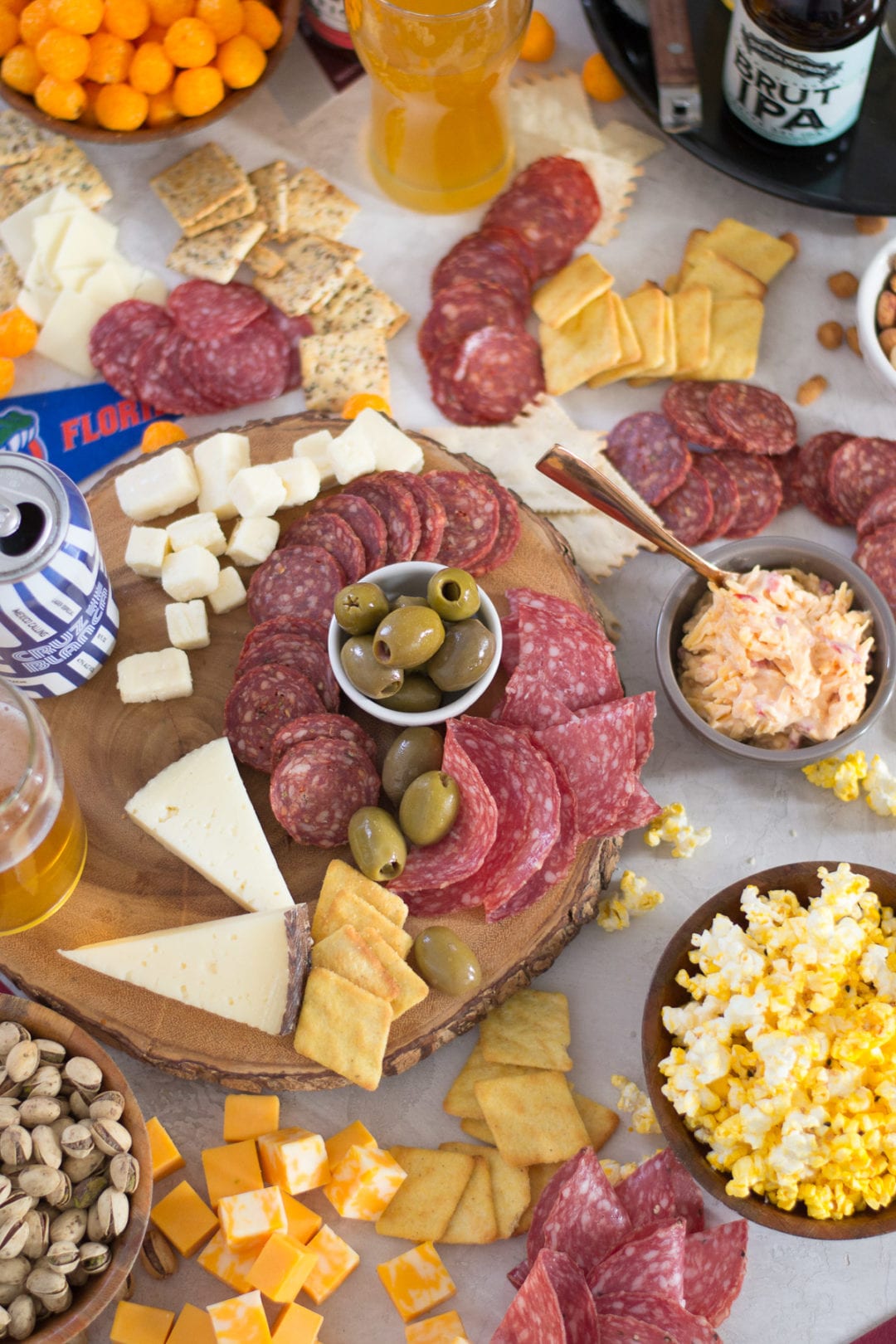 Dun-a-dun, dun-a-dun. That's totally the ESPN theme song, right? Are March Madness games even on ESPN? CBS? As with most sporting events, I am there for the snackage.
I come to reign supreme and have a "One Shining Moment" with all the salty snacks. And beers. But mainly the snacks.
Mike and his dad were in talks to go to Vegas for March Madness this year. I am glad they didn't because it now allows me to partake in what I like to call the ruse of "I'll just make one small thing." As you can see, my one small thing took over my whole table.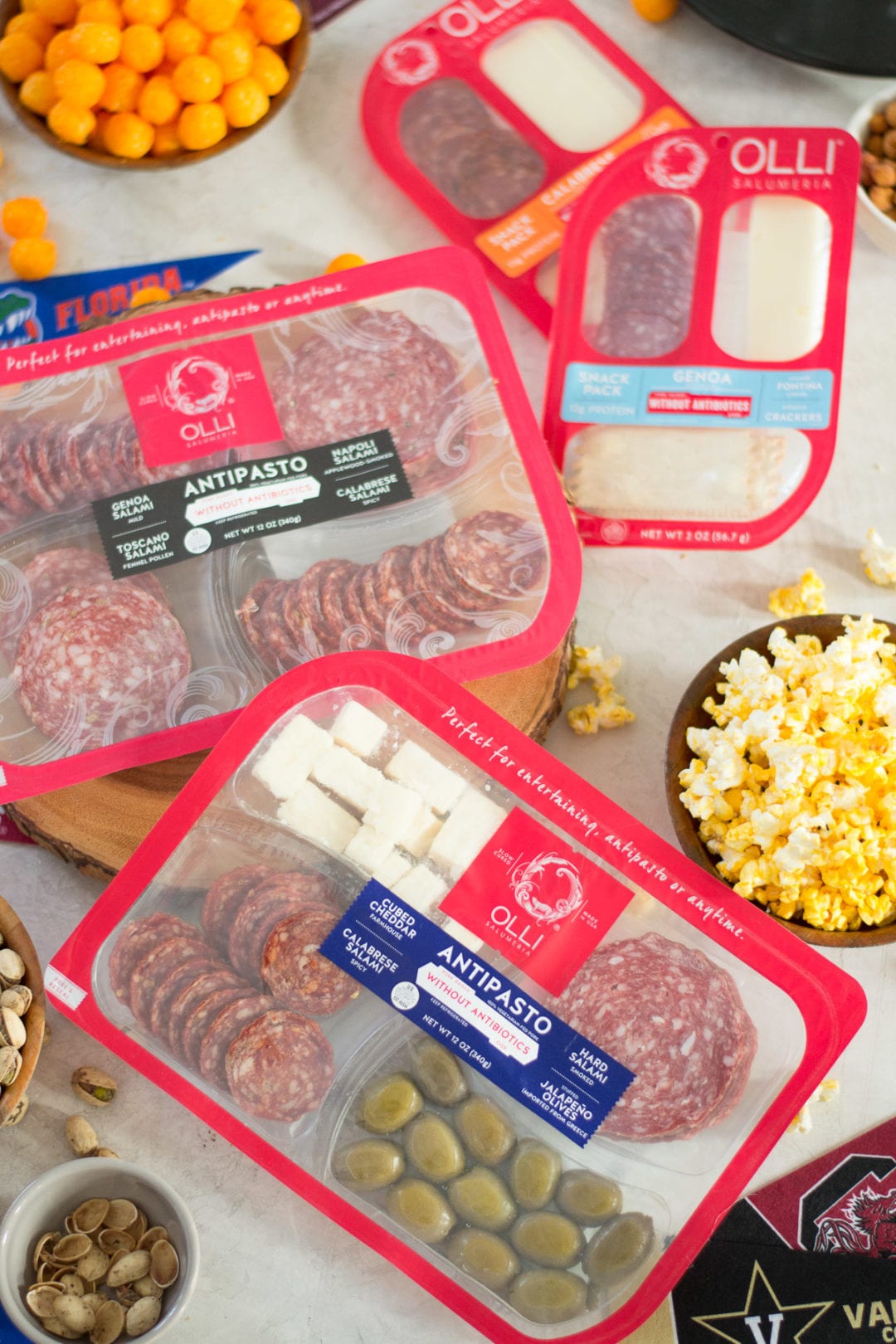 This March Madness meat and cheese board is totally worth the assembly. Placing meat already pre-sliced from olli Salumeria will not kill you, boys. It's not like I befouled this meat and cheese board with fruit.
Did you not see the cheeseballs? Ok. Let's dive in and start dissecting all the goodness.
Olli Salumeria's antipasto trays come packaged and sliced. All you sport loving hosts need to do is put them on a plate, pick some snacks to go along with them, and throw in some beers. Ta-da! March Madness meat and cheese board magic! Easy enough!
Are you looking for something spicy?
Olli Salumeria Calabrese Salami is no joke. It definitely has a slow burn to it. On first bite you get that wonderful garlic and then, boom, spice. I really loved to have a few cheeseballs afterwards to calm the heat down a bit. Also included in the antipasto tray are these fiery little jalapeño stuffed olives that pair so nicely with the thinly sliced fontina and an everything bagel cracker.
Don't shy away from a classic cheese like cheddar or Monterey Jack to calm the fiery Calabrese salami. Cheddar makes everything better.
I like to pair the spicy meats with a bright fruity beer like Bell's Flamingo Fruit Fight. The acidity and tartness cut through the heat and fat from the salami. You could also go with a fruity wheat beer like Blue Moon or a 312.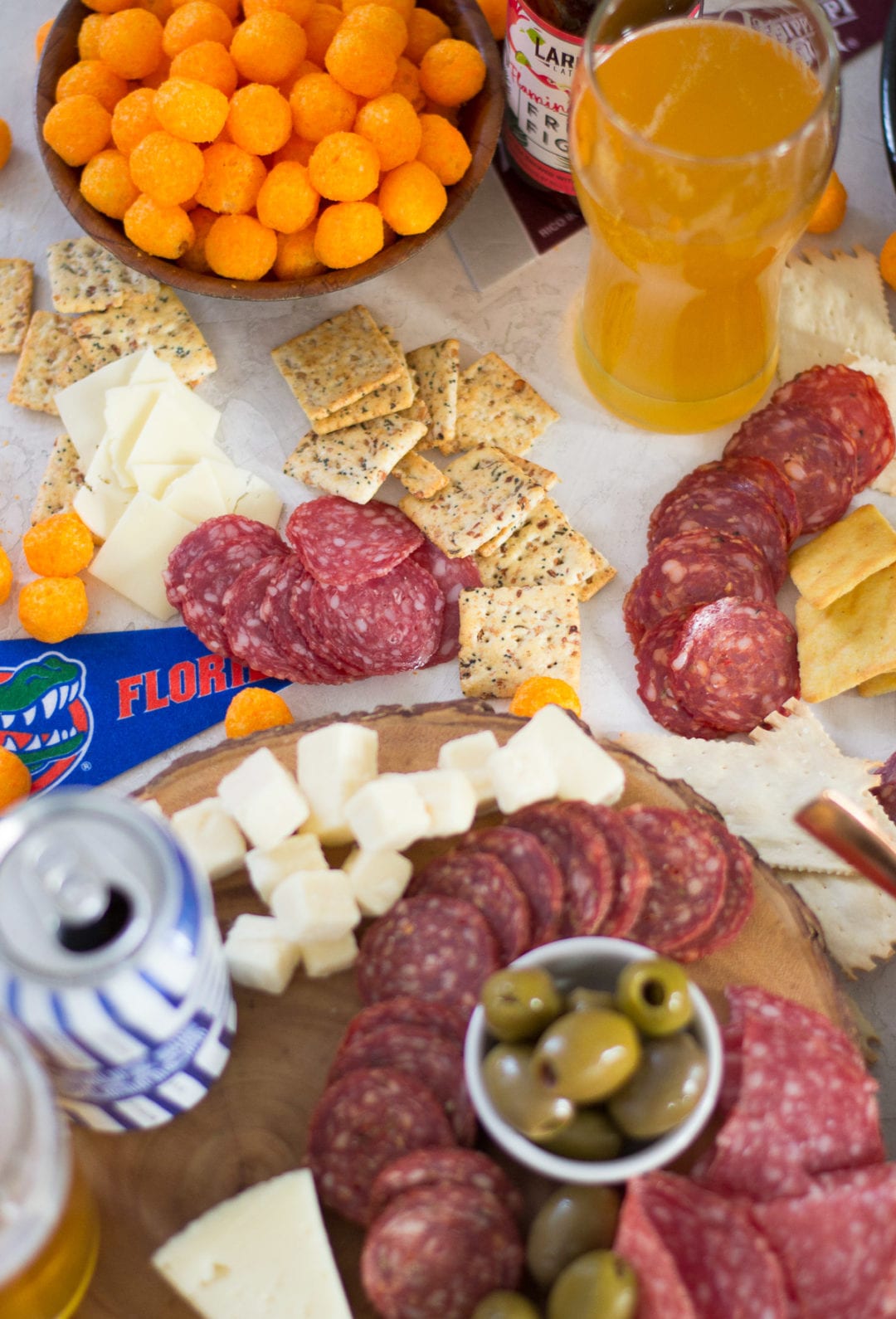 Looking for something sweet and savory?
Olli Salumeria Toscano Salami is slightly peppered and studded with fennel. I loved grabbing a few honey-roasted peanuts along with this bite of salami. It adds a bit of complexity to the cheese board without having to over think or drizzle honey all over everything with a dainty honeycomb. Pair a dark beer with the sweet nuts and fennel salami for a deeper flavor. A Guinness mimics a hint of coffee and chocolate and adds another sweet layer to this already complex pairing.
Want more of a classic pairing?
Olli Salumeria smoked hard salami and the Genoa salami are delicious if you want to stick to something classic. Everybody loves and recognizes the peppery, salty, garlic filled bite of salami. The smoked salami was my favorite paired with popcorn and a sprinkle of everything bagel seasoning. Wheat or butter crackers go well with these classic salami.
For a slight twist, since there are so many southern teams in the games, try some cornbread crackers with pimento cheese and the Genoa salami.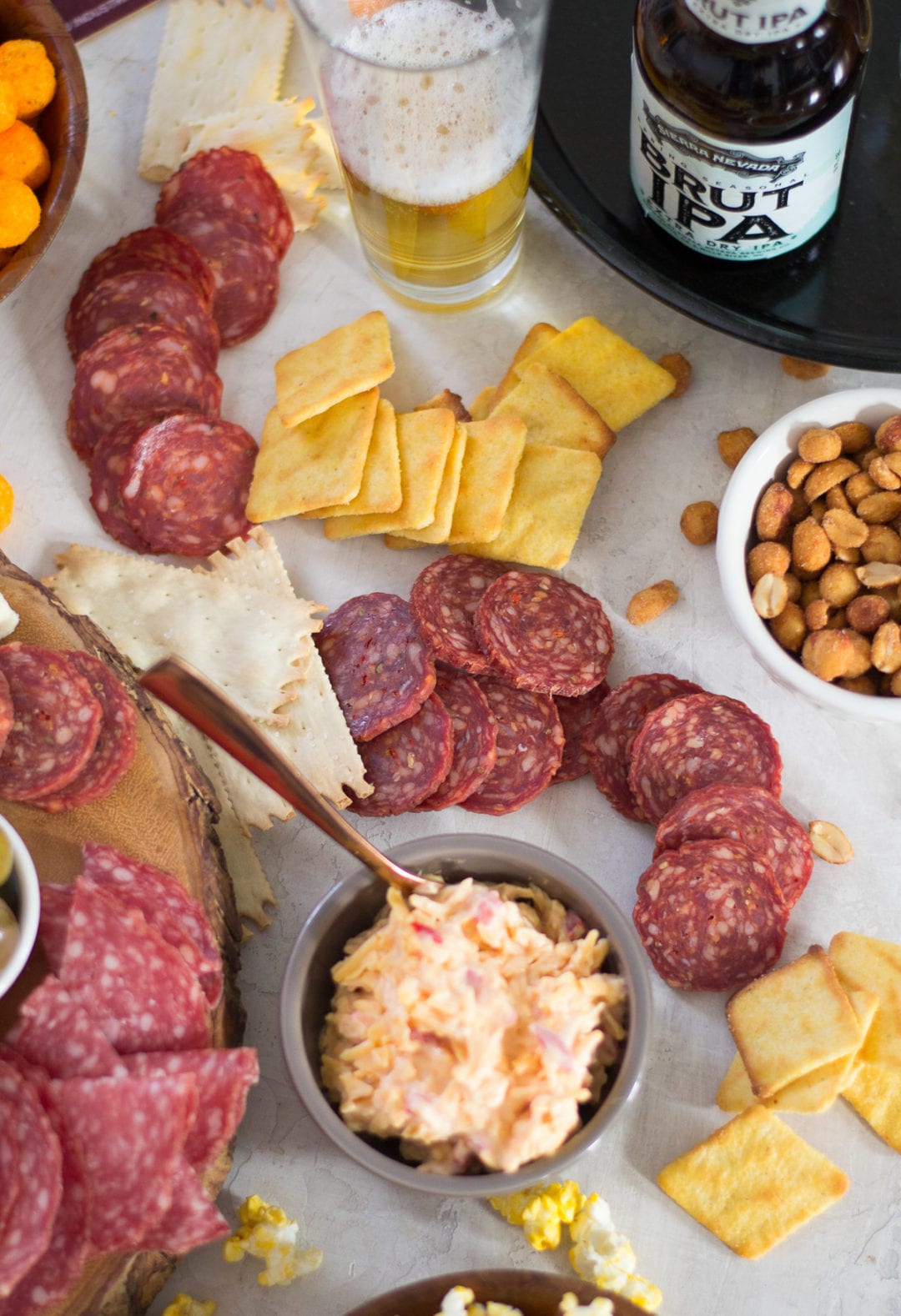 Classic salami pairs well with classic beer flavors—beer that tastes like a beer. Mexico Calling by Cruz Blanca is a wonderful Corona-like Mexican ale that cuts through the heavy flavors of the classic salami. I also really like the Brut IPA from Sierra Nevada in it's place for some of those beer snob, IPA lovers out there. I am raising my hand because I am one of those snobs.
Olli Salumeria meats and cheeses would add so much to any meat and cheese board. They are slow cured from grass-fed animals and readily available for grab and go snacking. The meat basically does all the hard work, all you need to do is add in a beer or two and your favorite easily sourced salty snacks and crackers.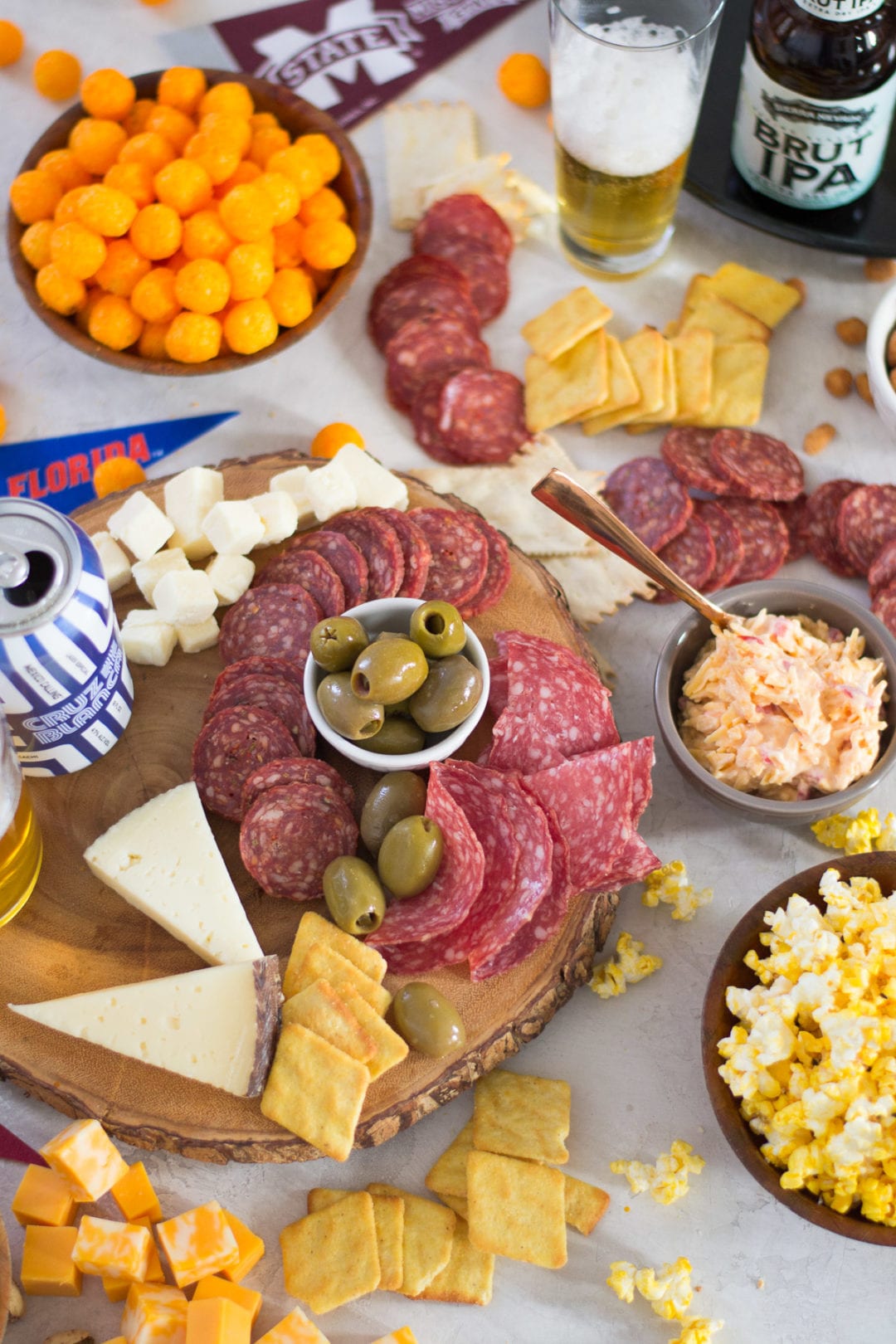 Happy March Madness! Get yo' snack on!