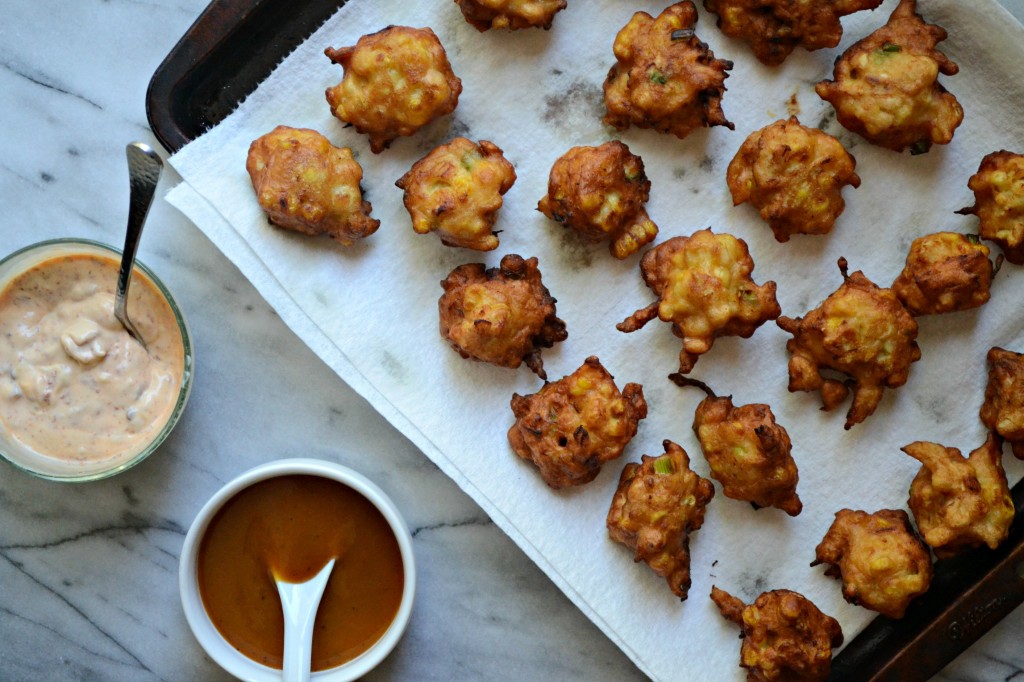 Every day you guys come here and read my little tidbits about myself and my little life. I feel like you hear about me, my brothers, my Mom, Weezer, and Andy all the time but you don't really hear too much about the man behind the blog, Mike.
Well, scratch that, you do hear about him occasionally. The stories about him are usually about his hatred for tomatoes or about something weird/infuriating that he did.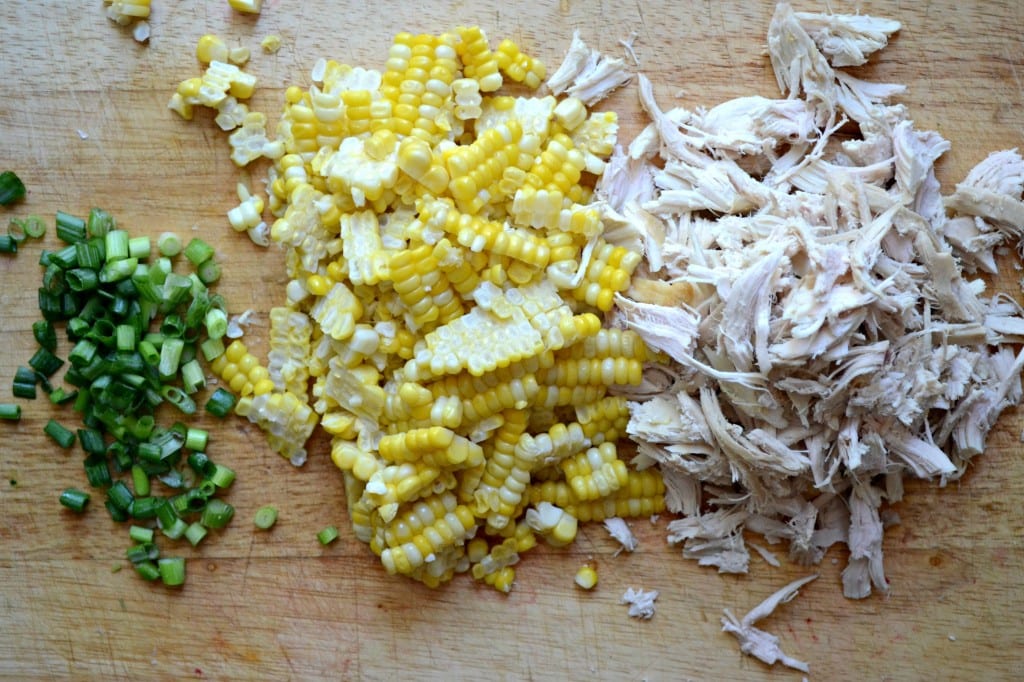 Today, in honor of Mike's dislike (well his old dislike of BBQ sauce before he had this recipe), I am going to share with you a few unknown facts about my husband.
Mike's favorite movies from his childhood are Adventures in Babysitting and Karate Kid. To say he had a slight crush on Elisabeth Shue would be an understatement.
Mike did not eat an actual salad, a side salad at that, until the year 2010. No joke. After every bite of salad he chased it down with a bite of pepperoni pizza. Dramatic much?
Mike plays the guitar. He was in a band in his high school glory days. They went on a Borders store tour throughout the Chicagoland area. Don't think that he was one of those cool, "I'm in a band guys." He was also a jazz band nerd so they cancel each other out.
Mike claims to be the be-all-end-all master of knowledge of music from the 90's. I have stumped him a few times (not that he will ever admit to it).
When I first met Mike he wanted to have TEN KIDS!!! I brought up several problems with this through the years; i.e. teacher/blogger salary and the fact that I am not being pregnant for the rest of my thirties. I have now talked him down to three.
Mike loves chicken wings. If you try and put that BBQ sauce on them, he will flip. He is not a fan of that sweet and spicy stuff or sweet and salty stuff for that matter.
Are you bored? Would you rather I have babbled on about Andy? Was that too much factual info and not enough witty banter? I am sorry, Mike is a simple man with simple needs and likes.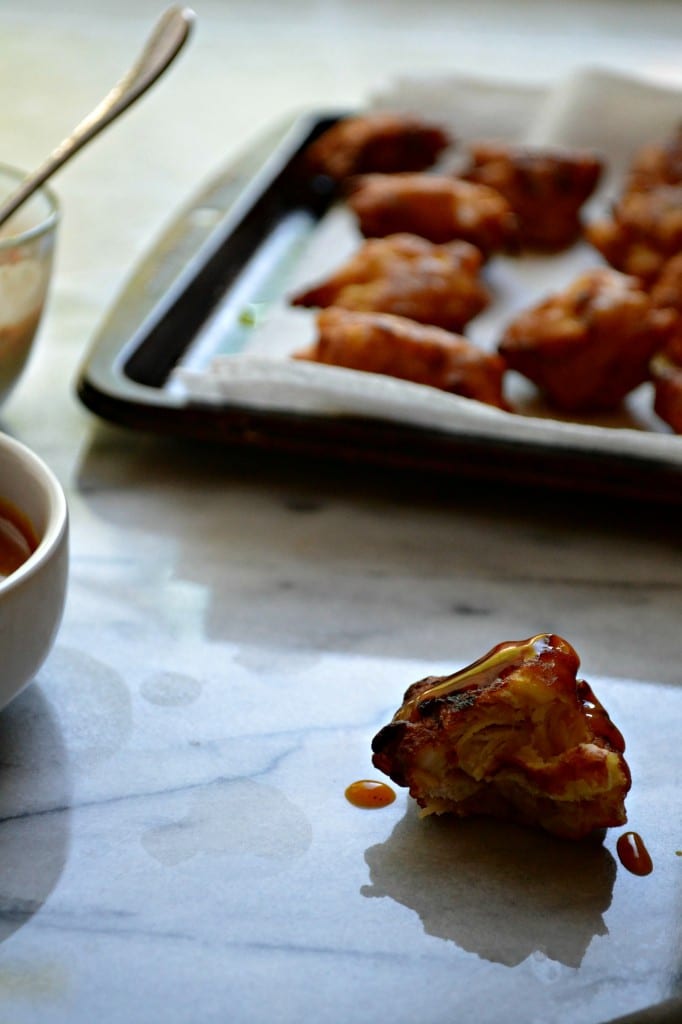 Anyway…
I finally got Mike to like a BBQ sauce. We have gone through many. Sometimes I feel like my refrigerator belongs to a bunch of bachelor dudes with all the half full bottles of BBQ sauce and other condiments on the refrigerator door. I found this amazing Carolina Gold BBQ Sauce from Trader Joe's. It is more of vinegar and mustard based BBQ sauce. It isn't too sweet or smoky or thick. If you are lucky to have a Trader's by you, you have to get this sauce. If not, womp, womp. Your favorite BBQ sauce will substitute just fine.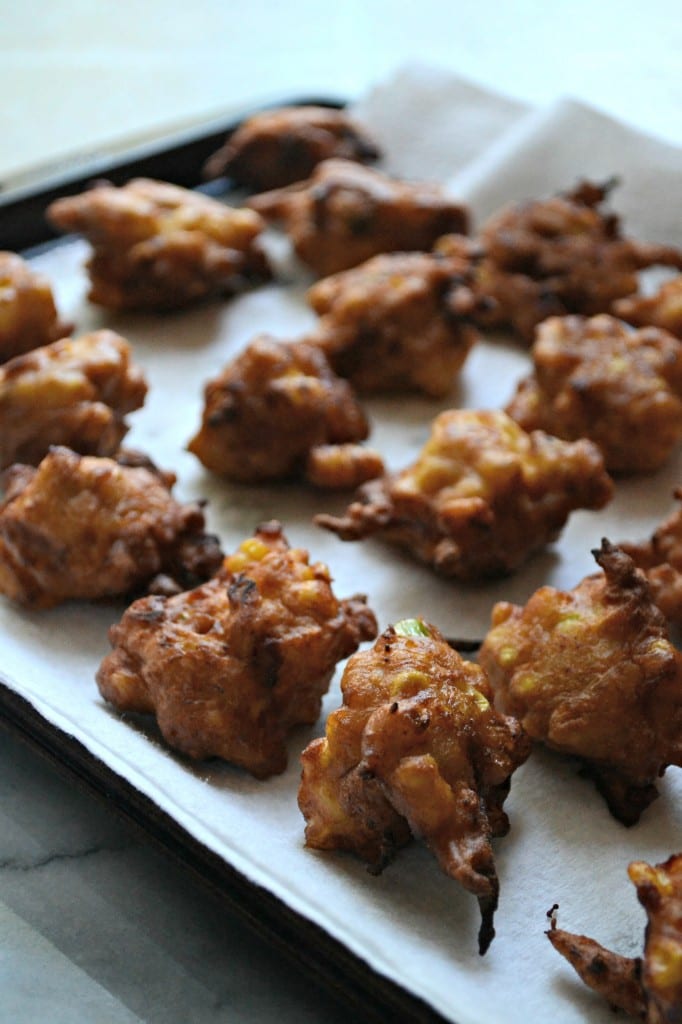 BBQ Chicken and Corn Fritters
Poppable little fritters filled with zesty BBQ chicken and fresh corn.
Yields: 30-40 Fritters
1 Cup All Purpose Flour
1 Teaspoon Baking Powder
½ Teaspoon Cayenne Pepper
2 Large Eggs
½ Cup Whole Milk
1/3 Cup BBQ Sauce
2 Heaping Cups of Corn
2 Cups of Cooked and Shredded Chicken Breast
2 Green Onions, chopped
Canola Oil for Frying
Fill a cast iron skillet or large heavy-bottomed pan with canola oil about ¾ of the way up. Heat the oil over moderate heat until it reaches 365 degrees F.
Meanwhile in a large bowl, mix the flour, baking soda, and cayenne pepper together. In a separate small bowl whisk together the eggs, milk, and BBQ sauce. Add the wet ingredients to the dry ingredients and mix until almost combined.
Add the chicken, corn, and green onions to the bowl. Mix until evenly coated.
Once the oil is hot, use a small ice cream scoop or teaspoon to add the batter to the oil. Fry for about two minutes on each side, until they are lightly golden. Be sure to monitor the oil temperature as you go. Use a slotted spoon to remove the fritters and add them to a baking sheet lined with a paper towel to cool and drain.
Serve hot with BBQ sauce or a little chipotle mayo on the side.
Preparation time:

10 minutes

Cook time:

25 minutes

Total time:

35 minutes