Creamy Tomato and Mushroom Orzo is a delicious and easy one pot meal. Orzo cooked in one pot with fire-roasted tomatoes, sun-dried tomatoes, mushrooms, and spinach in a creamy sauce.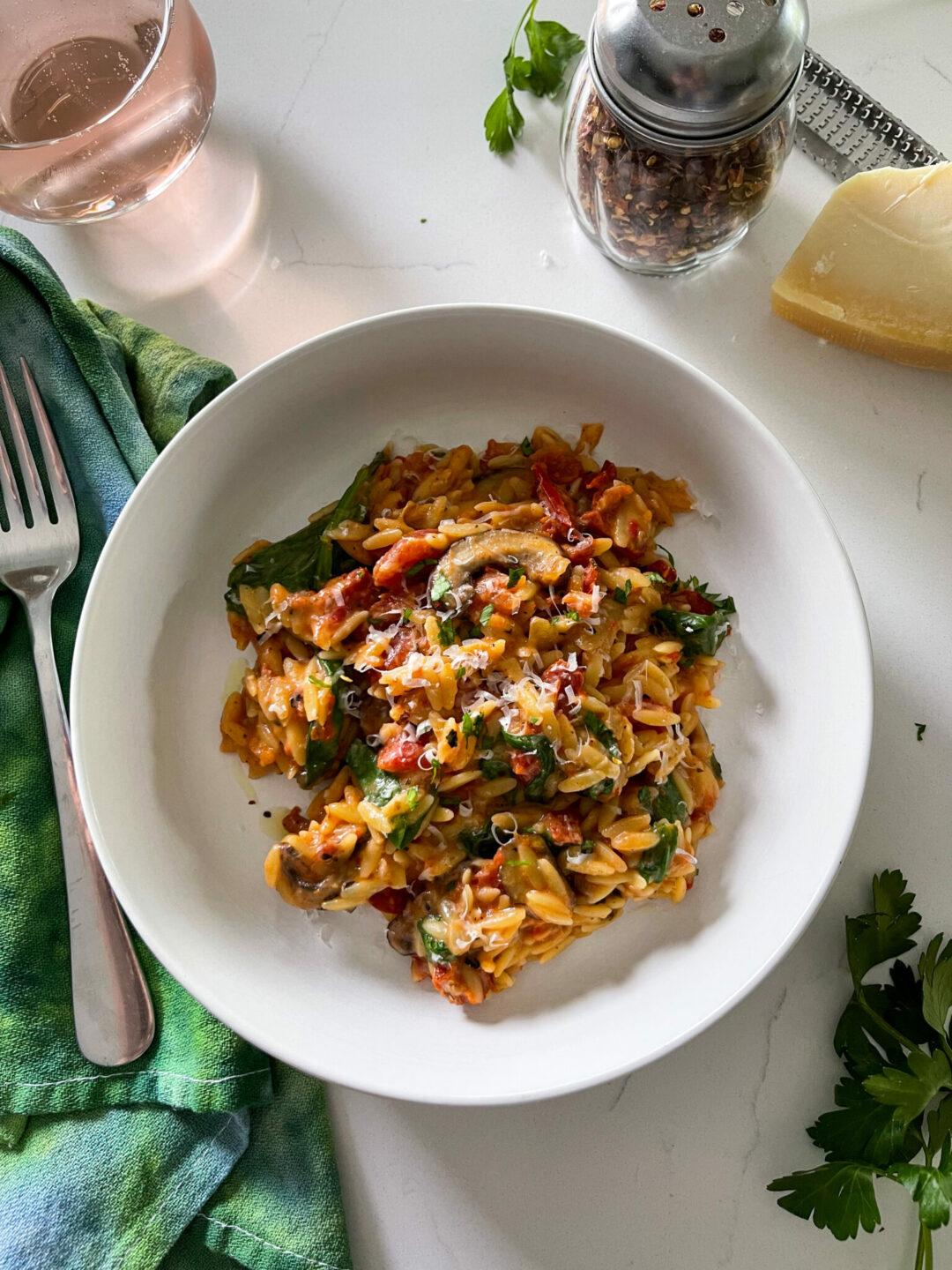 I might get a little backlash on mushrooms being in this recipe.
It's weird, right?
I mean, I get it, you like what you like.
A while ago I posted a recipe for creamy vegetable gnocchi soup.
The comments on Facebook blew up with comments like:
All good except the mushrooms.
I hate mushrooms (barf face emoji).
Nah for me… mushrooms.
I never knew mushrooms were so polarizing.
Maybe it's just Facebook.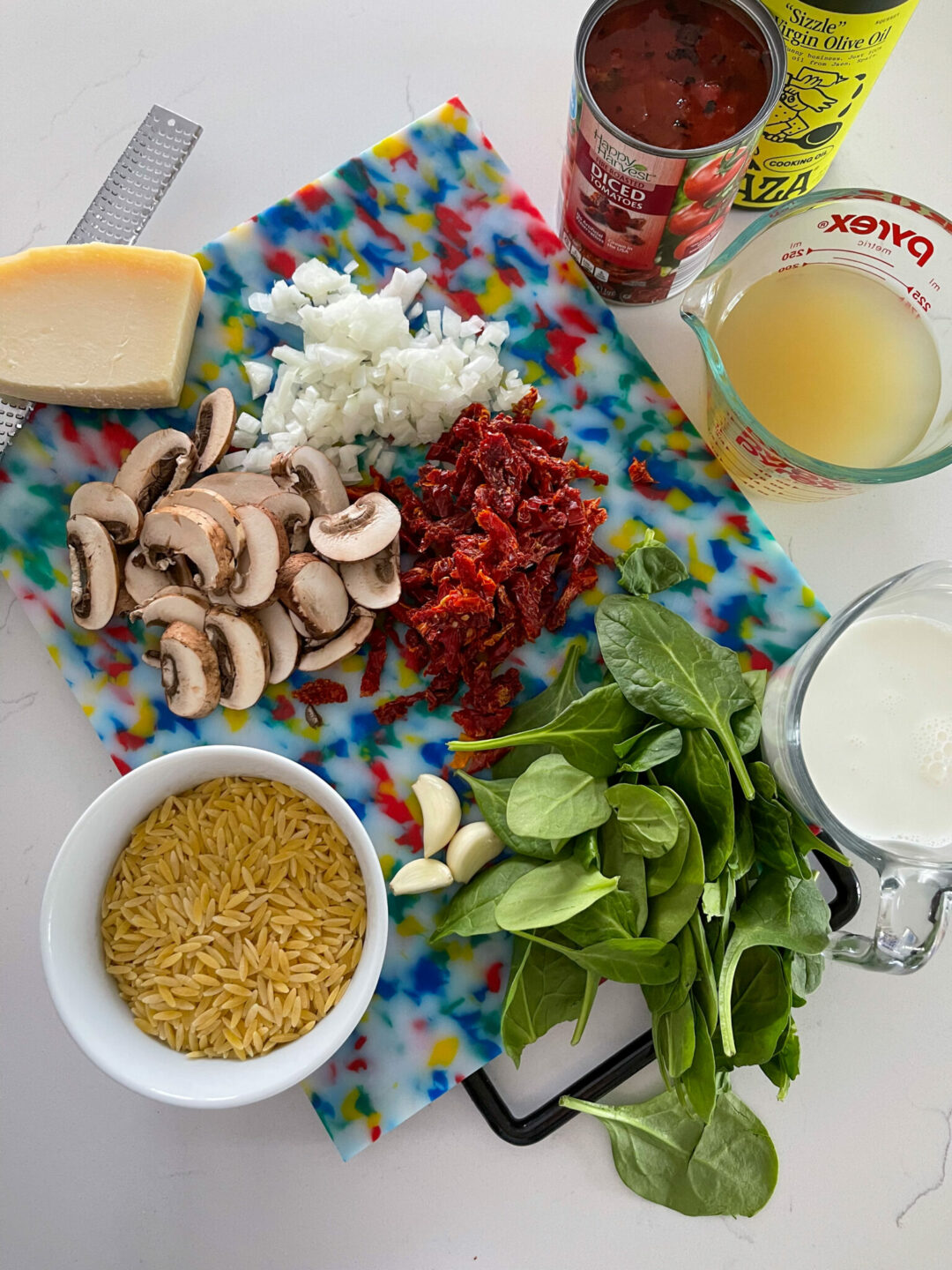 Mushrooms are always in my fridge. I blame my mother for my love of mushrooms.
Andy once told me he never minded mushrooms on pizza because, "they taste like nothing."
So, add them or don't, but I don't wanna hear about it in the comments.
(Insert winky tongue out emoji).
The mushrooms add a depth of flavor to the dish and give it a bit of bite, toothsomeness if you will.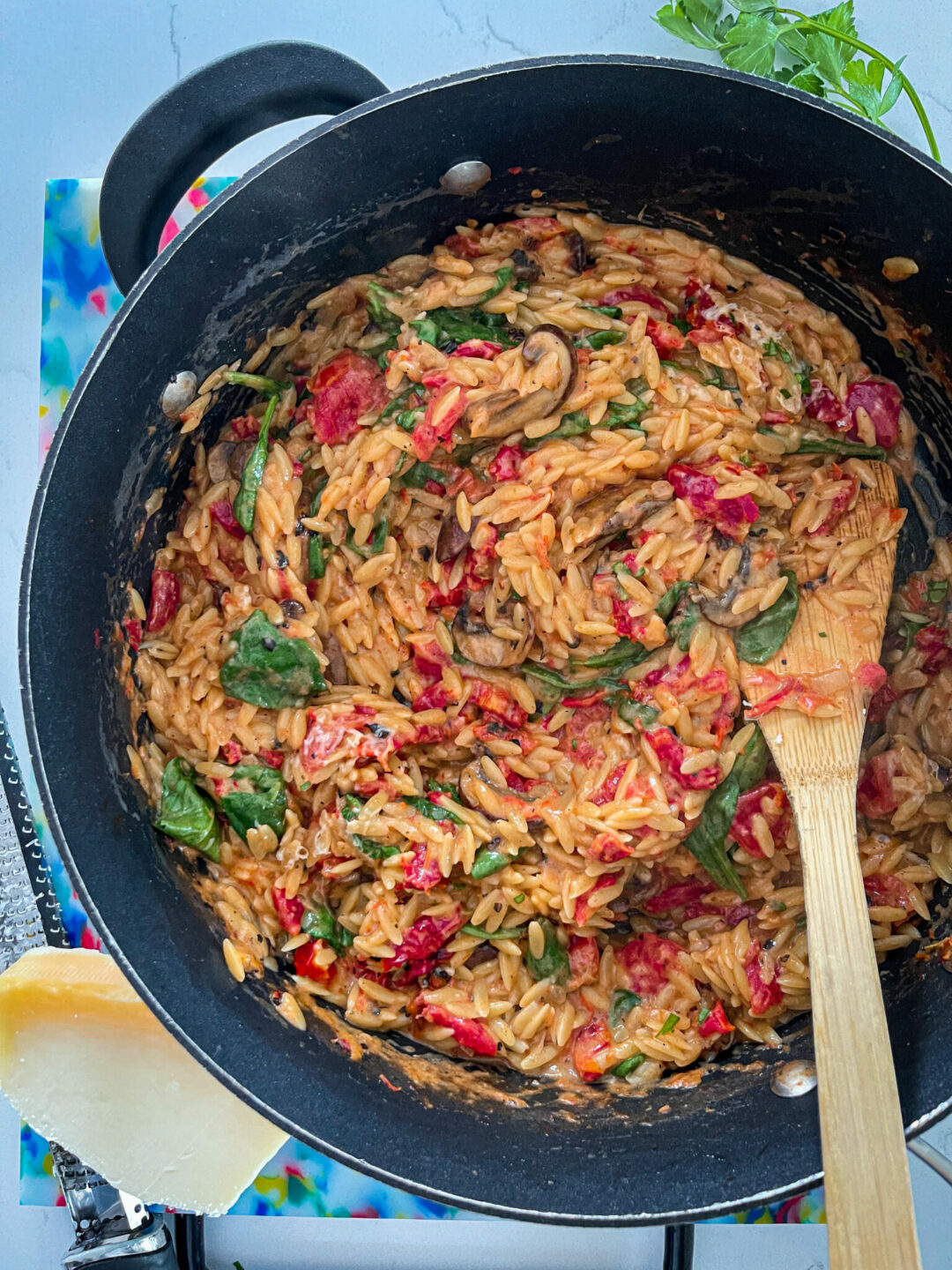 I used to eat even more mushrooms back in the old days of my vegetarianism.
Mushrooms pack a punch and are full of health promoting goodness.
The tomatoes and spinach are also healthy stunners in this recipe.
I didn't forget about them.
Let's get into the actual recipe. Here is what you will need:
canned fire-roasted tomatoes
diced onion
sun-dried tomatoes
sliced baby bella mushrooms
fresh baby spinach
garlic
orzo
extra-virgin olive oil
vegetable or chicken stock
heavy cream or half and half
parmesan cheese
All of that gets cooked together in one pot.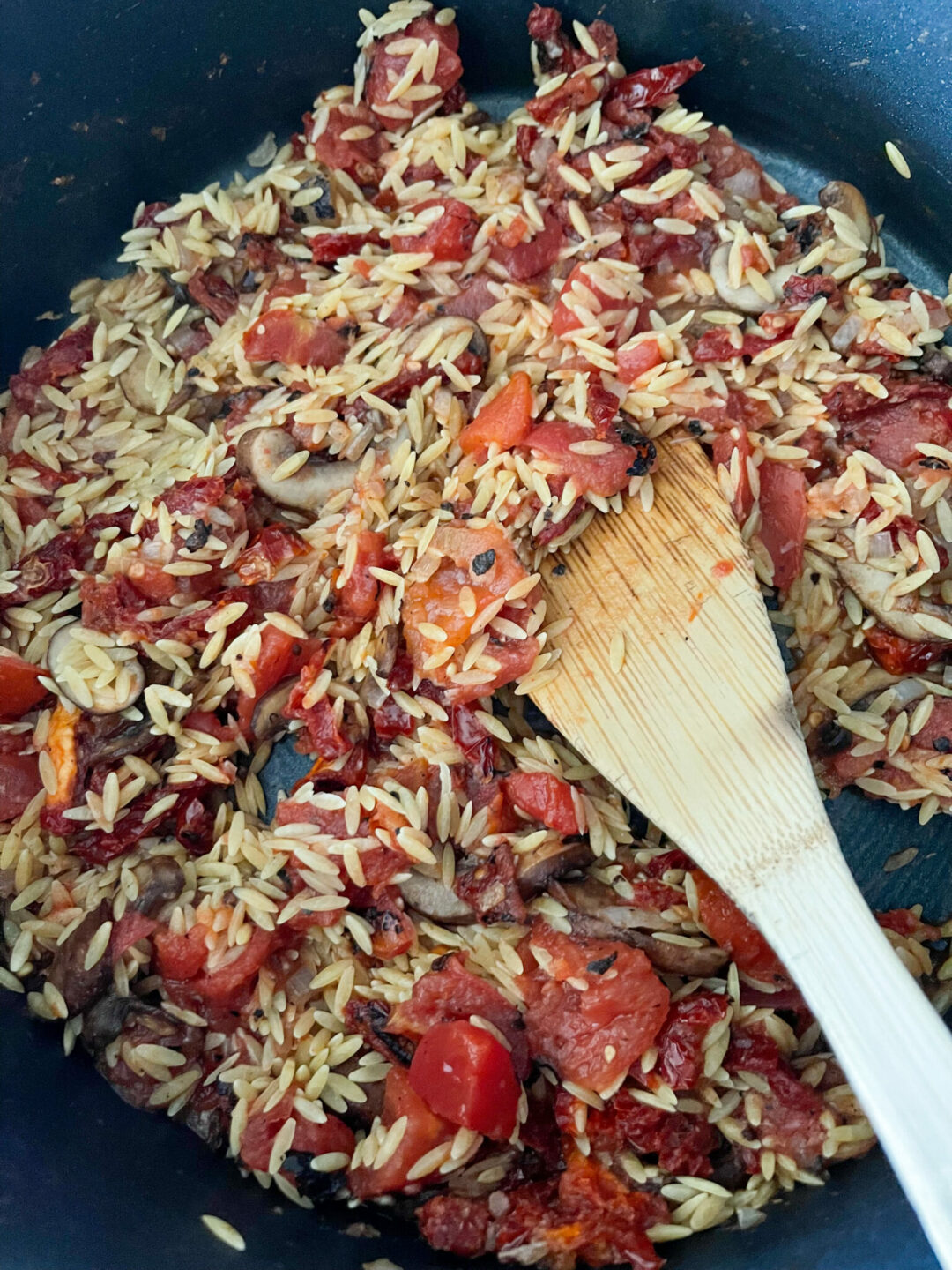 I try not to eat a lot of dairy in my older age, so I didn't feel the need to include a lot of cheese or cream cheese.
The little bit of heavy cream/ half and half added towards the end of the cooking process mixed with the parmesan adds all the creamines we need.
Plus, you can always add more grated parm at the end.
It's one of those things you measure with your heart.
The second night we ate this for dinner I made some sausage and peppers to appease my carnivore husband.
In that case the creamy tomato and mushroom orzo acted more as a side dish than a main.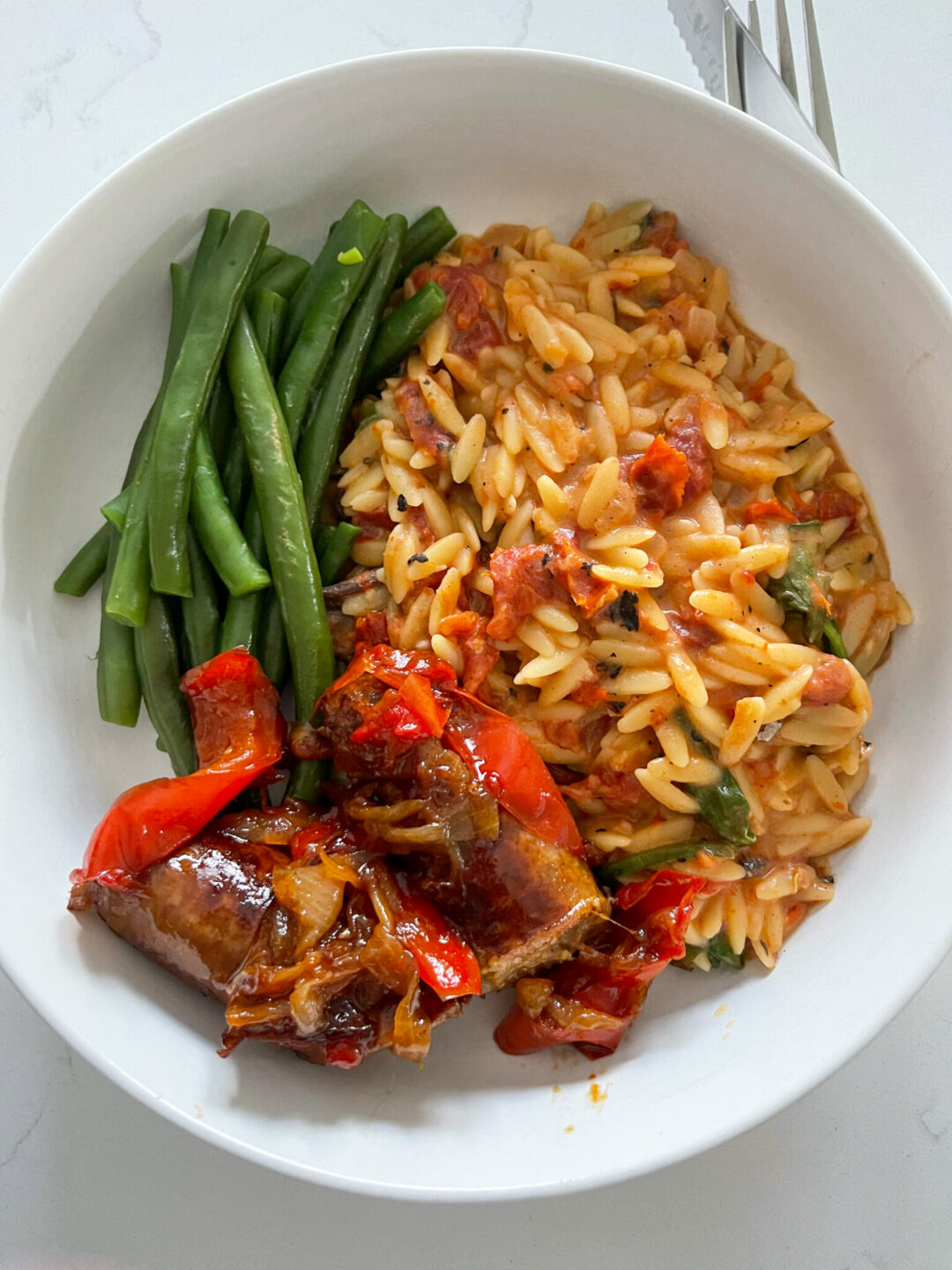 It still works!
Creamy Tomato and Mushroom Orzo
Yield: Serves 4-6

Prep Time: 10 minutes

Cook Time: 25 minutes

Total Time: 35 minutes

Creamy tomato and mushroom orzo is cooked in one pot and full of lots of sun-dried tomatoes, fire-roasted tomatoes, mushrooms, spinach, and onion.
Ingredients
2 tbsp extra-virgin olive oil
6 baby bella mushrooms, thinly sliced
1/2 yellow onion, diced
3 garlic cloves, minced or grated
1 cup julienne cut sun-dried tomatoes
1, 14.5 oz can fire-roasted diced tomatoes
8oz orzo
salt and pepper to taste
2 1/4 cups chicken or vegetable stock
3/4 cup heavy cream/ half and half
2 cups fresh baby spinach
1/2 cup grated parmesan cheese
Instructions
Heat a large deep skillet over medium. Add olive oil. Once shimmering, add mushrooms. Cook until they start to caramelize, about 7 minutes.
Reduce heat to medium/low. Add onions and garlic. Stir to combine. Cook for 3-5 minutes until tender.
Add the sun-dried tomatoes and fire-roasted tomatoes. Season with salt and pepper. Mix to combine. Cook for 3 minutes.
add the orzo. Increse het back up to medium. Stir continuously until some of the liquid from the fire-roasted tomatoes starts to absorb into the orzo, about 5-7 minutes.
Add the stock and mix to combine. Cover with lid, bring to a simmer. Simmer for 10 minutes.
Remove lid. Mix in the cream and spinach. Cook until the spinach is wilted and the orzo is al dente.
Add more salt and pepper to taste and mix in the parmesan cheese.
Serve with more cheese and some fresh basil or crushed red pepper flakes if you so choose.
Recommended Products
As an Amazon Associate and member of other affiliate programs, I earn from qualifying purchases.