Easy cheesy potato quesadillas are slightly spicy and quick to prep the filling ahead of time. A mix of baby potatoes, jalapeño, and onion folded into a cheesy quesadilla with a little hot sauce aioli on the side.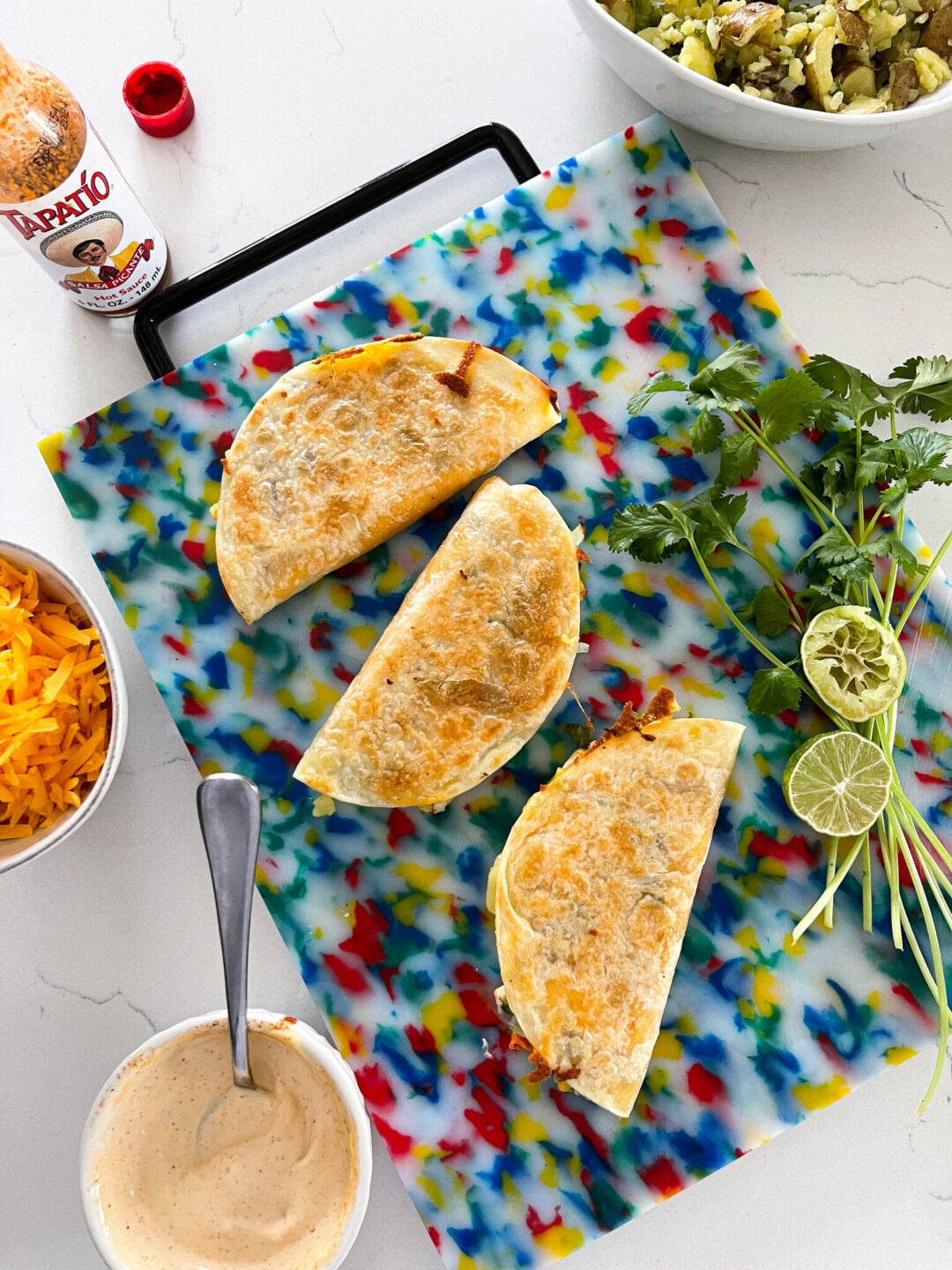 I am pretty sure that if you look back through the history of the blog you will see that I can never get my act together in time to post a Mexican-inspired recipe before May 5th.
Restaurant style blender salsa recipe was posted after May 5th.
Beef and potato enchilada skillet got posted May 13th.
It gets worse and worse the further you go back in the blog history.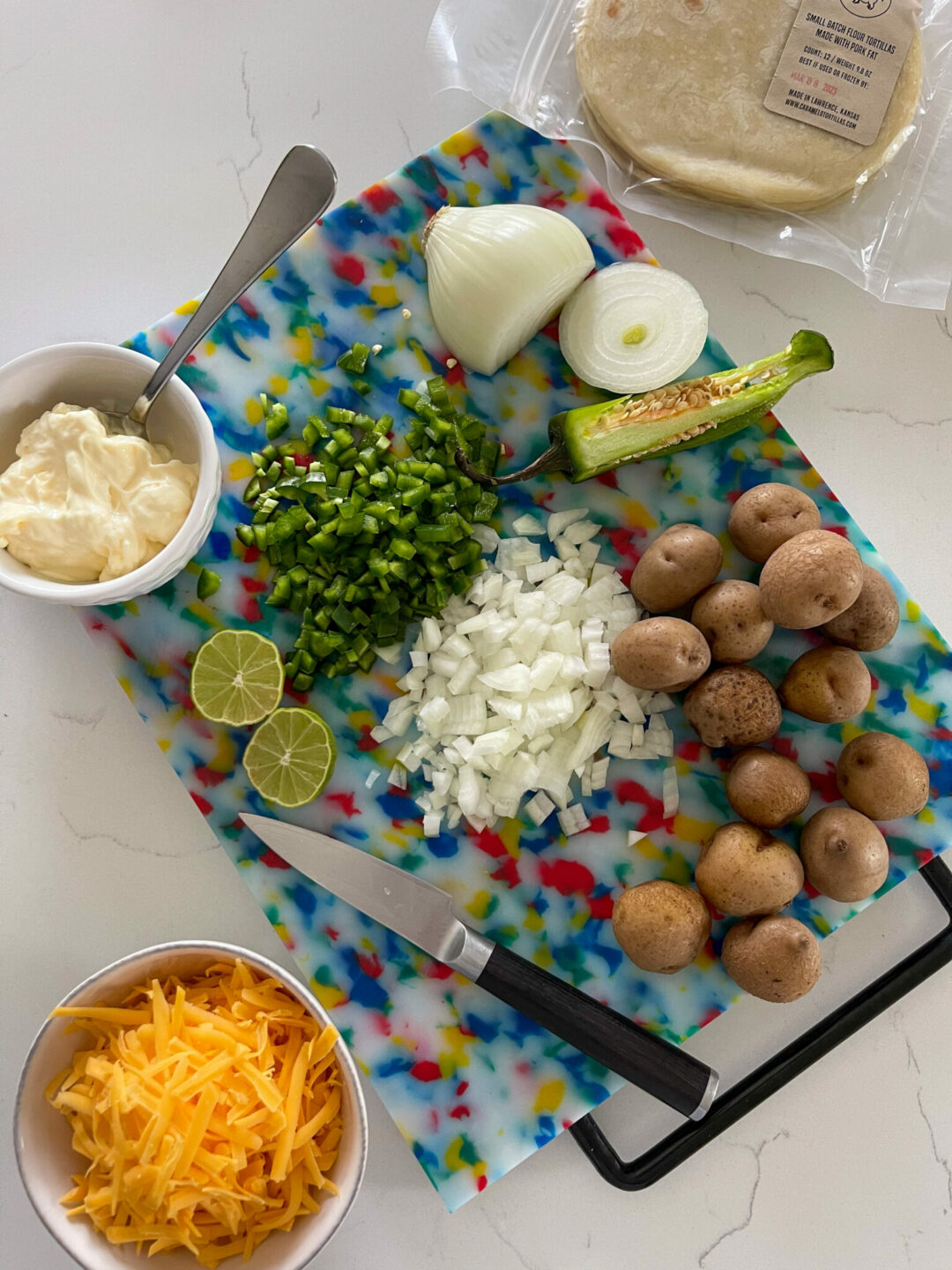 The only exception was the year I posted the recipe for homemade lime margarita mix.
Who doesn't work under a time crunch when the payout is margaritas though, right?
I am sure you found other bloggers' recipes to fill the need for your Cinco de Mayo dinners.
Easy cheesy potato quesadillas start off with boiling some baby potatoes until tender.
These potatoes can be made for meal prep when you have time.
Use half the bag of baby potatoes for these quesadillas and the other half for grilling or breakfast potatoes.
Store the potatoes in the fridge until you want to make the quesadillas.
Time for quesadillas? OK! Here's what you need:
Boiled Baby Potatoes
Extra-Virgin Olive Oil
Yellow Onion
Jalapeño Pepper
Tortillas
Shredded Cheese
Roughly chop the cooked potatoes.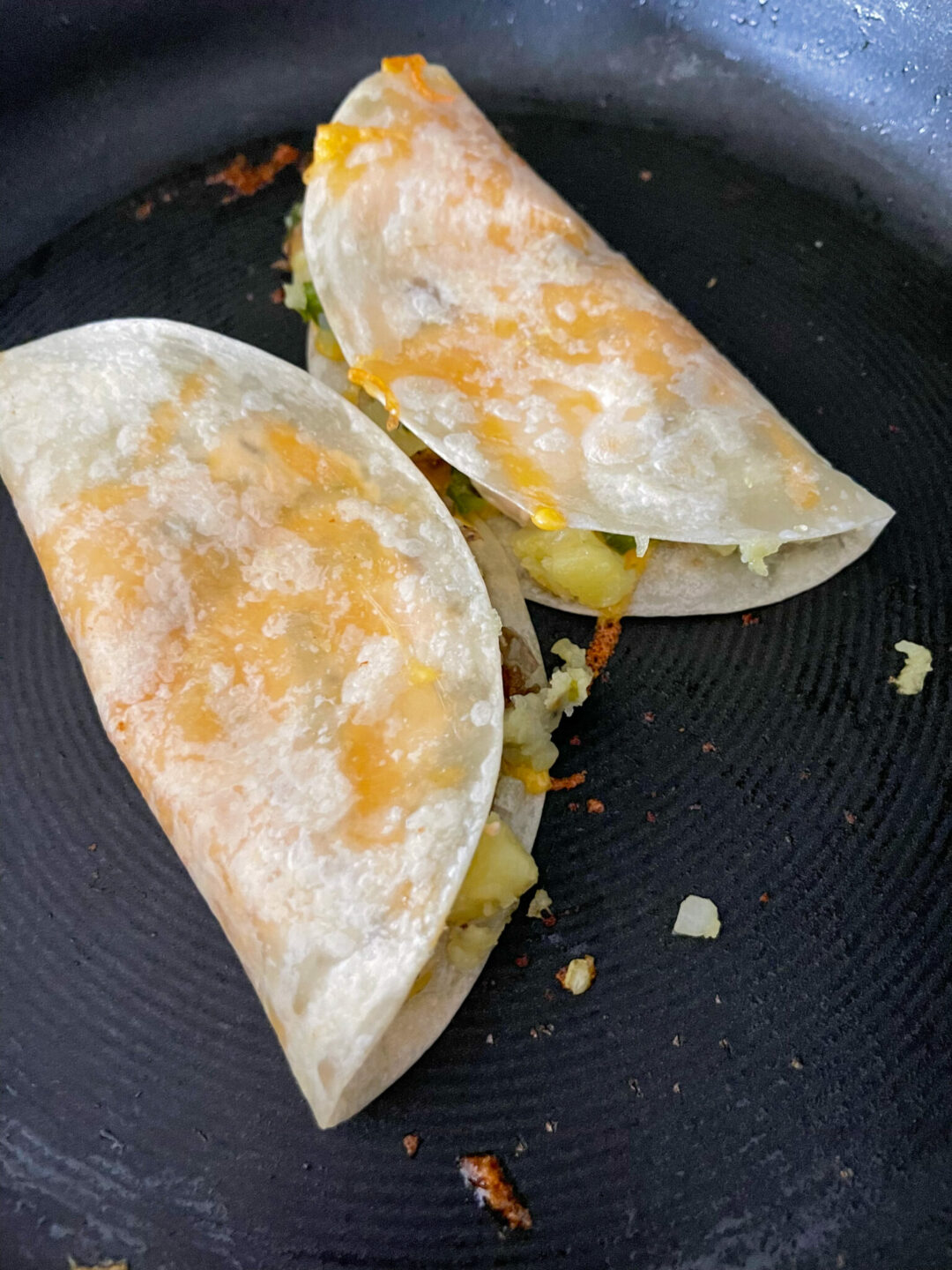 Heat the olive oil and then sauté the onion and jalapeño.
Once they are tender, add the potatoes. Season with salt and pepper.
Give the potatoes a mash.
We are NOT making mashed potatoes here!
You just want the potato pieces small enough to fit in the folded quesadilla.
Cook them until you get a little caramelization on the potatoes.
Remove the filling. Transfer to a bowl and keep nearby.
Return the same pan to the heat.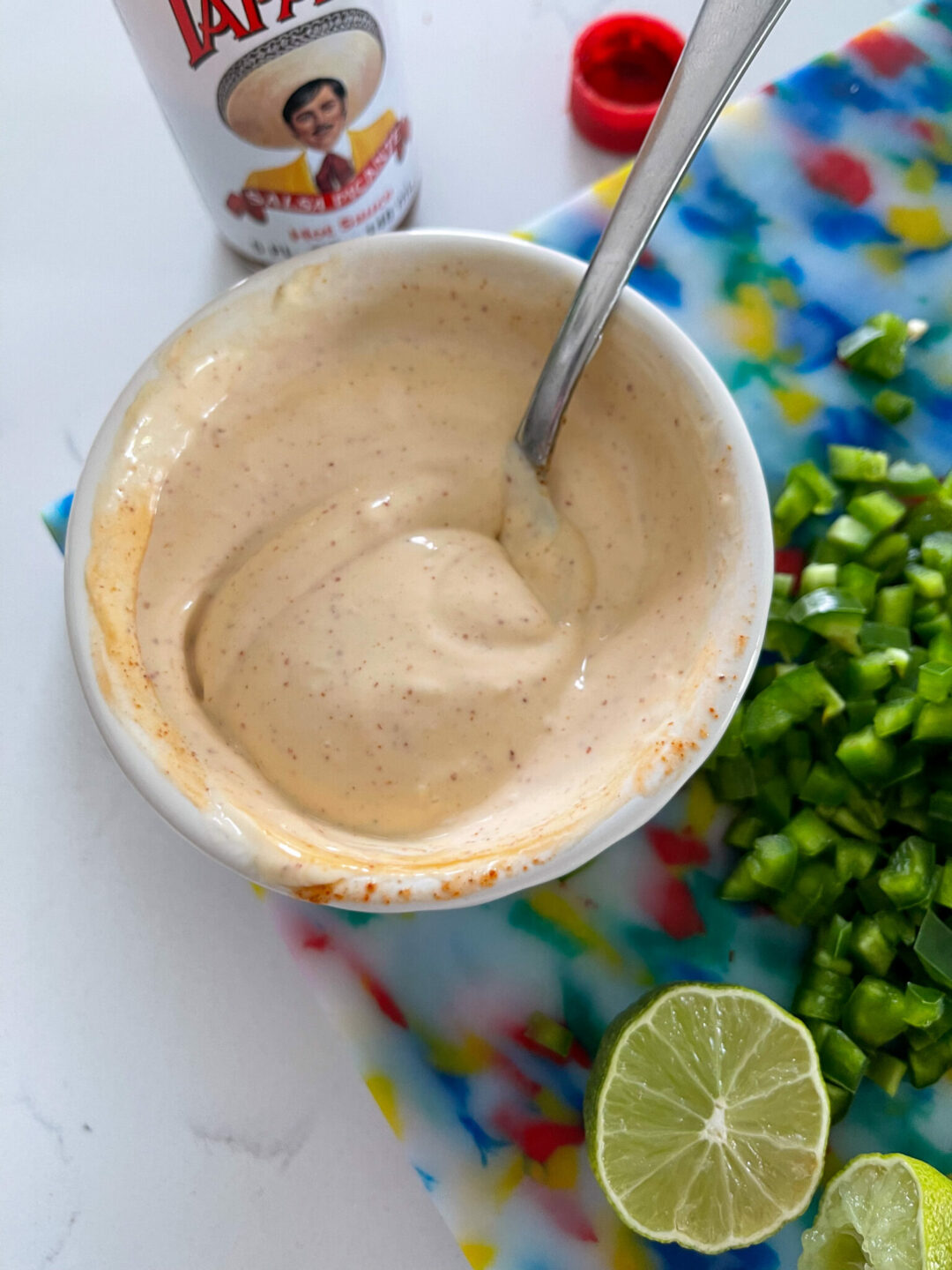 While it heats back up, mix up the aioli.
The aioli consists of your favorite hot sauce, lime juice, and mayo. Done deal!
Add the tortillas to the pan. Coo on one side and then flip.
Add the cheese, a few spoonfuls of filling, and then a spoonful of the aioli.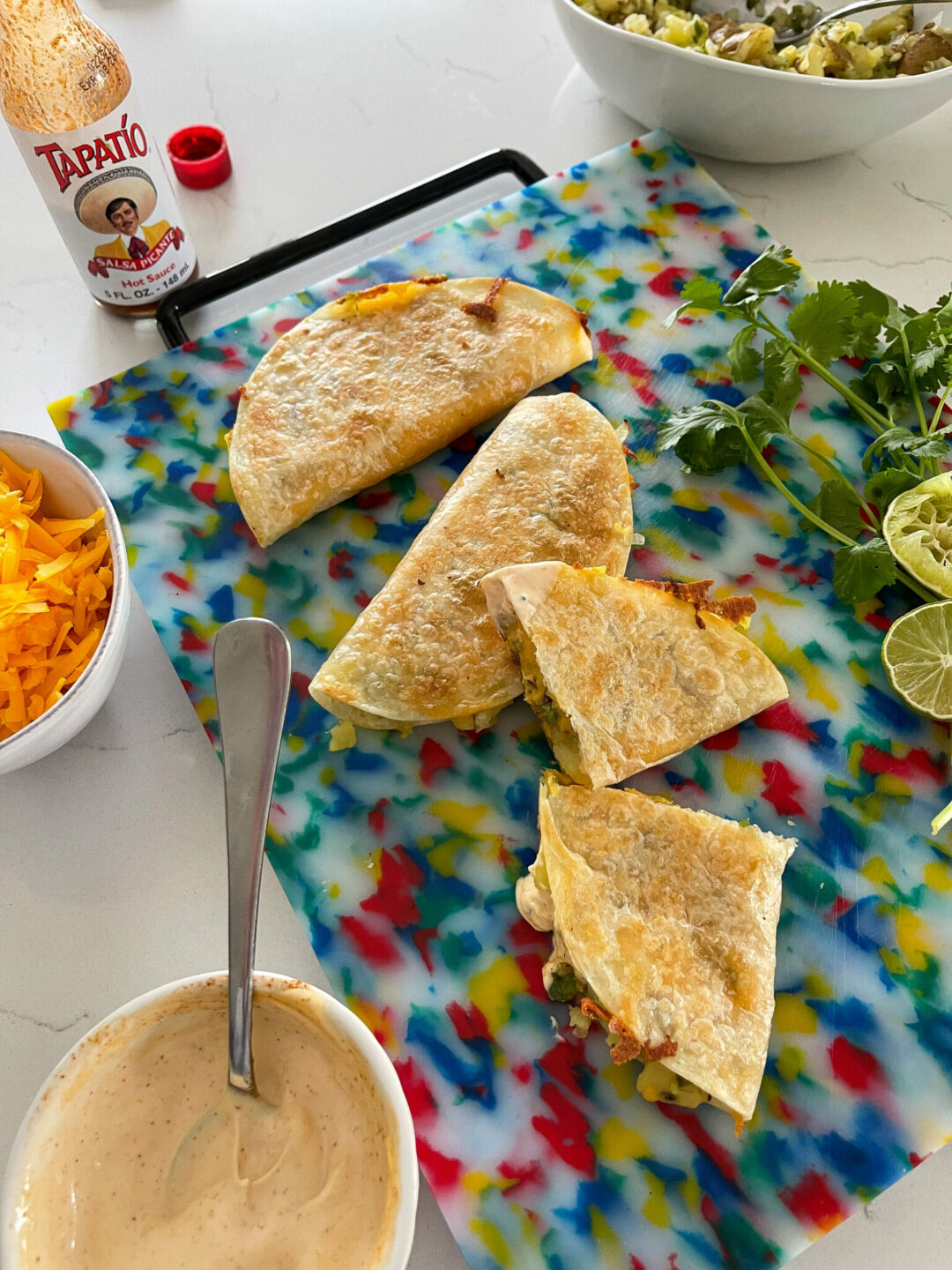 Once the cheese is melted, fold the tortilla, and then cook on both sides until golden and crisp.
It cannot be easier!
The filling can be prepped days in advance. You can also store any excess leftover filling for quesadillas another day.
May is a crazy month so the more easily prepped foods like easy cheesy potato quesadillas you have on hand, the easier your life will be.
Sorry for saying easy so many times.
You get the point.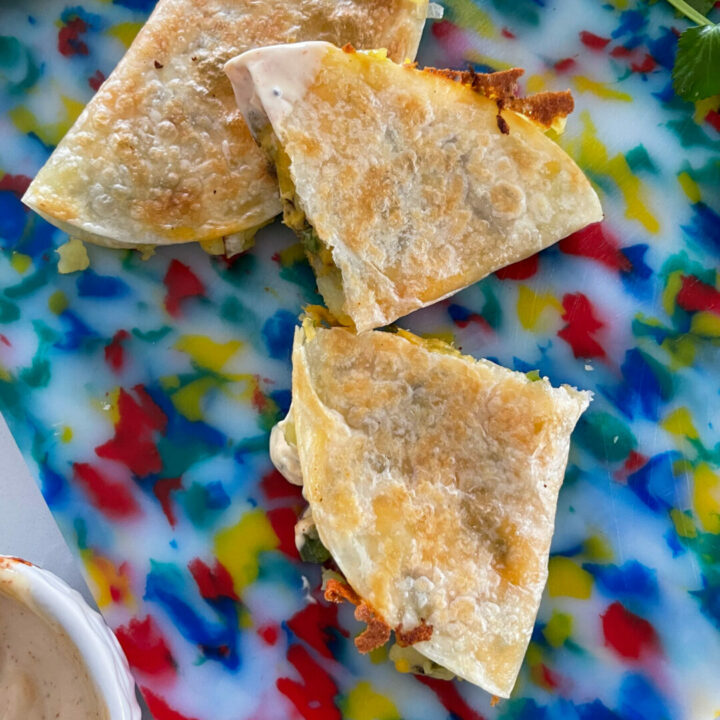 Easy Cheesy Potato Quesadillas
Yield: Makes 8-10 Quesadillas

Prep Time: 20 minutes

Cook Time: 20 minutes

Total Time: 40 minutes

Cheesy potato, jalapeño, and onion quesadillas with a spicy hot sauce and lime aioli.
Ingredients
3/4lb baby potatoes
2 tbsp extra-virgin olive oil
1 jalapeño, diced
1/2 yellow onion, diced
Salt and pepper to taste
8-10 flour or corn taco size tortillas
8oz cheddar or colby jack cheese, grated
3/4 cup mayonnaise
Juice from 1 lime
2-3tbsp favorite hot sauce
Instructions
Bring a large pot of salted water to a boil. Once boiling, add potatoes. Cool until dork tender. Drain and cool until ready to make the rest of the quesadillas.
Once potatoes are cool enough to handle, roughly chop.
Heat a large skillet over medium. Add olive oil. Once shimmering add the onion and jalapeño. Cool for a few minutes until tender.
Add potatoes to skillet. Season with salt and pepper. Stir to combine.

Use a potato masher to lightly mash the potatoes. You don't want to overdo this step. Just mash them so they are small enough to be folded into a quesadilla.
Cool for 5-7 more minutes until you start to see caramelization. Turn off burner. Use a spoon to transfer filling to a bowl off to the side.
Mix the aioli. Add mayo, lime juice, and hot sauce to a small mixing bowl. Stir to combine.
Wipe out the pan and return to a medium heat burner. Add the tortillas; 1-3 at a time to the pan, or however many will fit. Cook on first side then flip.
Add grated cheese to whole tortilla. Add a few spoonfuls of potato filling to just one half of the tortilla along with a tsp or two of the aioli. Fold the one half of the tortilla with no filling over the half with filling and cook for about 3 more minutes until both sides of the quesadilla are golden.

Transfer cooked quesadillas to a plate nearby. Serve with more aioli for dipping.
Notes
Potato filling can be made up to 3 days in advance and stored in the fridge in an airtight container.



The aioli can be as hot as you want it. Use less hot sauce if you like a milder heat. Also, if you don't like Mayo feel free to sub plain Greek yogurt or sour cream.
Recommended Products
As an Amazon Associate and member of other affiliate programs, I earn from qualifying purchases.