Cheesy beef and potato enchilada skillet is made of browned beef, crispy potatoes, onions, bell peppers, & beans all coated in enchilada sauce and gooey cheese. It is everything you want from an enchilada minus the tortillas!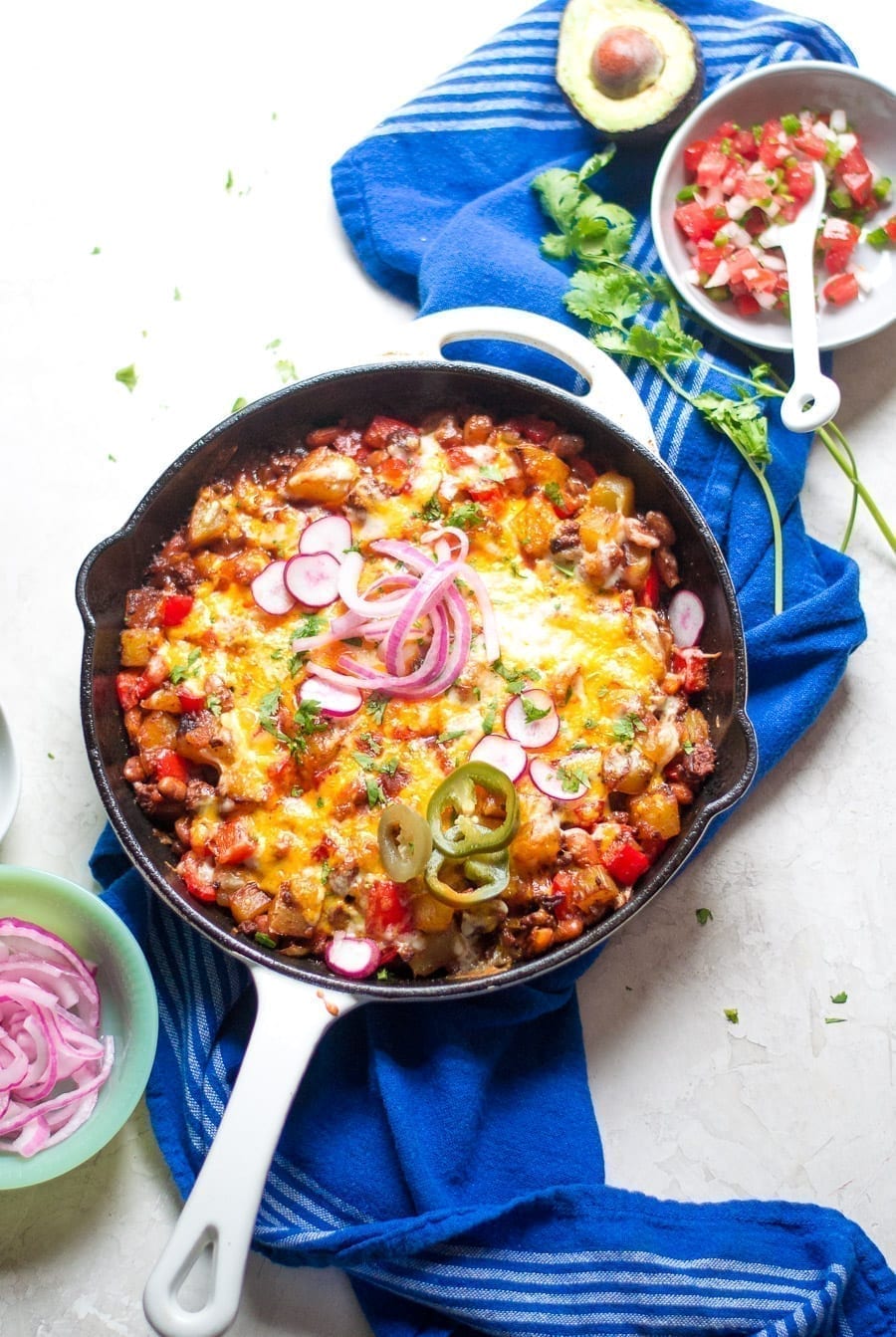 I know, I know. It is another potato recipe. Another potato cast iron skillet recipe none the less.
You cannot beat the crisped potatoes that come from a cast iron skillet.
The main reason why I doubled down on the potato recipes is because a 5 lb bag of potatoes is a lot of responsibility.
I check the bag for rotten or questionable looking potatoes. Every single time there is one or two oooorrrr five that sneak past me.
One rotten potato is fine. If you have ever had an entire bag of potatoes turn to black soup in your pantry, then you know better than to let potatoes sit too long.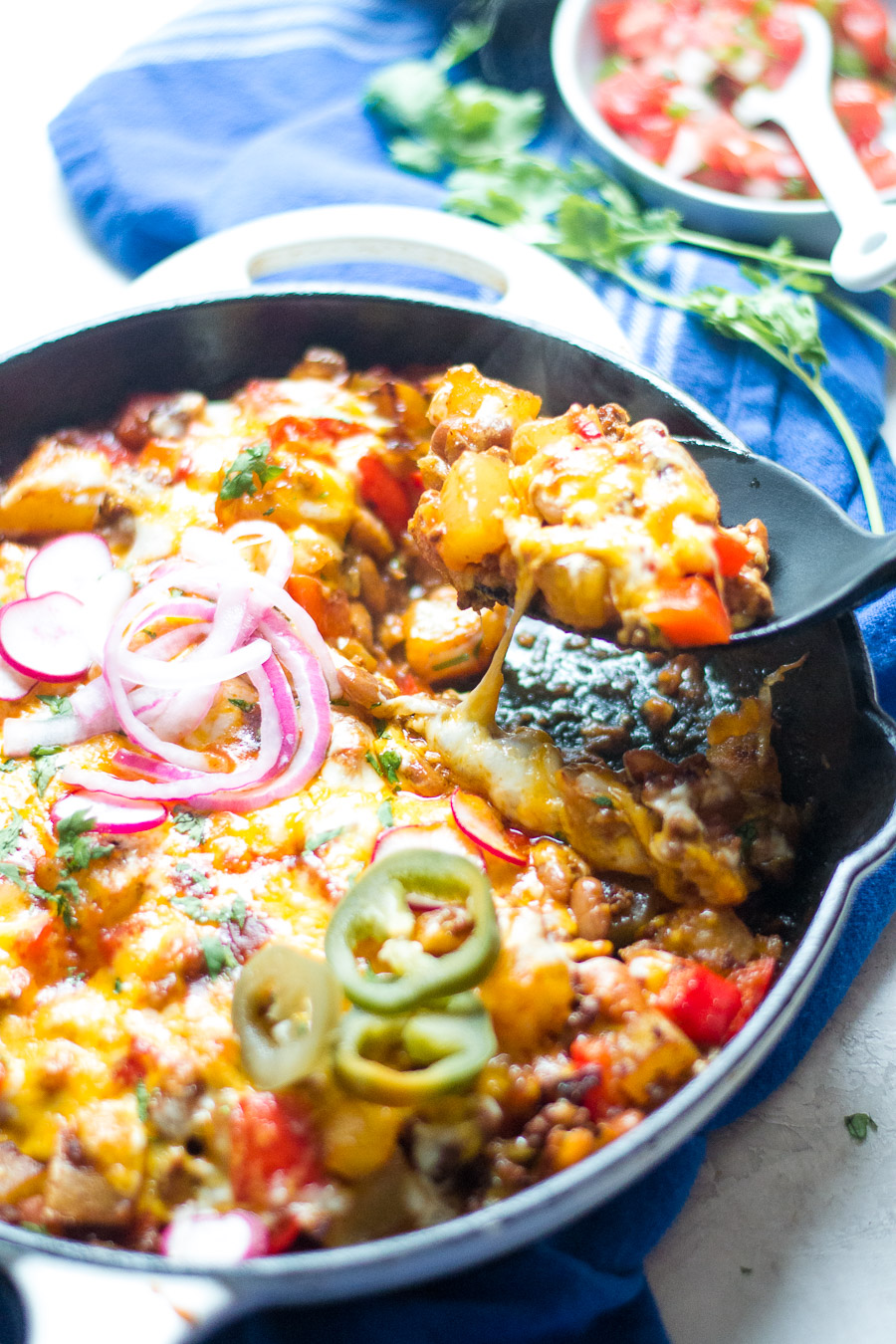 Anyway…
This recipe for cheesy beef and potato enchilada skillet was what I originally wanted to make for Cinco de Mayo. It is easy. Everything goes in one skillet then you add in a little enchilada sauce and cover with cheese.
Instead, I opted for a more hands on fried up quesadilla situation. Also good, just less time for drinking margaritas and more time standing in front of the hot stove.
Next year I will go for the skillet.
Brown the beef, crisp the potatoes, sauté up the onion and pepper, then mix in the beans. Cover everything with enchilada sauce and cheese and then bake until melty!
Think of this as a healthier sort of enchilada.
More veggies and less carbs! One skillet meal!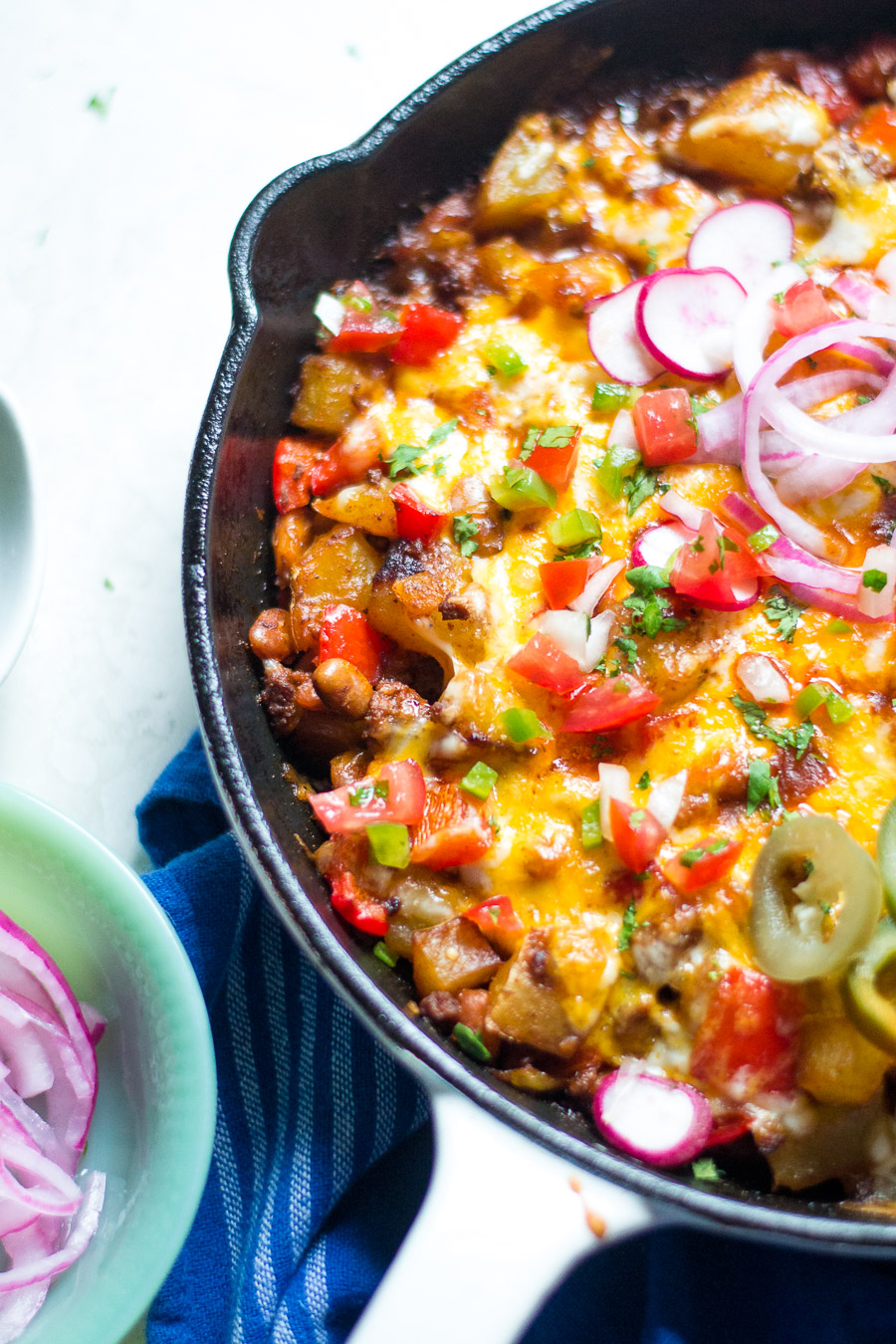 Also, no hand rolling each individual enchilada.
Pass me a margarita, friends!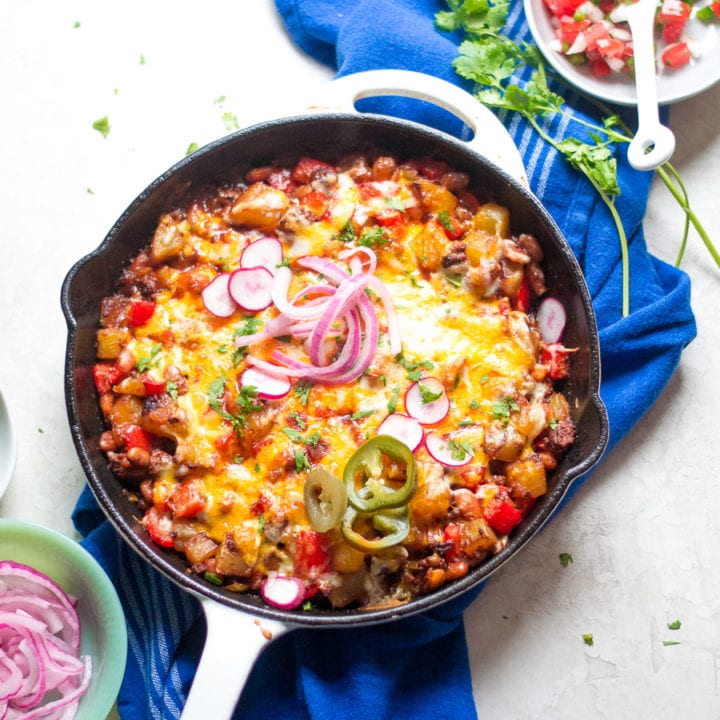 Cheesy Beef and Potato Enchilada Skillet
Super easy, veggie packed enchilada skillet filled with beef, potatoes, bell pepper, onion, & beans coated in enchilada sauce/spices and cheese.
Ingredients
1 tbsp canola/avocado oil
1/2 lb lean ground beef
2 large yellow potatoes, diced
1 bell pepper
1/2 yellow onion, diced
3/4 cup black or pinto beans
1 tbsp chili powder
1/2 tsp salt
1/4 tsp black pepper
1 cup enchilada sauce
1 cup grated cheddar or cheddar-jack cheese
Instructions
Preheat the oven to 425 degrees F.
Heat a large cast iron skillet over medium/high. Add the oil. Once shimmering add the beef. Cook until lightly browned. Remove from pan with slotted spoon and transfer to nearby plate.
Add the potatoes. Cook for 5-7 minutes, turning regularly so they don't stick.
Add the pepper and onions. Cook for 5-7 more minutes until tender.
Add the beef, beans, chili powder, salt, and pepper to the skillet. Mix to combine. Cook for 5 more minutes until everything starts to get good and browned.
Reduce the heat to low. Mix in the enchilada sauce.
Remove from heat. Cover with cheese. Transfer to the preheated oven and cook for 5-7 minutes until the cheese is melty and slightly golden.
Allow the skillet to cool for 3-5 minutes before dishing out. Top each serving with pico de gallo, pickled red onions, fresh cilantro, guacamole or sour cream. Any toppings you like.
Recommended Products
As an Amazon Associate and member of other affiliate programs, I earn from qualifying purchases.