Turkey burger helper with peas is made in under 25 minutes in the pressure cooker. It has all the comforts of the classic boxed hamburger helper except in less time and a bit healthier!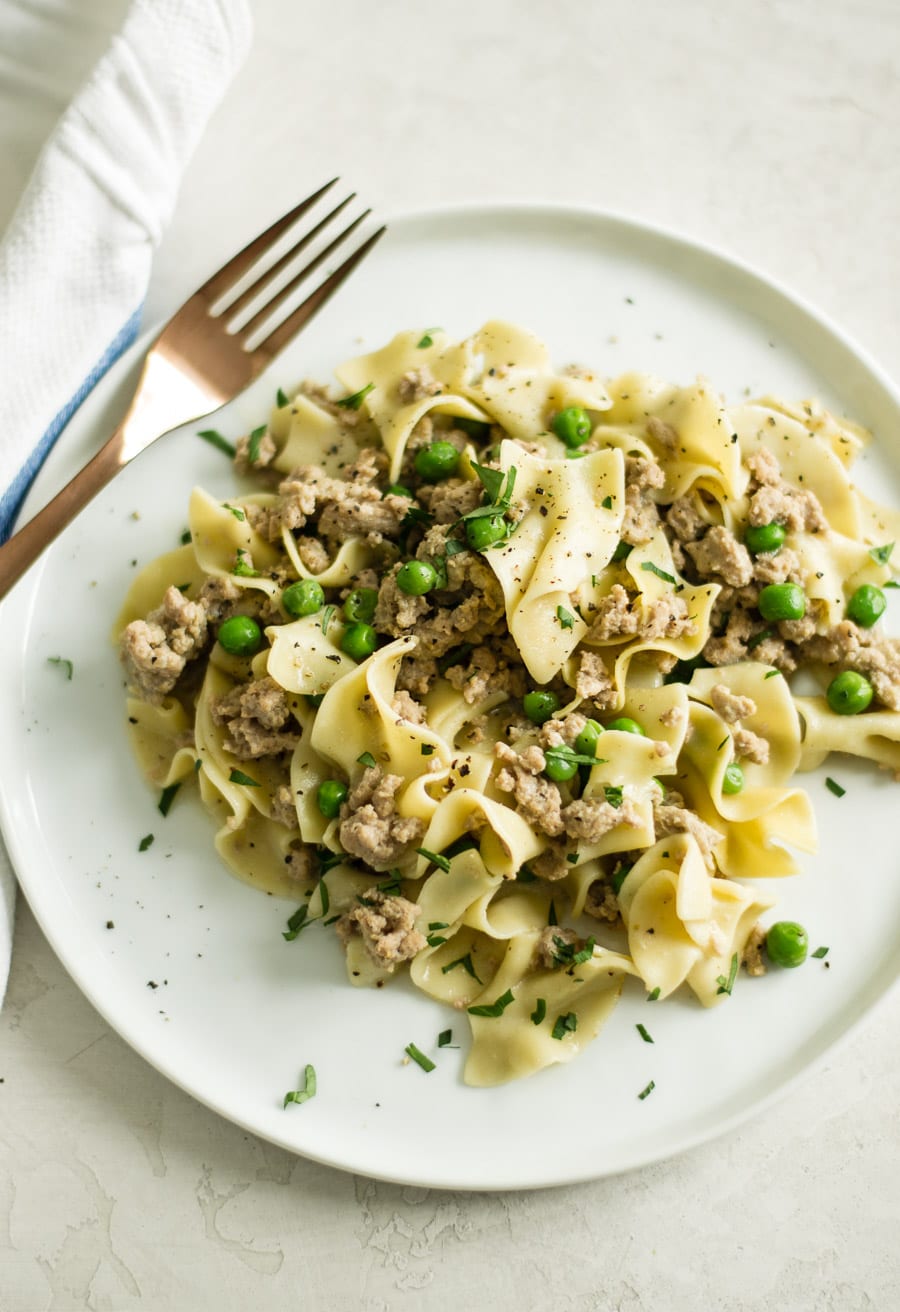 Raise your hand if you grew up on that good old boxed Hamburger Helper?
My hand is flailing in the air, BTW.
My Mom made this probably once a week or once every other week.
It was on heavy rotation with Polish pork chops and a plain old baked chicken patty.
Never forget the side of vegetables though.
My Mom and brother would always add canned or frozen peas into their Hamburger Helper.
At the time, it grossed me out.
I was a kid. What do you want from me?
Looking back now, I can honestly say they were on to something.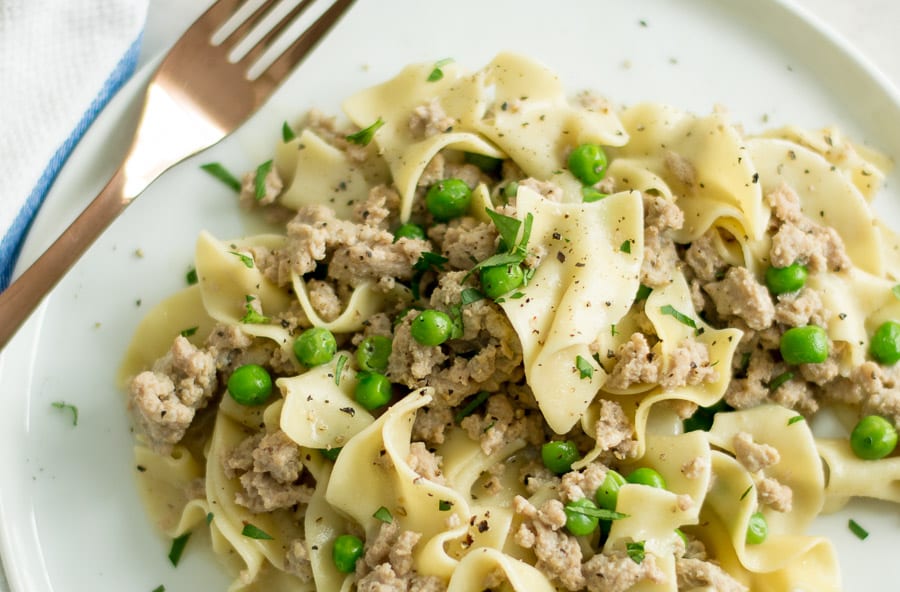 The bright spring pea added to the creamy and sometimes heavy hamburger helper is a clutch combo.
When I made my cookbook a few years ago, I had to include an easy, lighter version of this family staple.
Turkey burger helper with peas is made slightly creamy and tart with a mix of sour cream and ground mustard.
Start by sauteeing the ground turkey and onion int he Instant Pot.
Add the seasonings, liquid, and noodles.
You MUST use egg noddles for this recipe!
High pressure for 8 minutes. Quick release when the timer sounds.
Give the noodles and turkey a good mix.
Don't worry if there is still a bit of liquid. It will absorb as the noodles cool.
Mix in the peas and sour cream.
Adjust the salt and pepper.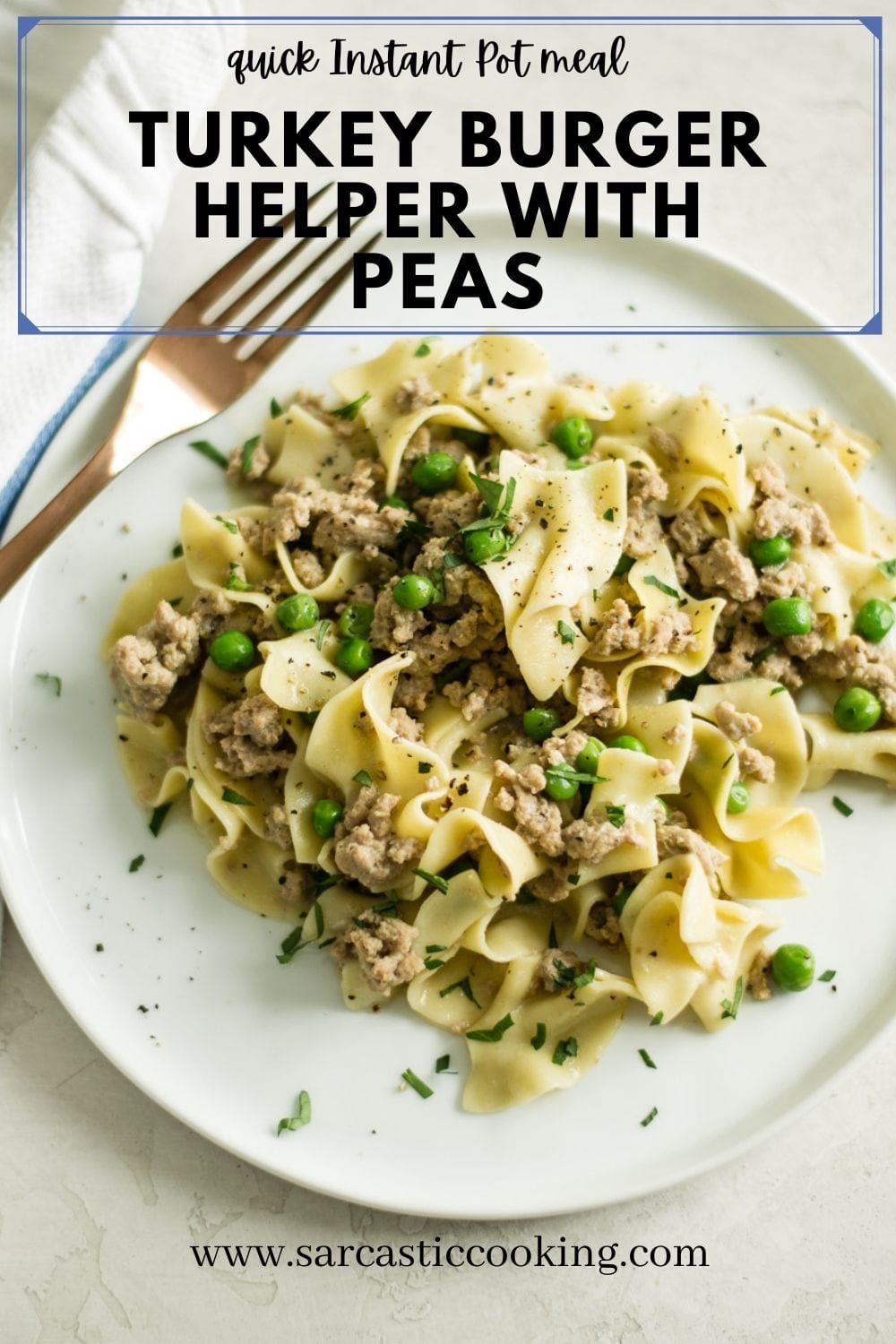 To be a little fancy with your turkey burger helper with peas, add a nice sprinkle of fresh chopped parsley to the top and a good twist of fresh cracked black pepper.
Serve up heaping piles of childhood nostalgia!
You and your family are going to love this recreation of a classic comfort food.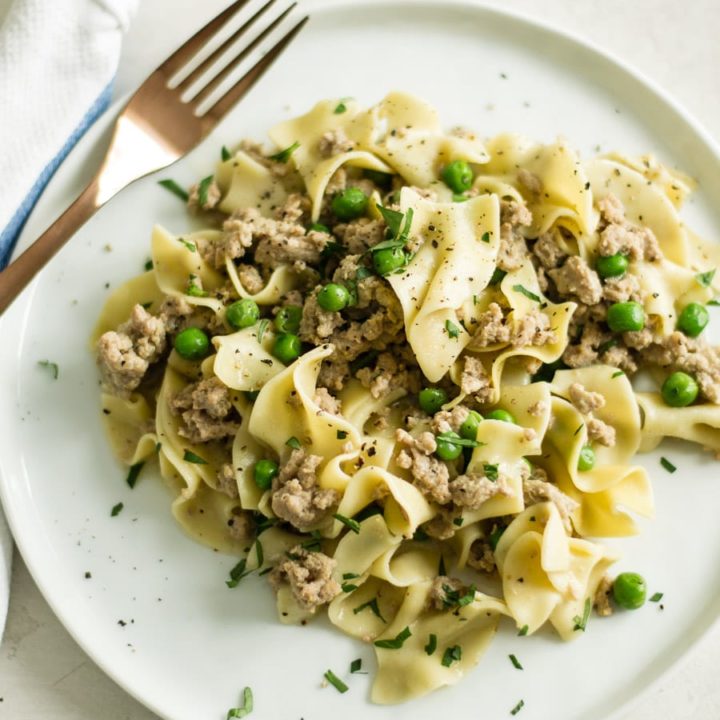 Turkey Burger Helper with Peas
Additional Time:
5 minutes
Light and creamy turkey burger version of the classic Hamburger Helper with peas mixed in for a pop of color and flavor!
Ingredients
1 tsp extra-virgin olive oil
2 tbsp unsalted butter
1/2 yellow/sweet onion, finely diced
1 lb lean ground turkey
1/4 tsp garlic powder
1/2 tsp ground mustard
1 tap salt
1/4 tsp black pepper
2 cups low-sodium chicken stock
2 1/2 cups dry no-yolk egg noodles
3/4 cup frozen peas, thawed
2 tbsp low-fat sour cream
Instructions
Press "sauté" on the Instant Pot. Once the display reads, "hot", add the oil and butter to the pot.
When the butter melts, add the onion, ground turkey, garlic powder, ground mustard, salt, and pepper. Use a wooden spatula to break apart and combine. Cook for about 5 minutes.
After about 5 minutes, the turkey should be about cooked through. Press "cancel." Add the stock and scrape up any burnt bits from the bottom of the pot.
Mix in the noodles.
Secure the lid with the steam vent in the sealed position. Press "Pressure Cook" until the display light is beneath "High Pressure." Adjust the time until the display reads 8 minutes.
Once the timer sounds, quick release the pressure and remove the lid.
Add the sour cream and peas. Mix to combine. Adjust the salt and pepper to taste.
Transfer to plates and serve with black pepper and fresh chopped parsley.
Recommended Products
As an Amazon Associate and member of other affiliate programs, I earn from qualifying purchases.