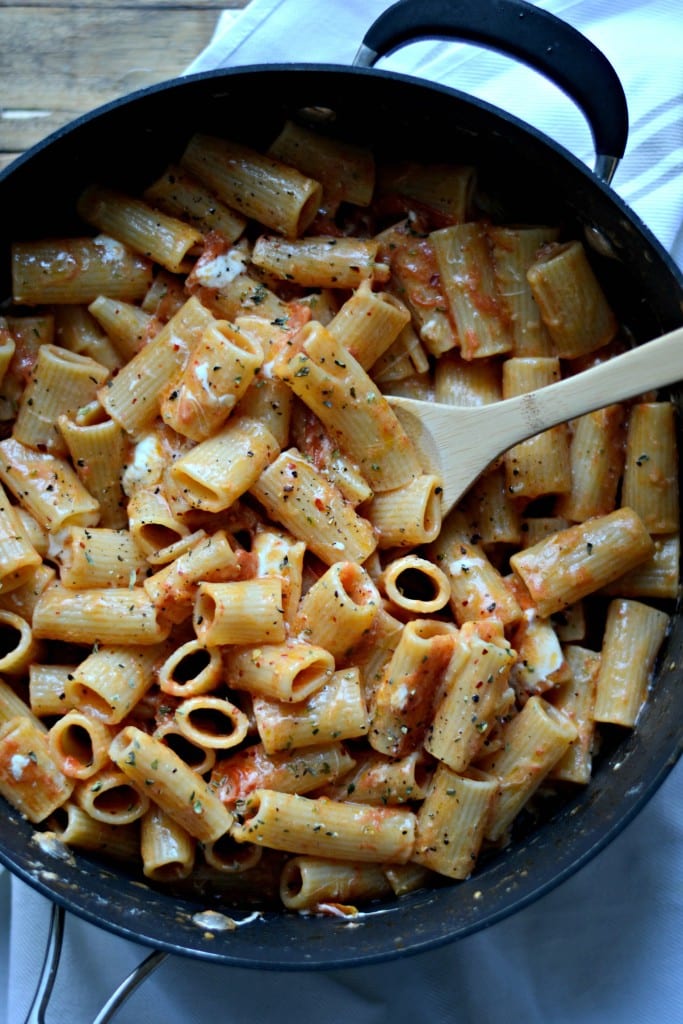 Ok, I am going to make this little pre-recipe schpeel short and sweet today because I just sat down to start typing and currently it is 9:21pm. Lately, I have been fighting a losing battle with my body to try and stay up past 10pm. I can normally function on little to no sleep, which bodes well for the parent of an almost two month old. But this time around with Jack, nuh uh. 
I have found myself dozing on the couch in the middle of a movie at 9pm. 9pm!!! If I check the video monitor, my own 2 year old isn't even officially asleep by then. I am normally the one getting mad at Mike for falling asleep and now the tables have turned. I can see why he was so annoyed when I would wake him from a slumber with an accusatory yell of "YOU'RE SLEEPING! COME ON!" It's like yeah, so what, just let me sleep.
My body has seriously just been like, "shut it down." the past two nights. All of a sudden I wake to Jack crying to be fed at like 3am and realize yeah I did fall asleep sitting up on the couch with my head slumped to the side. Needless to say, I have a lot of aches and pains from my weird sleeping positions.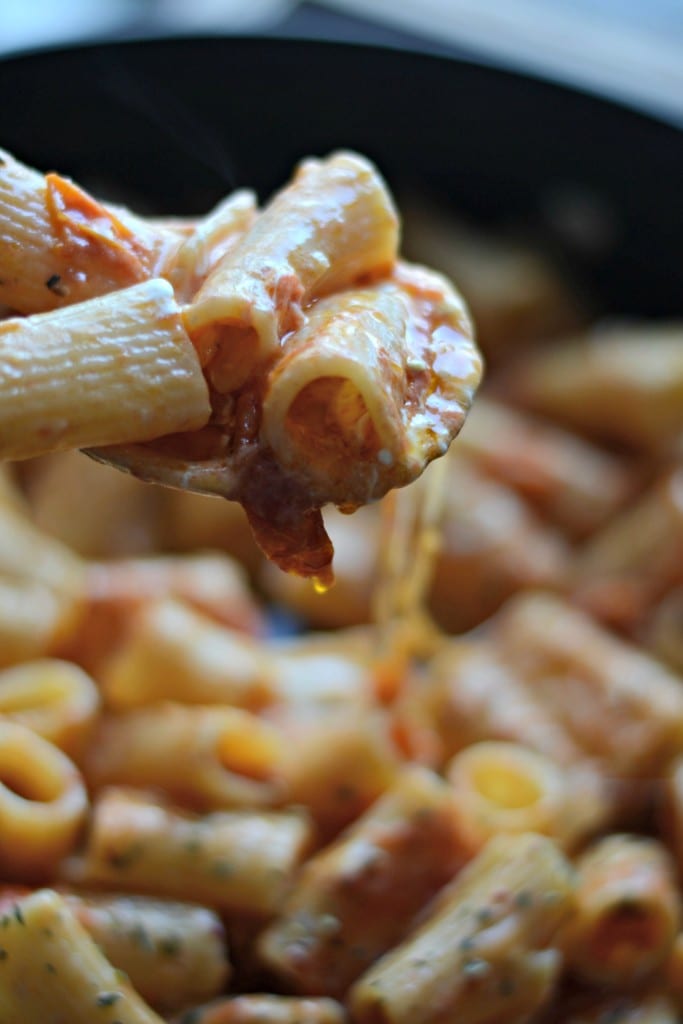 Gosh, I am already going on for longer than I wanted to. Sorry.
Tonight I really want to make a point of feeding Jack and then going to my bed. Not trying to be a bad ass and stay up to midnight to watch a current movie or catch up on my housewives. Sleep in my actual bed. So I can feel like a real adult tomorrow.
Ramble over.
Thank God for dishes like this which require little effort and thought because clearly as you can see my mind is revolving around sleep and an infants feed schedule, not the age old dilemma of "What's for dinner?"
One Pot Garlic Tomato Butter Rigatoni with Burrata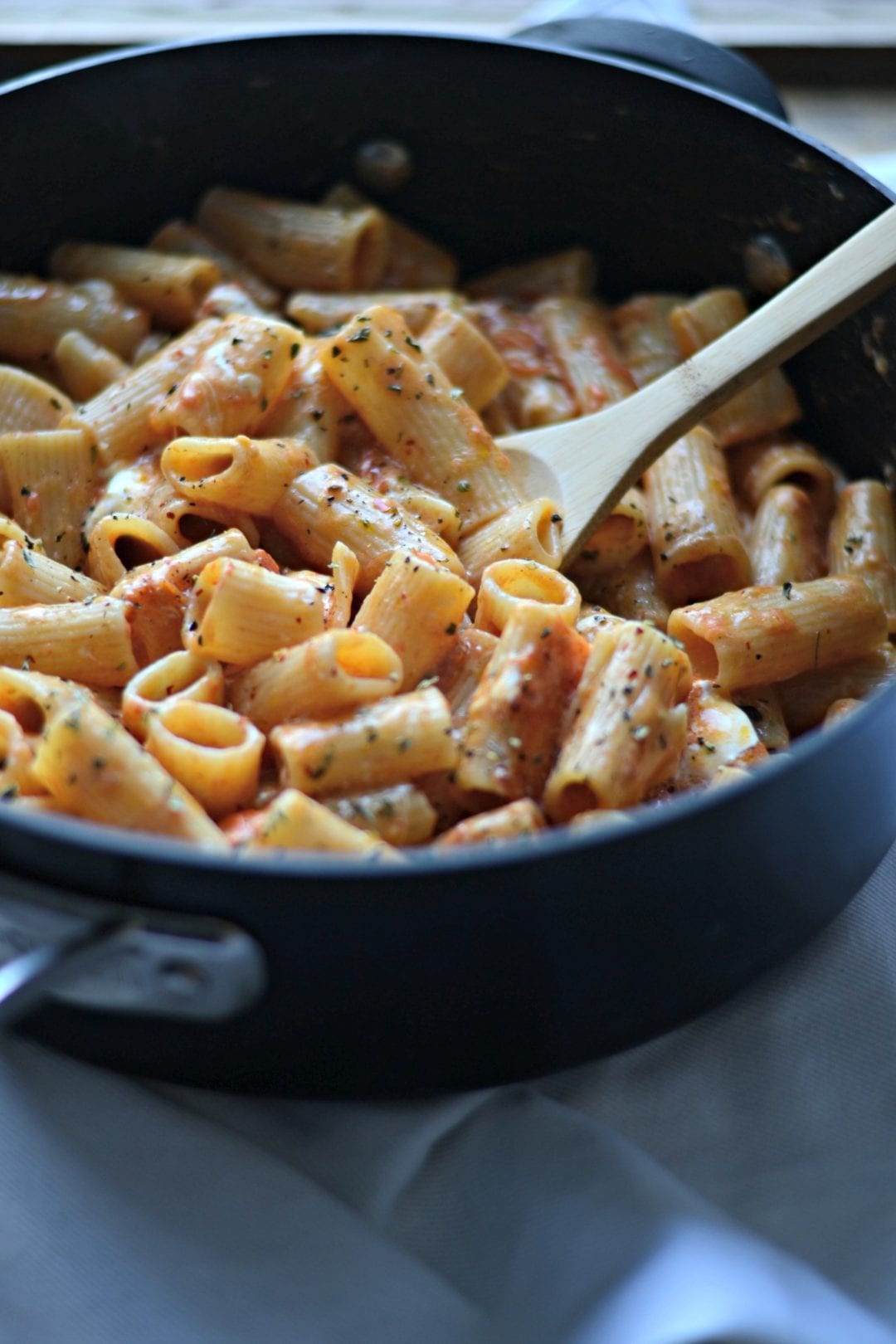 The most delicious and simple weeknight pasta dish. Garlic, butter, and burrata mix with burst tomatoes to make a creamy pasta sauce.
1/2 Cup Olive Oil
10 Ounces Cherry/ Grape Tomatoes, halved
3 Cloves Garlic, minced/grated
1 Tablespoon Tomato Paste
3 Cups Water/Vegetable Stock
16 Ounces Large Rigatoni Noodles I used these noodles from DeLallo
1/4 Cup Salted Butter
1 Ball of Fresh Burrata Cheese, chopped
Salt and pepper to taste
Add olive oil to a large skillet or Dutch oven. Heat over a medium/low flame for a few minutes.
Once the oil has heated up, add the tomatoes. Cover with lid and let the tomatoes cook down for 10 minutes. After ten minutes, use a wooden spoon to burst and break apart the tomatoes to release all the liquid.
Reduce the heat to low. Add the garlic and tomato paste. Cook for a minute or two until the tomato paste has combined.
Add in the liquid. Increase the heat to medium/low again. Add in the noodles, bring to a simmer, and cover with lid. Remove lid and stir the noodles around every 5-7 minutes. Noodles should be fully cooked after 15-20 minutes.
Remove from heat. Stir in the butter and then the burrata. Season with salt and pepper and serve right away.
The best way to reheat the pasta is to add a little water to the bottom of a pan and heat that before adding the pasta in and stirring to combine.
Preparation time:

10 minutes

Cook time:

37 minutes

Total time:

47 minutes