This decadent spinach and artichoke vodka sauce is creamy, spicy, and goes well on any sort of pasta. A spicy tomato vodka sauce with a splash of cream, lots of butter, red pepper flakes, canned artichoke hearts, and fresh baby spinach.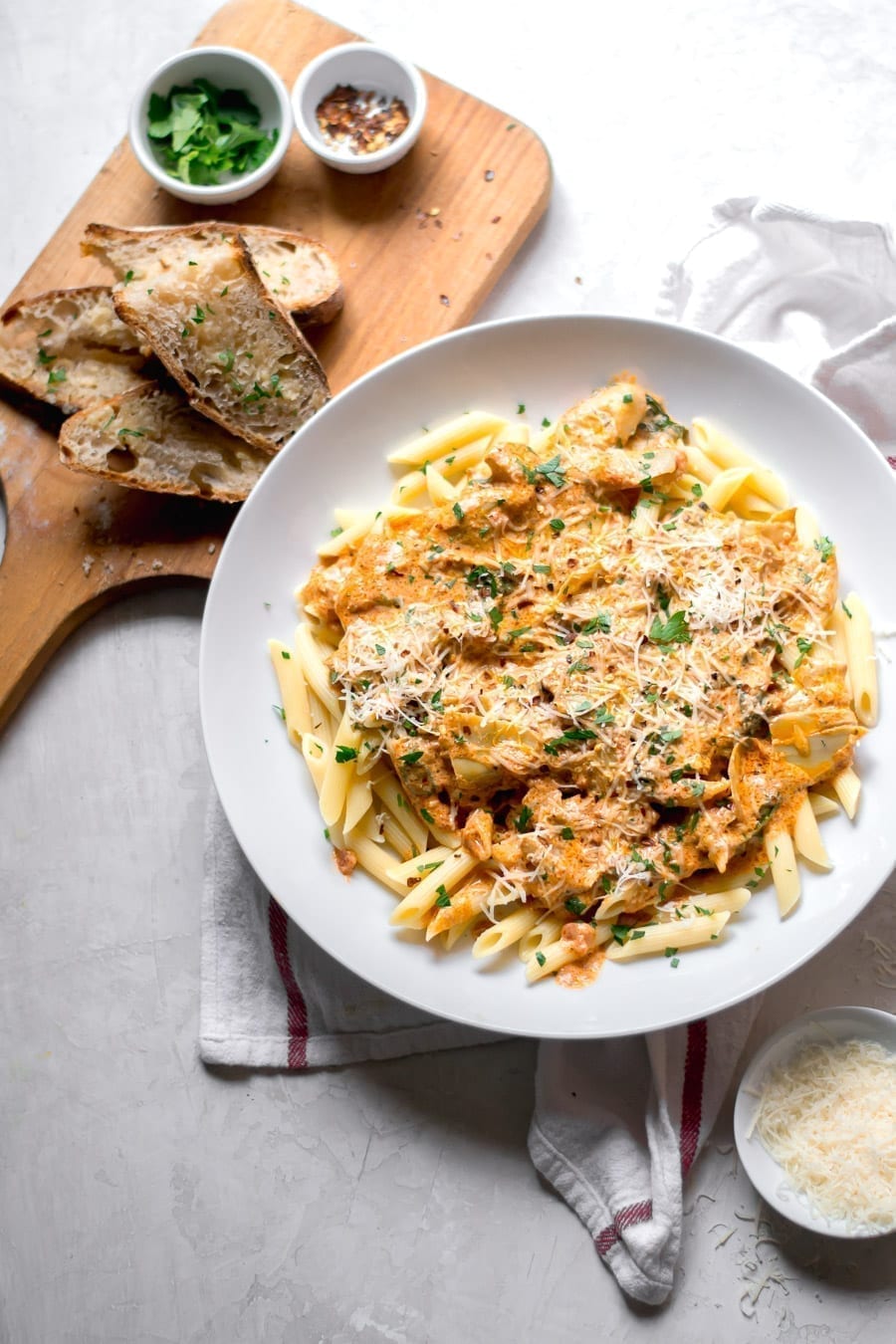 Flashback to about two weeks ago. It was our Monday night dinner.
Monday night dinners are usually a combo of #MeatlessMonday and pasta night. Nearly all family members agree on noods, so it works for us.
I had been eyeing The Tipsy Housewife's easy vodka sauce with artichokes and Italian sausage for a while.
We did not have sausage due to the fact that grocery shopping is hit or miss these days. That didn't bother me because, like I said, it was #MeatlessMonday anyway.
I cooked up her exact recipe for dinner. I just doubled the artichokes and added in some dying spinach.
It worked!
Mike told me, "It was the best thing he ate all quarantine."
It wasn't exactly my recipe though. So, I took some time and tinkering and used her recipe to riff off to make this decadent, spicy, and creamy spinach and artichoke vodka sauce.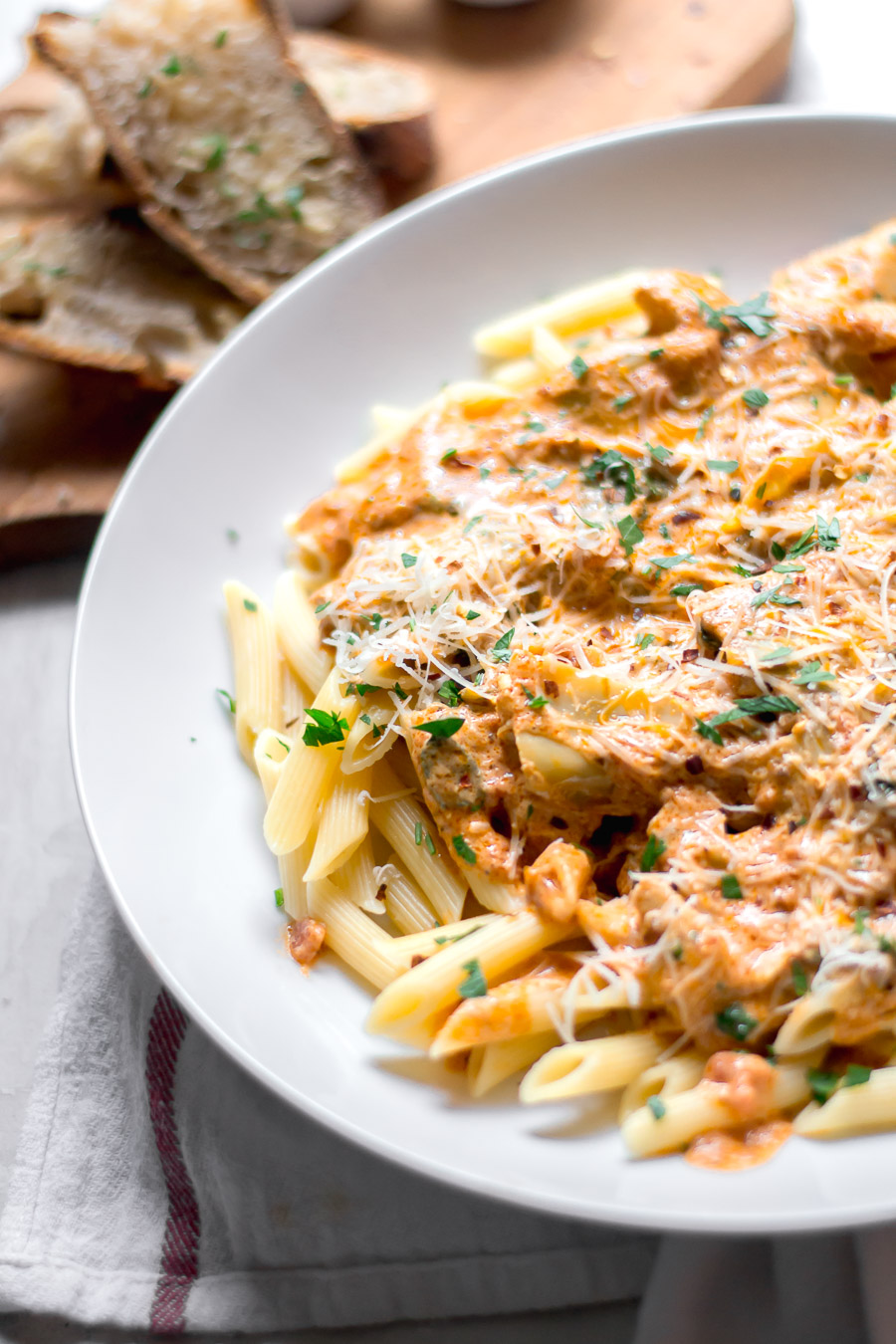 This sauce starts with a whole stick of butter. Trust the process people.
Then you brown up some artichokes, add in the garlic and chili flakes, and cook down the vodka. This all makes for a super simple, sweet, and spicy base for the sauce.
The easy part of the recipe comes next. Add in your favorite jarred or even homemade pasta sauce. The base of the artichokes, vodka, chili flake, and garlic work to take that jarred sauce to the next level.
All that's left is a little simmering, the cream, and the spinach.
Serve the pasta over your favorite sort of noodle. I really like a tube shaped noodle like penne, ziti, or rigatoni. I wouldn't turn away from a little spaghetti, bucatini, or fettuccini though.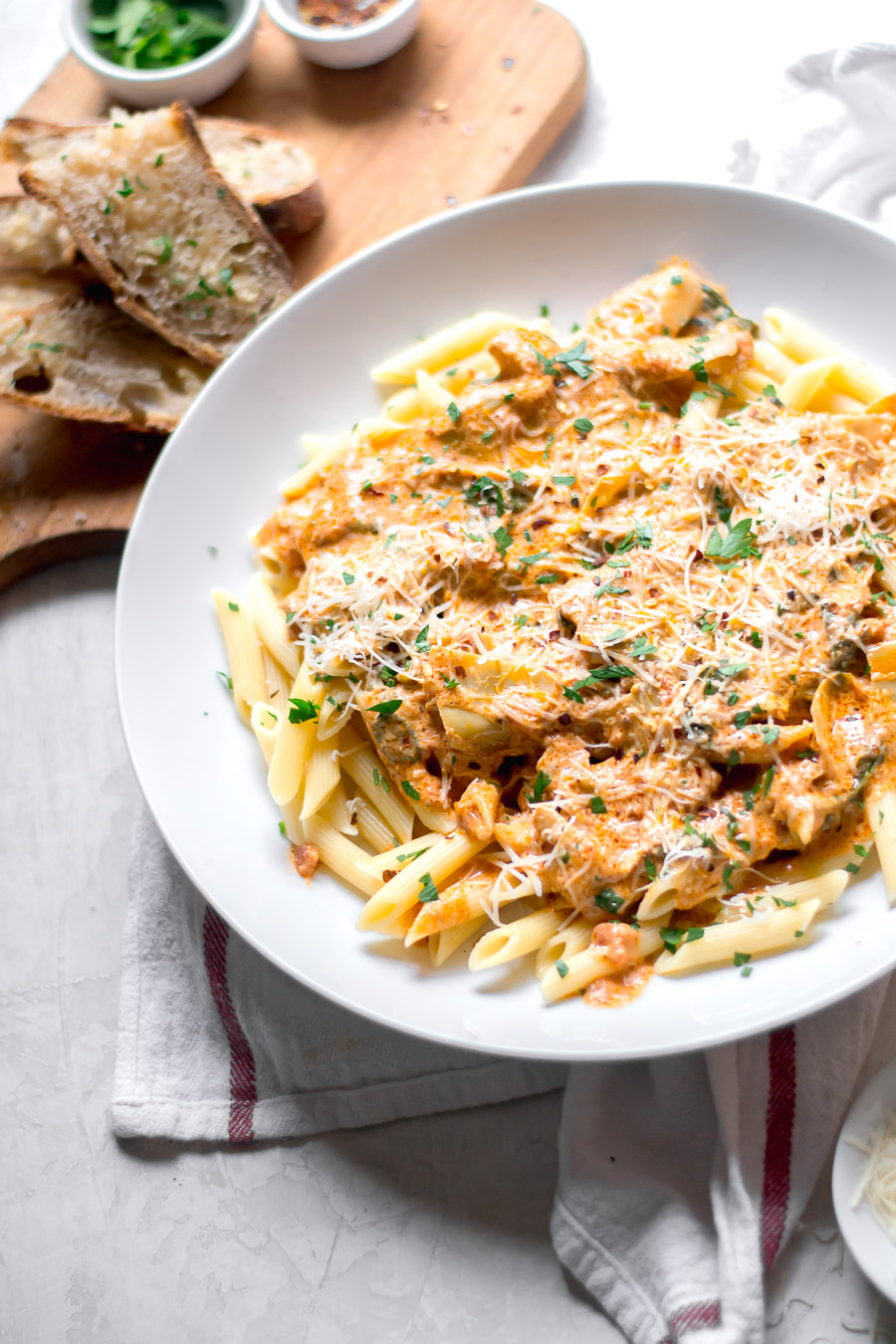 I figure this sauce is packed with green so it has to balance out all the butter, right?
Report back if you make this and be sure to tag me in any photos you post of the recipe.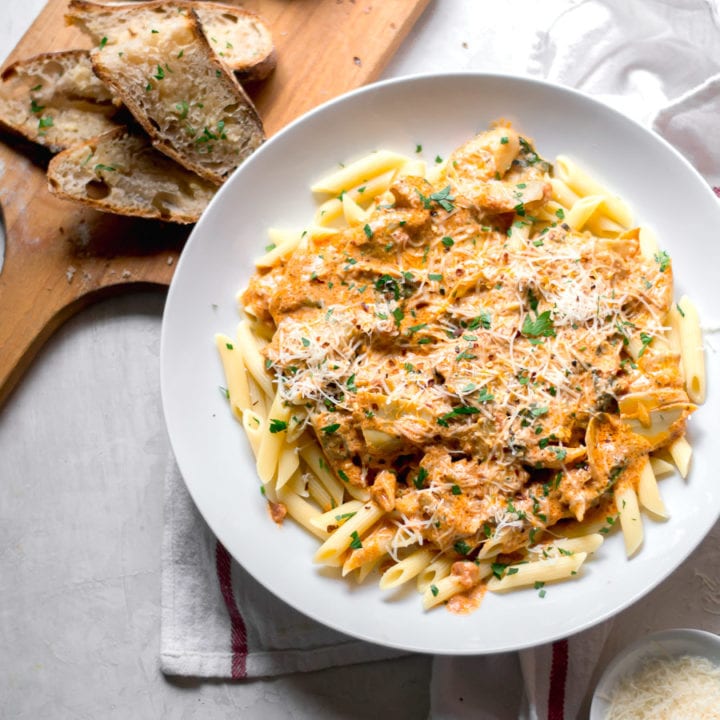 Spinach and Artichoke Vodka Sauce
Buttery, spicy, and creamy spinach and artichoke loaded vodka sauce is perfect on any sort of pasta.
Ingredients
1 stick (8 tbsp) of unsalted butter
1, 12 oz jar of quartered artichoke hearts in water, drained
pinch of salt
4 cloves garlic, minced
1/2 tsp crushed red pepper flakes
1 cup vodka
2 1/2 cups favorite jarred marinara sauce
3/4 cup heavy cream
1 1/2 cups freshly finely grated Parmesan cheese*
2 cups fresh baby spinach
pasta of choice
fresh chopped Italian flat-leaf parsley, for garnish
Instructions
In a large sauce pot or Dutch oven, melt the butter over medium heat.
Once melted, add the artichoke hearts. Cook for 3-5 minutes until warmed through. Add the garlic, chili flakes, and pinch of salt. Mix to combine. Cook for 3 more minutes.
Add the vodka to the pot. Bring to a simmer and cook out the alcohol for about 5 minutes.
Reduce the heat to medium/low. Add the jarred sauce. Simmer for 7 minutes.
Reduce the heat to low. Mix in the cheese and cream.
Once the cheese is melted and combined, add the spinach. Cook on low for 3-5 minutes until the spinach is still bright green but slightly wilted.
Add more salt and pepper to taste. Serve over pasta with a little parsley and extra grated parmesan cheese.
Notes
*Use a good Parmesan cheese and grate it yourself for this, don't use the green container stuff.
Recommended Products
As an Amazon Associate and member of other affiliate programs, I earn from qualifying purchases.