Spinach and Mushroom piccata pasta has everything you love about chicken piccata except with half the work and healthier for you! Caramelized mushrooms tossed with lemon juice, butter, capers and fresh spinach. Mix with your favorite pasta and then enjoy!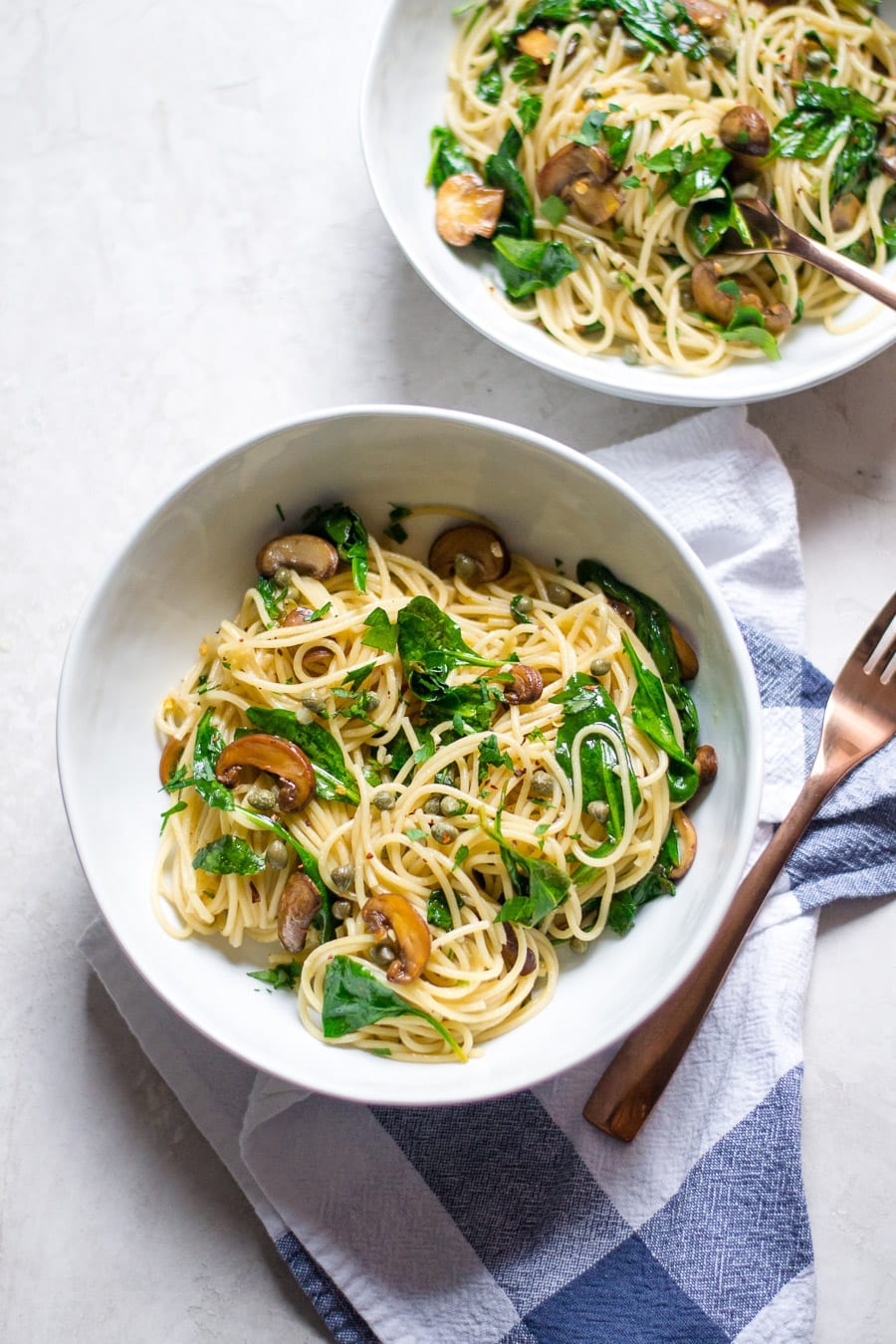 We are on day three of Jack being home from school. He is fine with it. I, on the other hand, am going a little stir crazy.
It has been too cold or windy to drag a sick kid out of the house that past few days. Plus, I wanted to skip all the judgmental looks and side eye every single time my child coughs without covering his mouth.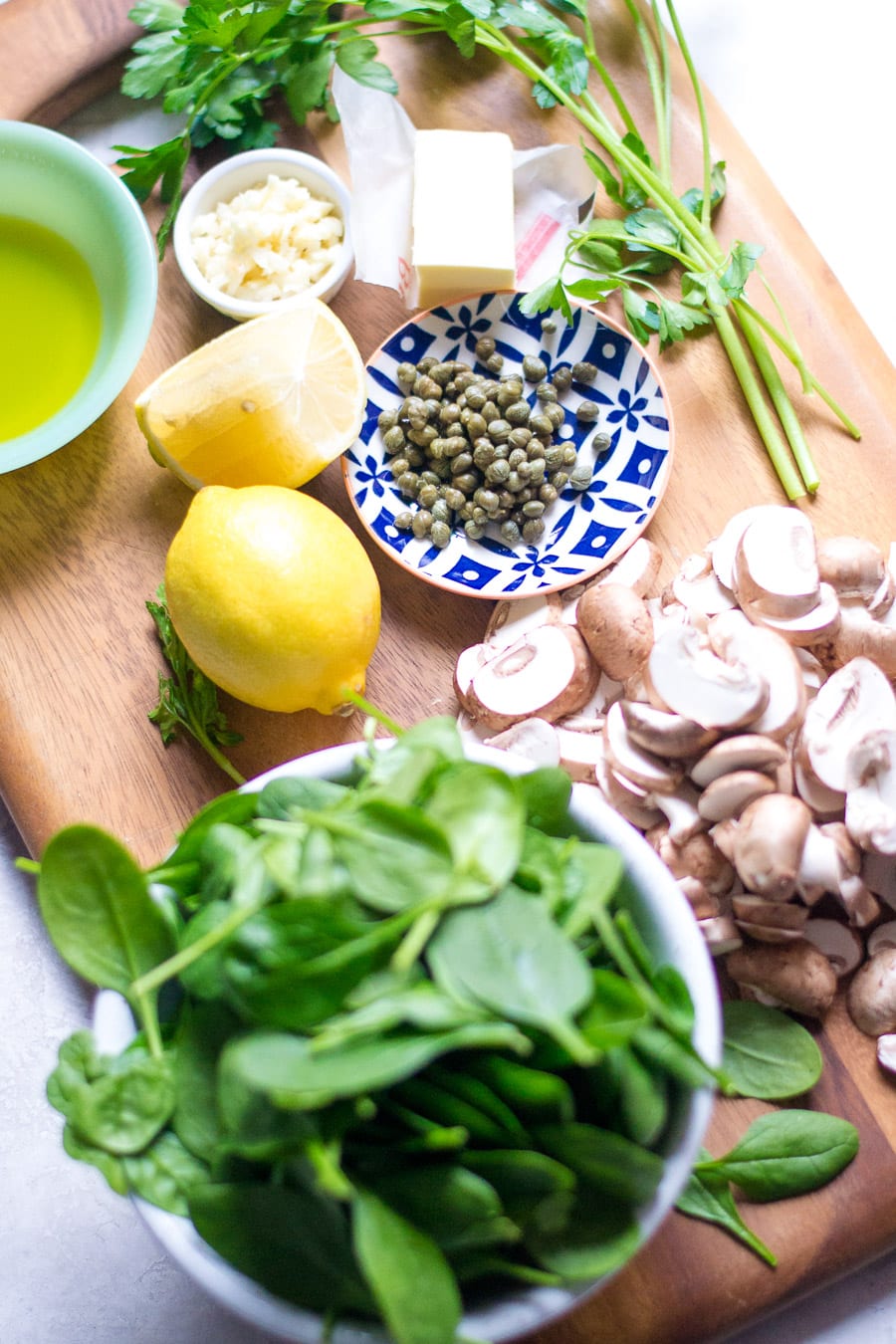 On the bright side; my house is clean, the laundry is caught up, and I am almost finished with my latest book. If you haven't read The Great Alone yet, I highly recommend!
I even had time to cook dinner this week while Jack rested or zoned out on Scooby Doo.
My latest favorite weeknight dinner is this simple mushroom and spinach piccata pasta. I love me the classic chicken piccata like the next meat-lover. Most nights I rarely get 30 minutes to throw dinner together so standing there and dredging chicken in eggs, flour, and breadcrumbs is the last thing I want to do.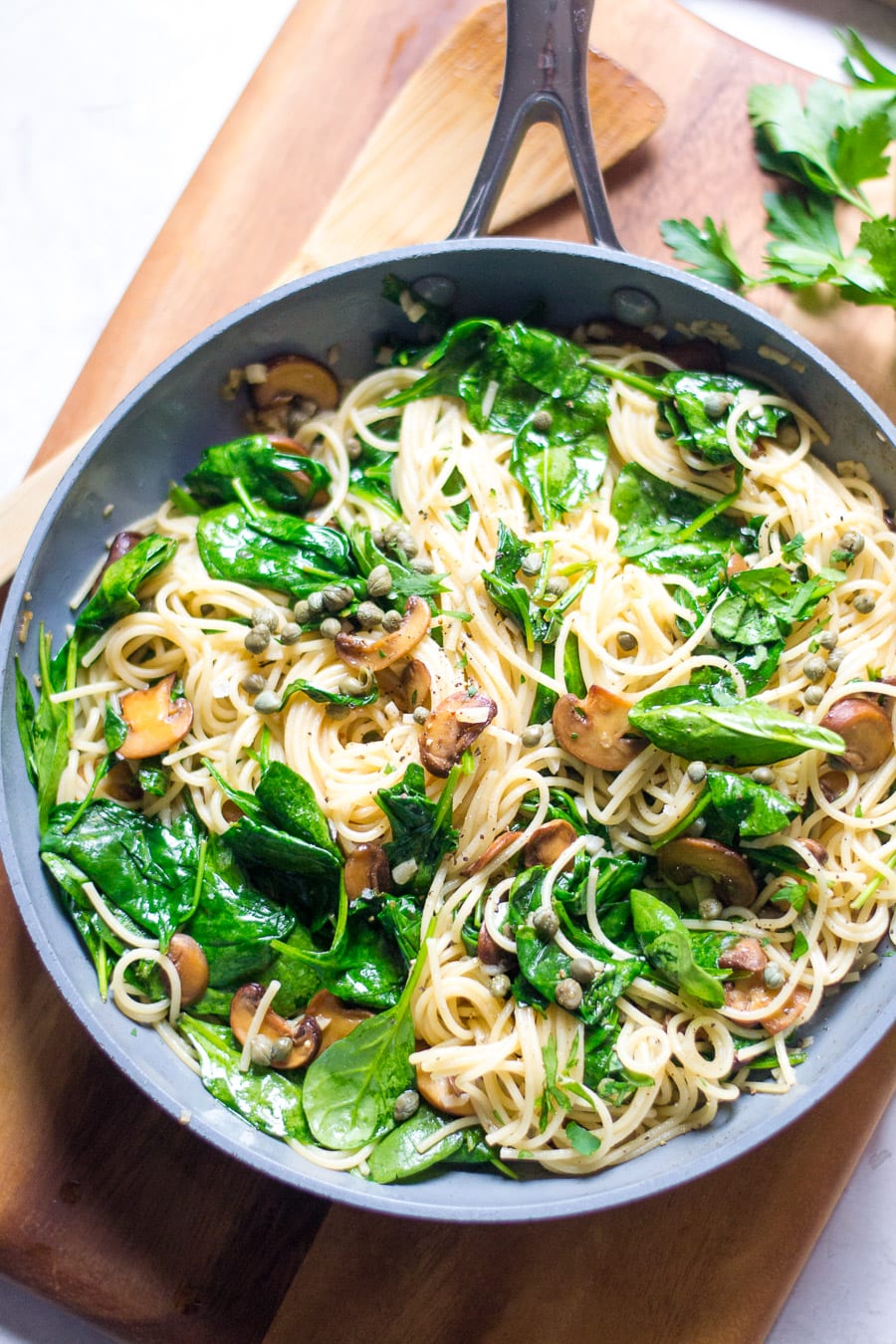 This pasta dish starts with caramelizing thinly sliced babu bella mushrooms in butter and olive oil. Once they are golden, mix in the lemon juice, garlic, capers, and spinach.
When the pasta is just about cooked through, use tongs to transfer it to the pan with the veggies. Cover it all with a lid so the pasta can soak up some of that lemon, garlic, olive oil sauce.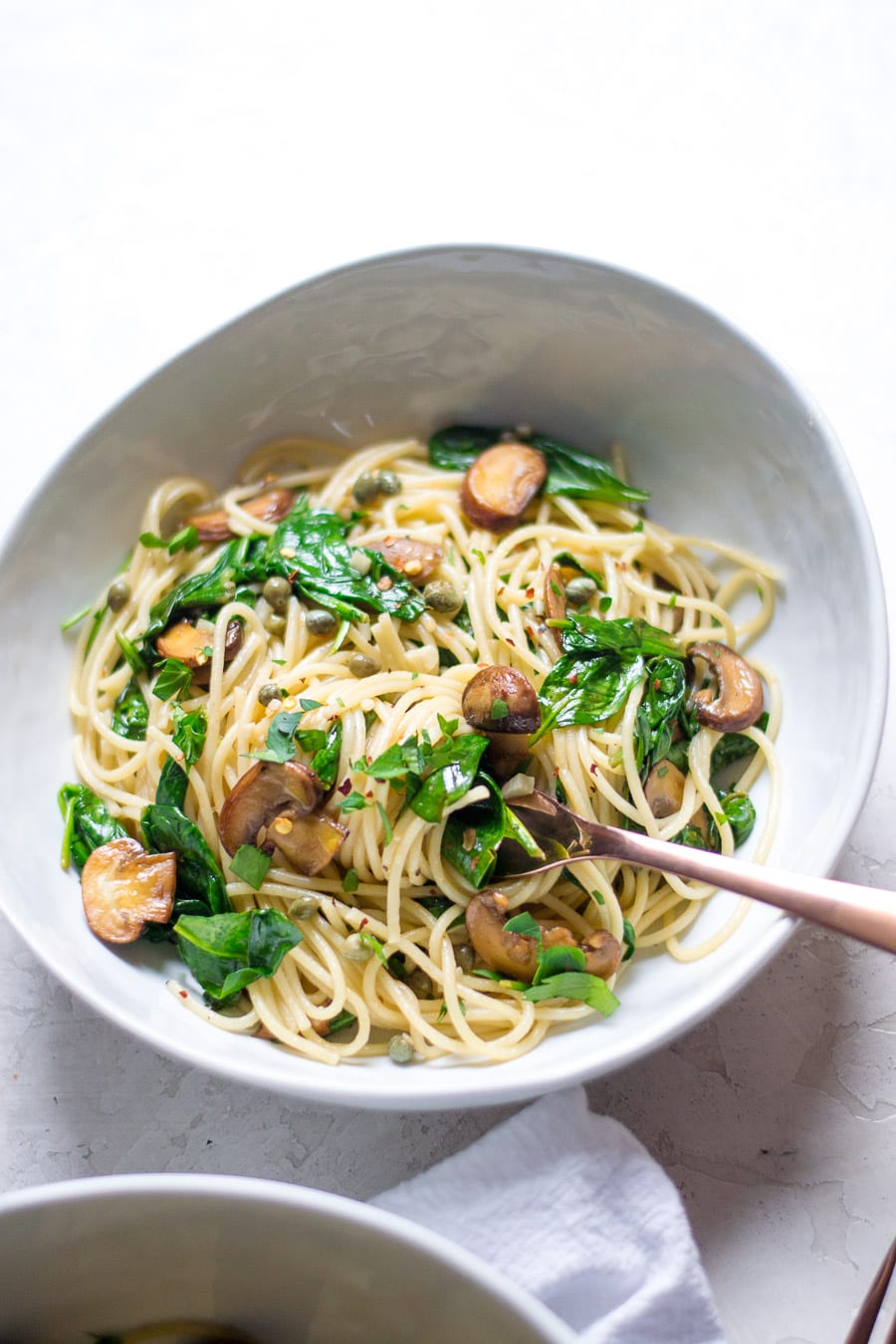 I like to add more lemon to the finished product along with some fresh chopped herbs like parsley or basil.
Trust me, you won't even miss the chicken!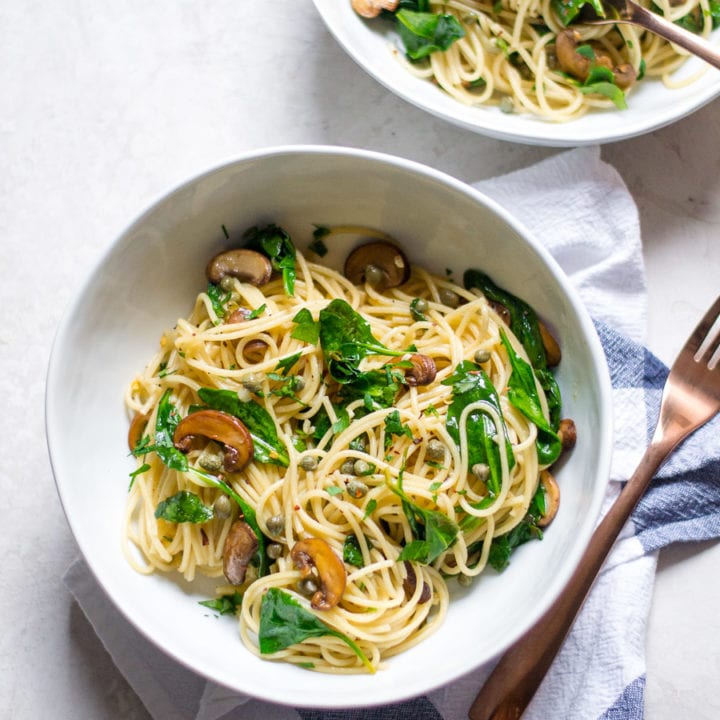 Spinach and Mushroom Piccata Pasta
Mushrooms and spinach cooked in butter, lemon, olive oil, garlic, caper sauce. Toss in your favorite pasta and enjoy!
Ingredients
2 tbsp unsalted butter
2 tbsp extra-virgin olive oil, plus more for finishing
1 pint thinly sliced baby bella mushrooms
2 tbsp capers
2 garlic cloves, grated or minced
juice and zest from 1 lemon
1 lb fresh baby spinach
16 oz pasta, like spaghetti, thin spaghetti, angel hair, or linguine
salt and pepper, to taste
fres chopped parsley, for garnish
Instructions
Add the butter and olive oil to a large skillet over medium heat.
Bring a large pot of salted water to a boil. Once boiling drop the pasta and cook at least 2 minutes less than the packages instructions.
While the pasta cooks, add the mushrooms to the skillet and cook until caramelized, about 10-12 minutes.
Reduce the heat in the skillet to low. Add the garlic, capers, lemon zest, and lemon juice. Mix to coat. Add the spinach on top of the mushrooms and piccata sauce. Cover with a lit until the pasta is cooked.
Once the pasta is about cooked through, remove the lid and use tongs to transfer the noodles into the large skillet. Mix to combine. Cover with lid and cook for 2 minutes until the noodles are tender and the spinach is wilted.
Season with salt and pepper. Add fresh chopped parsley as a garnish and then serve.
Recommended Products
As an Amazon Associate and member of other affiliate programs, I earn from qualifying purchases.