Double chocolate chocolate chip cookies are like the best part of a brownie in cookie form. The dough is a little bit of work, but it is so worth it for all that brownie edge goodness.
Another Monday safe at home.
I hope all of you enjoyed your weekend and were able to celebrate all the nurturers in your lives yesterday.
Raise your hand if your jeans are starting to get a tad snug.
My hand is raised.
I know I should be moving my body more when I am at home, but cookies and sourdough sound so much more appealing to my soul.
This week I will not be cutting out the cookies, but I swear I will get this big ol' butt moving.
It should also be noted I have told myself this every Monday for the past 6… or is it 8 weeks? All the days blend together.
I came across the recipe for these cookies in The New York Times Cooking section.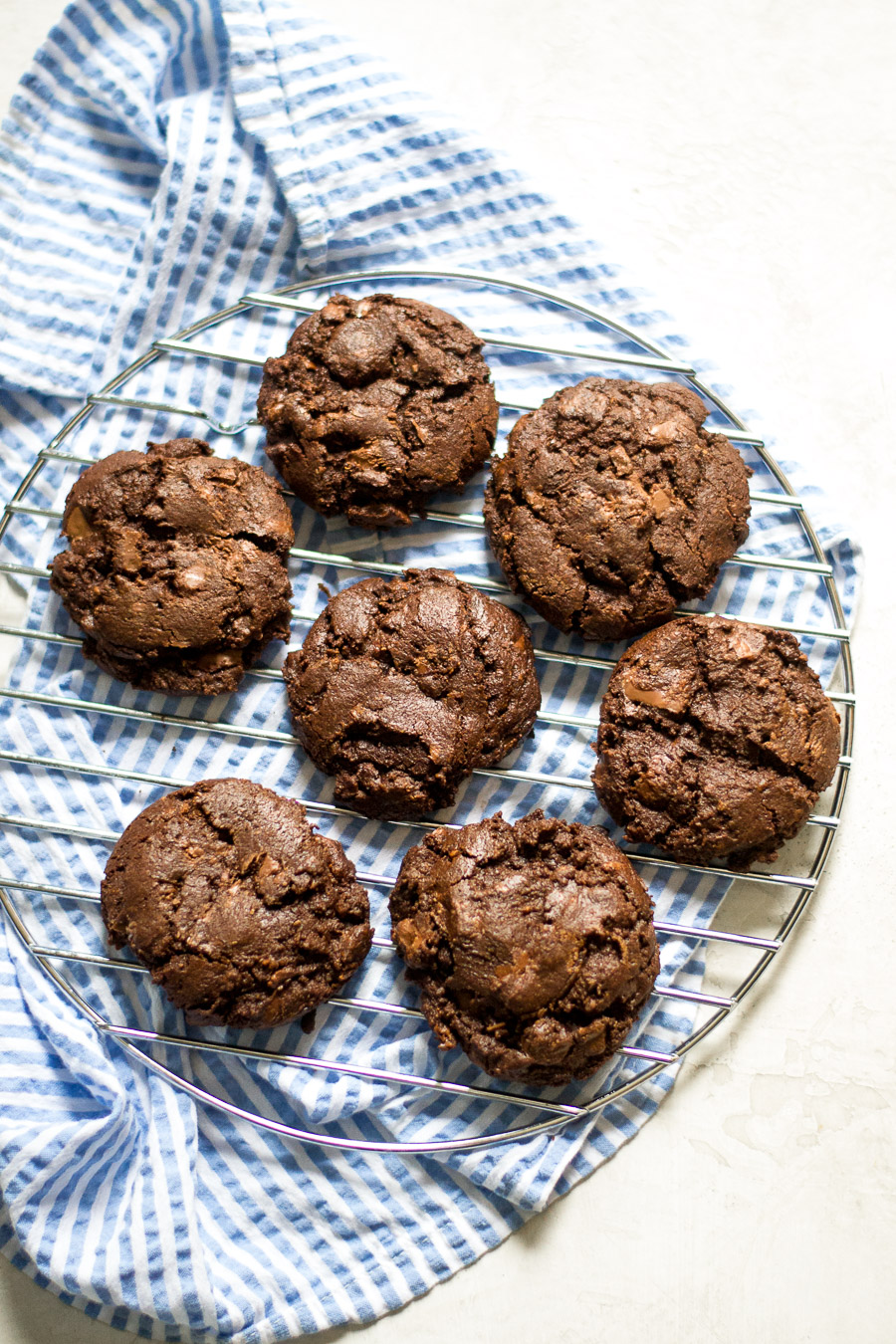 The original recipe says to chill the dough for 24 hours.
I tried this. Let me tell you that I think even if I was in peak quarantine physical form, there was no way I was scooping that rock hard dough.
Plus, who wants to wait 24 hours for cookies anyway?
The version of the recipe I have here is tweaked and perfected.
Double chocolate chocolate chip cookies are like all the best part of a brownie in cookie form.
They have crisp edges and chewy centers filled with lots of chocolate chips.
I have been keeping a stash of these in the freezer for those days when you need a little chocolate fix. Do not leave them out in your cookie jar.
You will find yourself eating more than two cookies a day and then feel really bad for skipping that online Zumba class you have been saying you were going to do since the start of quarantine.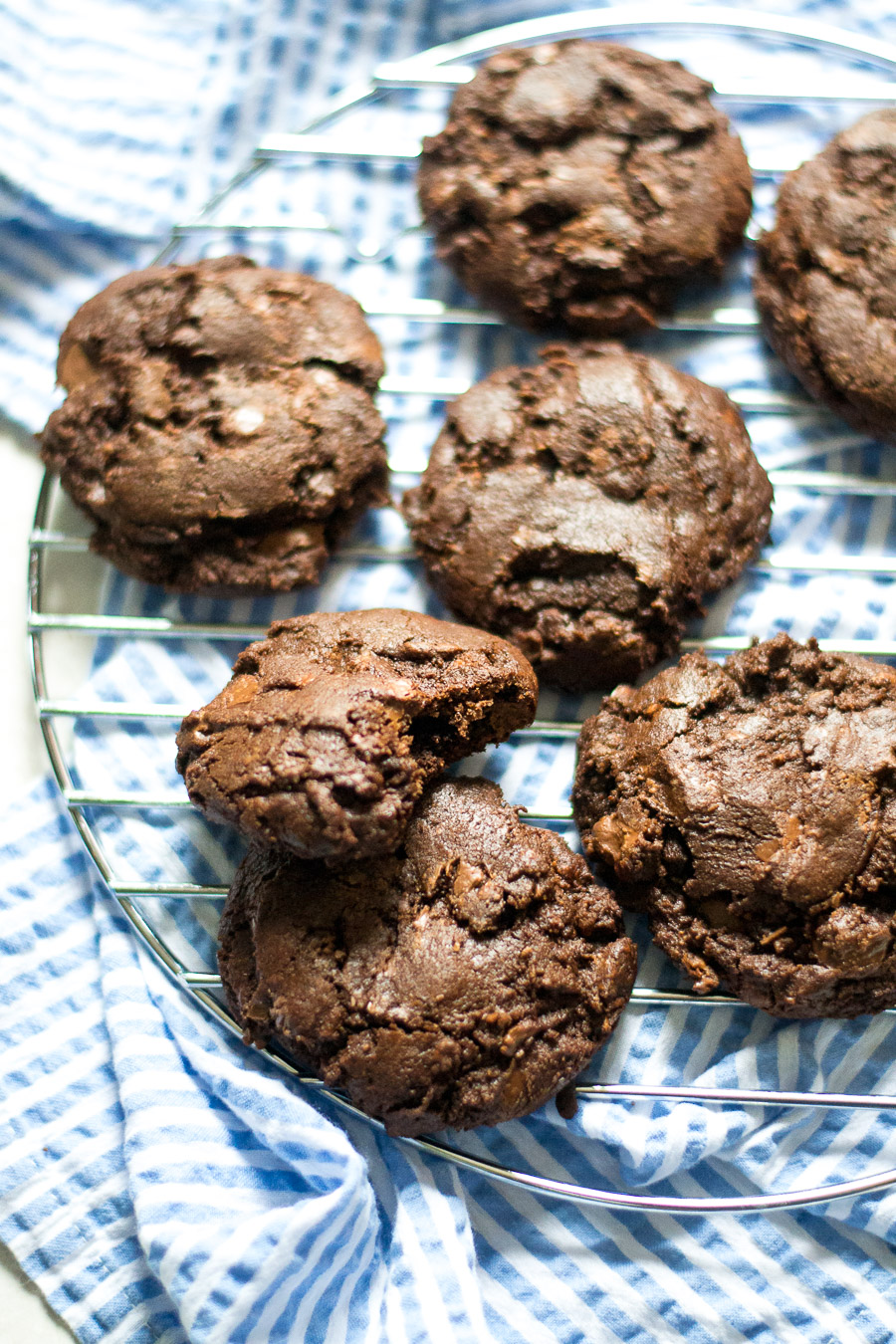 There is always next week, right?!?!?
(Brushes cookie crumbs off her chest).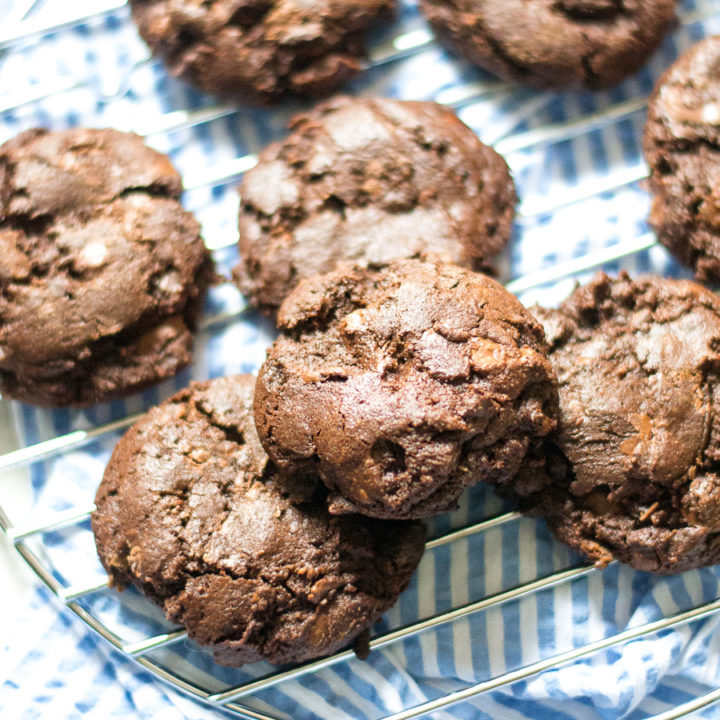 Double Chocolate Chocolate Chip Cookies
Prep Time:
1 hour
15 minutes
Total Time:
1 hour
30 minutes
Chewy chocolate filled cookies with crispy brownie like edges.
Ingredients
1 cup all-purpose flour
¾ cup Dutch-process cocoa powder
¾ teaspoon kosher salt
½ teaspoon baking powder
½ teaspoon baking soda
10 tablespoons unsalted butter, at room temperature
¾ cup light brown sugar
⅔ cup sugar
1 large egg
2 teaspoons pure vanilla extract
2 cups semisweet or bittersweet chocolate chips
Instructions
Whisk together the flour, cocoa powder, salt, baking powder, and baking soda in a medium mixing bowl.
Add butters to the bowl of an electric stand mixer fitted with the paddle attachment. Beat the butter and sugars until light and fluffy.
Add the egg and vanilla and beat on low until combined, scraping down sides as needed.
Transfer some of the flour mixture to the wet ingredients, little by little. Once the flour is no longer visible, add the next small bit of flour mixture. Continue adding until there is just a little flour mixture remaining.
Add the chocolate chips with the last bit of the flour mixture and mix on low until no flour is visible.
Chill the dough in the refrigerator for at least 1 hour and up to 3 max.
Preheat the oven to 350 degrees F. Line 2 large baking sheets with parchment or a silpat.
Scoop the dough out using an ice cream scoop, you want dough balls just a bit smaller than a golf ball.
Bake the cookies for 15 minutes, until the center is still slightly jiggly and the edges are set. Let them cool on the cookie sheet for 3-5 minutes before transferring to a wire rack to cool completely.
Recommended Products
As an Amazon Associate and member of other affiliate programs, I earn from qualifying purchases.