By now, you all have come to know that I have a dog. His name is Weezer and he is a pug. Having a dog is great. This is coming from the person who, when she brought her crying, scared, and shivering puppy home, thought, "I made a big mistake," when said puppy would not stop crying and shivering.
 
It was taxing training him, and in all honesty, he probably could still use a little more training. It made me very thankful that my parents only let us have small rodents and rabbits growing up. On cold snowy days, walking Weezer is the last thing I want to do. I can't even imagine how 7 year old me would react to the thought of having to walk a dog at 5am in the freezing cold.
Most recently, Weezer has become a bad influence around our household. We like to refer to him as "the lazifier." In his mind, he would love to be curled up on the couch with you and a blanket for eternity. Believe me; it is hard enough getting out of bed on a normal cold day. Add a sleeping puppy, with his head affectionately resting on your shoulder to the mix, and you are likely to sleep in just a little bit longer.
 
Weezer is not by any means a lap dog, even though most times that is where he would prefer to rest. He can run after a squirrel like no other, wrestle with the big dogs, and fart and snore with the best of them. In fact one time he even killed a squirrel.*
*This may or may not be true. I take my eyes off of him for one second and he is standing over a dying squirrel in my parents' backyard. In all honesty, the squirrel probably fell out of a tree and had a heart attack, but I have to give the little guy some kind of kudos.
In Weezer's mind there is only one amount of time he thinks in, and that is forever. He thinks you are going to cuddle with him forever, he thinks you are going to scratch his butt forever, he thinks that when you leave you will be gone forever and is pleasantly surprised every time you return. He is like that hopeful best friend you had in grade school that gave you half of a heart necklace that when you put the two halves together says friends forever, except he thinks like this every day!
This thinking is totally cute and endearing, except when you wake in a panic after resting your eyes for a moment on the couch with "the lazifier" and realize it's now 90 minutes later, and all the stuff you were supposed to get done but didn't because it was just so warm and comfortable snuggling on the couch.
"You got me again, Lazifier!" (Shaking my fist in rage.)
 
Ingredients
4 Cups Hot water
4oz Dried Porcini Mushrooms
2 Thick Slices of Pancetta, cut into small cubes
¾ Cup Onion, diced
1 Clove of Garlic, grated
1 pint Shitake Mushrooms, cleaned and stems removed
1 pint Baby Portobello Mushrooms, cleaned and sliced into thirds
1 Cup White Wine
1 teaspoon of salt
1 teaspoon of pepper
1 Cup Low Sodium Chicken Stock
1 teaspoon of Fresh Rosemary, chopped
½ Cup Pearl Barley
¾ Cup Whole Milk
1 teaspoon of Fresh Parsley, chopped
Combine the dry porcini mushrooms and hot water in a large bowl. Let the mushrooms sit in the hot water until the water becomes dark brown and the mushrooms have absorbed some of the moisture. Put the bowl to the side, you won't need it until later.
 
Heat a large stock pot over medium heat for about three minutes then add the small cubes of pancetta. Cook pancetta until dark and crispy, about 6-7 minutes over medium/high heat. Then add the onion. Cook onion until translucent, about four minutes over medium heat. Than add your grated garlic and reduce the heat to medium low.
Add in the shitake and baby Portobello mushrooms. Cook mushrooms for seven minutes over medium/high heat until they have released all their moisture and start to brown. Then add the white wine and turn the heat to high. Simmer wine for ten minutes until all the alcohol cooks out. Then add the reconstituted porcini mushrooms and mushroom stock, along with the chicken stock, salt, pepper, and rosemary to the pot. Bring the mixture to a boil.
 
Then add the cup of barley to the pot and reduce the heat to low. Cook the soup for 40 minutes, until the barley is tender. Once the barley is cooked, add the whole milk and parsley. Simmer soup for five more minutes. Remove from heat and let cool for about ten minutes before serving.
 
This is a perfect cold weather snuggling recipe. It is easy and will make you feel like you accomplished a complex meal in no time and still allow you plenty of couch time with whomever or whatever you consider to be "the lazifier" in your house.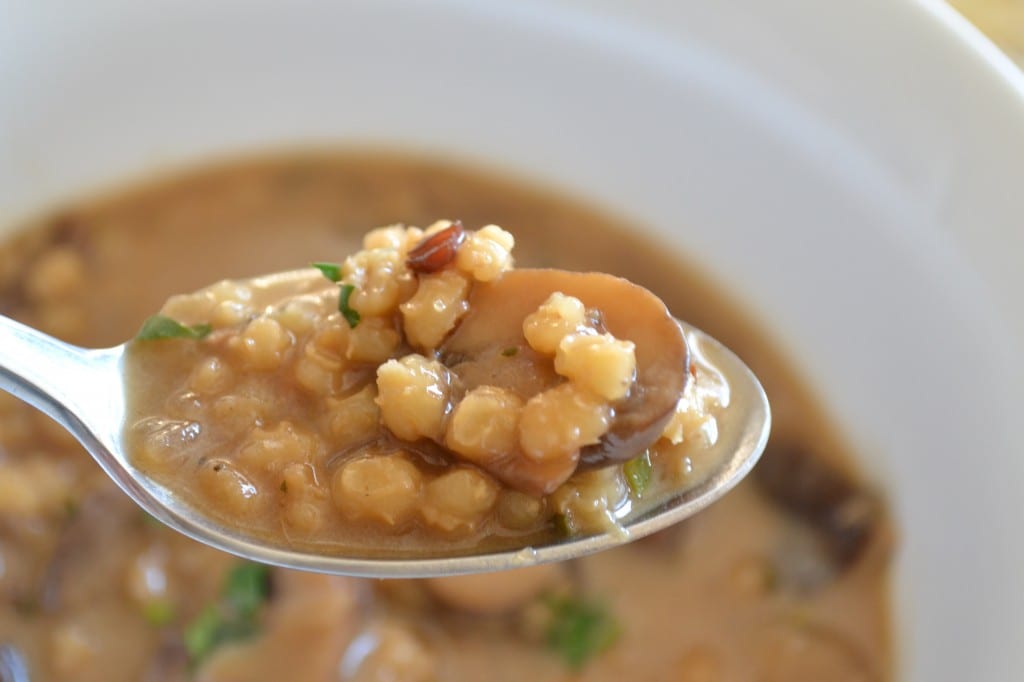 Related posts: