The holidays are tough for a number of reasons: too many tempting sugary treats, too much caloric intake in general, the stresses of hosting a family get together, and the stress of planning a meal that isn't boring or exactly like the last huge meal you made a month ago.
To get away from the humdrum of turkey and potatoes, I suggest this amazing marinade from Bev Cooks on any kind of steak or even a pot roast. Pair the meat with my amazingly easy butternut squash, cauliflower, and potato puree and you have instantly created something new that still has remnants of the plain old safe mashed potatoes.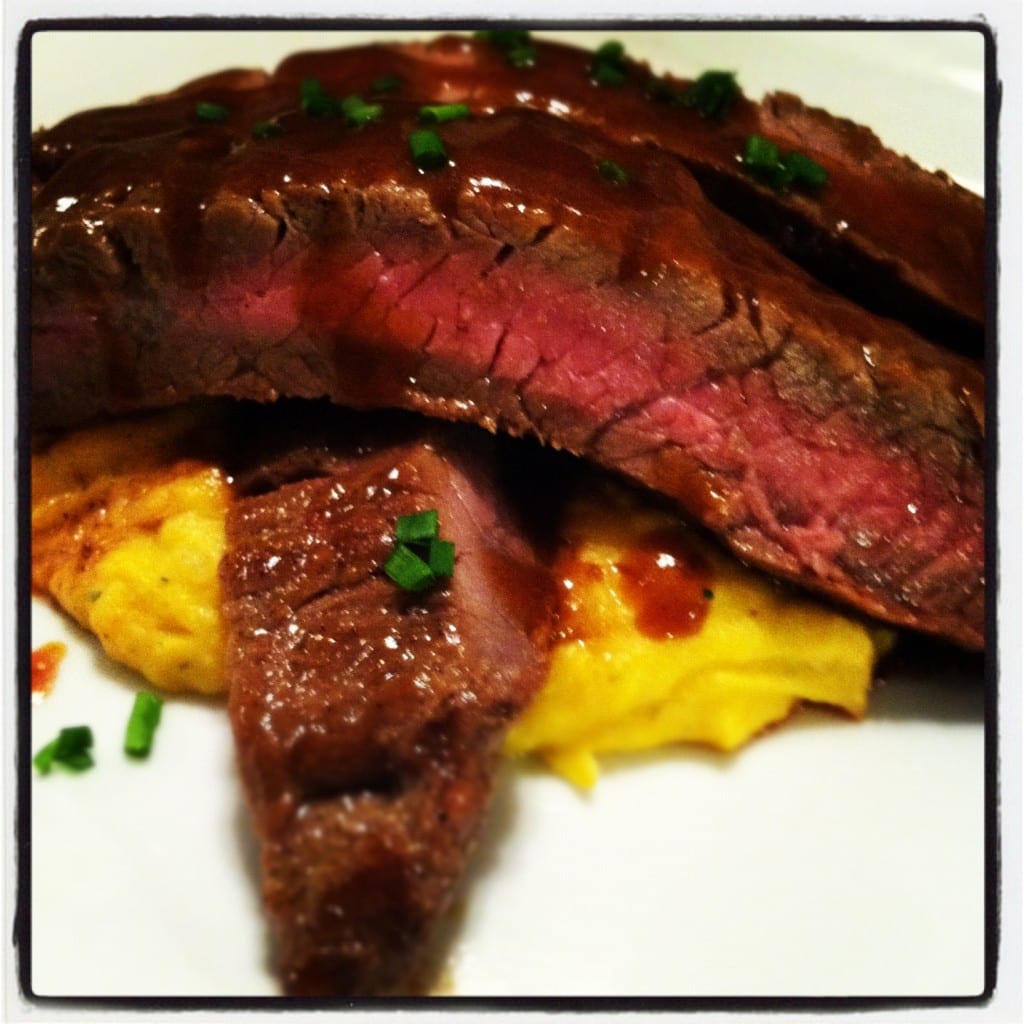 Ingredients for the Puree (serves four)
1 Butternut Squash, peeled, seeded, and cubed
1 Head of Cauliflower, chopped into large pieces
1 Tablespoon of Olive Oil
2 Tablespoons of Unsalted Butter
1 Teaspoon of Salt
½ Teaspoon of Pepper
1 Tablespoon of Fresh Sage Leaves, chopped
2 Russet Potatoes, peeled and boiled
1 Tablespoon of Sour Cream
½ Cup of 2% Milk
½ Cup of Parmesan Cheese
Preheat the oven to 375 degrees. Peel, seed and chop the butternut squash into large cubes. Remove the core and stem from the head of cauliflower. Chop the florets into large pieces. Place the cauliflower and squash on a pan. Coat the veggies in olive oil and add the sage, salt, and pepper. Mix a few times to make sure the seasoning is properly distributed. Cut the butter into small squares and place throughout the veggies.
 
Bake for 35 minutes until lightly golden and tender. While the squash and cauliflower are roasting, boil the two potatoes. Drain the potatoes. Add the roasted cauliflower and squash to the pot along with the sour cream, milk, and cheese. Mash the mixture for a few minutes using a potato masher. When the veggies are roughly mashed, puree them using an immersion blender until they are smooth and creamy.
Ingredients for the Marinade
3 Tablespoons of Olive Oil
2 Tablespoons of Soy Sauce
2 Tablespoons of Worcestershire Sauce
2 Tablespoons of Honey
2 Tablespoons of Dijon Mustard
2 Tablespoons of Fresh Grated Ginger
3 Cloves of Garlic, grated
1 Pinch of Crushed Red Pepper
½ Teaspoon of Coffee Grounds
In a small bowl, whisk all of the ingredients until combined. Place steak in a sealable plastic bag and pour the marinade into the bag. Seal and place in the fridge to marinate for at least two hours and up to 24 hours.
Sear the steak, in this case flank steak, on medium/high for about 8 minutes per side to create a perfect medium through the center of the flank steak. When done let rest for five minutes before cutting.
 
I also created a simple pan sauce by adding ¾ cup of beef stock to the pan and deglazing it for five minutes over high heat. A simple touch that adds more flavor to the dish.
 
Voila! An old switcheroo for your next holiday meal… Or in my case, a nice surprise for my husband when he arrived home from another drab Monday at work.
Related posts: