I love appetizers! I love everything from cheese plates with olives and crackers to a messy hard to eat bruschetta. In fact, the other night my husband and I made a meal out of those two very things! I know it isn't the healthiest or most balanced meal, but hey, it is the holiday season. Don't all of your normal eating guidelines go out the window eventually anyway?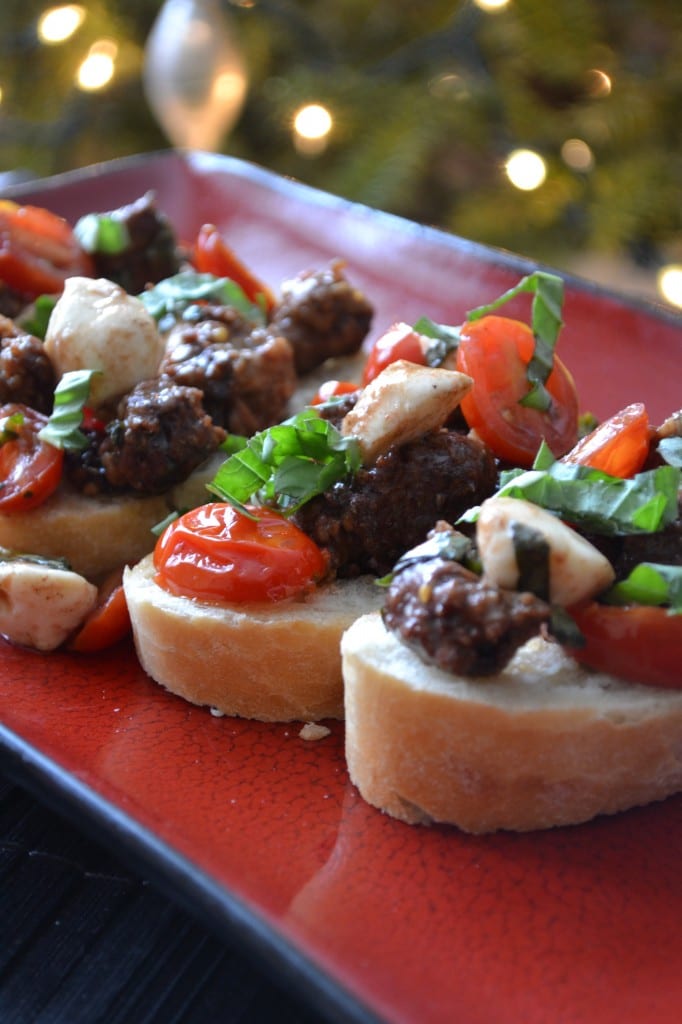 When thinking of ways to make my all time favorite combination of ingredients even better, there was only one ingredient that came to mind: pork! Pork always makes a dish better!
The addition of a mild pork Italian sausage to the normal bruschetta takes this traditional vegetarian dish and makes it into more of an entrée or a heavier appetizer to lead into the main course. I highly recommend bringing this dish to your Christmas dinner. After all, it is red and green!
Ingredients (makes enough for 10 pieces of bruschetta)
1 Tablespoon of Olive Oil
2 Links of Mild Italian Pork Sausage, casings removed
½ Cup Balsamic Vinegar
½ Pint of Grape Tomatoes, halved length-wise
10 Fresh Mozzarella Ciliegine (small balls of mozzarella), halved
6 Large Fresh Basil Leaves, cut into thin strips
10 Slices of French Baguette or Ciabatta (or any other kind of crusty bread you like)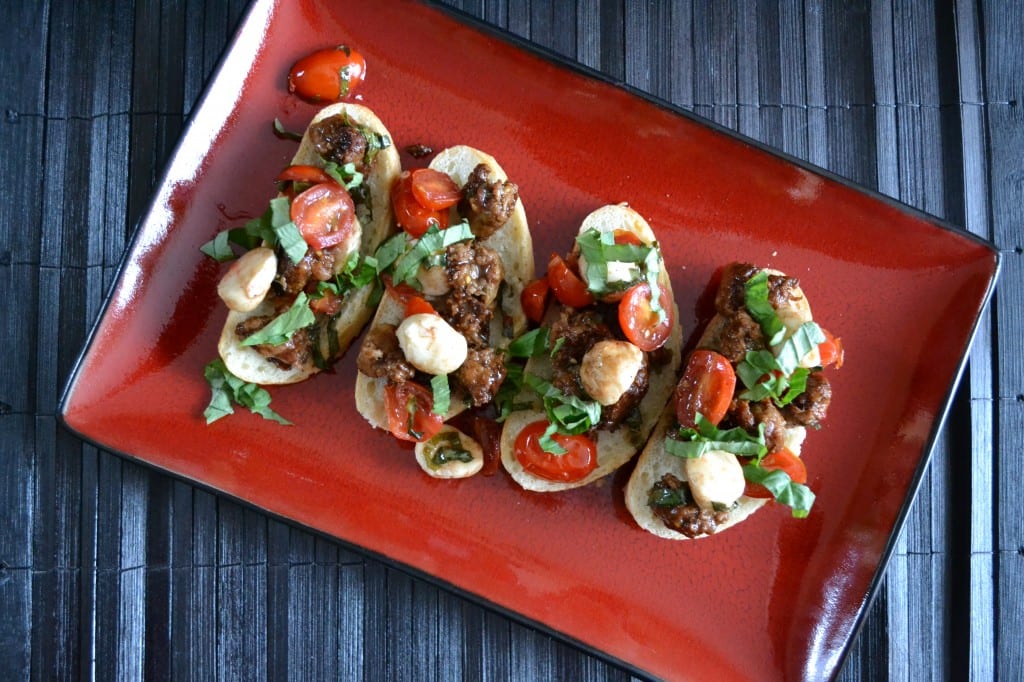 Heat the olive oil in a large skillet over medium/high heat. Add the sausage links. Using a rubber spatula, break the links up into small bite-size chunks. When the sausage becomes golden on each side and is no longer pink in the center, add the balsamic vinegar. Turn the heat up to high and reduce the balsamic by half until it is a thick glaze over all of the sausage.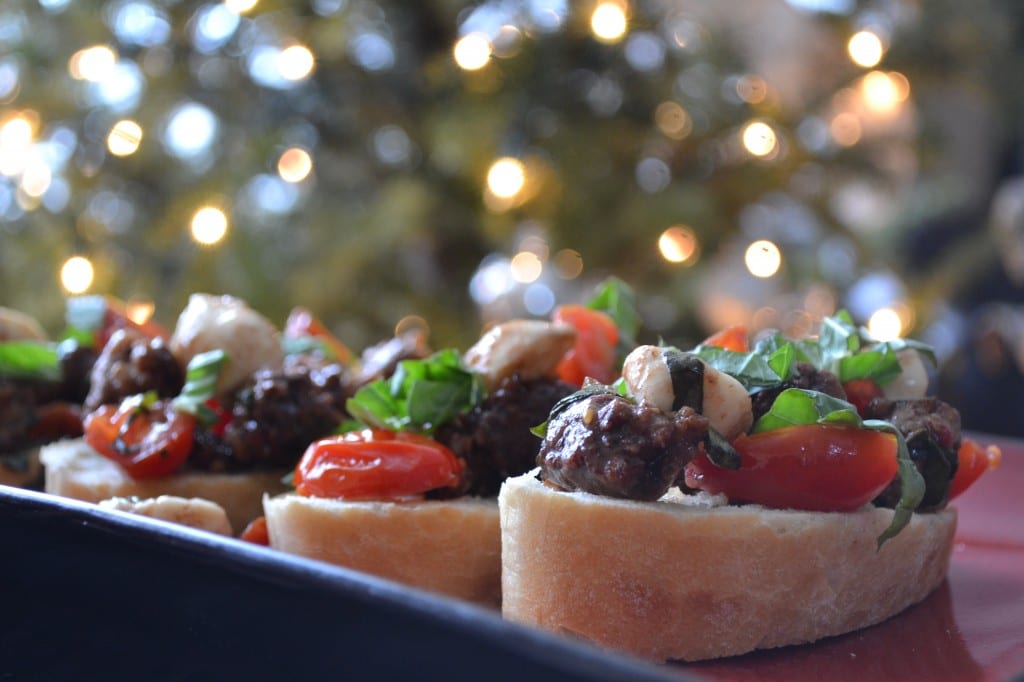 When the sausage is cooked all the way through, remove from heat. Add the grape tomatoes to the pan. Coat them evenly in the balsamic glaze. Arrange the slices of baguette on a large serving dish. Spoon the sausage, glaze, and tomatoes over the bread. Top with fresh mozzarella and basil, then serve.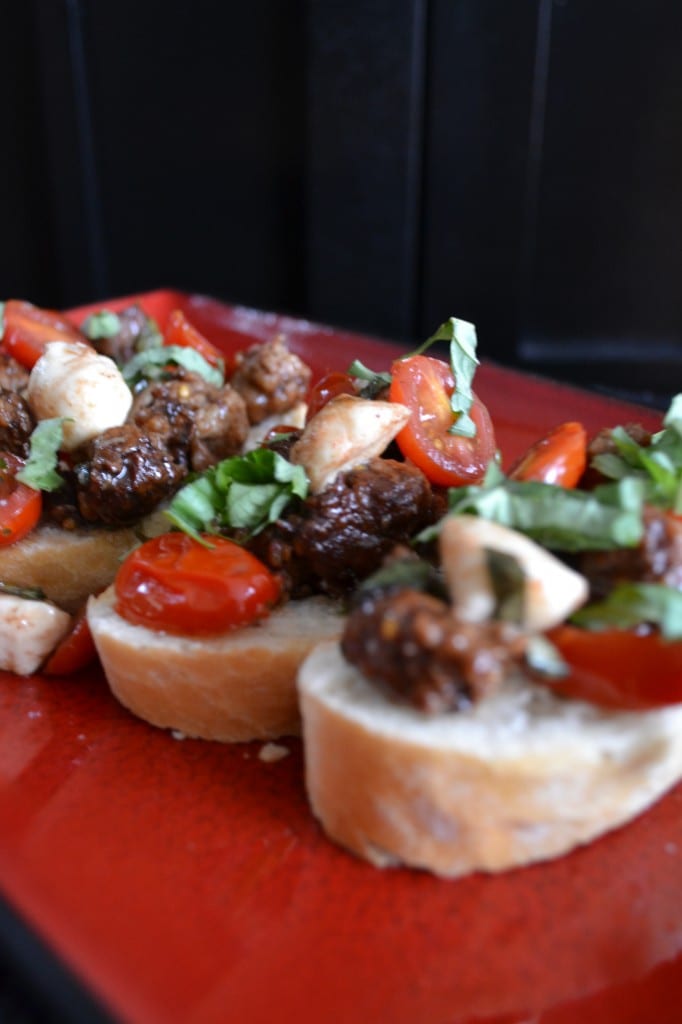 Bring this to your Christmas dinner as a unique appetizer, or do as I did, and sit your butt at home with a big glass of wine and some appetizers and pretend you went out to a party.
P.S. I am really going to miss using my tree as a beautiful back-drop.