Kolaczki (Pronounced ko-wah-ch-kee.)
Yesterday I decided to take my little dog Weezer and head over to my parents house to "help" my mom with some Christmas cookie baking. I use the term "help" loosely, because sometimes I am more of a bother in the kitchen than a help, especially when it comes to baking.
Kolaczki are a traditional holiday cookie in our house. They are light, buttery, flaky, and filled with fruit preserves. Being the proud Polish family that we are, we like to say they are a Polish cookie, but more realistically, I think they are a traditional Eastern European cookie. They are called many different names in Polish and in other languages. No matter what you call them, in whatever language, the description is always the same. They are G-O-O-D! (Pronounced guuud.)

But, I digress. When I got to my parent's house, my mom already had the dough made and chilled. Score! One less thing for me to mess up. Then she springs this one on me: "Would you mind making a surprise dish for your brother for Christmas dinner while you're here?" Seriously? I thought we were baking together?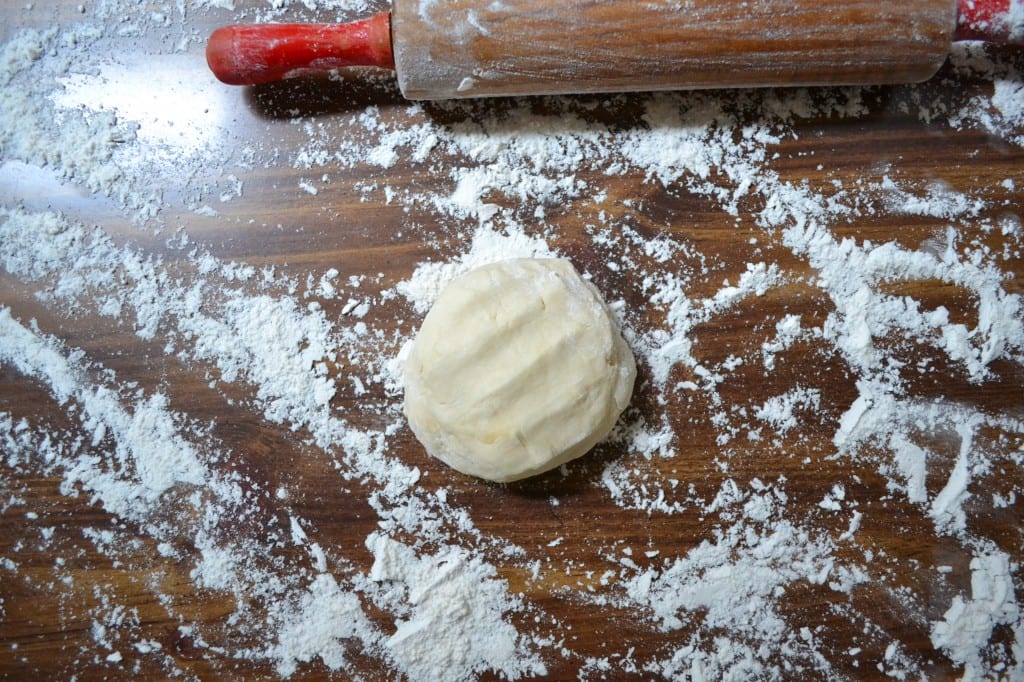 So, what mama wants, mama gets. I started making this surprise dish for Christmas dinner while trying to pay attention to what my mom was doing so I could post an accurate recipe for the kolaczki. When I wasn't paying enough attention or capturing the pictures my mom wanted me to capture for the blog, I definitely got an earful.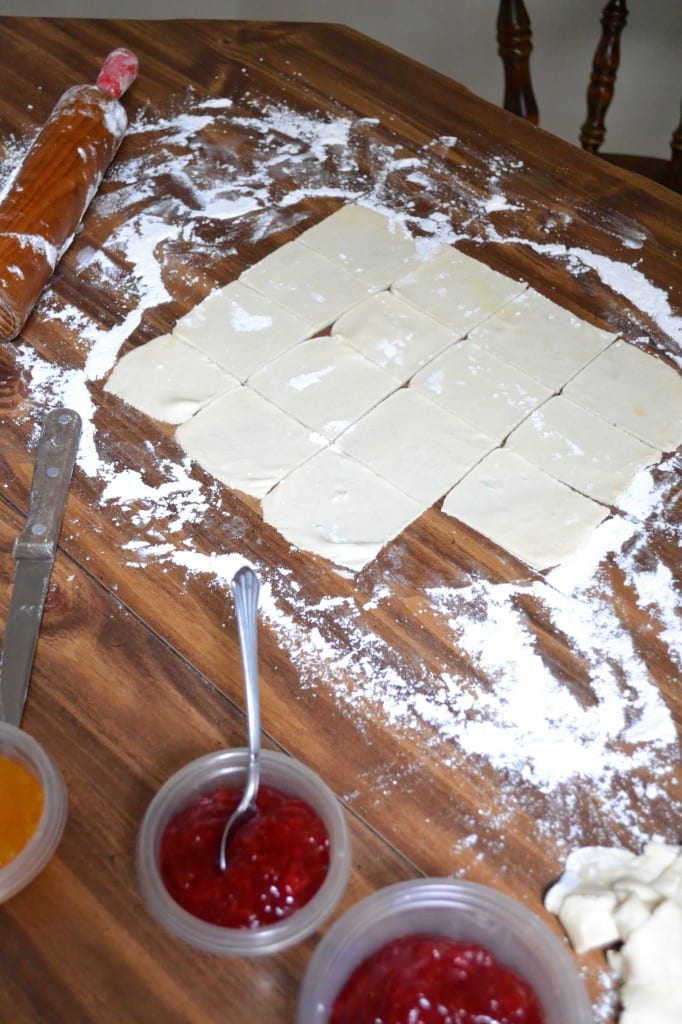 I ended up holding off on my project, taking pictures of the cookie making process, and overall marveling at how quickly and expertly my mom can whip these cookies out. It made me feel like a kid again. I felt like, since I clearly was not needed to make the kolaczki, I might as well entertain my mom with my witty banter.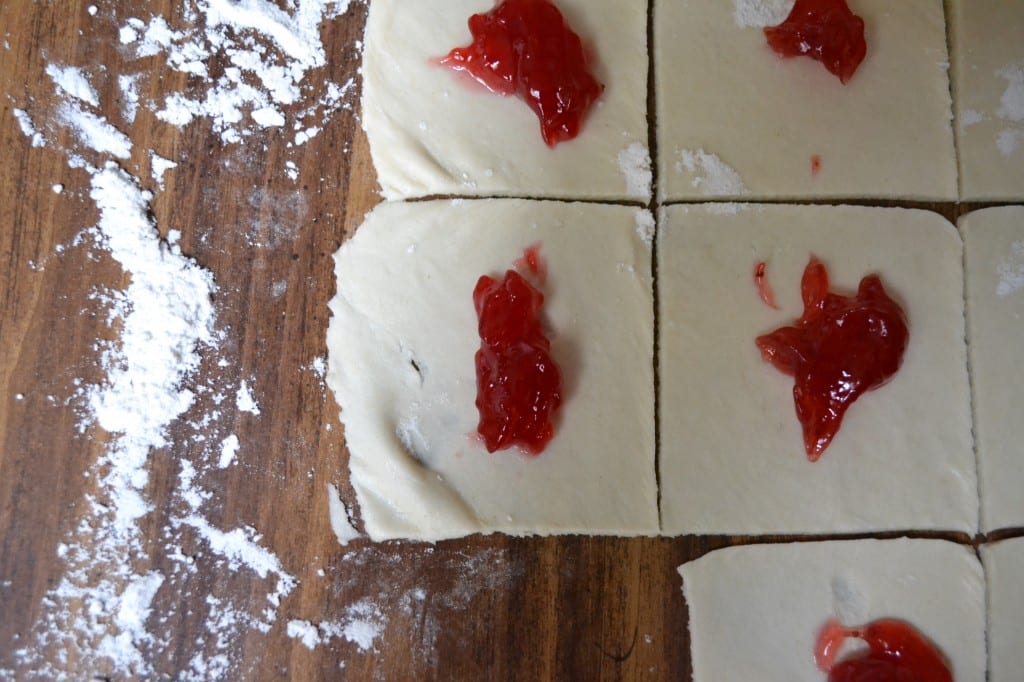 And then, when all the cookies were baked and sprinkled with powdered sugar, the two of us sat back amongst the mess of flour and dough and ate way too many cookies for lunch and talked about how we wished we could hire somebody to come clean all this up.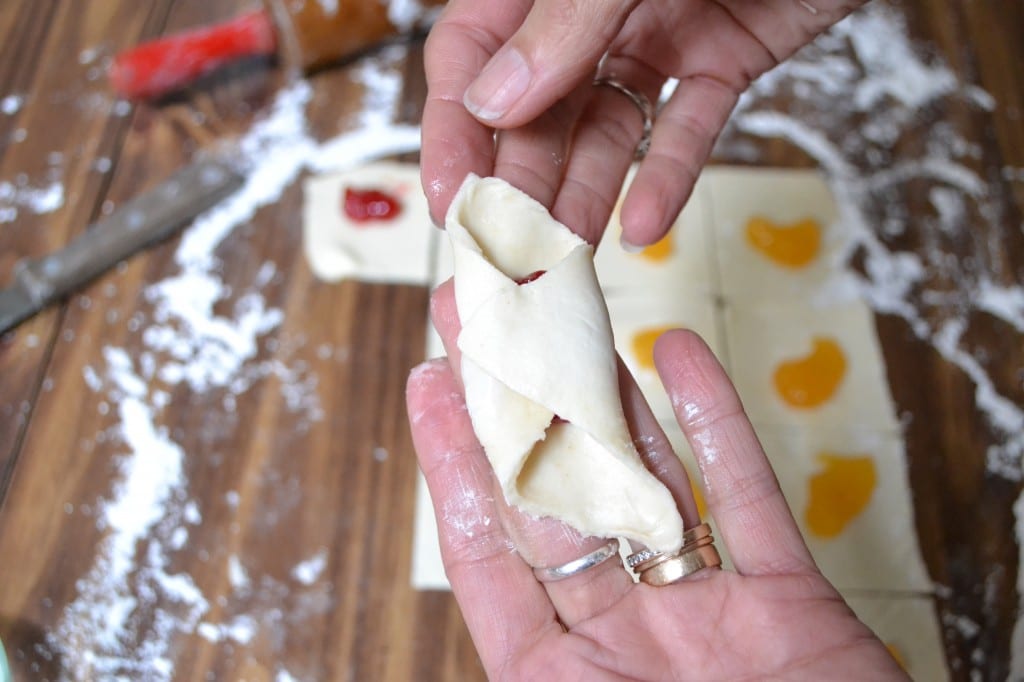 Even though I didn't exactly "help", here is my mom doing what she does best!
Ingredients
3 Cups Flour
¾ lb. Margarine (3 Sticks)
½ Cup Sour Cream
Any kind of Fruit Preserves you like (We used Strawberry, Cherry, and Apricot)
Powdered Sugar for dusting over the tops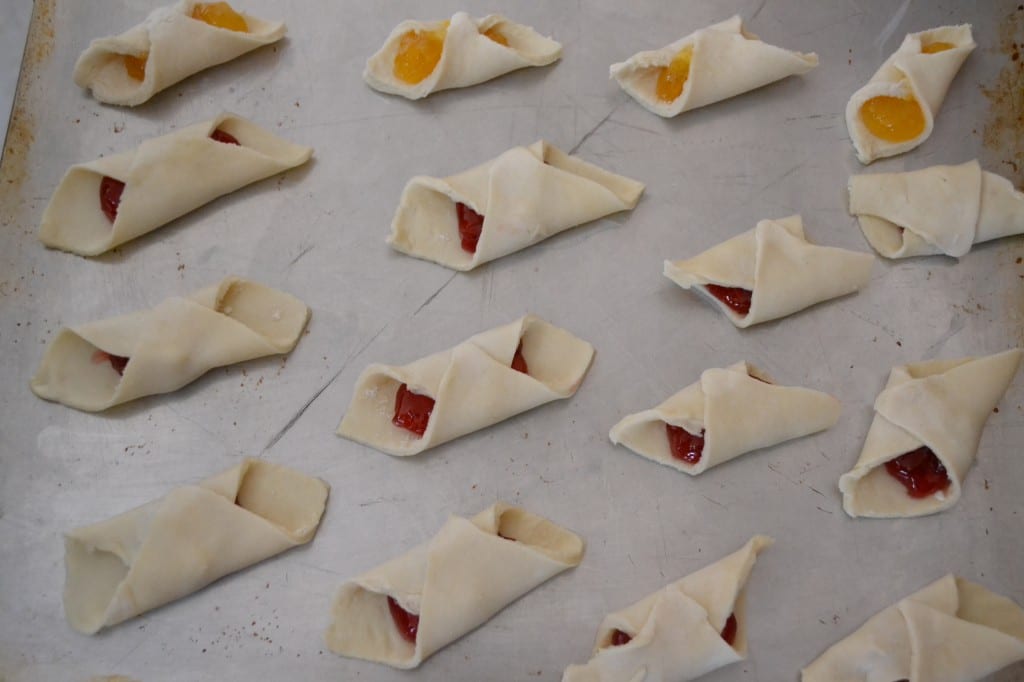 Mix the flour and margarine together using a pastry blender. When the two have combined and the dough is crumbly, add in the sour cream. Combine it using your hands until the dough is formed.
Divide into four equal balls of dough. Wrap the dough in plastic wrap and refrigerate overnight. Roll one ball of dough out at a time on a lightly floured surface. Cut the dough into 3" squares.

Place a dollop (1/2 a teaspoon) of filling into the center of the squares. Fold the two sides into the center and seal with a little dab of water.

Place on an ungreased cookie sheet. Bake for 20 minutes at 350 degrees. Check the cookies at the 15 minute mark to make sure they aren't burning or haven't unfolded.

Remove from the cookie sheet when completely baked and place them on a cooling rack. Lightly dust the cookies with some powdered sugar to finish.

After eating too many cookies, and laughing too hard with my mom all day yesterday, my stomach is still sore. It was worth every calorie!
Related posts: