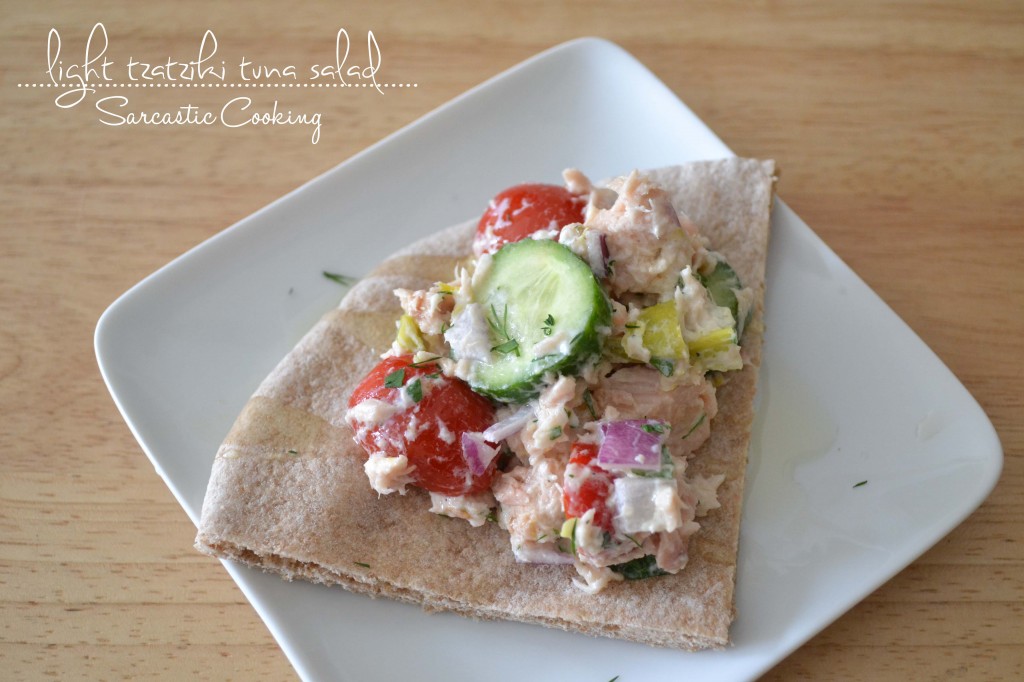 I don't exactly remember when I started liking tuna. I feel like this was a food that was always around during my childhood, but I never experienced until, well, I don't remember.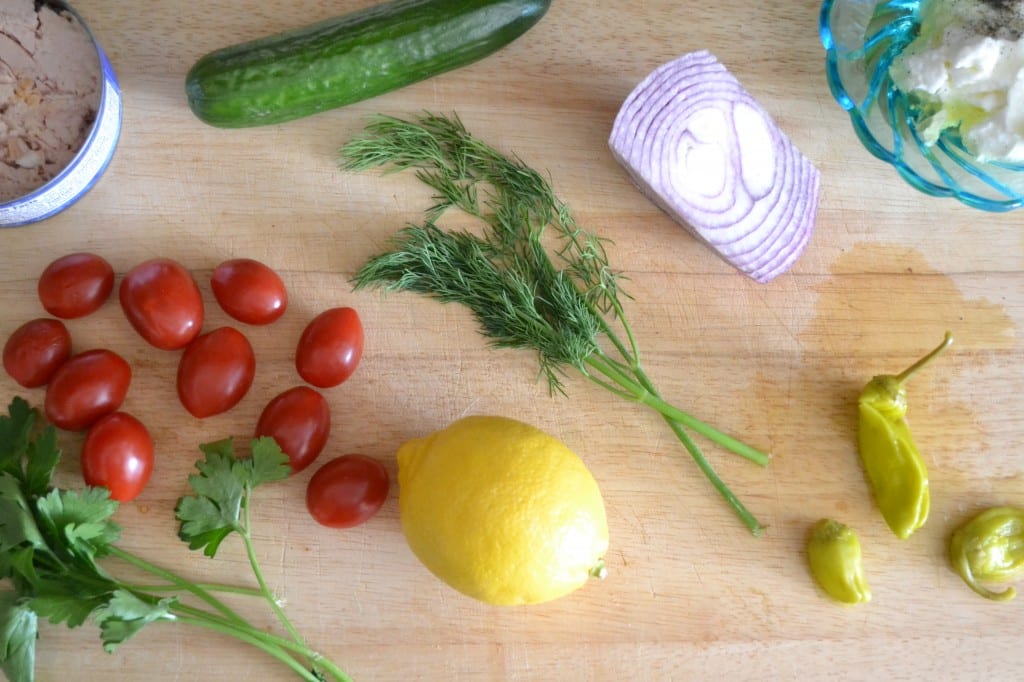 My Dad was always the master tuna salad maker in the house. That is what he would eat on weekends in between mowing the lawn and complaining about how he had to mow the lawn.
He would sit at the kitchen table and eat his lunch with some baseball game on the tiny kitchen TV and talk to himself about how he had so much stuff to do around the house or how the White Sox were a bunch of idiots.
Then after he had his moment of solitude to regroup, he would make us lunch and then hustle us on to cleaning and chore time.
So, that is really my only memory of tuna from a can in my life.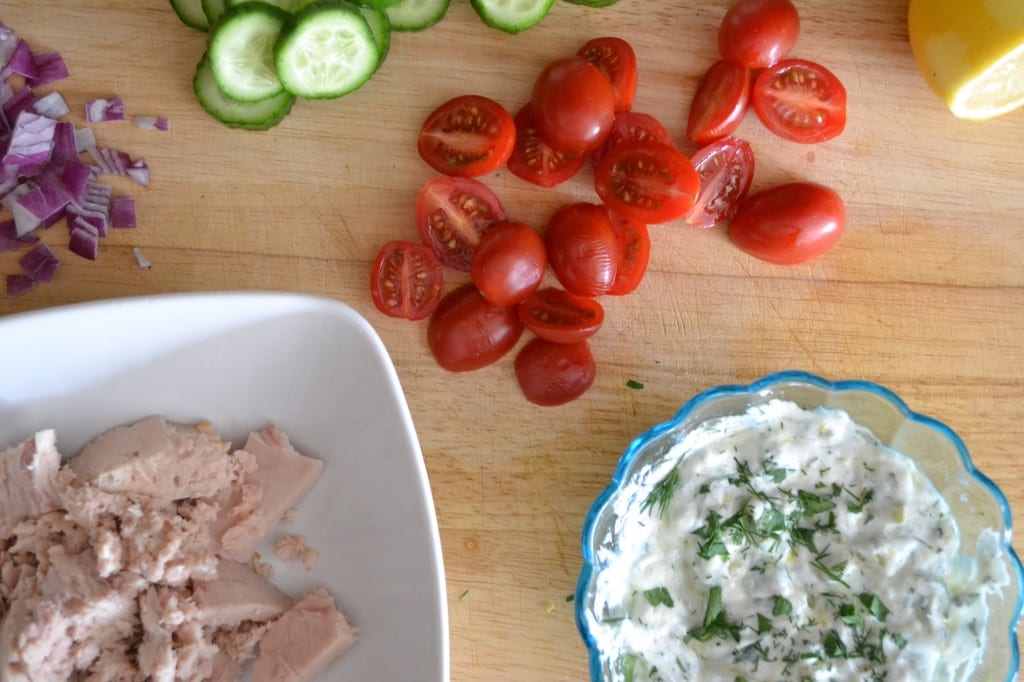 Lately, I have loved how easy it is to open a can of good tuna and make a quick tasty lunch. Normally, I am not a lunch kinda girl.
I would actually skip the meal all together, and most times I do. I prefer a quick snacky bite or two and then boom, back to work.
I have learned that if I take the time to make some tuna salad at the start of the week, I can eat it on crackers or pita bread for the next few days if I have time.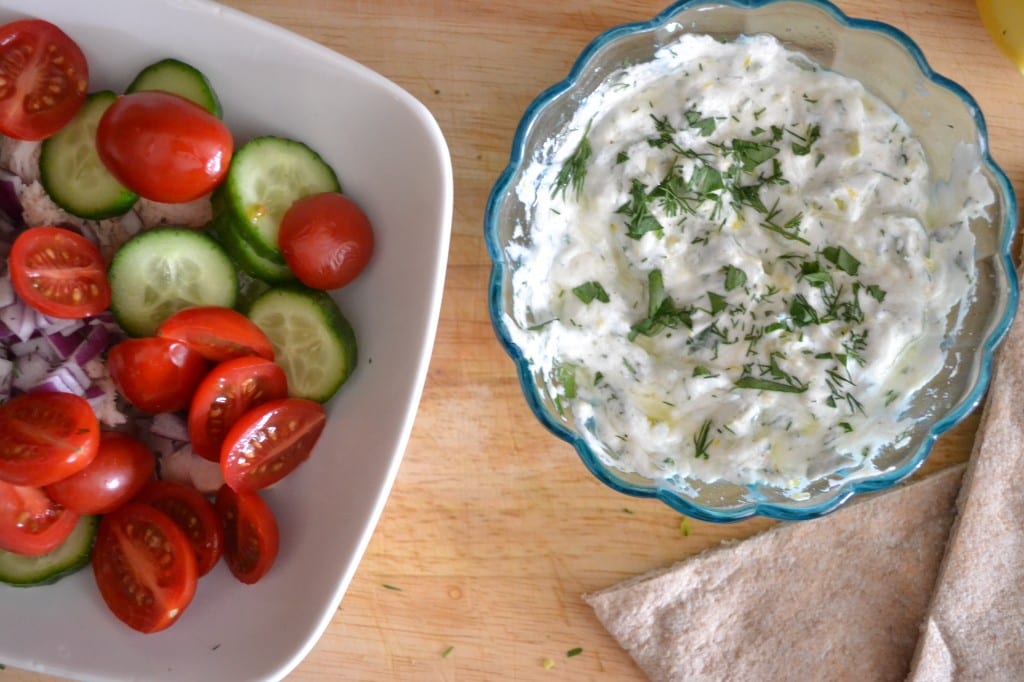 I am not a big fan of mayo in tuna salad. I feel like it overpowers the whole salad, so I have found other ways to make a creamy salad. I love some pureed white beans or chick peas added in, but my go-to is a little smidge of this tzatziki sauce.
It is made with Greek yogurt, olive oil, and lemon juice. It is light on calories, but still satisfying.
Try this recipe out next time you need a quick lunch time bite or two. It will allow you time to umm, let's say dictate cleaning orders to your children or do chores, while still eating a healthy meal.
I mean if that's your thing…
Light Tzatziki Tuna Salad
Author:
Prep time:
Total time:
Ingredients
Salad:
5 Ounces Canned Solid White Albacore Tuna in Water, drained
1 Persian Cucumber, sliced
10 Cherry/Grape Tomatoes, halved
2 Tablespoons Diced Red Onion
Pita Bread/Crackers/Pita Chips
Sauce:
2 Tablespoons Non-Fat Plain Greek Yogurt
1 ½ Tablespoons Olive Oil
Pinch of Salt & Pepper
1 Teaspoon Lemon Juice
1 Teaspoon Lemon Zest
1 Tablespoon Fresh Chopped Dill
1 Tablespoon Fresh Chopped Parsley
3 Pepperoncini Peppers, stems removed and minced
Instructions
In a small mixing bowl, whisk together the yogurt, olive oil, salt, pepper, lemon juice, lemon zest. Then mix in the herbs and minced pepperoncini peppers. Set off to the side.
Add tuna, cucumber, tomatoes, and red onion to a medium mixing bowl. Add 1 to 2 tablespoons of the sauce to the salad and mix to combine. Add more salt and pepper to taste.
Serve salad on crackers, pita bread, or pita chips. Store the salad in an airtight container in the refrigerator for up to three days.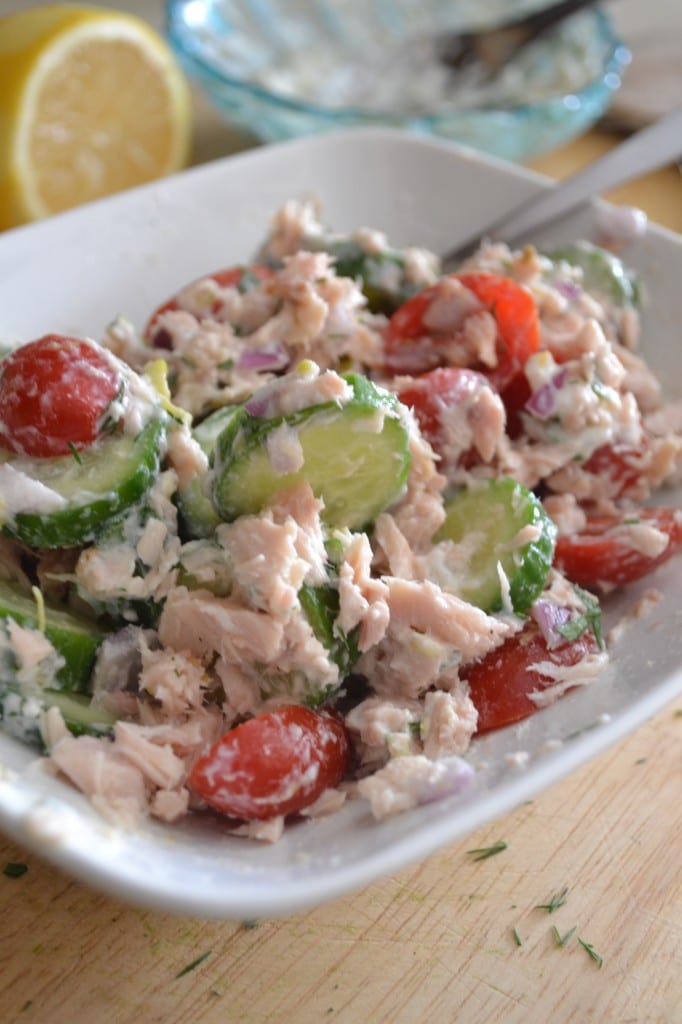 Related posts: