Kale sweet potato and brie salad is a hearty and filling yet totally balanced salad. The brie and sweet potatoes are so creamy and balance the crispy kale and pumpkin seeds. It's the perfect winter salad!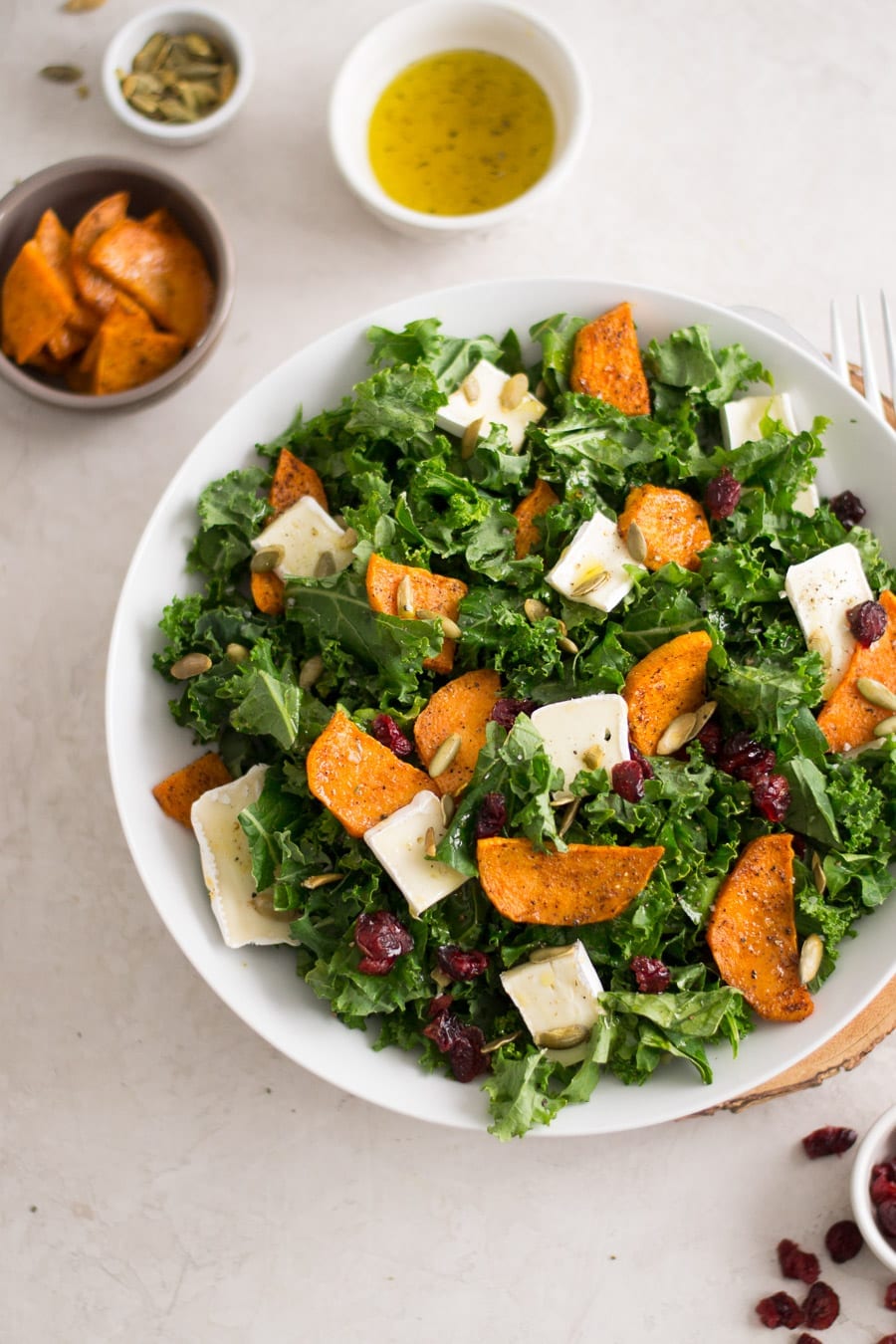 January 5,474th 2019 Captain's Log: Day two of arctic blast, Chiberia, polar vortex.
Yesterday was not too bad. I only asked myself, "It's only X:00?" maybe like three or four times. The worst was when it was only 9:30am after we had played trains, cooked breakfast, and built a Lego battle.
If you didn't know, Chicagoland area is in a deep freeze and school has been cancelled for the last two days. We also had a snow day on Monday. That means not only are the boys here, Mike is off too. Loads of family togetherness.
I knew it was going to be two days in a row, so I planned accordingly.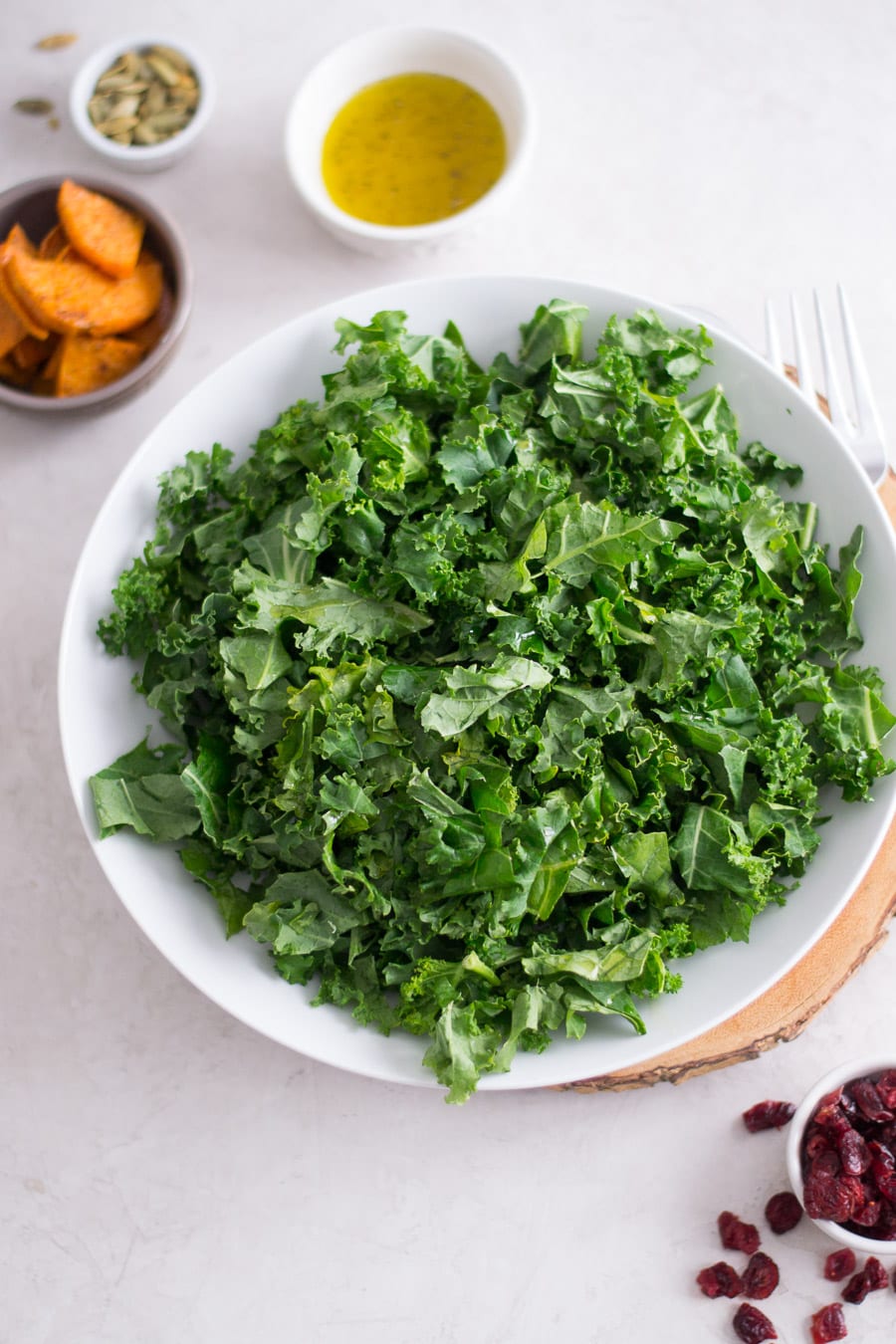 I cooked up some soup and sliders for lunches. We took a trip to the grocery store for snacks and drinks. I planned many activities like dance parties, puzzles, slime making, and even afternoon baths.
We haven't killed each other yet or had any near The Shining moments. Or even better, no near Homer Simpson in the Treehouse of Horror version of The Shining.
"No beer and no tv make Homer something something… go crazy… don't mind if I do."
There aren't many indoor activities for adults besides puzzles, reading, binge watching tv, or snacking all day long. I wanted to make sure I prepped lots of greens and roasted sweet potatoes.
I feel a lot better eating a giant mixing bowl of salad than an entire mixing bowl of chips. Am I right?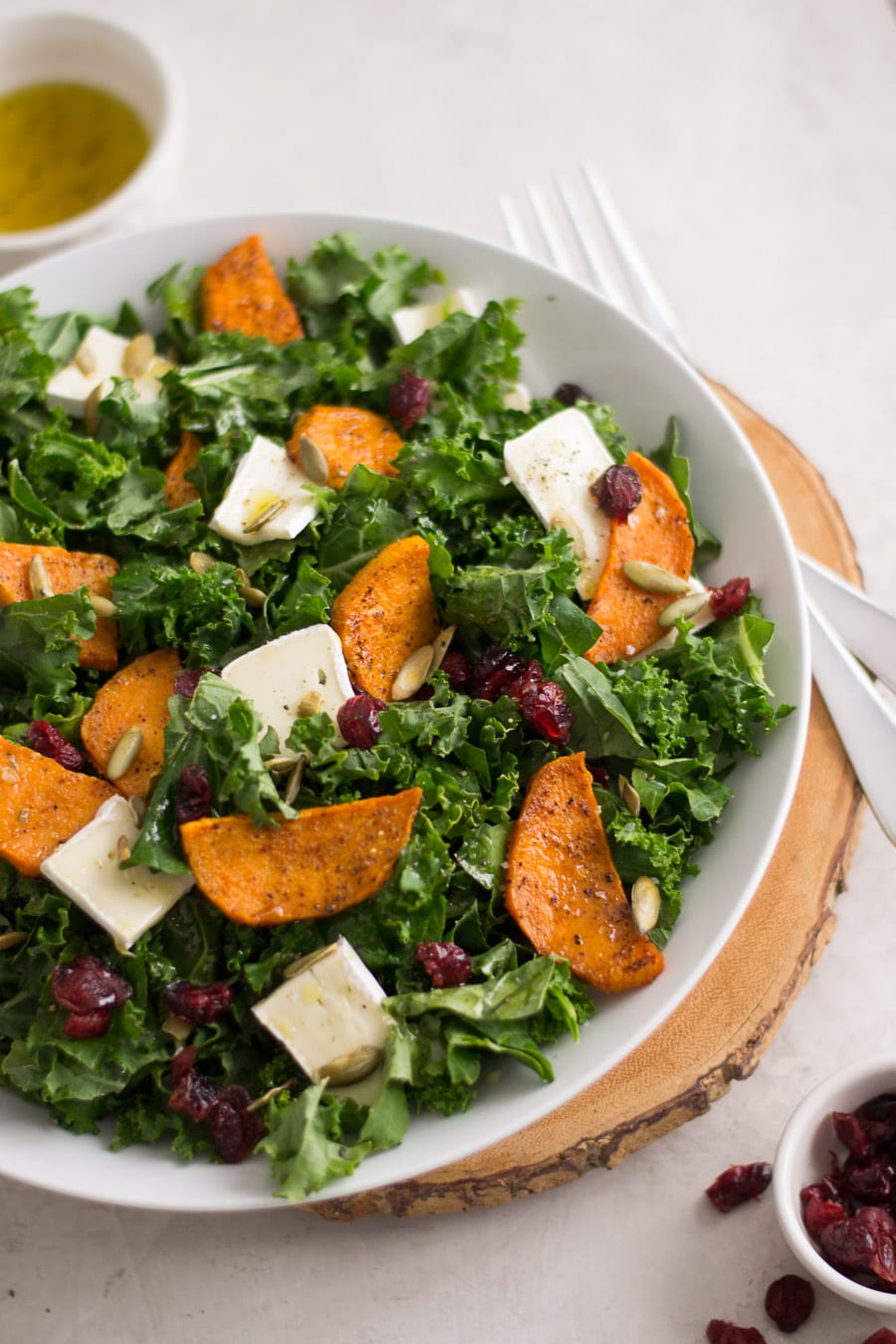 This kale sweet potato and brie salad is exactly what you need when you are looking to bury yourself in food and maybe eat the emotions you cannot take out on your family. Not that that is happening here… yet.
The day is still young though.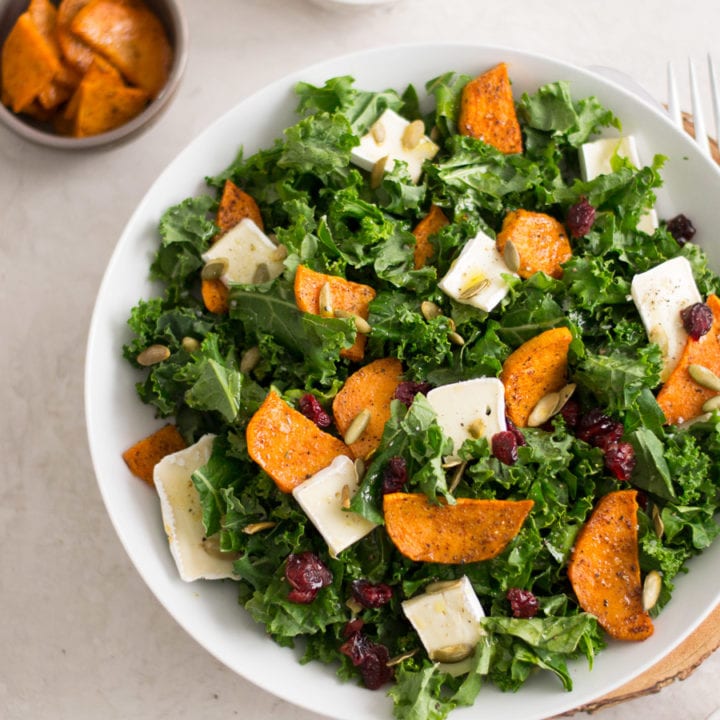 Kale, Sweet Potato, & Brie Salad
Massaged kale with a light lemon vinaigrette mixed with creamy brie and thinly sliced roasted sweet potatoes.
Ingredients
1 small sweet potato, peeled & thinly sliced into half moons
1 tbsp olive oil
salt and pepper
1/2 tsp chili powder
12oz chopped and trimmed kale, large stems removed
2oz brie cheese, cut into small thin cube slices
1/4 cup dried cranberries
2 tbsp pumpkin seeds
juice 1/2 lemon
2 tbsp olive oil
salt and pepper
Instructions
Preheat the oven to 375 degrees F. Line a medium baking sheet with parchment paper. Add sweet potato slices to prepared sheet. Toss with olive oil, salt, pepper, and chili powder. Bake for 7 minutes, flip and bake for 7-10 more minutes until tender but not too crispy.
Mix together the lemon juice, olive oil, salt, and pepper in a small bowl.
Add trimmed, washed kale to a medium mixing bowl. Add about 1tsp of the lemon vinaigrette. Massage kale with your hands for about 30 seconds. Once the leaves loosen a bit and get darker in color, stop massaging.
Once the sweet potatoes are roasted, let them cool slightly on the pan.
Toss the kale with the pumpkin seeds and cranberries. Top with sweet potato slices and brie slices. Dress the salad with a little more vinaigrette and salt and pepper. Serve.
Recommended Products
As an Amazon Associate and member of other affiliate programs, I earn from qualifying purchases.