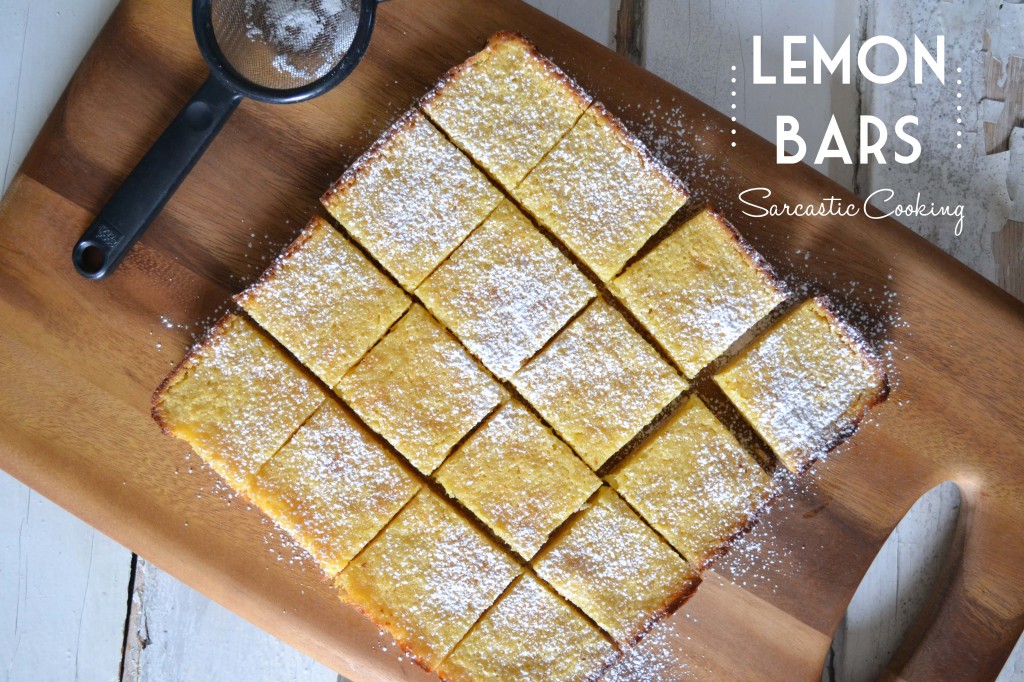 Sunday was a long day. I wasn't even that into the game. We got home, after being gone since 8:15 in the morning, at 11 PM. It was like this: get home, unpack left-overs, wash face, change into pajamas, and go to bed.
Monday morning came quicker than I would have liked. I went through Monday like a zombie. Dreaming of my bed, fluffy down comforter, and soft cool pillows. Then I sat down to write…
(Crickets chirping).
Click, click! (That's the sound of a light bulb going on in my house because we have more pull strings than light switches. Truth).
Lemon bars made me remember how when I was a young, slightly strange child, I used to eat lemons. Yep, that's right. I liked lemons. So today I bring you a list of things that I loved when I was a kid. Why? Because the day after the Super Bowl should be a holiday, because Mondays are hard, and because life was so much more awesome when you were a kid.
Lemons. To this day I always have lemons in my house at all times. Even though I don't eat them anymore, I still use them in practically every dish that comes out of my kitchen.
My favorite book of all time was Sister of the Bride by Beverly Cleary. I seriously checked this book out of the library twenty times. I used to snuggle up with the worn, yellow-paged, orange hardcover book every night until I finished it. I say my obsession with this book came from always wanting a sister. I am actually sad I don't own this book. I am now going to keep my eyes out for a nice hardcover edition. Side note: Ramona Quimby was like my childhood kindred spirit, kind of like my adulthood soul mate, Liz Lemon.
I loved New Kids on the Block. I had the sleeping bag, the dolls (even the weird Danny one with the braided rattail), and to this day at my parents' house is the VHS of the taped Oprah show in which NKOTB appeared. Boom! And you thought you were a fan, ha!
My Dad had this old Reel-to-Reel player that I loved tinkering with. It was like a giant heavy version of a cassette tape. I used to lug this heavy speaker-sized thing out and listen to Beatles and Simon and Garfunkel reels while playing with my Barbie dolls.
I loved swimming at the YMCA. I took lessons and eventually became a lifeguard and swim instructor there. Ever since seeing the movie Jaws, I had the sneaking suspicion that in the deep end, behind that grate, was Jaws. Even when I was teaching swimming lessons, I always looked behind me every once in a while to make sure.
Now, on to the lemon bars!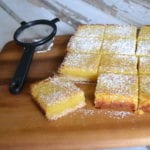 Lemon Bars
Total Time
1
hour
10
minutes
Ingredients
For the Crust:

1

Cup

All-Purpose Flour

1/3

Cup

Granulated Sugar

¼

Teaspoon

Salt

8

Tablespoons

Cold Unsalted Butter

cut into cubes, plus extra for greasing

For the Filling:

1

Small/Medium Sized Lemon

1 1/3

Cups

Granulated Sugar

8

Tablespoons

Unsalted Butter

cubed

4

Large Eggs

2

Tablespoons

Cornstarch

¼

Teaspoon

Salt
Instructions
Preheat oven to 350 degrees F.

Grease an 8-inch square pan with butter, line with parchment paper, and then grease the parchment. Set off to the side for later.

Add the flour, sugar, and salt to a large mixing bowl, whisk to combine. Using a pastry blender, work the chunks of cold butter into the flour mixture until the mixture is powdery but firm if pinched. Or use a food processor to blend until the dough will hold its shape if pinched.

Add the crumbs to the prepared pan. Press the dough into the pan until it is one even layer. Bake the crust for 10 minutes. Remove pan, using a fork, poke holes all along the crust, and then return to the oven. Bake for another ten minutes until barely golden. When done, remove from oven and allow to slightly cool, keeping the oven on.

While the crust bakes, make the filling. Zest the entire lemon. Cut the tops and bottoms off of the lemon so that there are two flat ends. Place the lemon cut side down and then cut away the remaining pith (white part) of the lemon. Cut the lemon into slices, remove any seeds, and then add it to a blender or food processor. Pulse until thoroughly pureed.

Add the butter and puree until smooth and combined, scraping down the sides as needed. Add eggs, cornstarch, and salt. Pulse in short bursts until evenly combined.

Pour the lemon mixture on to the baked and slightly cooled crust. Bake for 35 to 40 minutes until barely light brown on top.

Cool completely in the pan. Cut into 16 squares and then dust lightly with powdered sugar if you want a nice finishing touch.
Recipe adapted from Smitten Kitchen Cookbook.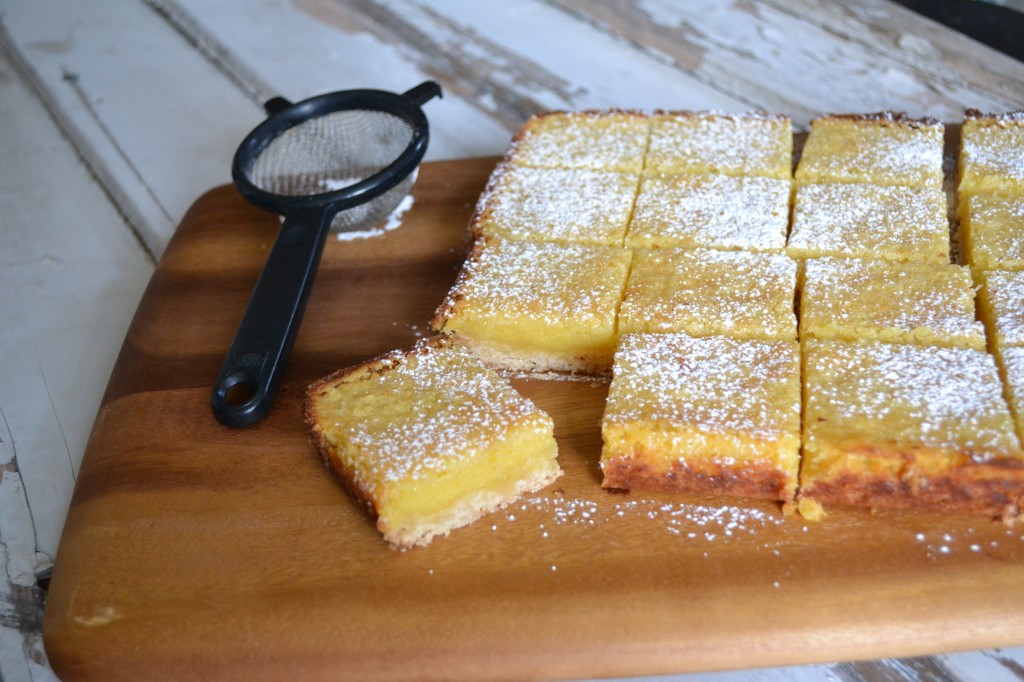 Also, if you have any weird childhood loves you want to share to this tired soul with writers block, feel free!