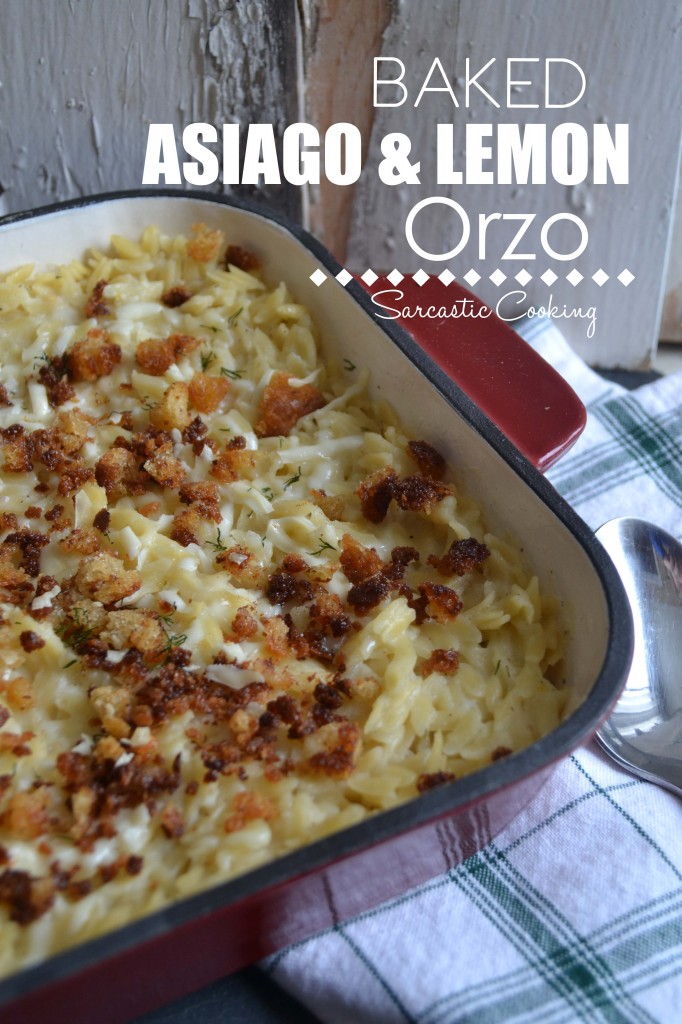 It is 8:30 PM on Tuesday night. I sat down with my computer to write this post at 7:30 PM. Why am I first starting to write now you ask?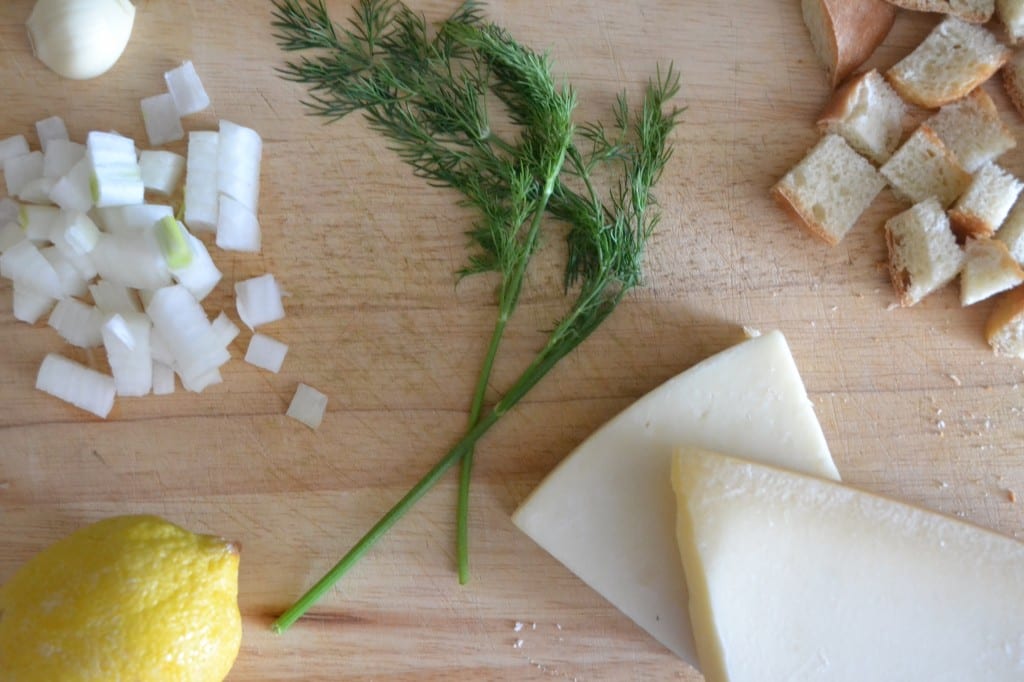 Oh, it is a little time-waster app that is called I Made Face. I just spent an hour on an app that is all about making cartoonlike versions of yourself and people you know. I made myself, Mike, and then my entire family.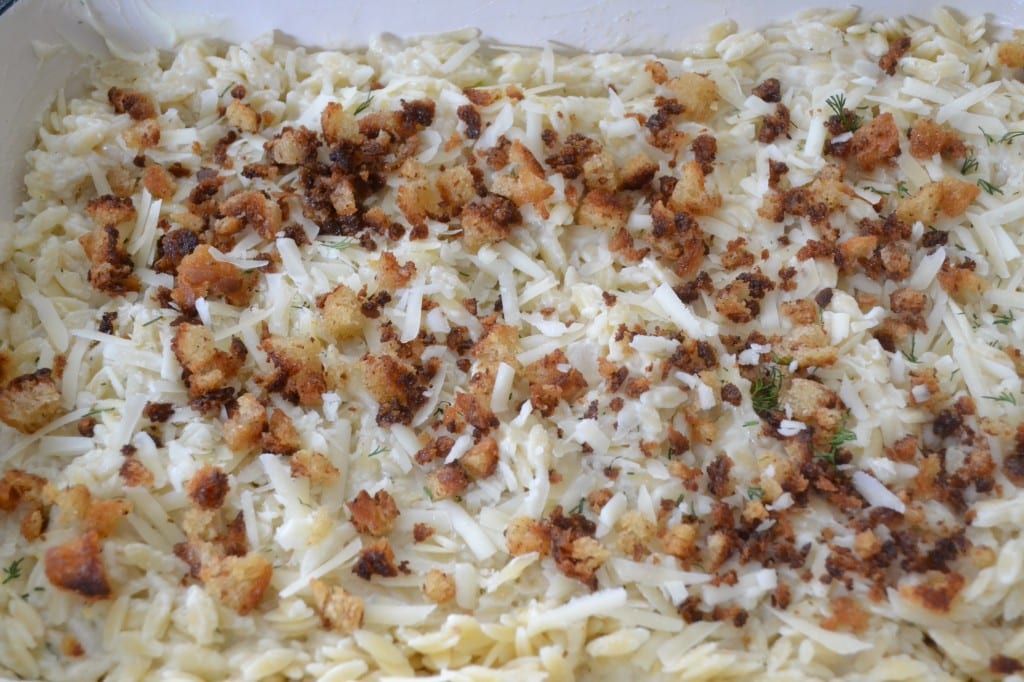 I thought I did a pretty good job so, I sent these caricatures to my brothers. One brother didn't even respond. The other brother asked, "Where are you getting these from?" I told him I was making them.
He asked, "Why?"
Hmmm…. Like the indignant child that I am, I responded, "Because I can!"
With today being the start of Lent, for those of you that uphold this, I couldn't help but think about what I should give up for 40 days. A really good idea came to my mind when I realized I just wasted an hour of my life on my phone, most likely to be followed by another hour on my computer on social media. I think I am going to limit myself to one hour a day in total on all forms of phone media and social media on my computer. Yes, this sounds like a plan!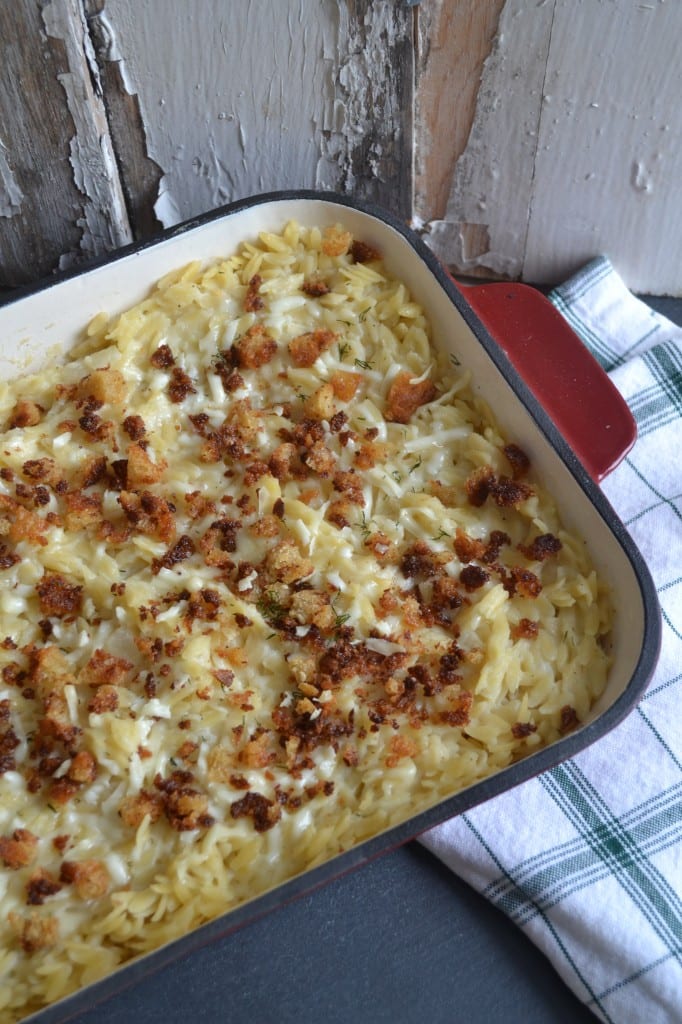 Otherwise, my only other thought was to give up carbs or cheese. But what fun would this blog be if I went cold turkey on those items for 40 days?
I mean this recipe alone proves:  me + cheese + pasta = a happy partnership.
Baked Asiago & Lemon Orzo
Recipe Type
:
Pasta/Entree/Side
Author:
Prep time:
Cook time:
Total time:
Ingredients
[b]For the Pasta:[/b]
1 Pound Orzo Pasta
¼ Cup Unsalted Butter, plus more for greasing
½ Cup Diced Yellow Onion
1 Clove Garlic, grated
¼ Cup All-Purpose Flour
1 Cup Milk
1 ½ Cup Shredded Asiago Cheese, plus more for topping
Zest of 1 Lemon
1 Tablespoon Fresh Chopped Dill
2 Tablespoons Lemon Juice
1 Teaspoon Salt
½ Teaspoon Pepper
Pinch of Crushed Red Pepper Flakes
[b]For the Topping:[/b]
1 Cup Cubed Stale Bread
3 Tablespoons Unsalted Butter
Instructions
Preheat the oven to 350 degrees F.
Bring a large pot of salted water to a boil. Add orzo, cook according to packaging.
Melt butter in a small saucepan over medium heat. Add onion, sauté for two minutes until translucent. Add garlic, stir to combine. Sauté an additional minute.
Add the flour to the saucepan. Whisk to combine flour and butter. Cook for one to two minutes.
Slowly pour in the milk, while stirring/whisking. Stir/whisk until the sauce and roux are totally combined.
At this time the pasta should be ready to be drained. Drain pasta and set off to the side.
Add the cheese to the sauce, stir, and cook until completely melted. Turn off the heat and stir in all the seasonings, zest, dill, and lemon juice.
Grease a large 9×11 inch baking dish with butter. Add pasta to the baking dish, pour sauce over the pasta, and stir to evenly coat all the orzo with sauce.
In a food processor, pulse the stale bread until a medium/fine crumb is formed. It doesn't have to be uniform.
In a small skillet, heat butter over medium/high heat until it melts. The butter will crackle and foam and then start to slowly turn brown. Once the butter starts to turn brown, add in the breadcrumbs and stir. Cook for another minute or two and then remove from heat.
Pour the brown butter breadcrumbs over the cheesy orzo along with a little bit more shredded asiago and parmesan cheese.
Bake in the oven uncovered for 20 minutes. Let sit for three to five minutes before serving.
Store pasta in an airtight container in the refrigerator for up to four days. Reheat in microwave or oven.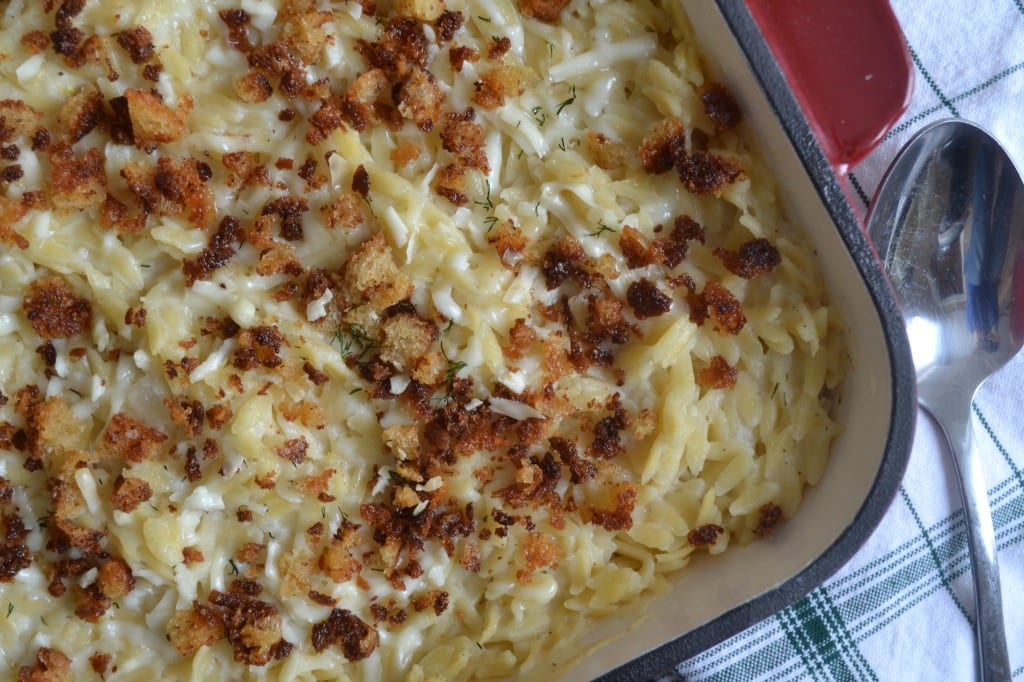 Related posts: