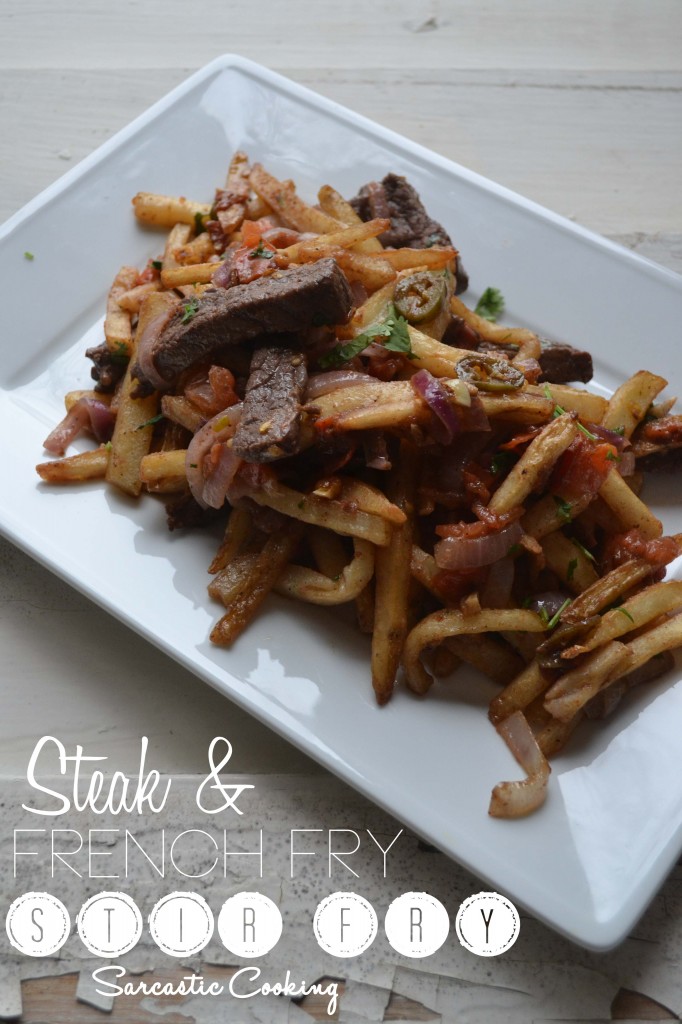 Happy Valentine's Day my friends! On this day to celebrate love, even though we should be doing that all year long, I want to let you all know that I am crazy about you and so thankful for every single comment and tweet and double-tap heart.
Now on to somebody else that I love dearly. No, not Weezer! Mike!
I know the way to Mike's heart isn't with chocolates or sweets. It is with steak!!!
I saw this dish in Food & Wine and I dog-eared the page. I knew I had to make this for Mike. I originally made this just for a normal boring weeknight dinner. The spices and jalapenos make this extraordinary. It isn't a plain old meat and potato dish.
A long time ago, I made Mike a coffee and cayenne rubbed steak. Whenever he knows that I have flank steak in the freezer, that is all he asks for.
But, since I am not that nice and I hate to eat the same thing more than once, I have to make something different. Hey! It is my Valentine's Day too!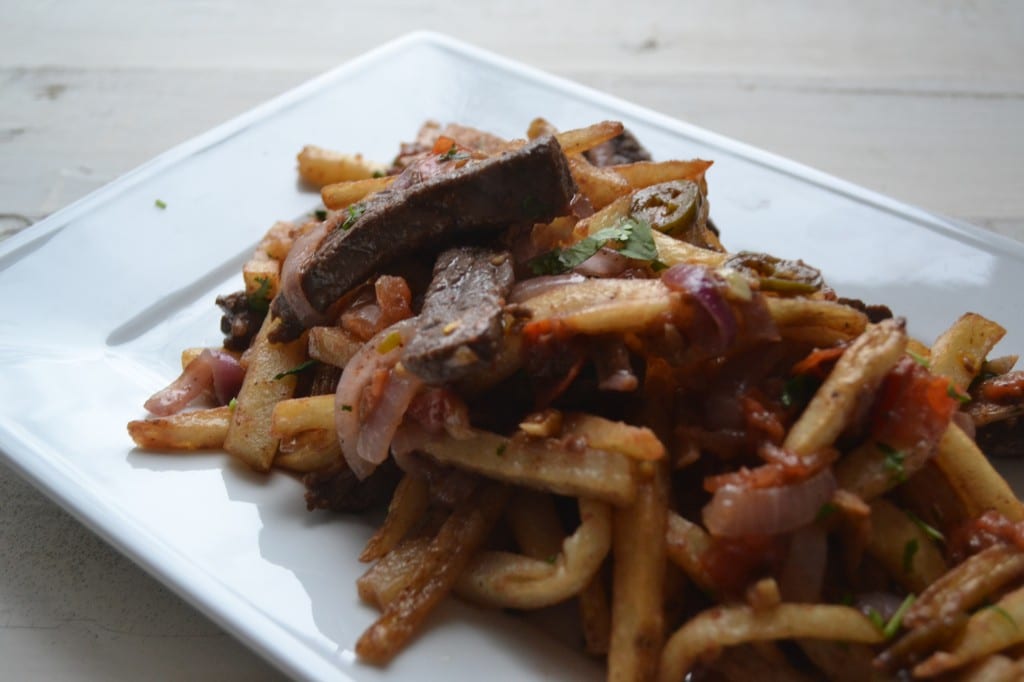 Go to other blogs if you want to find sweet gooey treats, stay here if you want to make a special dinner that will come together in under thirty minutes. We all know you have more important things to do, wink, wink!
Steak and French Fry Stir Fry
Recipe Type
:
Entree/Stir Fry
Author:
Prep time:
Cook time:
Total time:
Ingredients
1/4 Cup Extra-Virgin Olive Oil
1 Teaspoon Ground Cumin
1 Teaspoon Ground Coriander
1 Garlic Clove, minced
Salt and Pepper to taste
1 Pound Skirt Steak
½ Red Onion, slivered
Vegetable Oil, for frying
8 Ounces Frozen French Fries
1/4 Cup Sliced Pickled Jalapeños
1 Large Tomato, chopped
1/4 Cup Fresh Chopped Cilantro
Hot Sauce like Sriracha, for serving
Instructions
In a large bowl, combine the olive oil, cumin, coriander, garlic and a generous pinch each of salt and pepper.
Cut the steak across the grain into 1/2 inch thick slices. Add the steak and red onion to the bowl, mix to evenly coat. Let marinate for 10 minutes.
Meanwhile, in a large heavy-bottomed skillet, heat ½ inch of oil over high heat until rippling. Add the French fries and fry over high heat until golden and crisp, about 3 minutes; drain on paper towels.
Heat a separate large griddle until very hot. Add the steak and onion along with the pickled jalapeños and stir-fry over high heat until the meat and onion are cooked through and lightly charred, 3 to 4 minutes.
Chop the tomato. Add the tomato, stir, and cook until softened and beginning to char, about 1 minute. Add the French fries and cilantro and flip with a spatula to combine. Serve right away with hot sauce.
Note: This is best the day of. Leftover fries will be soggy from the tomatoes but are still good reheated in the pan.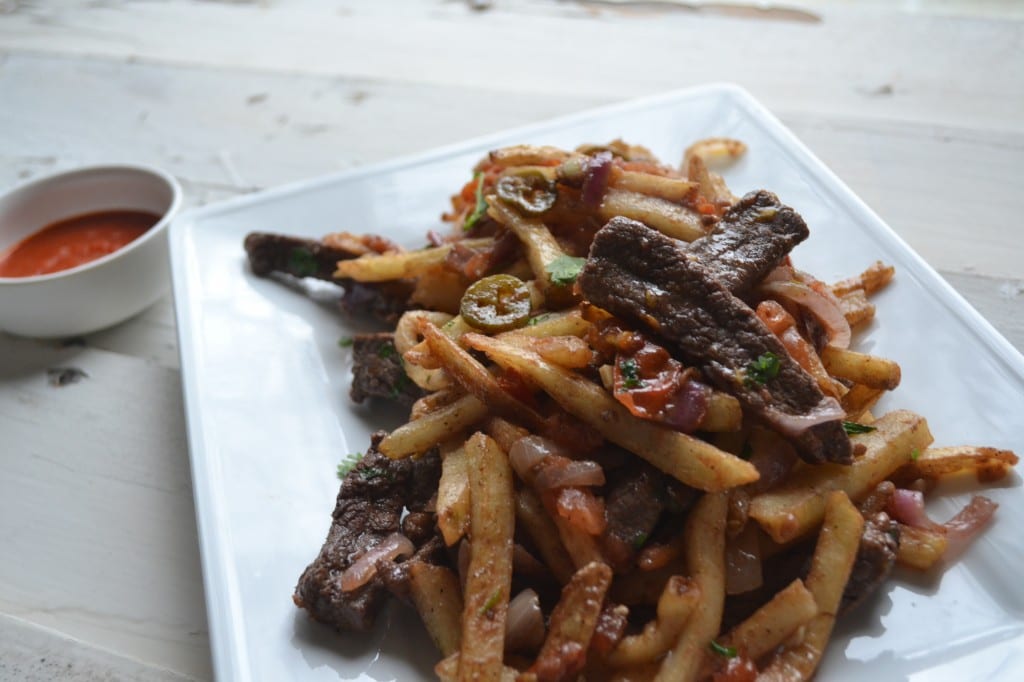 By the way, if you do have leftovers from this meal, reheat it in the pan for breakfast the next day! Add a fried egg on top or scramble an egg into the stir fry. It is amazing!
Related posts: