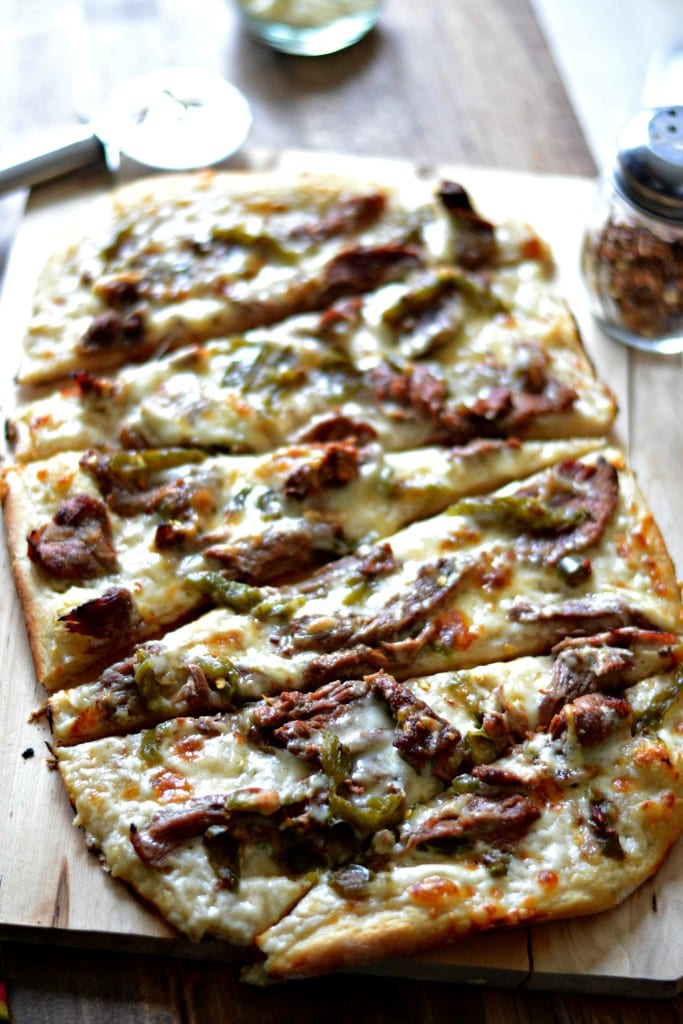 A little later than I had planned, but yes, here it is, the part two to the slow cooker Philly cheese steak recipe from last week. Mike and I are just two people, so we had a good amount of steak left over from the original recipe. I had thought about putting all this goodness on top of fries, but been there, done that.
When in doubt, I turn to my old friend pizza. I love pizza. In fact, while Mike was on Spring break last week, we ate pizza almost every day. There are currently three different types of leftover pizza wrapped in foil in our refrigerator. Andy has inherited the pizza gene too.
One day we have a breakfast enchilada pizza, then late night Domino's (for shame, don't ask), Chicago deep dish another night, and then of course this gem.
Luckily, this one was so good it didn't make it to the leftover and foil wrapped phase. I am not going to lie to you; some of those leftover pizzas might end up being tossed. A girl can only eat so much pizza before she is just straight up craving a salad.
I am sure when I clean out my fridge for garbage day tomorrow, I will see one of our crafty and viciously cute city squirrels sitting on the railing of our deck eating a slice of pizza. Don't laugh. It is a true situation that has happened many times in the past. How they can climb a tree and not fall off while still holding the pizza in their mouth will always amaze me.
That is how I justify throwing things out. I know the squirrels or possums or raccoons will find sustenance from my waste. Oh, and in case you forgot, we live in Chicago, not the wide open country.
Ok, anyway, back to the pizza that wasn't wasted.
I used my classic go to pizza dough recipe. If you have a KitchenAid stand mixer, pop the hook attachment on and let it do the kneading. Or be fast and smart and buy premade dough. This cheese sauce is everything!!! It is a little thinner and would even be great on top of the meat in a hoagie bun. Or, use it for both recipes. Leftovers are the best!
Philly Cheesesteak Pizza
Tender Philly cheesesteak, green peppers, and onions on a thin and crispy pizza with creamy provolone sauce.
Yields: 8 Slices
For the Cheese Sauce:
1 tablespoon unsalted butter
1 tablespoon all-purpose flour
2 cups milk
1 cup grated aged provolone cheese
1 teaspoon salt
1/4 teaspoon freshly ground black pepper
Pizza Dough
12 Ounces Slow Cooker Philly Cheese Steak
¾ Cup Grated Mozzarella Cheese
Place a baking sheet or pizza pan in the oven. Preheat the oven to 500 degrees.
To make the cheese sauce, add the butter to a small saucepan. Heat over a medium flame until the butter melts. Whisk in the flour. Cook for two minutes. Reduce the flame to low and slowly stream in the milk. Whisk to combine.
Increase the flame to medium high. Bring the liquid to a simmer and add in the cheese, salt, and pepper. Whisk to combine until the cheese melts and the sauce thickens.
Roll out the dough to fit the baking sheet or pizza pan. Carefully remove the pan from the oven. Sprinkle the pan with a little bit of flour and transfer the dough to the sheet. Top with two ladels full of cheese sauce. Spread the meat, onions, and peppers out on top of the dough. Cover with grated mozzarella.
Bake the pizza for 18-20 minutes until just about lightly golden brown. Let the pizza cool for 5-10 minutes before slicing and serving.
Preparation time:

10 minutes

Cook time:

20 minutes

Total time:

30 minutes