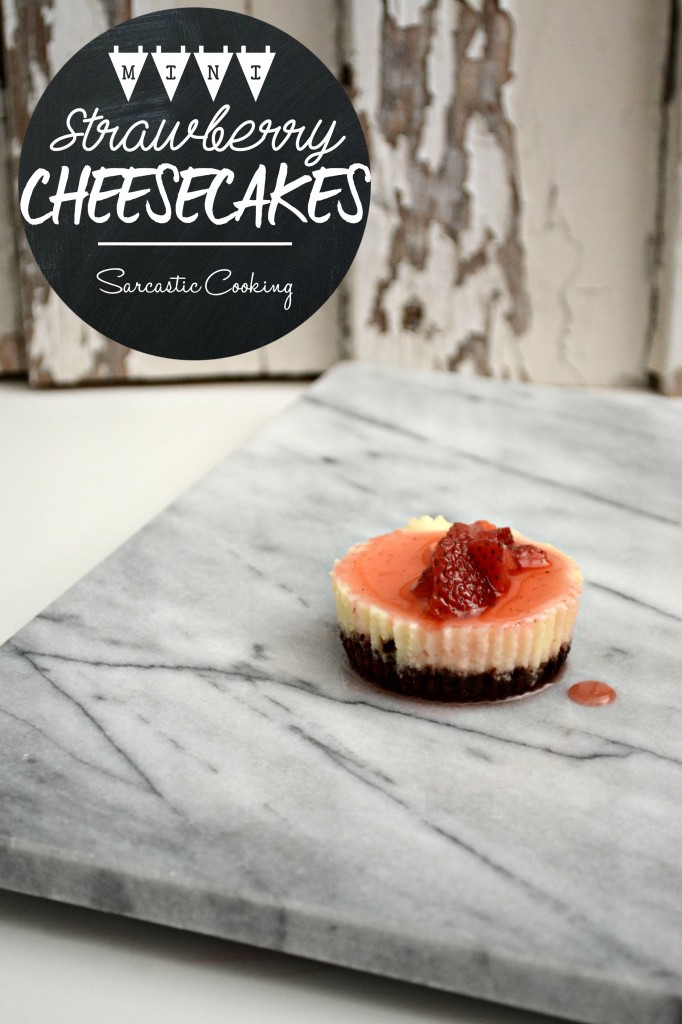 Yay! Blog friends having babies!!! Today we are celebrating Stephanie of Girl Versus Dough and her baby girl, who will be here in a little under four weeks, by throwing a virtual baby shower across many, many blogs. I think it speaks volumes about Stephanie to see how many different bloggers wanted to be a part of this shower.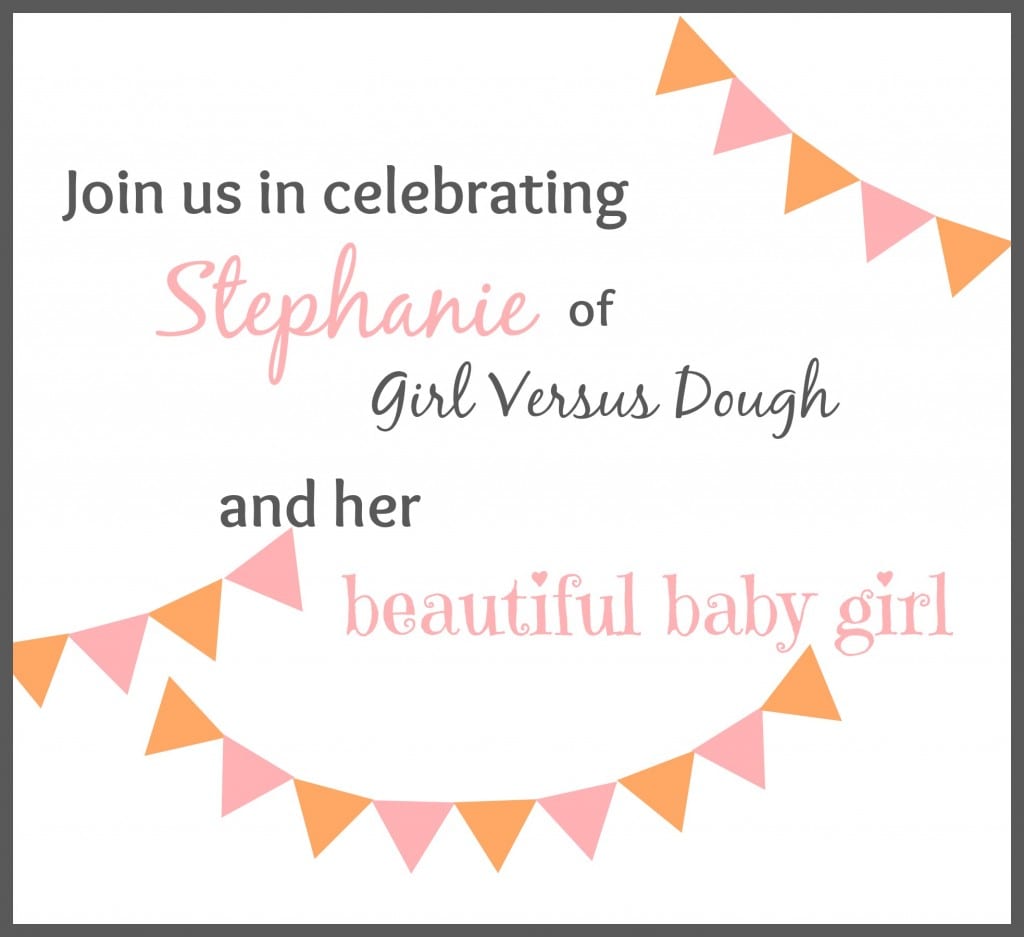 Let me just say that if you are anything like my mom you are probably wondering, "What is a virtual shower?" Well, in this crazy business called food blogging, you "meet" a lot of people. You meet them through their blogs and come to know them through their writing, through commenting, and through corresponding via email or social media. Now sometimes, you never really meet in person. But, you still feel like you know each other because we are all a bunch of weirdos who put all our personal biz out there on the internet for all to read.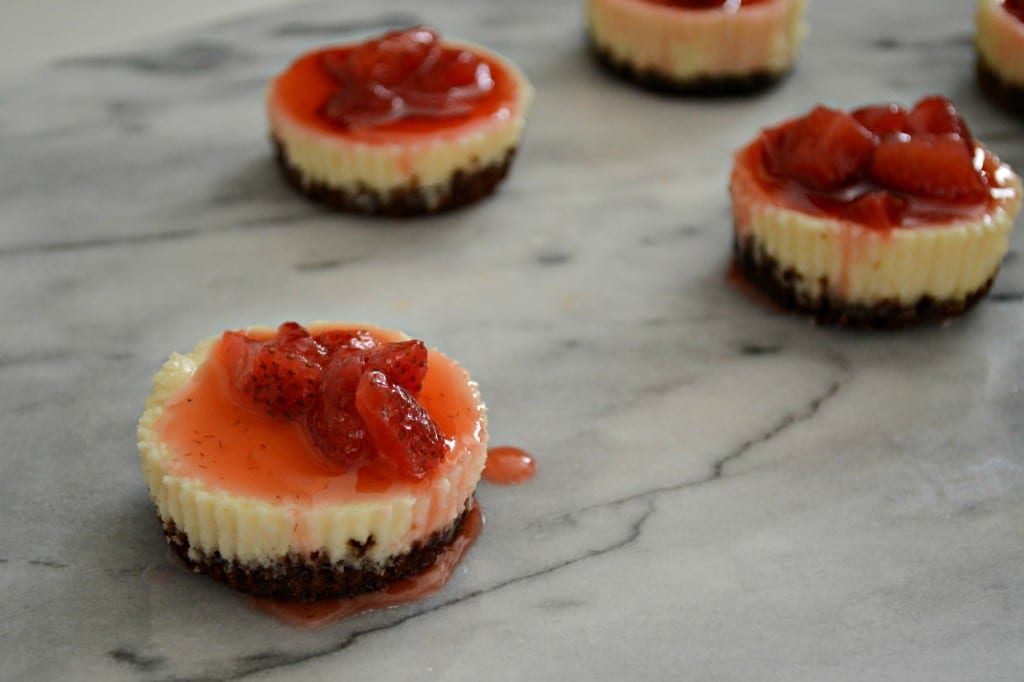 And in keeping with the spirit of our weird internet based friendships, we all join up our posts for the day on our first babies, our blogs, to celebrate a momentous occasion in one of our blogging friends lives. We all live in different corners of the world so it would be kind of hard to have a real life shower for Stephanie. So, we are showering her with kind words and recipes we think she would love instead.
Hope that explains the whole virtual shower thing. Or maybe I just confused you even more.
Before I dive into the cheesecakes, I just want to say a few words about Stephanie. She is a fellow carb and Seinfeld lover. Her blog is like a love letter to bread and baked goods. I have been lucky enough to meet Stephanie in real life. The emails organizing the meeting between me, Stephie, and Steph were quite comical. Thank God for the spelling differences in our names! It is always so much fun and reassuring to meet somebody who gets what you do and can offer advice about where to go next in your career. Stephanie has always been so helpful with any blogging questions I have ever had. Once I found out she was expecting, I was super excited because I happened to be pregnant at the time too!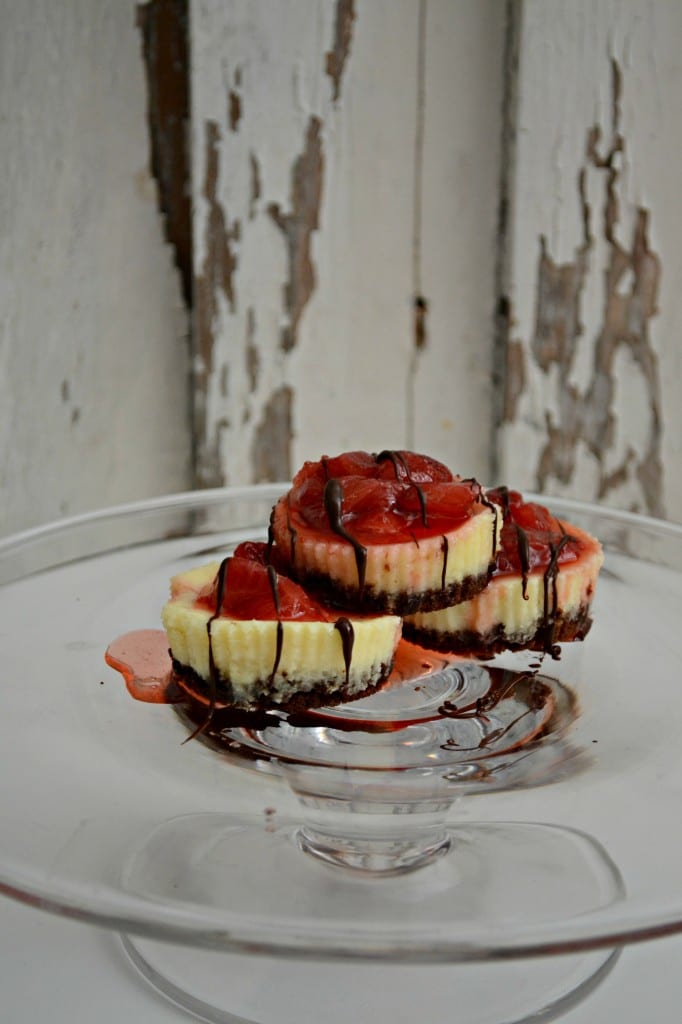 I have loved sharing emails back and forth about pregnancy woes and baby excitement. She made it through cravings and crazy nesting brain. It is time to have this baby, girl! Stephanie is going to be a wonderful mom! My one bit of advice is this: babies are smart and they can sense your fear, but just remember… you are smarter. Well, just keep telling yourself that.
Ok, on to these teeny strawberry covered cheesecakes with crisp chocolate graham cracker crusts!!! They are perfect baby shower food. Two bites and they are gone. These also happen to be perfect desserts to eat with one hand while you hold a sleeping baby in the other.
Oh BTW, Steph… This will be your life soon! It is awesome!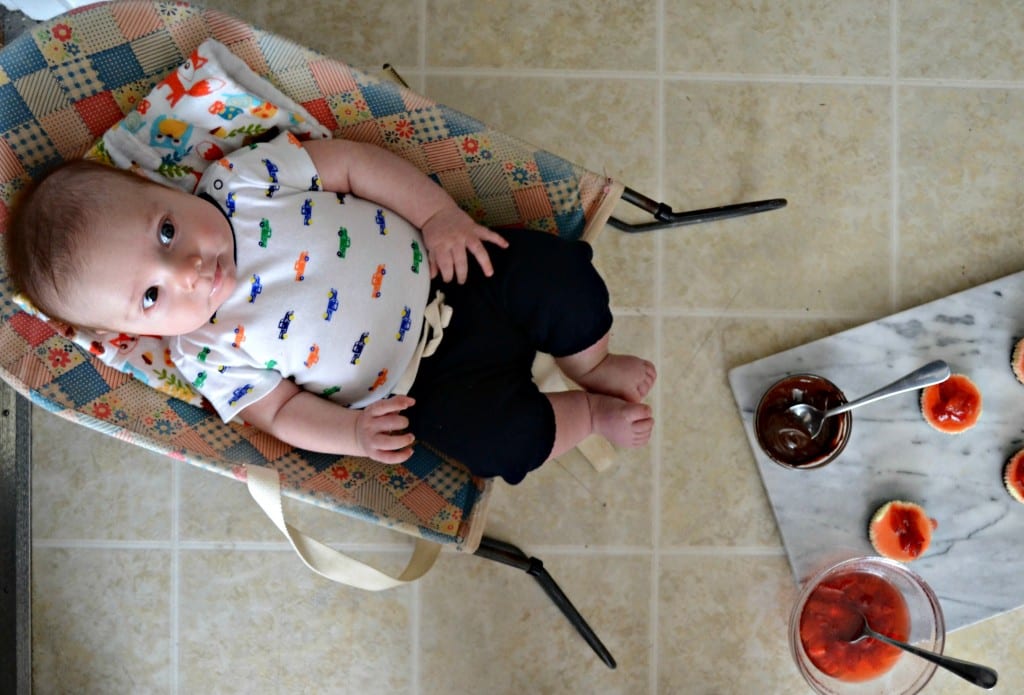 Pass along any good baby advice you have for Stephanie and be sure to check out all the other amazing posts from this long list of cool blogger peeps:
Mini Strawberry Cheesecakes from Sarcastic Cooking
Lemon Blueberry Coffee Cake with Lemon Drizzle from Greens & Chocolate
Super Chewy M&M Blondies from The Realistic Nutritionist
Strawberry Cinnamon Twist Knots from A Kitchen Addiction
Lemon Shortbread with Salted Chocolate Drizzle from The Lemon Bowl
Chocolate Cherry Ice Cream from A Zesty Bite
Blackberry and Mango Curd Pie from Joanne Eats Well With Others
Pecan Sticky Buns from Warm Vanilla Sugar
Strawberry Rhubarb Muffins from Garnish with Lemon
Chocolate Chip Pancakes from Susie Freaking Homemaker
Super Simple Sugar Cookies from Espresso and Cream
Raspberry Acai Frozen Margarita from Nutmeg Nanny
Berry Coconut Frozen Yogurt from The Law Student's Wife
Pretty in Pink Buttercream Cups from Keep it Sweet Desserts
Broccoli Salad with Honey Toasted Walnuts from The Roasted Root
Neapolitan Baked Doughnuts from Climbing Grier Mountain
Giant Pink M&M and Raisinette Cookies from Steph's Bite by Bite
No-Bake Rhubarb Cheesecake Parfait Cups from Hungry Girl Por Vida
Strawberry Rhubarb Crisp from A Cedar Spoon
Freckled Strawberry Rhubarb Lemonade from Take a Megabite
Vanilla Anise Cupcakes from Blahnik Baker
Mini Vanilla Bean Layer Cakes from The Baker Chick
Mini Blackberry Hazelnut Meringue Cakes from Eat Your Heart Out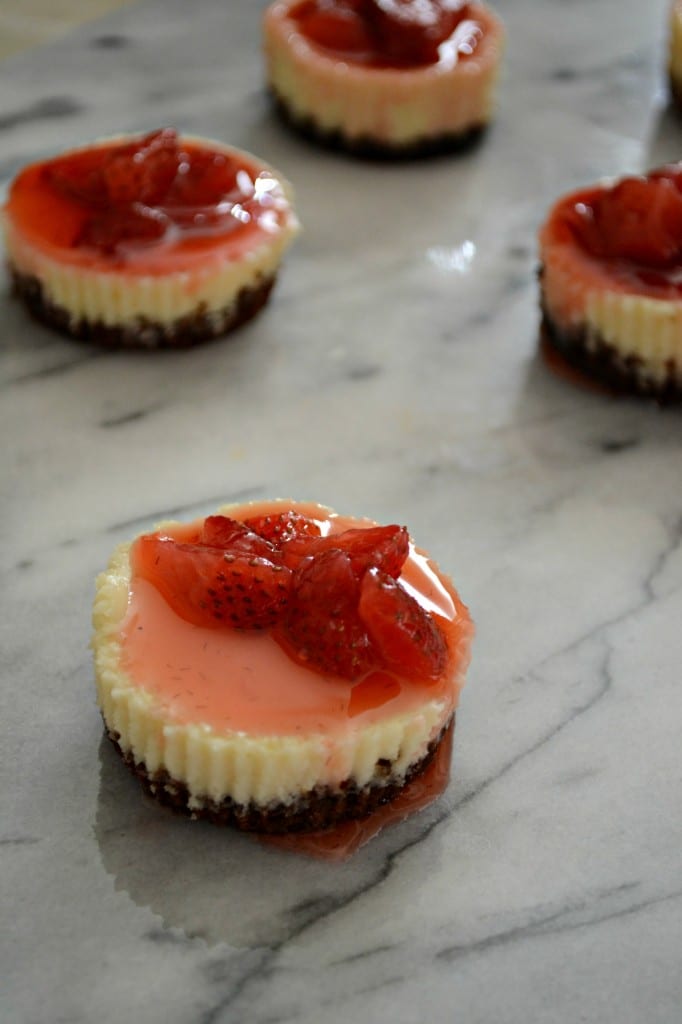 Related posts: