Happy Monday! Said nobody ever! Well unless this is your birthday or you're leaving for vacation or maybe your child is being born today. How about for a second we all forget that it is Monday and have a little lasagna party?
You need something to be happy about today anyway!
Who doesn't love lasagna? Mister picky eater Mike loves lasagna. Even my Grandma, who hates most foods and restaurants, loves lasagna. It is a crowd pleaser. It also happens to be a dish that feeds a crowd or feeds you for five dinners straight if you are only trying to cook for two people.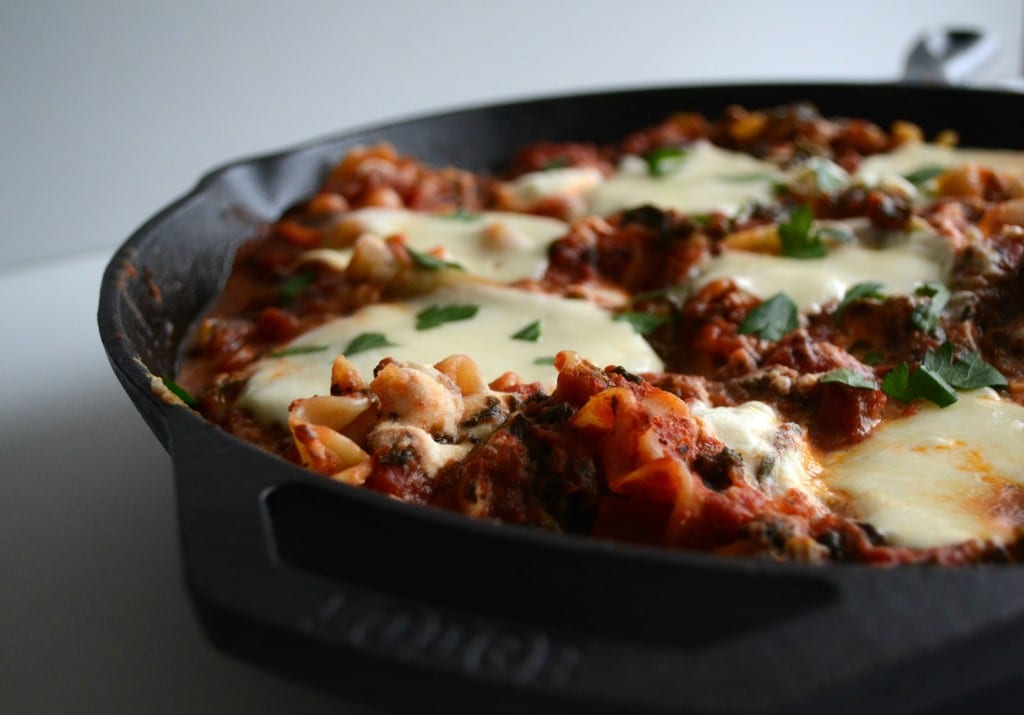 I told you guys a while ago that one of the main reasons I was super excited to begin the weight-lifting regiment that is the owning of a cast iron skillet was so I could make skillet lasagna. It is a sad life I lead, people.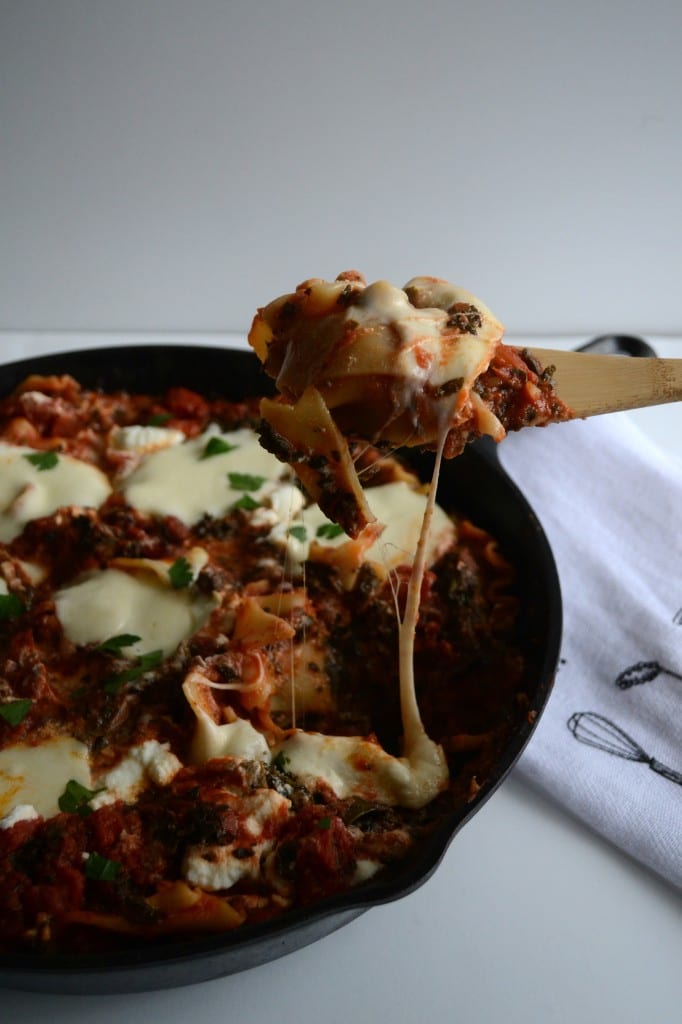 Lasagna makes my day. I was looking forward to having a baby so people could deliver lasagna to my house. (Insert stereotypical Garfield the cat joke here). The main reason was that I love lasagna, but I hate the long process it is to make the sauce, cook the noodles, layer all the ingredients… etc, etc.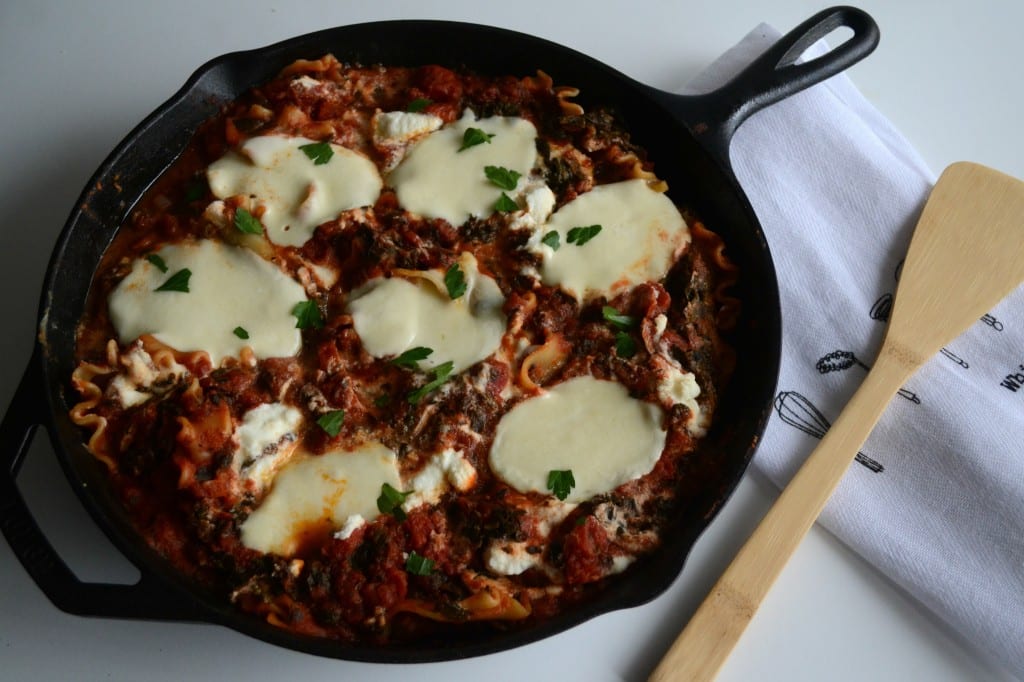 This skillet lasagna is like a messy lasagna. If you aren't all type A and can stand eating lasagna that doesn't look like lasagna, this is your dish! It is your reason to party! It is your reason to have a baby… Well, maybe not go that far. But it is definitely a bright spot in your day and week.
Recipe adapted and inspired by this and this recipe.
Meatless Monday: Spinach Skillet Lasagna
The greatness of lasagna in under an hour!
1 Tablespoon Olive Oil
½ Cup Diced Onion
2 Cloves Garlic, diced
1, 14.5 Ounce Can Diced Tomatoes
½ Cup Vegetable Stock
8 Lasagna Noodles, cracked in half
8 Ounces Frozen, Thawed, and Drained Chopped Spinach
1 ¼ Cup Marinara Sauce
1, 28 Ounce Can Crushed Tomatoes with Basil
2 Teaspoons Salt
1 Teaspoon Black Pepper
½ Teaspoon Crushed Red Pepper Flakes
1 Teaspoon Dried Oregano
1 Cup Ricotta
1 Ovoline Fresh Mozzarella, sliced
Heat olive oil in a large skillet over medium heat for two minutes. Add onions, sauté until translucent, about 5-7 minutes. Add garlic and sauté for two minutes.
Reduce heat to medium/low. Add in the stock and diced tomatoes. Stir to combine. Layer halved lasagna noodles on top of the tomato mixture, gently pressing them in. Top the noodles with spinach, crushed tomatoes, and then the marinara. Season the top with the salt, pepper, crushed red pepper, and oregano. Gently spread the sauce and tomatoes all over the noodles. Cover with a lid and let simmer for 15 minutes.
After 15 minutes, remove lid and poke the noodles around a bit. Gently stir the spinach into the sauce and lift some of the noodles so the sauce goes underneath them to prevent sticking or burning. Cover and let simmer for another 10 minutes.
Add the ricotta to the sauce in several small dollops. Cover with lid and let the ricotta warm. After two minutes, sort of poke the ricotta under a few of the noodles to spread it out a bit. Turn the heat down to low.
Add the slices of fresh mozzarella to the top and cover with lid until the cheese melts, about 3 minutes. Shut off heat and let the dish stand for 5-10 minutes before serving.
Preparation time:

10 minutes

Cook time:

45 minutes

Total time:

55 minutes