I have been trying my best to not overwhelm you with cookie and sweets recipes this month. I think I have been doing pretty well. Although, I do have two more sweets recipes up my sleeve before Christmas juuuust in case you are in need of more things to add to your holiday baking list (or your waistline).
When I come up with my holiday baking list, I try to stick with two classic recipes and then two or three original or funky recipes. One thing you have to consider when making your baking list is, "Who is going to be eating said cookies?" I give gift boxes of cookies, toffee, and bark to Mike's coworkers and to family friends.
Most of these people now have kids. I don't know about you, but when I try to explain to my nieces and nephews that even though there are cornflakes in the chocolate chip cookies or candy canes in the bark, they are still really good, they look at me sideways and don't exactly believe me. Sigh, if only they knew what they were missing.
Baking for kids means one thing to me: SPRINKLES! Kids see sprinkles and right away they are sold. When I think of sprinkles, I think of my 6 year old niece. She is the sprinkle queen. The only pie she will eat is called celebration pie and is filled with cookie dough and sprinkles.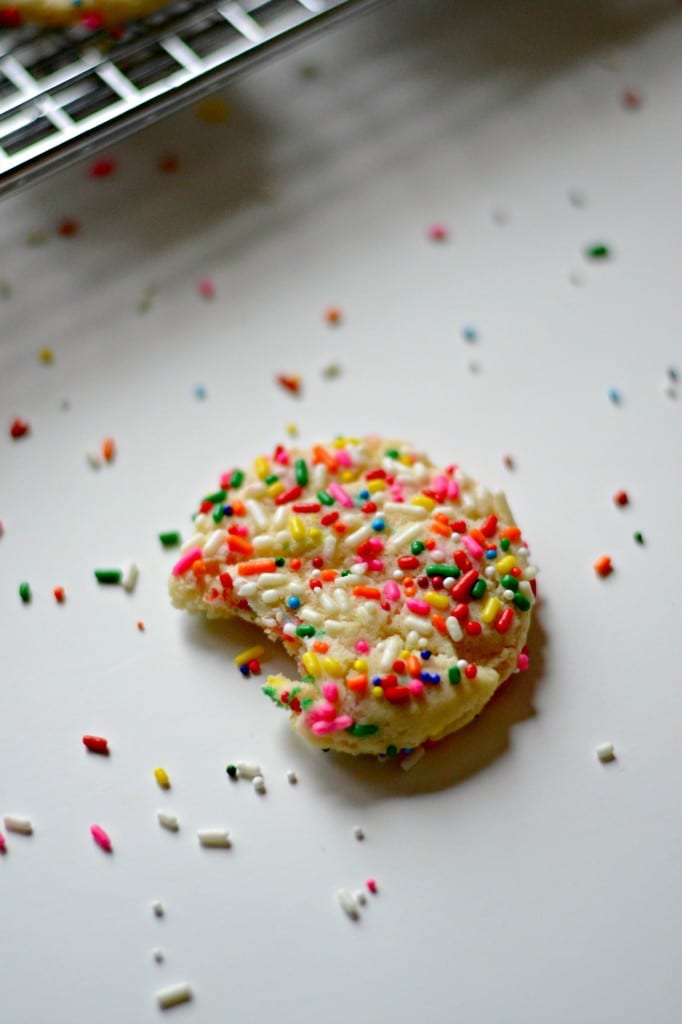 My niece is just your typical sprinkle fiend, princess loving, can hit a baseball farther than any boy her age, regular little six year old kid. When I make Christmas cookies, this is who I cater to.
Keep it simple and covered in sprinkles and it is sure to be not only a kid-pleaser, but a crowd pleaser. Now, get baking!
Oh, and I apologize for the fact that because of this recipe you will be finding and stepping on random sprinkles in your kitchen for weeks. Sorry!
Recipe from Joy the Baker
Related posts: