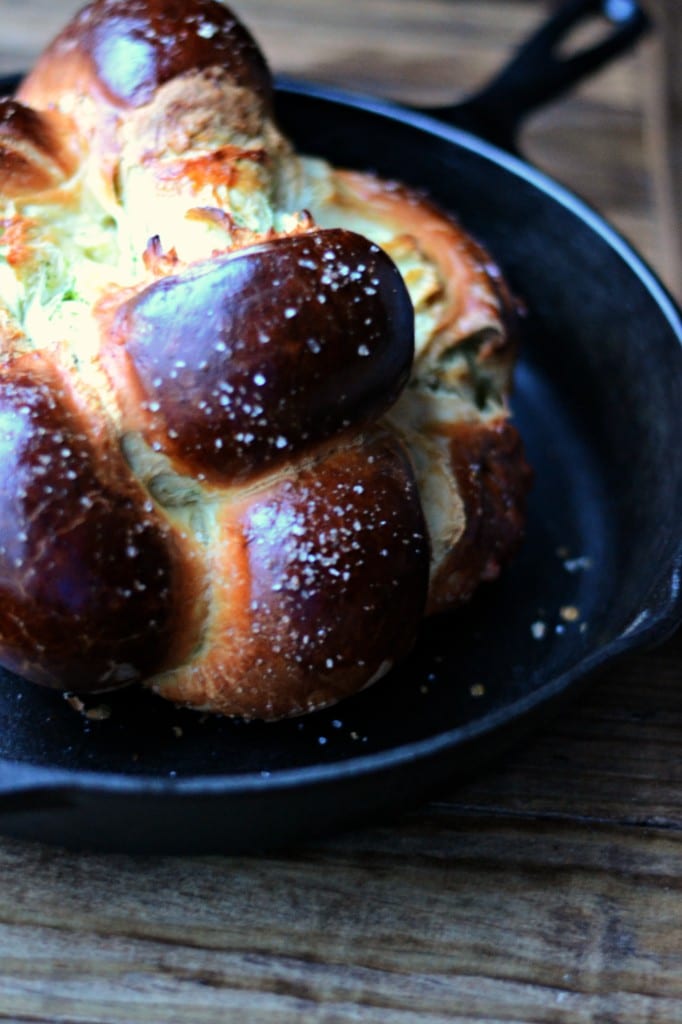 I usually brainstorm my written post ideas a night or two in advance. Since today's recipe is bread, I thought that I would try to list my top ten favorite types of bread. Yeah… That was an easier said than done kind of thing.
You see, along with wine and cheese, bread is another thing I cannot live without. My mom may not agree with my views on cheese, but she gets the bread thing. We would eat at Panera once a week when I was home from college just for the side of baguette. So great!
Oh! Then during Easter my mom special orders the real star of dinner, a large loaf of rye bread from Panera of course. You better believe I leave that dinner with a third of the loaf in my bag of leftovers. Rye bread and butter. I could seriously live off of that.
So, there, two of my favorites; French bread and rye bread. Let's add sourdough and anything made out of pretzel to that list. Oh. And after my brief stint into sourdough starter making, I have a permanent respect for people who care for and make sourdough bread. Pouring some of my wine out for ya homies. Mad respect.
Is Parker House Rolls a type of bread? If so, add it to the list.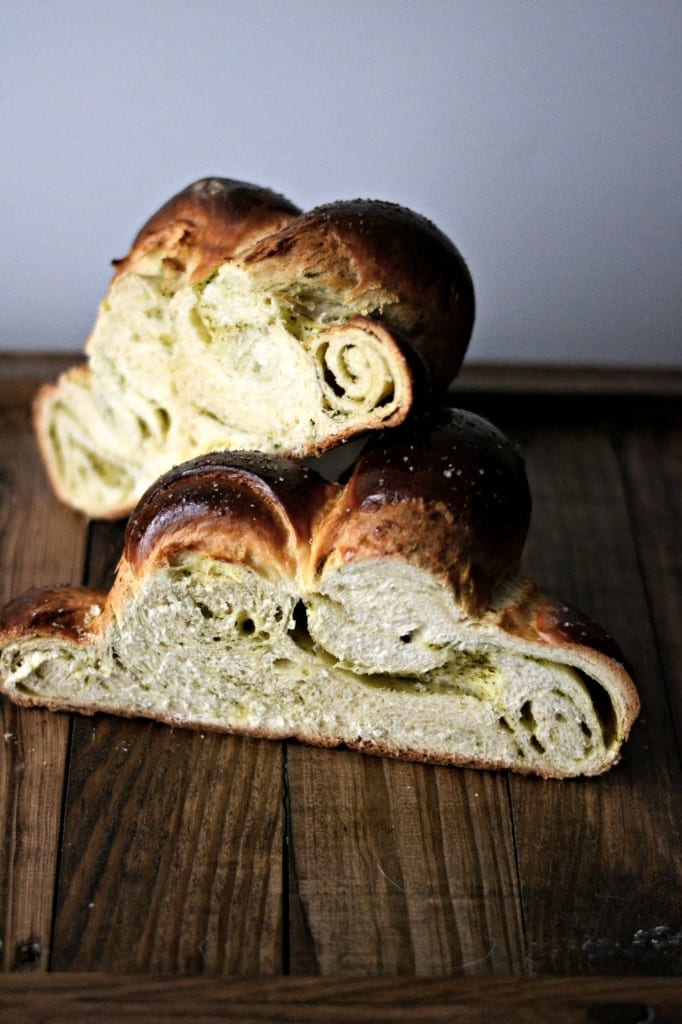 I am also adding pumpernickel, the more exotic cousin of rye, to my list.
Then we move on to the dip breads. I love me some pita and some naan. Plus they take the valiant task of carrying hummus and other delicious dips to a whole new level.
Then last but not least, challah. This bread is always so pretty. I am still trying to master the perfect looking loaf but even if you can't get the edges to tuck under perfectly, it still is a great tasting bread. Normally I have a sweet filling thing going on inside of it, but I have a special holiday morning casserole recipe planned and I thought this bread would take it to a whole new level. Just wait and see!
Well, I think I ran out of bread. Guess it was easier than I thought to narrow it down to ten.
Pesto Challah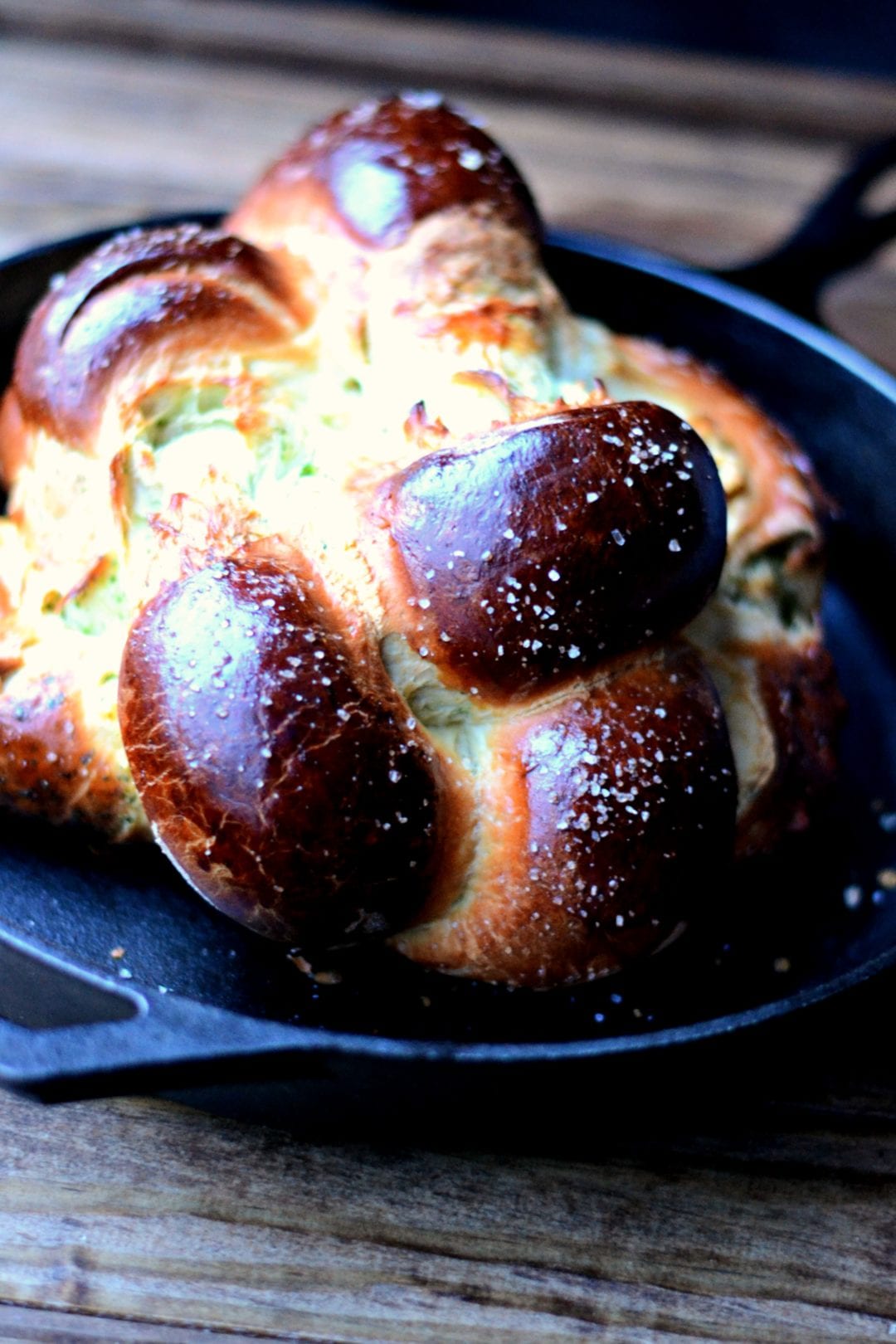 Homemade challah laced with sweet basil pesto.
Yields: 1 Loaf
2 1/4 teaspoons (1 packet) active dry yeast
1/4 cup plus 1 teaspoon honey
1/3 cup olive oil, plus more for the bowl
3 large eggs
2 teaspoons flaky sea salt
4 cups all-purpose flour
½ Cup Pesto
Whisk the yeast and 1 teaspoon honey into 2/3 cup warm water (110 to 116 degrees F) in the bowl of an electric stand mixer, and let it stand for a few minutes until foamy. Combine the yeast mixture with remaining honey, 1/3 cup olive oil, and eggs. Add the salt and flour, switch to a dough hook, and run at low speed for 8 minutes. Transfer the dough to an olive-oil coated bowl, cover with plastic wrap, and set aside for 1 hour to rise.
After your dough has risen, turn it out onto a floured counter and divide it in half. Roll the first half of the dough into a really wide and imperfect rectangle. Spread half of the pesto filling evenly over the dough, stopping short of the edge. Roll the dough into a long, tight log. Then gently stretch the log as wide as feels comfortable (about two to three feet) and divide it in half. Repeat with remaining dough and pesto filling.
Arrange two ropes in each direction, perpendicular to each other, like you are doing a kindergarten paper -weaving project. Weave them so that one side is over, and the other is under where they meet. Take the four legs that come from underneath the center and move the leg to their right. Take the legs that were on the right and, again, jump each over the leg before, this time to the left. Continue this process until almost all the dough has been woven in. Tuck the odd ends under the dough to form a round.
Transfer the dough to a baking sheet lined with parchment paper. Beat egg in a small mixing bowl, and brush over challah. Let challah rise for another hour.
Preheat your oven to 375°F.
Before baking, brush loaf one more time with egg wash and sprinkle with sea salt. Bake in middle of oven for 35 to 40 minutes. If about halfway through the baking process the loaf looks too dark, cover it with tin foil, and continue baking. The center of the loaf should be 195 degrees F.
Cool loaf on a rack before serving.
Preparation time:

2 hours 15 minutes

Cook time:

35 minutes

Total time:

2 hours 50 minutes
Original recipe from here.