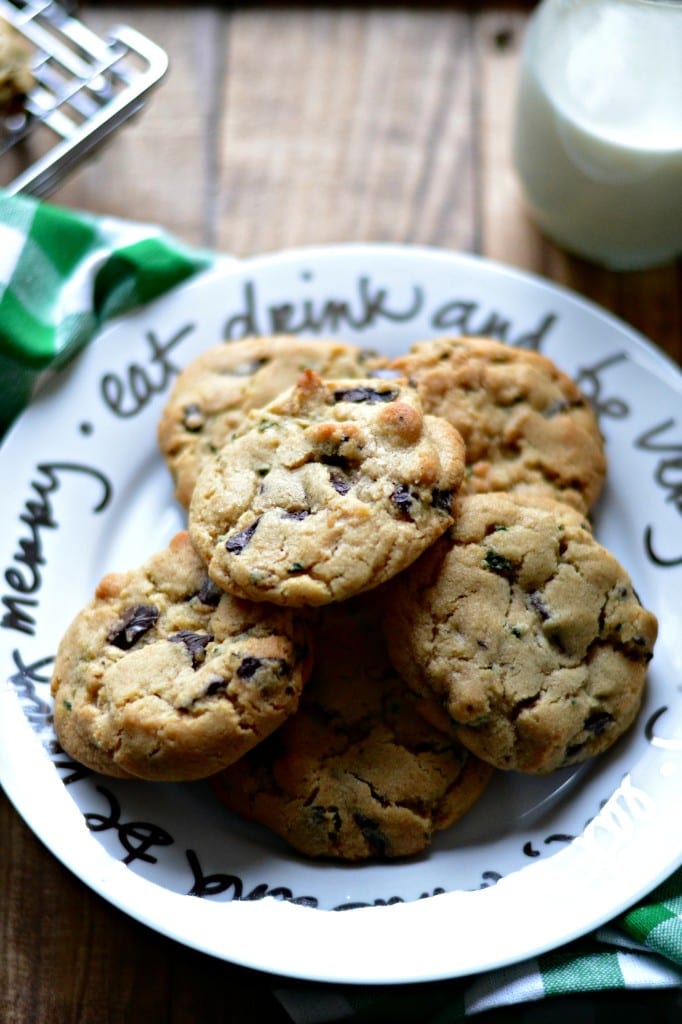 It's no secret I run a food blog and take care of Andy for a living. In order to have both of these jobs working cohesively, I have to do a bit of juggling. This means cooking while Andy is napping, corralled in the highchair, or under the care and supervision of another person.
The day when I was feeling a bit brave and Andy was feeling a bit clingy was when I decided to try and prep, bake, and photograph these cookies. I knew it would be crazy and probably take twice as long to bake, but I went for it anyway. With the holidays around the corner, I wanted to get as many recipes done in advance so I could actually spend time away from the kitchen when Mike is off from work and we have a bit of family time.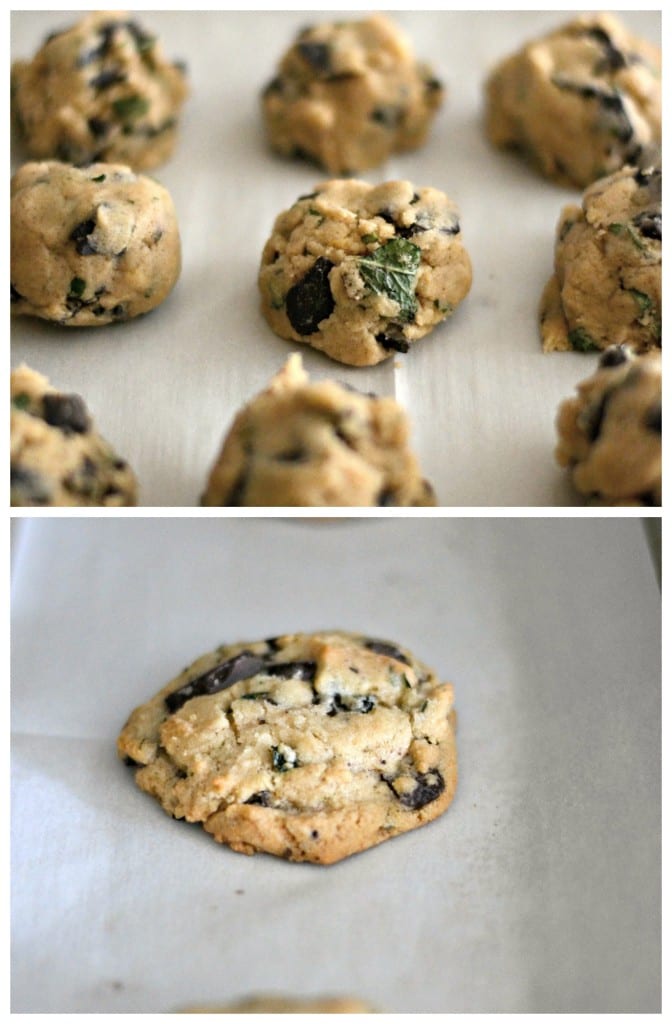 It started out so cute. Andy played the pots and pans drums while I gathered ingredients. He likes the sound of the stand mixer so he wanted to see what was happening in the bowl. He watched the butter get creamed and made oohing and ahhing sounds while the dough came together.
I used his hand to flatten down cookies and then chilled them during his nap time. Sigh of relief and Gilmore Girl marathon for mom while baby sleeps.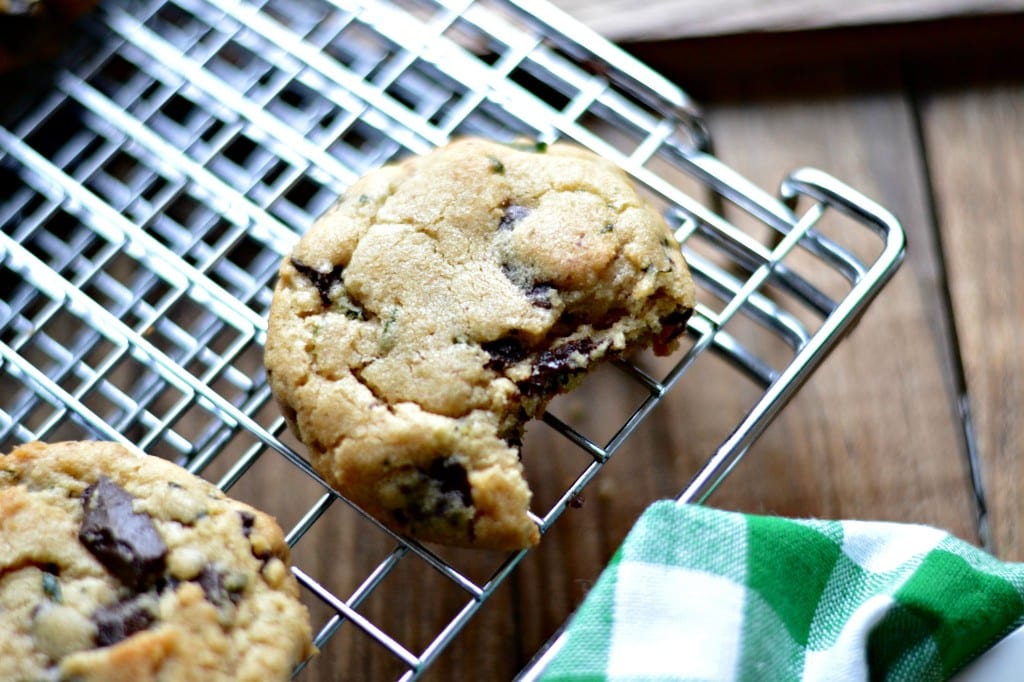 But when Andy was back awake and feeling refreshed is when things started getting tricky. I had to preheat the oven and then bake the cookies. Let's call this the "sit Andy in front of the TV with Sesame Street playing and a sippy cup in his hand while I sprint back and forth placing each sheet of cookies in the hot oven." Any time he heard the oven door open he would come sprint-crawling down the hallway into the kitchen. I put the oven light on so he could see in the oven and watch the cookies. In reality it didn't attract him as much as I would like, most likely due to the fact that I haven't cleaned the oven since I don't know when. Ooops. Add it to my to-do list.
Then it was time to photograph. I normally shoot things on or very close to the floor. With a crawling baby you can see how this would be problematic. This totally spontaneous, perfectly timed photo should display why this is soooo problematic.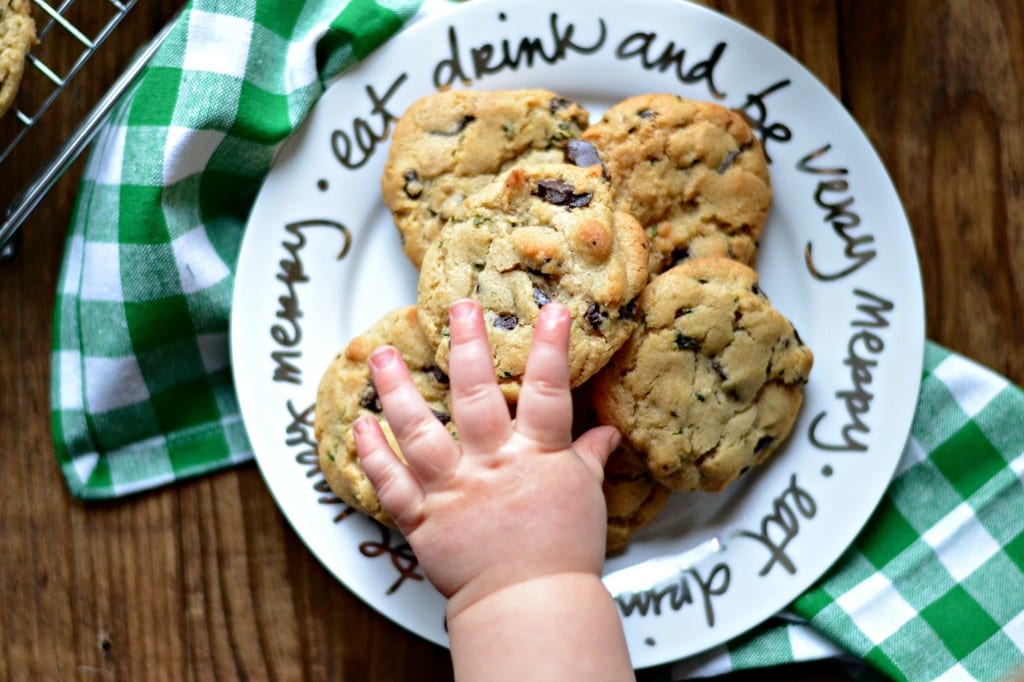 Awww. So cute, right?
Well that photo and the moment with Andy eating the warm cookie and enjoying the heck out of it was very short lived. Andy got dark chocolate everywhere. All over his face, clothes, hands, the floor, and even poor Weezer. Well, maybe I shouldn't say "poor Weezer" because he was licking the chocolate off Andy's face and, despite my best efforts, accepting pieces of cookies from my little filthy child. As I tried to clean Andy's hands, he was trying to crawl away, therefore smearing warm melty chocolate all over my kitchen floor.
Yeah, the one cute picture turned into about an hour of cleanup and waiting for Andy and Weezer's sugar rushes to subside.
Moral of the story, baking and babies don't mix. Or maybe it was worth it for the memory.
Meh, just make these cookies!
Recipe from Easy Gourmet
Related posts: