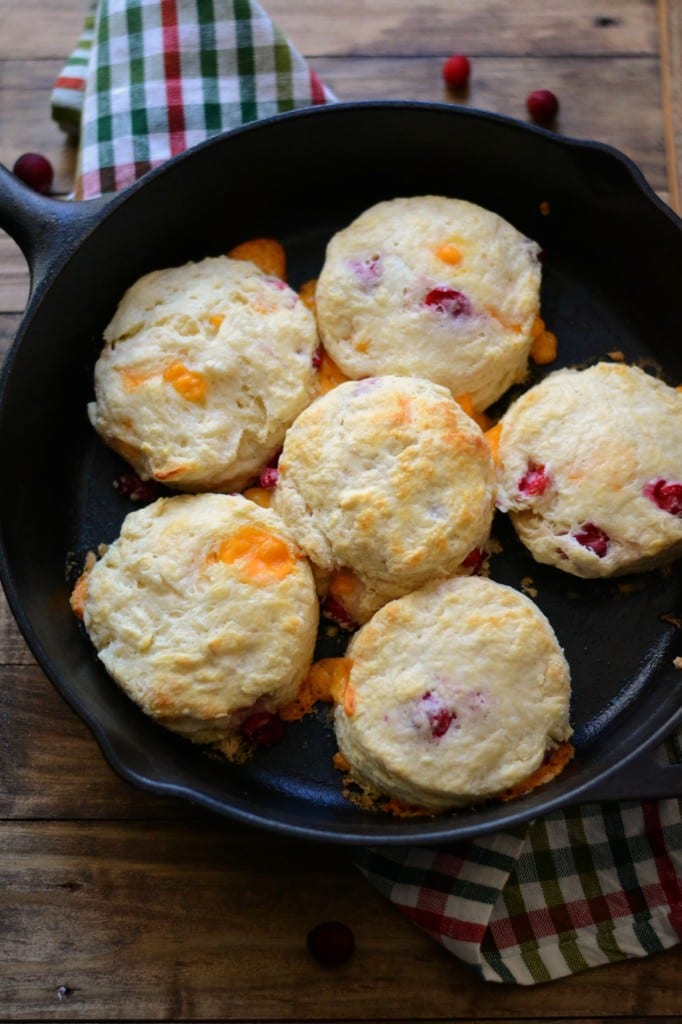 Last night, we had Andy's first birthday party. The kid was all smiles. Sesame Street and Elmo paraphernalia was everywhere. As I told one of my friends, I could have made all the decorations but I decided to Etsy the s@#% out of that party! It was just easier.
The only thing Mike and I had to do was to put together these tissue paper ball Elmo faces. It was Mike's first experience using a glue gun. He was very thrilled. Other than that, we let the restaurant where we had the party do all the food and drinks and clean up! Oh, how I do not regret not having to clean up.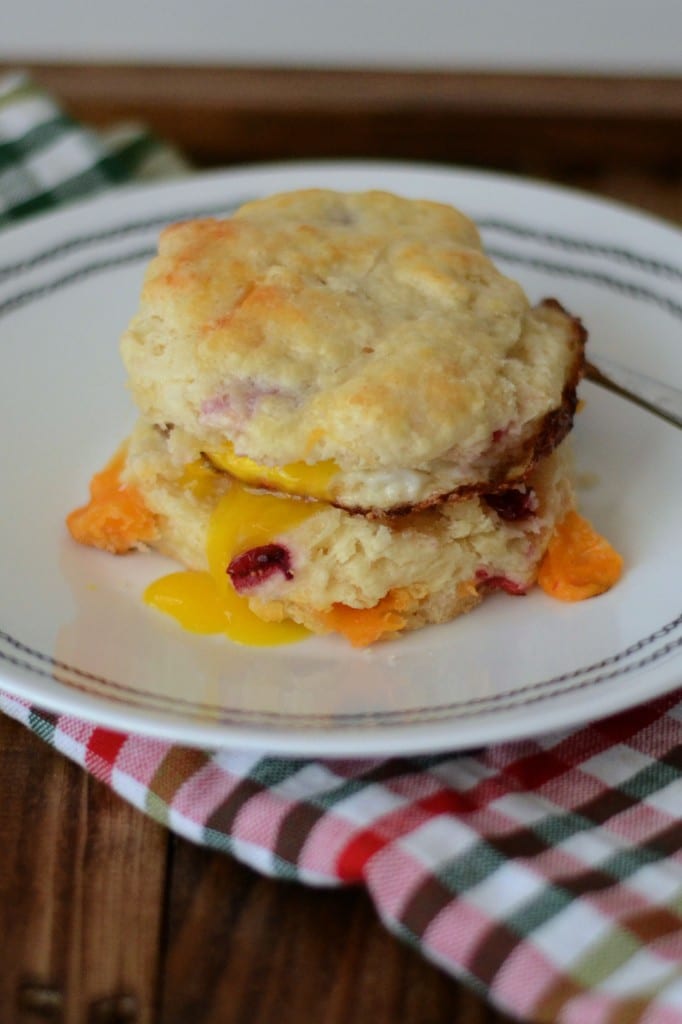 Kids' parties are sort of crazy. Being in charge of running the show and watching 12 kids under the age of 7 run rampant is exhausting! There were three big booths in the back of the room in which we designated the kid zone. There were crayons and coloring books everywhere! At one point, Mike looked over and saw our nephew pouring salt on the head of our friends' kid. Yeah, crazy is an understatement.
Today is a low-key day in which we put toys together and eat many carbs to absorb the exorbitant amount of sugar which is most likely still coursing in our veins.  I made a huge batch of these after Thanksgiving. I had visions of turkey sandwiches on these biscuits. I ate all the turkey before the biscuit creation, so, I just put an egg on it. It was still breakfast worthy.
A lot of people are biscuit purists, but I love to trash them up with cheese and various other items because then it is one less thing you have to put on your sandwich!
Enjoy these biscuits for holiday breakfasts or with leftovers in the calm of your own house while you cherish the quiet.
Cheddar Cranberry Buttermilk Biscuits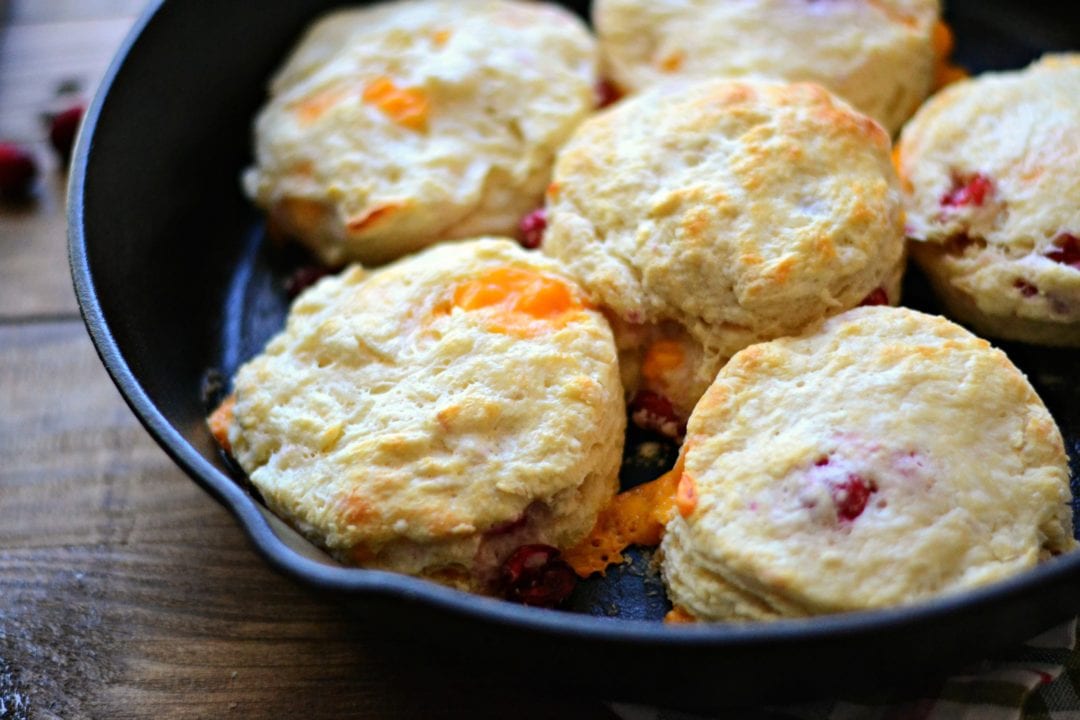 The perfect seasonal biscuit that is studded with cheddar cheese and fresh cranberries. They would make a nice holiday morning breakfast or perfect sandwich for leftovers.
Yields: 6 - 8 Biscuits
3 cups all-purpose flour
1 tablespoon granulated sugar
4 1⁄2 teaspoons baking powder
3⁄4 teaspoon cream of tartar
3⁄4 teaspoon salt
3⁄4 cup cold buttermilk, plus more for topping
3⁄4 cup cheddar cheese, cut into small cubes
1/2 cup frozen and thawed cranberries, halved
3⁄4 cup (1 1⁄2 sticks) unsalted butter, cold, cut into small cubes
Coarse sea salt for topping
Preheat the oven to 425 degrees F. Grease a cast iron skillet or line a medium baking sheet with parchment and set off to the side.
In a large mixing bowl, whisk together the flour, sugar, baking powder, cream of tartar, and salt.
Add the cold cubes to the flour. Use a pastry cutter , two knives, or a fork to work the butter into the flour. The butter will end up the size of small pebbles and oat flakes when done. Mix in the buttermilk, cranberries, and cheddar until a shaggy dough forms.
Turn the dough out on a lightly floured surface. Gently form the dough into a 1 inch thick disc. Use a 2 and a half inch circle biscuit cutter to cut as many rounds as you can. Reform the dough scraps and cut out as many biscuits as you can.
Lightly brush the tops of the biscuits with buttermilk, top with salt, and bake for 12-15 minutes until risen and lightly golden.
Let cool for a few minutes before serving.
Preparation time:

10 minutes

Cook time:

15 minutes

Total time:

25 minutes
Recipe adapted from Shutterbean.
HEY! WAIT! Don't forget to enter the Kitchenaid Mixer giveaway if you haven't already!