As you can clearly see from recipes I have been posting lately, I am getting ready for winter. I have been creating things you can freeze in mass quantities so, in case we get another "Snowmageddon" like last year, you will be able to eat for days without leaving your house to have to go to the store. Seriously, if it weren't for my husband I would probably be a shut in.
I normally make salsa more so in the summer since everything is cheaper and in season. But, even the rapid rising prices of off season produce does not stop be from making my red or green salsa during the winter, just in case that day arises where I get so sick of snow and winter that all I want is some good salsa and a Corona to remind me of summer!
Lucky me. All I have to do is go to my freezer, thaw out some salsa, and instantly I am transported to a beach in Mexico… until I am forced to leave the house and go out in the cold by either my dog or my cabin-fever-ridden husband.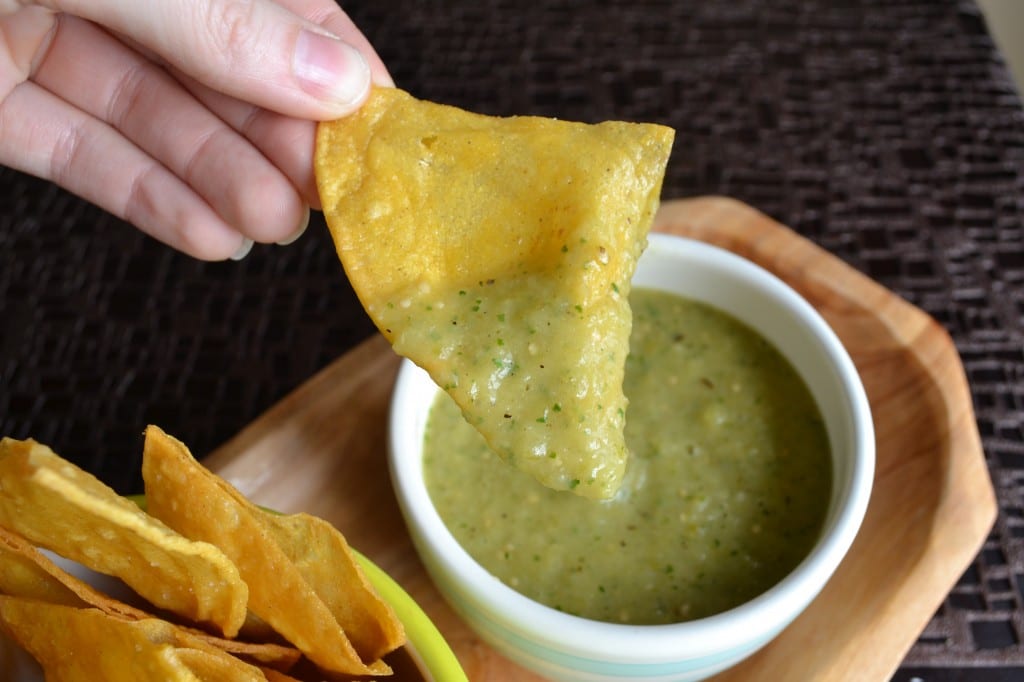 Sigh, anybody want to run away to Mexico before winter really hits?
Ingredients (Makes about 3 1/2 Cups of Salsa)
5 Large Tomatillos, husked and roughly chopped
3 Anaheim Peppers, roughly chopped
½ Onion, roughly chopped
1-2 Jalapenos, seeded and roughly chopped (If you do not like it spicy only add 1 jalapeno.)
2 Large Cloves of Garlic
1 Teaspoon of Salt
1 Teaspoon of Pepper
1 Cup of Beer
A Handful of Fresh Cilantro
 
After removing the husks from the tomatillos, make sure to give them a good wipe down with a wet paper towel to remove the stickiness from the surface of the tomatillo. Roughly chop all of the veggies. Place them in a large Pyrex dish. Season the veggies with salt and pepper. Add the beer and mix the vegetables to ensure they are evenly coated and in one even layer before they go in the oven.
 
Set your oven broiler on high. Place the Pyrex dish on the bottom shelf in the oven. Roast for 30 minutes. After fifteen minutes remove pan and give the vegetables a good stir then return them to the oven.
 
Let the vegetables cool completely. Add the vegetables and fresh cilantro to a food processor or blender and blend/puree the vegetables until they reach the consistency you like. I like my salsa on the thin side, so I tend to liquefy it.
 
Tomorrow I will be taking my beef brisket chili and combining it with the roasted tomatillo salsa to create a wonderful dish that you can make any time with any left-over chili and salsa.