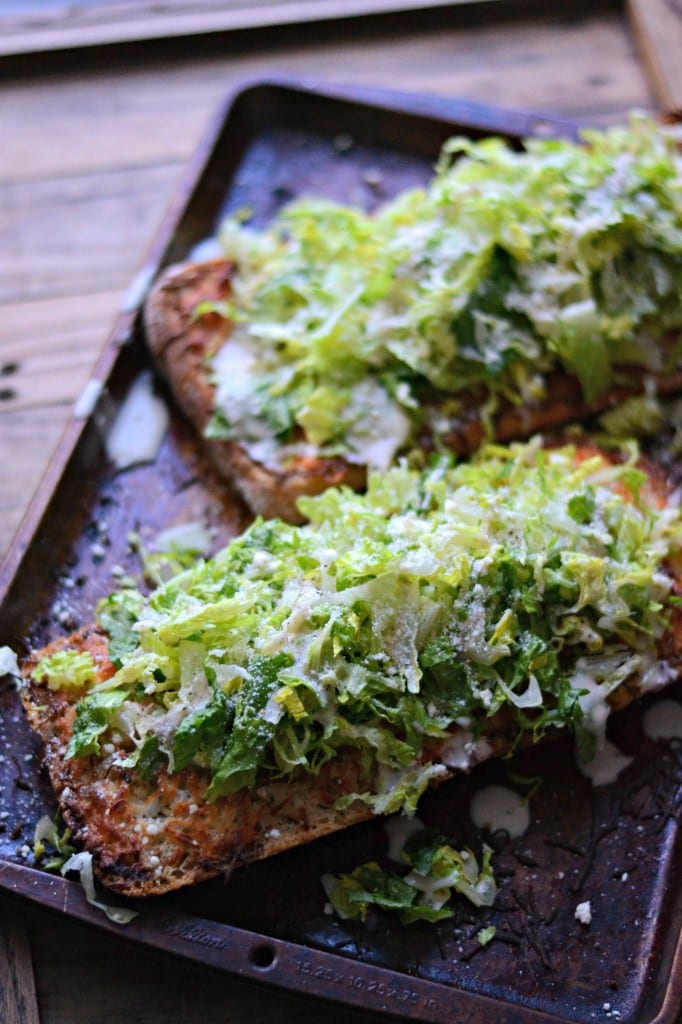 This week, people are going to be inundating you with chocolate and fancy martinis and all other things Valentine's related. Not me! I am going all in with my favorite thing in the world: cheesy garlic bread. It is only because I love you that I feel comfortable enough to share my garlic breath filled air with you.
Have you ever read one of the millions of articles about what foods never to eat on a first date? Something involving garlic is always on those lists. Well, I can tell you that it is probably a good thing that I never followed any of those lists. I guess I am a rule breaker. Ha, riiight. Yeah, and George Costanza is a "bad seed" and a "bootlegger."
Thank God I dated and married a garlic lover. Mike loves garlic more than I do. There have even been several occasions where Mike has looked at a raw clove of garlic and contemplated eating it. That is a bit much for me. Luckily, for 10 plus years I have successfully talked him out of that act.
On our first real date we ate cheesy garlic bread and pizza. Yes a carb appetizer before a carb dinner. We are those people! Don't hate.
There might have been a salad situation included with our pizza. If I am remembering correctly, I got both portions of salad. That is probably one of the reasons Mike fell in love with me right then and there. I am the person that will always eat his serving of salad.
I am also always the person that will eat enough garlic to balance out the amount of garlic he ate so neither one of us feel self-conscious about the fact that if vampires did exist we would not have to worry about them coming within 100 feet of us.
And that is why I have brought you an easy, cheesy garlic bread topped with Caesar salad! This is the perfect Valentine's Day appetizer. It would be a nice preface to a shared plate of spaghetti and a meatball rolled across the table by your significant other using only their nose. I don't care what you guys say; Lady and the Tramp is pretty romantic, even if it is about a few dogs.
I will be back with a less garlicky and more romantic recipe on Thursday! For now, enjoy the garlic breath.
Recipe adapted from Sheet Pan Suppers
 by Molly from Dunk and Crumble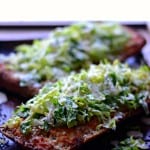 Caesar Salad Cheesy Garlic Bread
Cheesy, garlic bread topped with a simple shredded lettuce romaine salad. The best appetizer that combines the salad and bread course.
Ingredients
1

Loaf Ciabatta Bread

sliced in half length-wise

½

Cup

Unsalted Butter

at room temperature

4

Cloves

of Garlic

grated

½

Teaspoon

Salt

¼

Teaspoon

Fresh Cracked Black Pepper

½

Teaspoon

Dried Oregano

1

Cup

Shredded Mozzarella Cheese

¼

Cup

Grated Parmesan Cheese

plus more for topping

½

Cup

Caesar Salad Dressing

2

Hearts Romaine Lettuce

shredded
Instructions
Preheat the oven to 400 degrees F. Line a large baking sheet with foil.

In a medium mixing bowl, use a wooden spoon or rubber spatula to mix the butter, salt, garlic, pepper, oregano, and grated parmesan together.

Place each half of the ciabatta bread cut side up on the foil lined baking sheet. Spread equal amounts of butter mixture on each half of the ciabatta bread. Top each half with equal amounts of shredded mozzarella. Bake in the oven for 8-10 minutes, just until cheese melts and becomes slightly golden around the edges.

If you are serving the bread right away, toss the dressing and romaine together in a bowl and then top each half with salad. Cut, sprinkle some more grated parmesan on top, and then serve.

If you are not eating the bread right away, top with romaine and then wait until serving to drizzle dressing on top of the romaine. Sprinkle grated parmesan on top of each half, cut, and then serve when ready.