A lot of people say they do not like lobster unless it is drenched in a lot of butter. I do love me some butter, but I am not one of those people.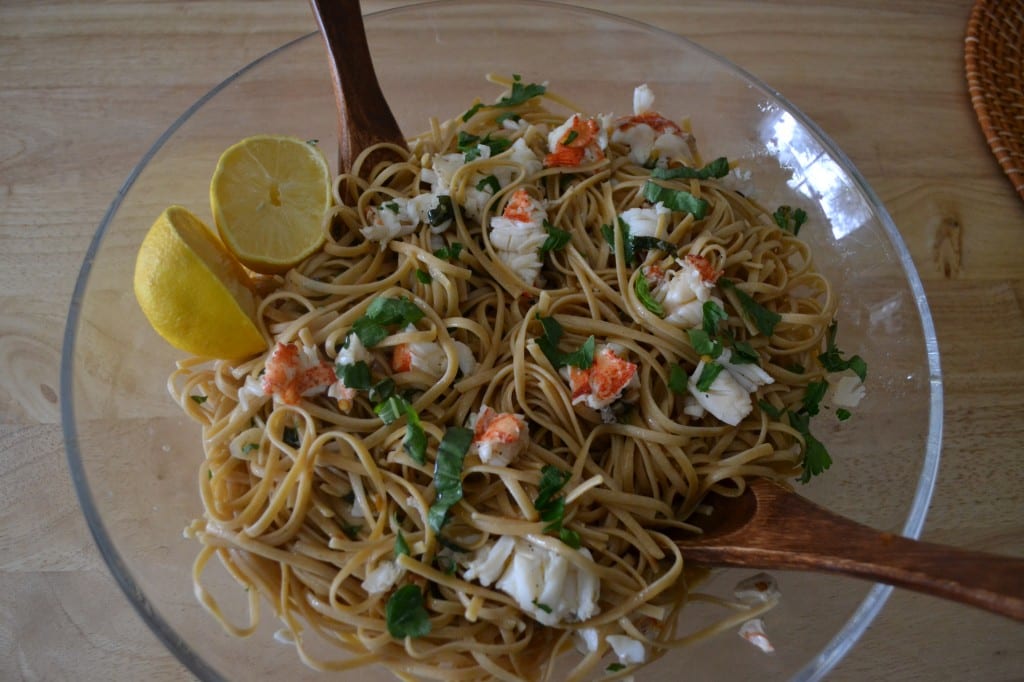 I like lobster. I think it has a sweet flavor on its own and doesn't need any butter in fact (Somewhere Paula Deen just fainted). In the Midwest, lobster is available but more costly. So, lobster is held to this high standard as being a special occasion food.
The first time I ate lobster was in the 8th grade. It was quite the momentous occasion.
You see, I was into sports in grade school. I swam, I played volleyball, and I played basketball. I was pretty athletic and kind of good at all of these sports (if I say so myself). I was on the A team for volleyball and in the advanced swimming groups. Then it was time for basketball. 6th through 8th grade, every year, I tried out and every year, the same thing—I ended up on the B team…Guess I wasn't as good as I thought I was.
Well, I shouldn't say that. I was good at basketball. I guess I just wasn't "A team material." So I settled into my role, more Jeremy Lin than LeBron James, and played my little heart out for that B team.
At the start of our little engine that could season, my fellow B-teamers and I were told by our coach that, if we made it to the playoffs, he would cook the whole team a filet mignon and lobster tail dinner.
It was our last year in grade school,l so we figured, "What did we have to lose?" That year, we ended up going all the way to the playoffs! I remember my one shining moment when, in overtime, I scored the game winning free throw to move us on to the next round. It was glorious. The coaches from the A team were there to watch. Every point I scored I felt like I was showing them what they were missing out on for all those years.
We ended up placing third in the overall season. We got a trophy and everything. There were two great things that came out of our victory. The first was that the amazing A team finished in third as well. To them though, it was a failure of a season.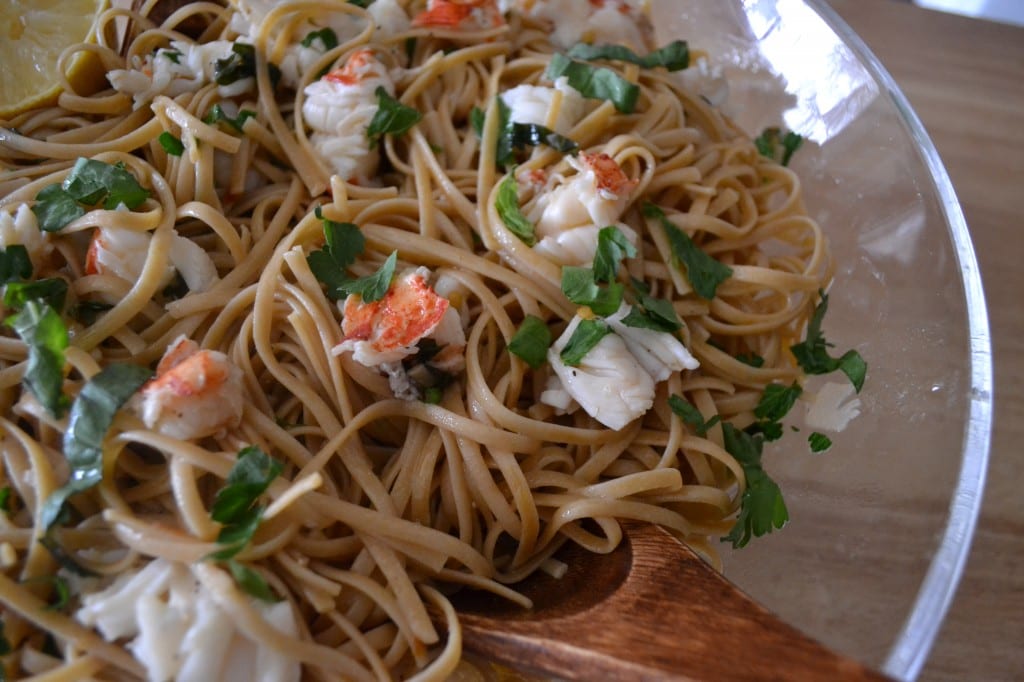 The second great thing was that we all went over to our coach's house and he really did cook us lobster tail and filet mignon! We all felt like such winners. Even though we only got third, we celebrated like we won the championship. Ever since then, I have always held lobster as a very, very special occasion food that will always remind me of that awesome basketball season.
Glory days!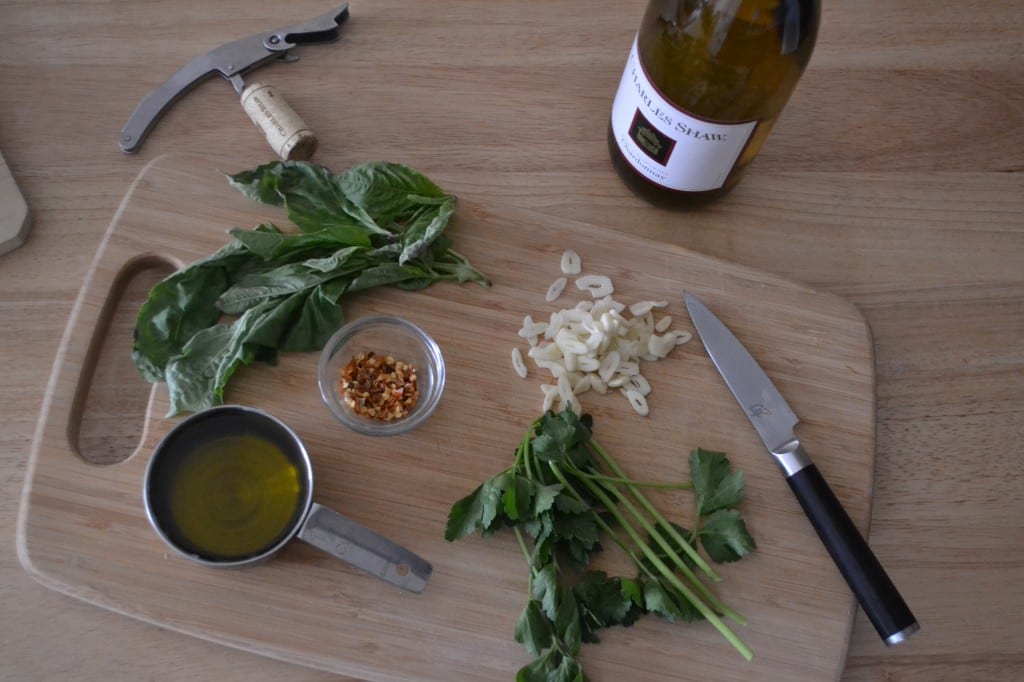 Ingredients
1 lb. Whole Wheat Linguine
1/2 cup Olive Oil
4 Large Garlic Cloves, thinly sliced
1 Teaspoon of Crushed Red Pepper Flakes
4 Lobster Tails
Salt and freshly ground black pepper
2 Cups of Chardonnay
1 Tablespoon of Fresh Basil, chopped
¼ Cup Chopped Flat-leaf Parsley
In a large pot of boiling salted water, cook the pasta until al dente. (Not longer than 7 minutes.) Drain well. Place off the side to cool.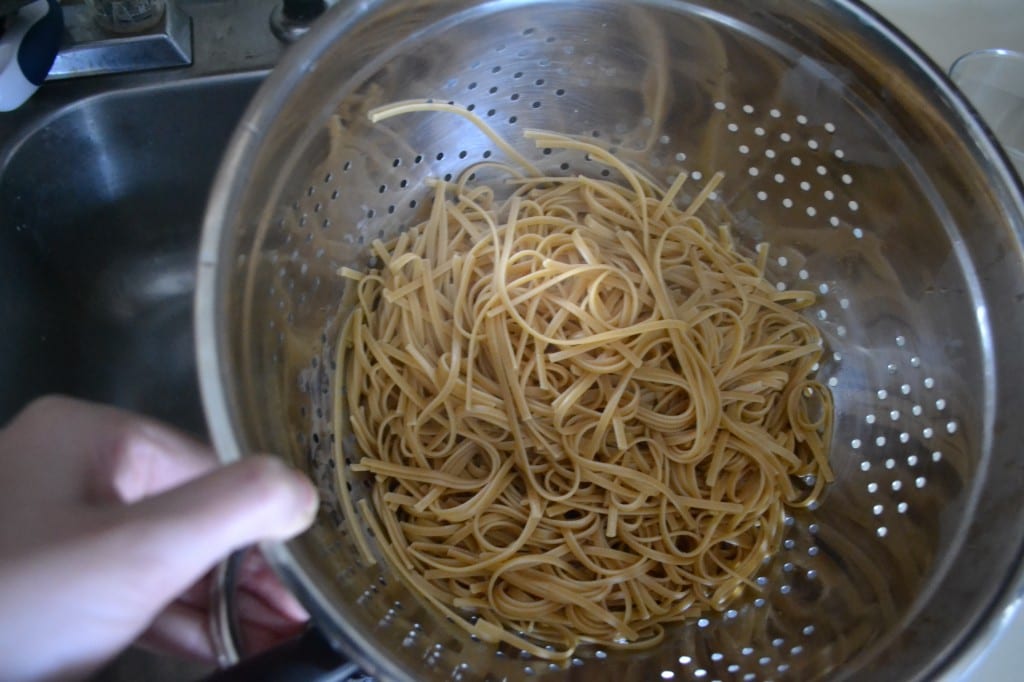 In a large, deep skillet, heat the olive oil. Add the garlic and crushed red pepper and cook over moderate heat until the garlic is golden brown, about 2 minutes.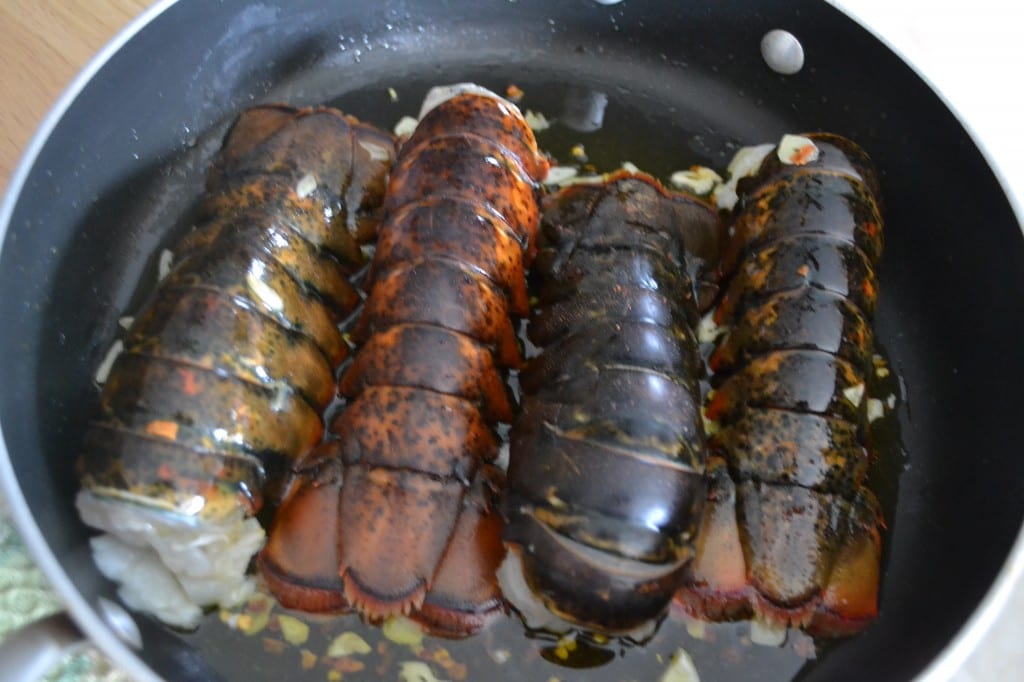 Add the lobster tails, season with salt and black pepper. Add the wine and bring to a simmer. Place a lid on the skillet and simmer/steam the tails for eight minutes. After eight minutes, remove the lobster tails.

Simmer the wine over medium/low heat for an additional eight minutes. After eight minutes, turn the heat to warm or low because you are going to need to add the lobster back to the warm sauce.
Meanwhile, chop the parsley and the basil. During this reduction time, you are also going to shell the lobster.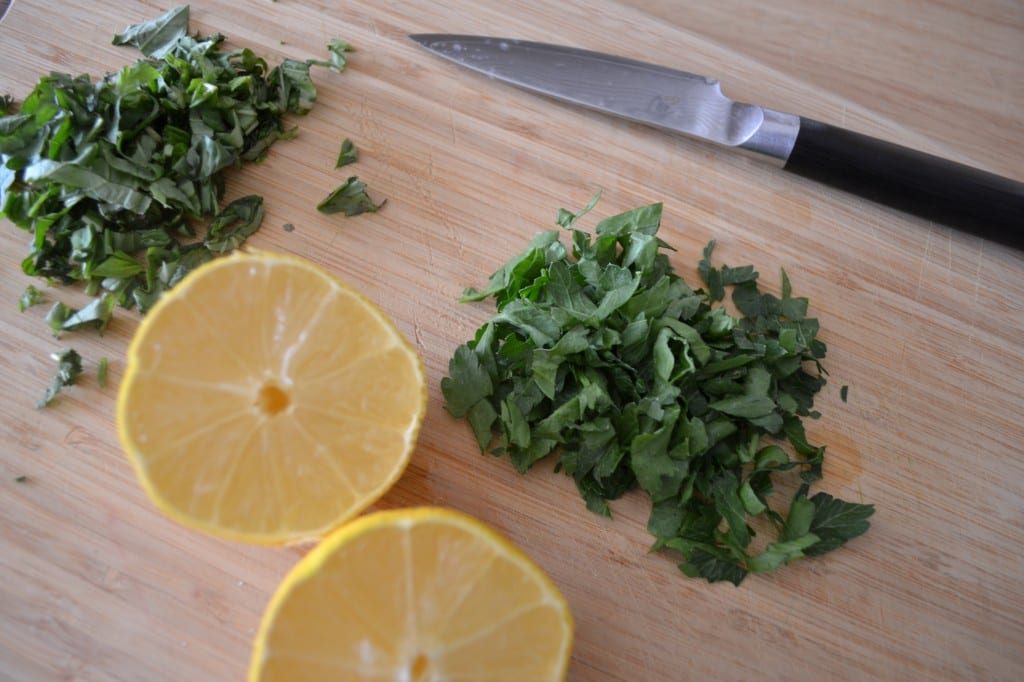 Turn the lobster tail on its back, using a pair of kitchen shears, cut length-wise down the center between the legs. Crack each pair of legs back towards the shell. Start peeling off pieces of shell. Think of it like a large shrimp. Similarly to a large shrimp, the lobster tail has the intestinal tract that you will need to remove as well. To do that, cut length-wise along the back of the lobster tail. Don't go too deep. You will see the tract and be able to pull it out in one piece. I know it's gross, but just keep your eye on the prize!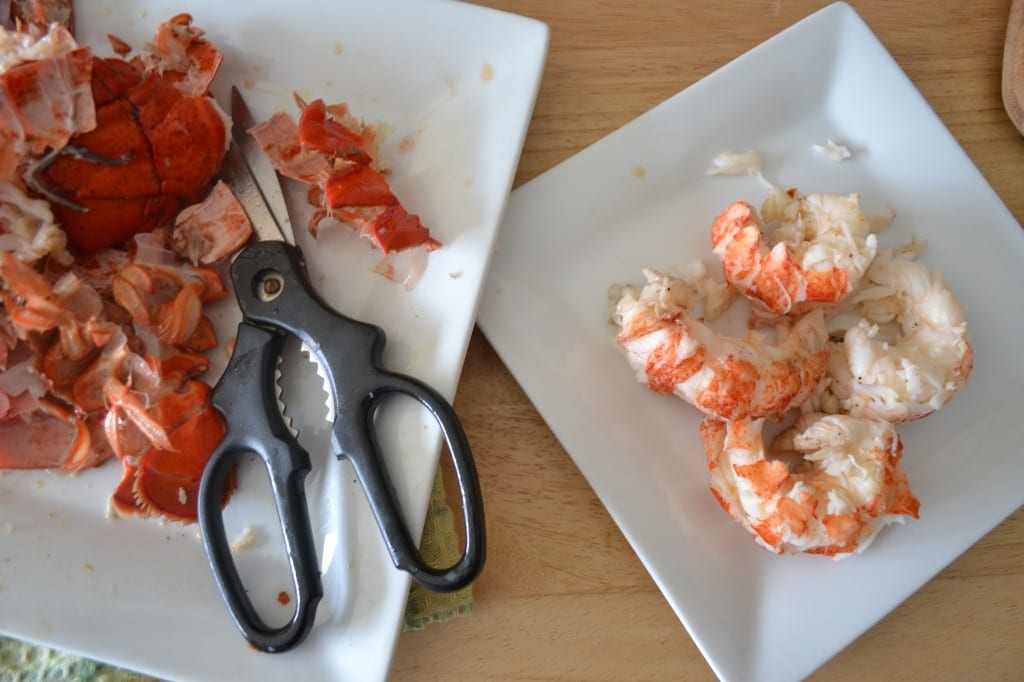 After all the lobster has been shelled, cut it into large chunks, and add it back into the skillet along with the basil and parsley. Be sure to reserve some parsley and basil for garnish.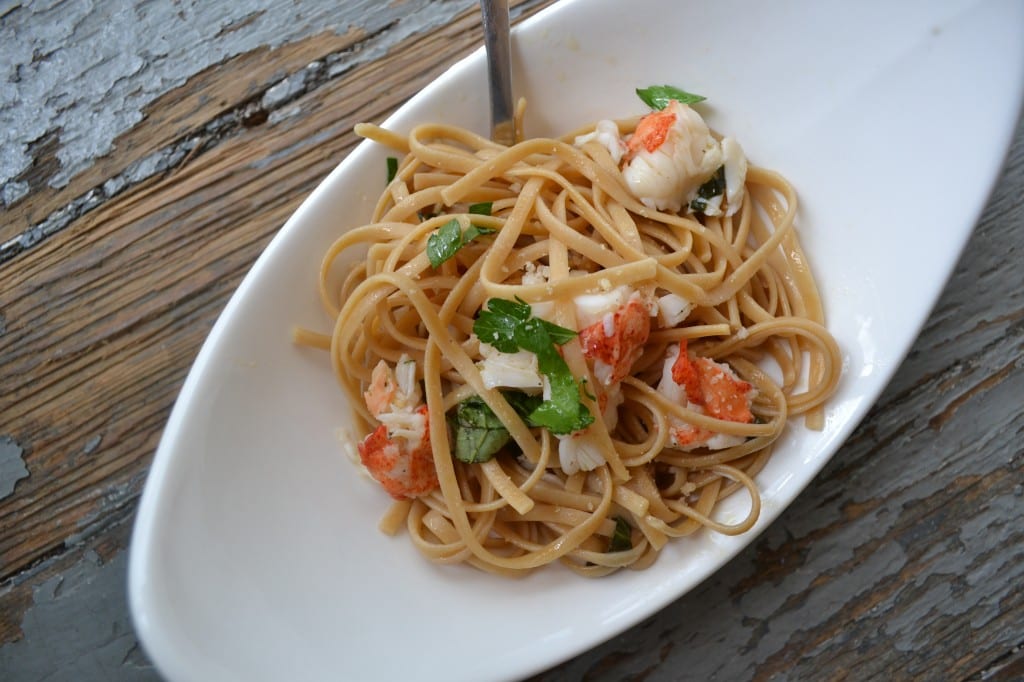 Add the cooled linguine and sauce to a large bowl and toss well. Season with salt and black pepper.

Sprinkle the pasta with the remaining parsley and basil and a squeeze of lemon juice, toss once more and serve.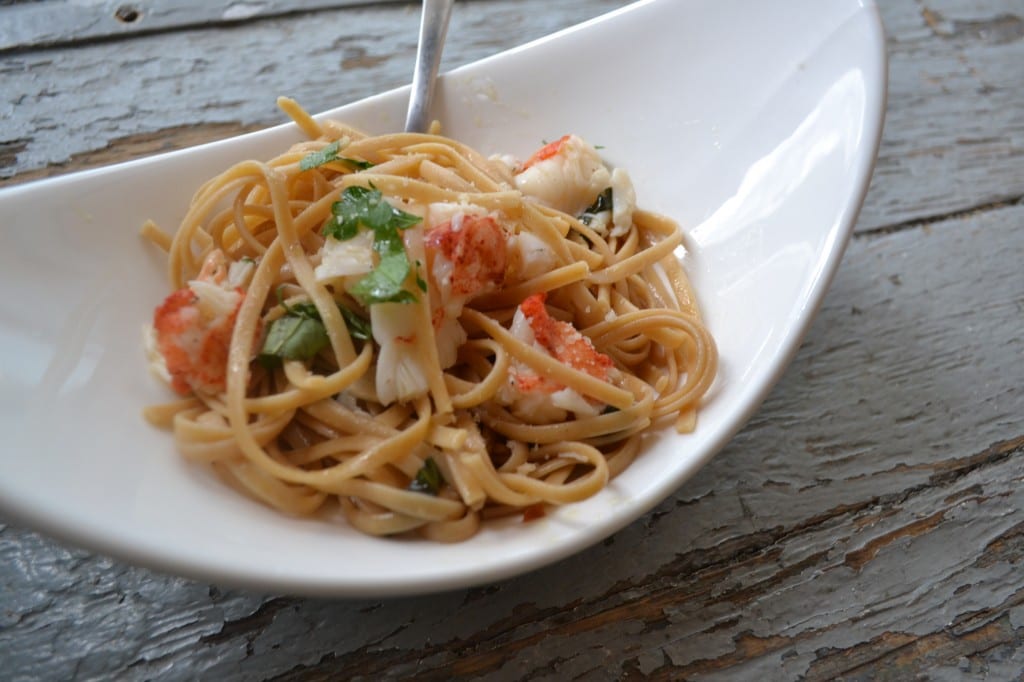 Even if it is just an ordinary weeknight…This is a great meal to make it extraordinary!
Related posts: