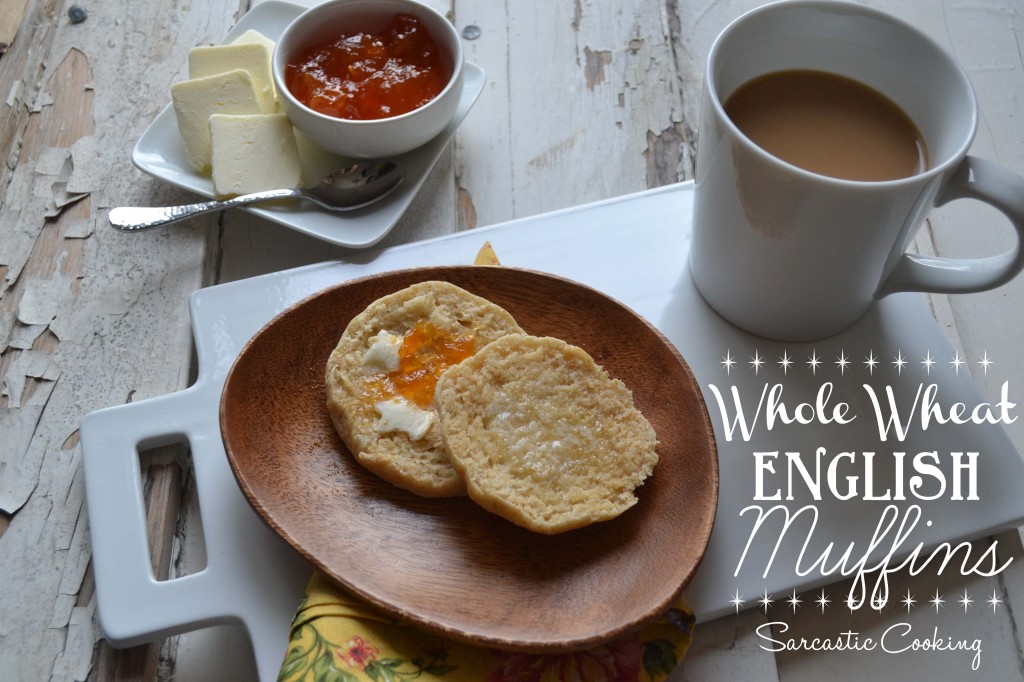 Back when we were in college, my little brother and one of our friends got into a very interesting debate about nooks vs. crannies. This debate may have been after a few beverages of the adult variety, (just sayin').
But it definitely piqued my curiosity when I decided to make my own English muffins. You all remember the Thomas' English Muffin commercials, talking about nooks and crannies right? But does anybody know what the heck they are?
So of course I looked up the definitions, after asking Mike, thinking since he was an English teacher, maybe he would have a clue. Alas, I was wrong, so to the old Funk & Wagnalls I went. (Yes, that is an actual name of a real life, real old dictionary.)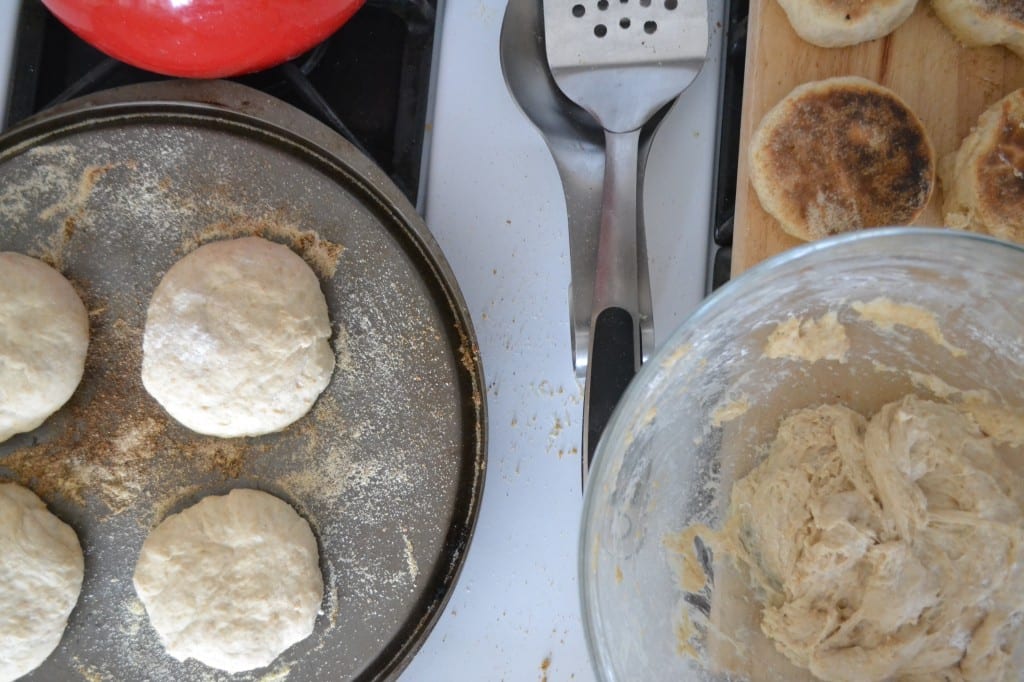 Apparently a nook is a small corner or recess and a cranny is a small, narrow opening. Hmmm….
How would you say that relates to English muffins? Number one, there are no corners on English muffins. Number two, a recess and an opening kind of sound like the same thing! So what are we, the consumer, to think? I'm starting to get worked up over here!!!
I can see now how these two words led to such a debate.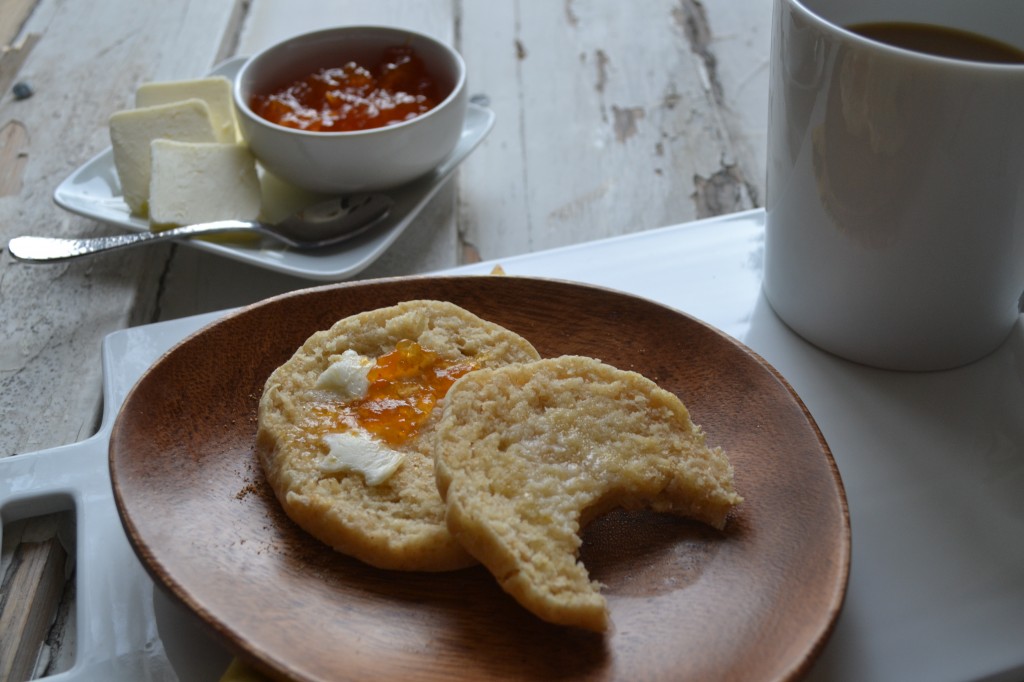 No matter what a nook or what a cranny is, they work together to make English muffins one of my favorite types of bread/carb aside from pizza… and pasta… and of course a good sourdough. Clearly, you see I have a carb problem.
Anyway, I saw this recipe for whole wheat English muffins from Stephie and I had to try and make them myself. It is a super easy recipe that will leave you with plenty to share or enjoy over the weekend all by your lonesome if you are a carb fiend like me!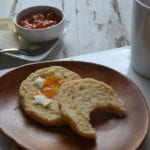 Whole Wheat English Muffins
Prep Time
1
hour
10
minutes
Total Time
1
hour
50
minutes
Ingredients
2

Cups

Milk

1

Package

2 ¼ Teaspoons Active Dry Yeast

1

Tablespoon

Granulated Sugar

4

Tablespoons

Unsalted Butter

melted

1

Large Egg

2

Cups

All-Purpose Flour plus some for rolling out muffins

2

Cups

Whole Wheat Flour

1 ½

Teaspoons

Salt

2

Teaspoons

Baking Powder dissolved in 1 Tablespoon Water

Cornmeal
Instructions
Add milk to a medium microwave-safe bowl, microwave milk on high for two and a half minutes until it reaches about 110 degrees F. Whisk in the sugar to the milk. Sprinkle the yeast on top and let sit for 5 to 10 minutes until foamy.

When the yeast is foamy, whisk in the egg and melted butter.

In a separate large bowl, whisk together flours and salt. Pour the milk and egg mixture into the flour mixture. Mix until incorporated. Dough will be wet and shaggy. Leave dough in the bowl, cover with a dishtowel, and leave to rise in a warm area for at least an hour. After an hour, mix in the baking soda mixture to the risen dough. Let the dough rest while you heat the griddle.

After an hour begin to heat a griddle or skillet over medium heat. Lightly dust your hands with a bit of flour and then scoop out a ¼ of a cup portion of dough. Sprinkle a little bit of cornmeal on the skillet/griddle. Work the dough into a small circular disc in your hands and then place on the skillet/griddle. Cook each side for 7 to 10 minutes until deeply golden.

Let English muffins cool for 10 minutes before eating. Store in an air-tight container at room temperature for three days or freeze for up to a month.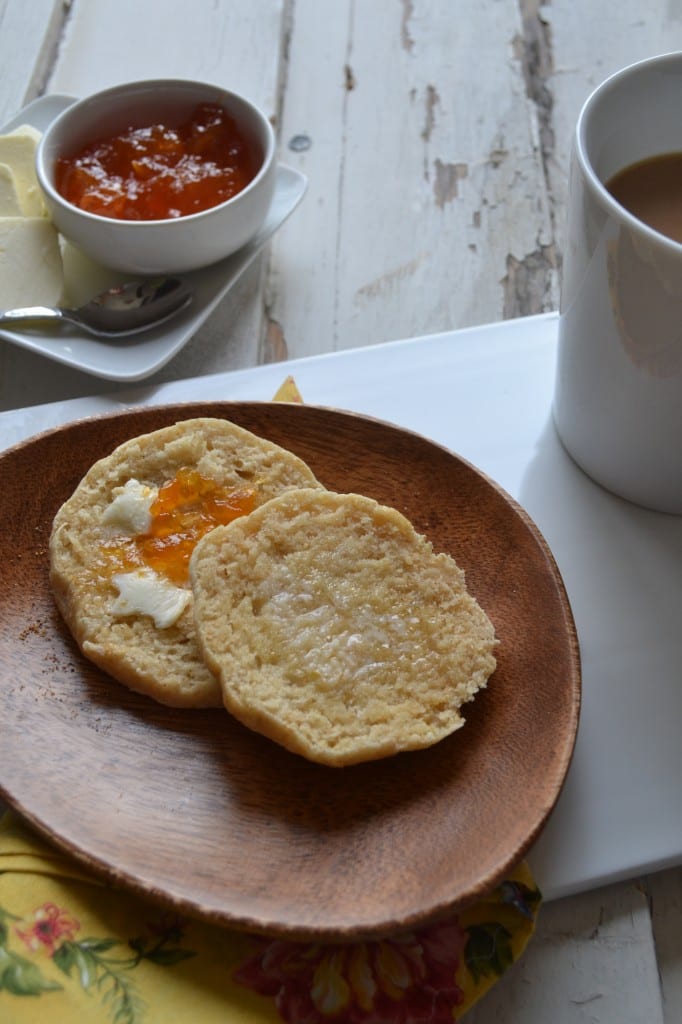 Recipe from Eat Your Heart Out