Listen. I have no idea what to say about chocolate chip cookies. I mean, hasn't it all been said?

Some things are just so classic and wholesome; you just don't mess with them.
Actually, I take that back, because I kind of messed with them… Well, not me, Joy the Baker did. But, trust me (Mom stop reading), these are the best chocolate chip cookies I have ever baked and eaten!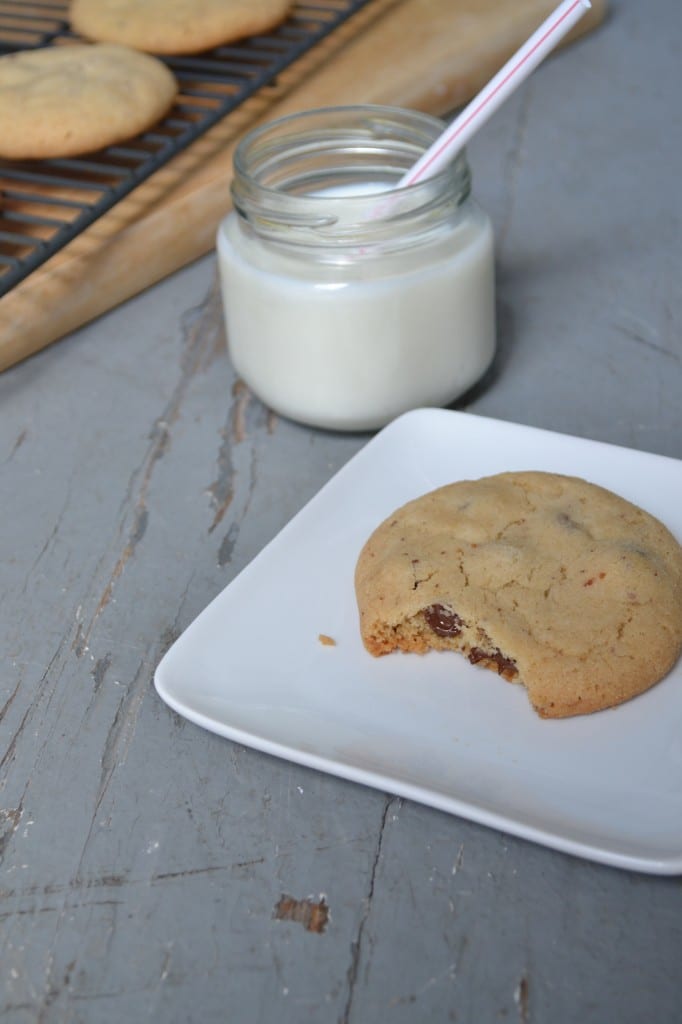 Ingredients (Makes 2 ½ Dozen Cookies)
1 Cup (2 Sticks) Plus 1 Tablespoon Unsalted Butter, softened
1 Cup Granulated Sugar
1 ½ Teaspoons Pure Vanilla Extract
1 Teaspoon Molasses
½ Cup Packed Light Brown Sugar
1 Large Egg
1 Large Egg Yolk
2 ¼ Cups All-Purpose Flour
1 Teaspoon Salt
1 Teaspoon Baking Soda
1 Cup Bittersweet Chocolate Chips
Brown one stick of butter and one tablespoon of butter in a small saucepan over medium heat. You want to melt the butter and heat it for about five minutes until it gets golden brown and has little brown bits floating in it. Once the butter has browned, remove from heat, and pour into a small bowl making sure to scrape all the bits out of the bottom of the pan. Set on the side to cool.
In the bowl of a stand mixer fitted with a paddle attachment, cream the remaining stick of butter along with the granulated sugar. Cream on medium speed for five minutes, until light and fluffy.
Scrape down the sides of the bowl and then add the vanilla and molasses. Beat until incorporated. Add the brown butter along with the brown sugar and beat for two minutes until incorporated. Add the egg and egg yolk beating for a minute in between each addition.
Whisk together the flour, salt, and baking soda in a medium mixing bowl.
Add the flour mixture all at once to the butter mixture. Beat on low until almost fully incorporated. Remove the bowl from the stand mixer and fold in the chocolate chips by hand.
Cover the bowl with plastic wrap and chill in the refrigerator for a half an hour while the oven preheats.
Preheat the oven to 375 degrees F. Line two baking sheets with parchment paper. FYI: If you butter the baking sheets before you stick on the parchment, it stays better.

After a half an hour, remove the dough from the refrigerator and start rolling one tablespoon-sized scoops of dough into balls. Place them on the baking sheets about two inches apart. Bake for 12 to 14 minutes until lightly browned on the outside but still soft on the inside.
Remove from the oven and cool on the baking sheet for five minutes then transfer to a wire rack to finish cooling completely.
Recipe from the Joy the Baker cookbook
Related posts: