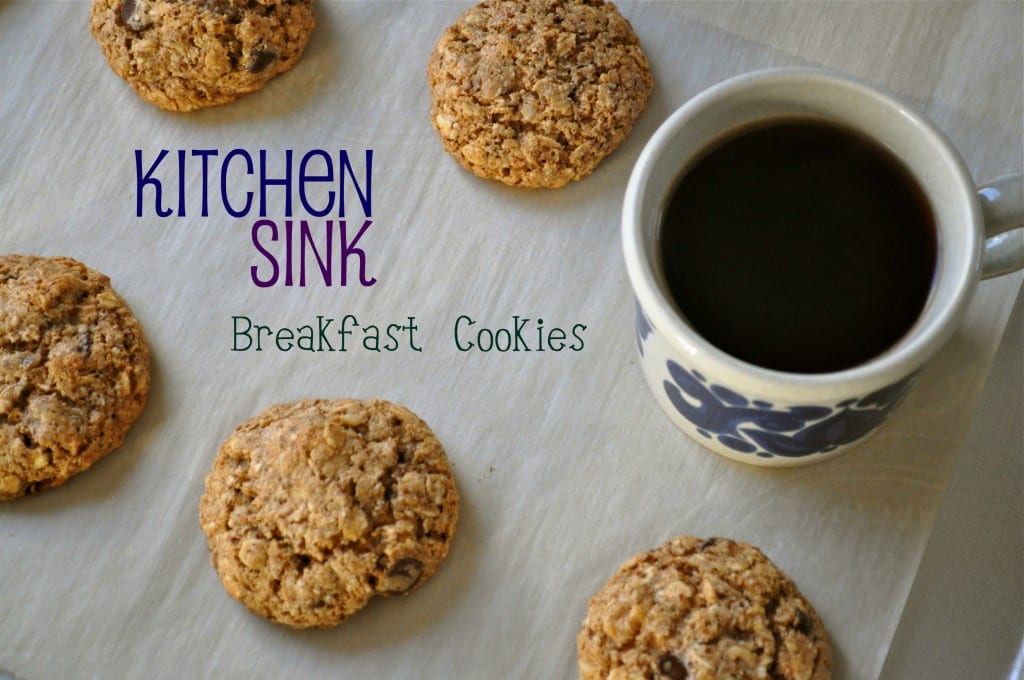 Happy Friday! You did it. We did it. We all made it through another week. A week filled with Polar Vortex issues and more snow for some of us anyway. I am definitely getting a little stir crazy over here. I think all the snow and cold temperatures just rub in the fact that I cannot leave my house during the day. In other news, me, Weezer, and Andy have been having some wonderful in depth conversations.
I will save my craziness for another time. Let's get to cookies for BREAKFAST! Only my genius friend Amanda would do something like this. Amanda blogs over at Once Upon A Recipe. I stumbled across her blog while commenting on a different food blog. I saw her comment and totally related to what she was saying so I clicked on the link to her site and have been in love ever since!
Amanda's blog will more often than not leave you laughing and nodding along in agreement with the witty words she has written. In addition to the amazing writing on her site, she also whips up some killer recipes! I am so happy to have Amanda guest posting over here today. You are all definitely in for a treat.
Hello friends! My name is Amanda and I blog over at Once Upon a Recipe, where I share my love of all things sweet (and sometimes savory, too)! I am so excited to be here today to share a recipe with Stefanie's readers while she settles into motherhood with her new little man. How stinkin' cute is Andy BTW?!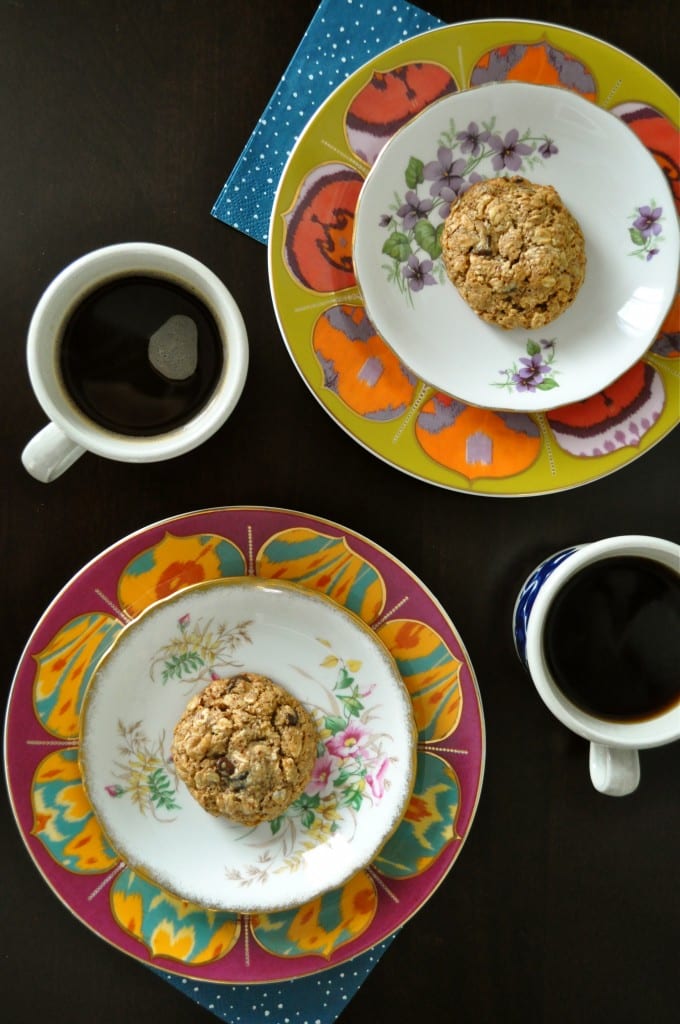 I'm not yet a mother myself, and I've always been amazed by the abilities of new (and old) parents to balance it all. I mean, some days I feel like putting in a day's work and then getting myself fed and watered before hitting the hay is difficult enough. I can't imagine throwing a new baby into the mix! I'd probably be living off of cereal and Kraft dinner and failing to shower on a regular basis. But I guess that new parents just find a way to cope and balance it all out.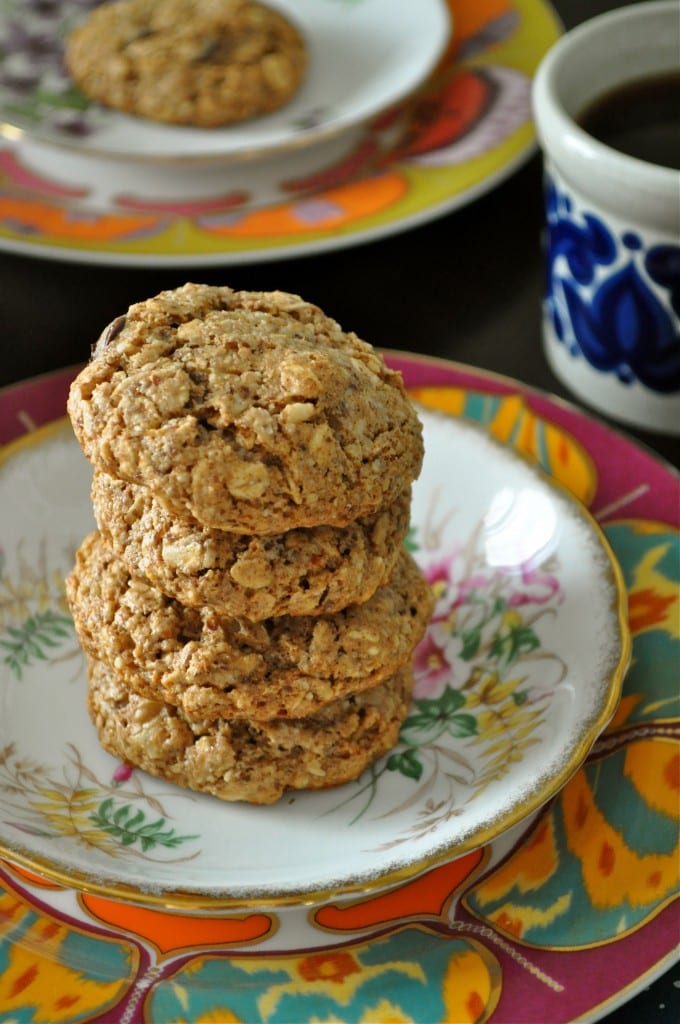 In any case, I thought I'd share a recipe for something quick and healthy – perfect for an on-the-go breakfast or an energy-boosting snack! Plus, who doesn't love eating cookies for breakfast?
These cookies are perfection – hearty, filling, yet not too sweet. They're packed with good-for-you ingredients, like spelt flour, almond butter, ground flax, oats, and nuts. Let's not forget the dark chocolate. They've got substance! Paired with a cup of hot coffee and a bowl of fruit, you'll be ready to take on the day. Even if it starts at 5am.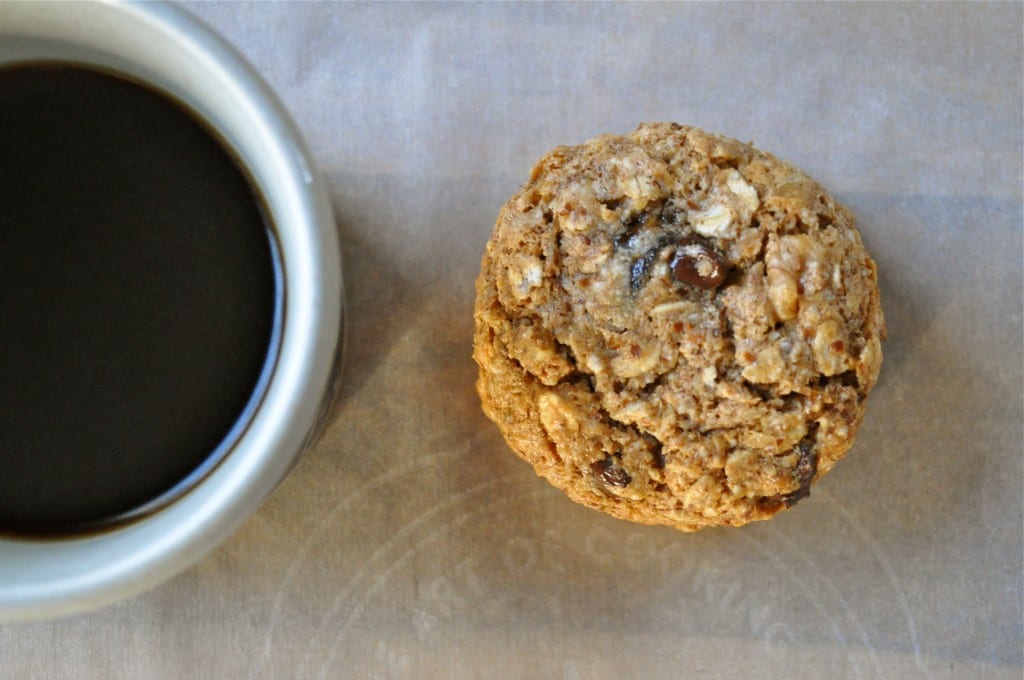 Thanks for having me Stefanie! Congratulations to you and Mike (and Weezer too!) on the arrival of your precious little gem. To all of you lovelies that are reading, I'd love it if you'd stop over at Once Upon a Recipe to say hello!
Once Upon A Recipe – Kitchen Sink Breakfast Cookies
Yields: About 1 Dozen Cookies
1 cup whole raw almonds
1 1/2 cups large flake oats
1/3 cup spelt flour
1/2 cup ground flax
1 teaspoon baking soda
1/2 tsp. salt
1 tsp. ground cinnamon
1/2 cup almond butter
1/4 cup coconut oil, melted
½ cup honey
1 egg
1 tsp. vanilla
½ cup dates, chopped
½ cup walnuts, chopped
½ cup dark chocolate chips
Preheat oven to 375 degrees F. Line baking sheets with parchment paper.
Pulse the almonds in a food processor several times to chop; continue
processing until the almonds are ground into flour, then transfer to a
bowl. Mix in the oats, spelt flour, ground flax, baking soda, salt,
and cinnamon until thoroughly combined.
Combine the almond butter, coconut oil, honey, egg, and vanilla
extract in the food processor and process a few seconds to blend the
ingredients well. Add the almond butter mixture to the dry mixture,
along with the dates, walnuts, and chocolate chips. Mix together.
Roll dough into 1-inch balls and place on the prepared baking sheets,
about 2 inches apart. Bake for 8-10 minutes, or until lightly browned
(but do not overbake). Allow to cool for about 5 minutes on the baking
sheets before moving to a wire rack to cool completely.
Preparation time:

20 minutes

Cook time:

10 minutes

Total time:

30 minutes