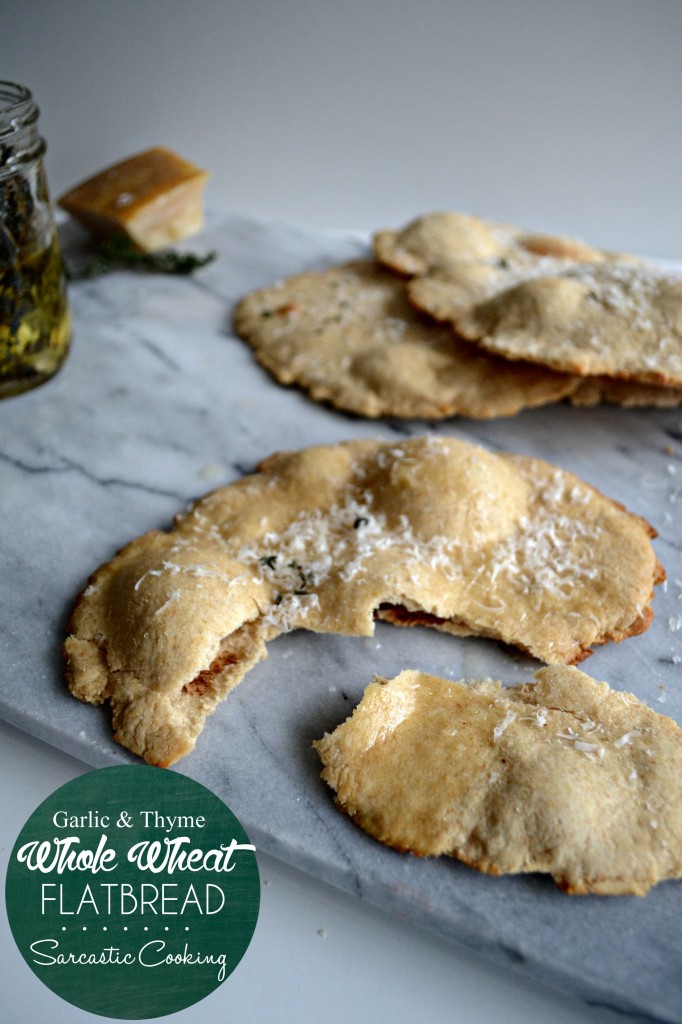 My current sitch at 8:00p.m. Monday night: Listening to the lullabye version of Phil Collins' You'll Be In My Heart through the walls as Mike tries to put Andy to bed. Weezer is next to me. In one hand, I am holding his binky
full of peanut butter for him, because he is a brat and refuses to hold it with his paws, and trying to type with my other hand at the same time. My wine is on the coffee table which just seems way too far to reach for because if I move out from under this heated blanket, I might freeze. Baseball is still on the TV because Mike didn't turn it off and like I said, I don't want to move out of fear of freezing.
I am wearing the outfit I have been in all day which consists of pajama pants and a sweatshirt. I made this life choice because I heard snow in the 6am forecast and gave up on impressing anybody today. I did shower though. Mike swears the heat is working, but I beg to differ. I am pretty sure it is blowing cold air through the house and does not kick in when the thermostat reads 69 degrees. But, what do I know.
Frozen. That seems to be the theme of the day. Frozen by the weather, by my laziness, and of course there is the movie soundtrack that keeps running through my head. I have used Andy as an excuse to watch that movie twice today. It just felt fitting and he likes the music. Or at least that is what I tell myself as I serenade him with my impressive version of "Let It Go" and he stares back at me unblinking.
Quiet child is a happy child, right?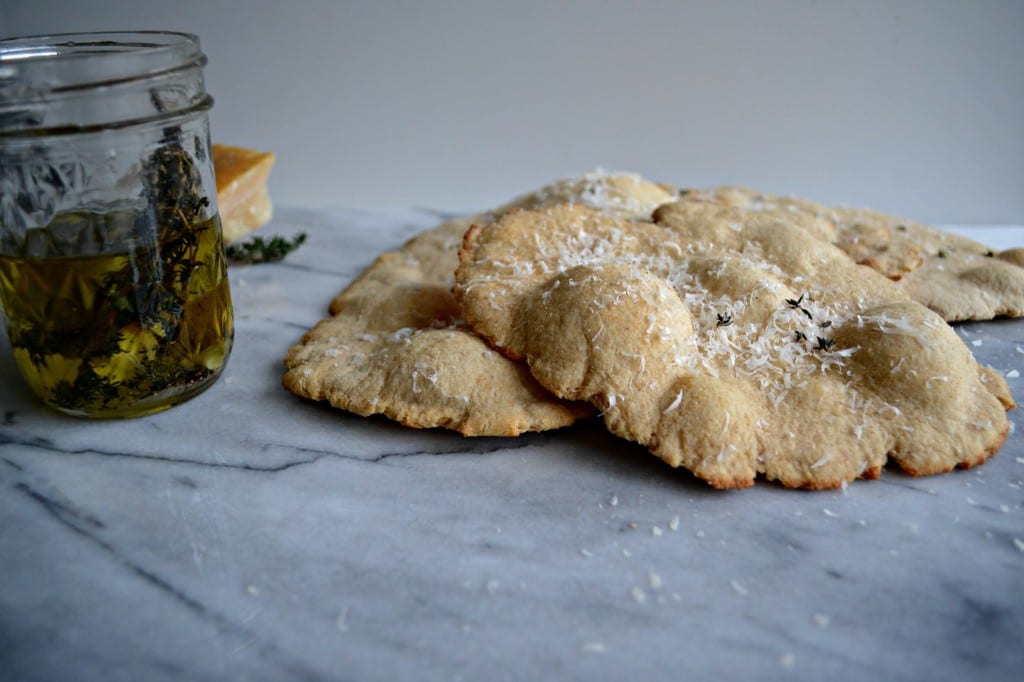 Anyway, frozen… I feel like my brain is frozen. Throughout the day I say more indecipherable word fragments and noises than actual words when talking to Andy and Weezer. When I sit down to write a post for you guys all I hear is, "ggggaaaaaaahhhhh" or crickets chirping or the lyrics to "Do You Wanna Build A Snowman?"
Just when I thought spring had sprung and I was free to go outside, go for walks, sit on my deck, cook with the windows all thrown open basking in the sunlight… That dreaded s-word which I refuse to say. It is like my version of Voldemort. Come on! Really?
So, for today, I am in a funk. A creative funk. And there is nothing funky about it.
Last week when I was on a roll photographing away at the three recipes a week I was making, I wasn't in a funk. I made these flatbreads. I ate them as per usual, standing in the kitchen without a plate or napkin. But, in this one instance, I feel like that is how these were meant to be enjoyed. Very rustic.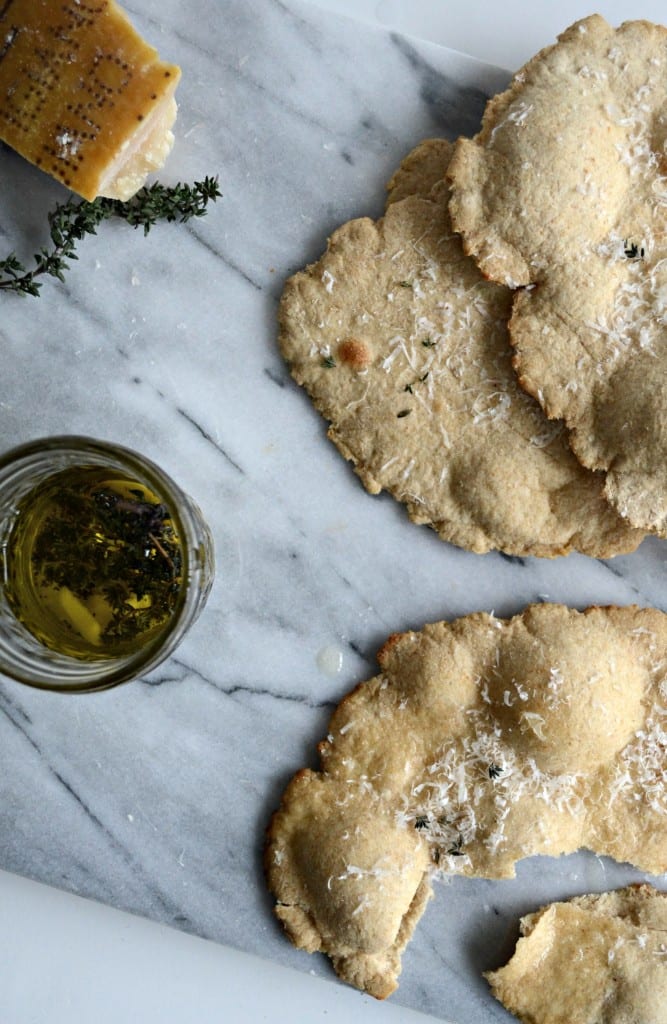 While I put this warm laptop back on the coffee table, reach for my wine, and then huddle back under my blanket, please know this lazy creative funk will be gone as soon as the s-word gets off my lawn! Take comfort in that and this beautiful, easy flatbread!
Garlic and Thyme Whole Wheat Flatbread
Prep Time
1
hour
15
minutes
Total Time
1
hour
25
minutes
Ingredients
For the Oil:

2/3

Cup

Olive Oil

1

Large Thyme Sprig

2

Large Cloves of Garlic

smashed

A Pinch of Salt and Black Pepper

For the Flatbread:

¾

Cup

Warm Water

at least 100 degrees F

1 1/4

Teaspoons

Active Dry Yeast

1

Teaspoon

Sugar

1 1/3

Cups

Whole Wheat Flour

1

Teaspoon

Salt

2

Tablespoons

Prepared Thyme-Garlic Oil

2

Tablespoons

Grated Parmesan Cheese plus more for topping
Instructions
To make the oil, combine the oil, thyme, and garlic in a small saucepan. Heat over medium heat for about 5 minutes, until fragrant. Transfer to a heatproof container and let cool completely and then season with salt and pepper.

Add warm water and sugar to the bowl of an electric stand mixer fitted with the dough hook attachment. Gently whish until sugar is dissolved. Add yeast to the water and let sit for five minutes until frothy.

Add flour, salt, two tablespoons of cheese, and two tablespoons of the prepared oil into the yeast mixture. Turn hook on medium speed and knead until dough is smooth. Transfer the dough to a work surface and cut into 4 equal pieces. Form into balls and then place on a lightly oiled baking sheet. Lightly coat each ball in the thyme-garlic oil. Place a damp cloth over the dough and let rise for about an hour, until the balls have doubled in size.

Preheat the oven to 500 degrees F. Place a pizza pan or pizza stone in the oven while the oven heats up.

Roll each piece of dough out into a rough oblong shape, about 11 by 5 inches. Brush both sides of the flatbread with the prepared oil. Remove the hot pan from the oven, sprinkle with whole wheat flour, and then place two flatbreads on to the pan. Bake in the oven for three minutes.

Serve flatbread warm with the prepared oil and some shaved or grated parmesan on the side.