My favorite cookie from Whole Foods is the jumble nut cookie. Copycat Whole Foods jumble nut cookies have two different chocolates, nuts, oats, cranberries, and raisins. They have everything. Now you can see why copycat whole foods jumble nut cookies are the best!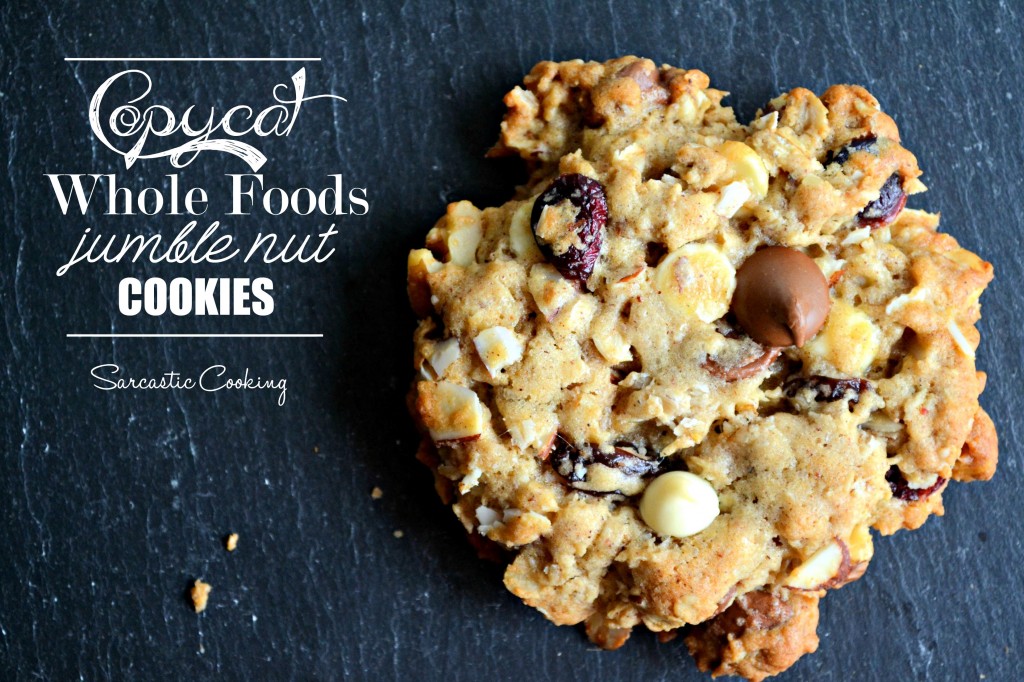 I think I have told you guys about my obsession with this cookie before. But, just in case you're new here (hello, welcome) I will tell you again, I am obsessed! See, I was never much of a Whole Foods girl.
I always preferred Trader Joe's.
I would normally split my shopping between Trader Joe's and Dominick's. But since all my local Dominick's shut down and I don't really like our Jewel, I was doing all my shopping at Trader Joe's.
Now don't get me wrong, I love TJ's, but they don't always have everything on my grocery list. That is why I needed a basic chain store like a Jewel or Dominick's.
I was happy at TJ's. Then they went and built a Whole Foods like a block away from Trader Joe's.
Now, I am hooked. Their deli/bakery/prepared food area is my slippery slope. I always save it for last, which I feel like really increases my chances of impulse buying.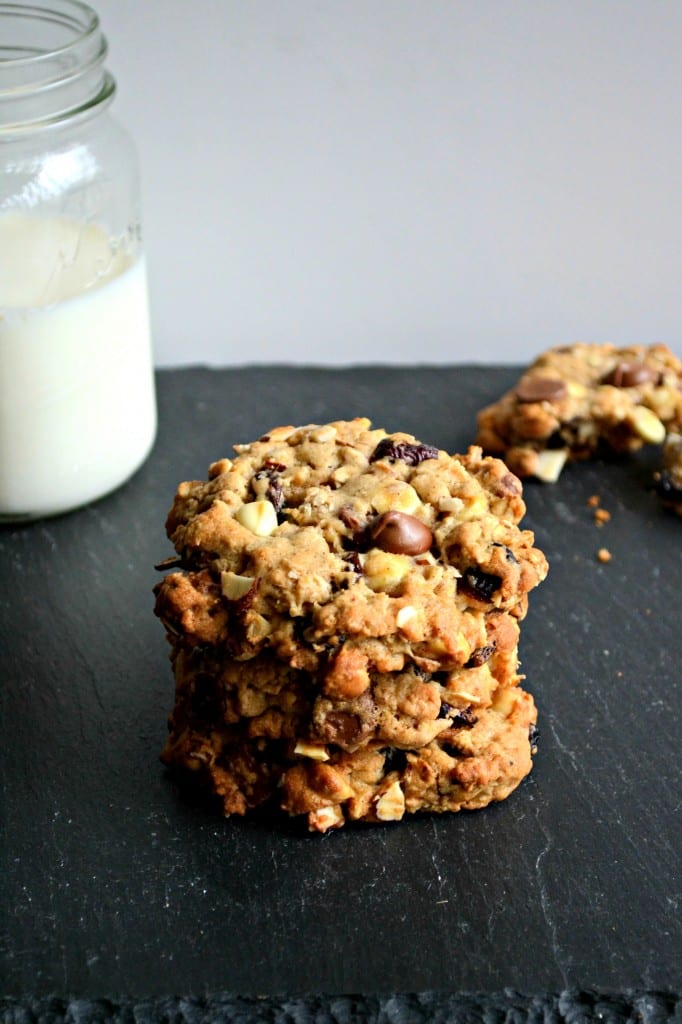 Tamales? Pre-made? Sure, I need these.
Two different loaves of bread? Why not! Mike doesn't like rye bread anyway.
Ooooo! Cronuts. I will have that for breakfast tomorrow. Who am I kidding? I will eat this as I unpack groceries.
Whole roasted chicken? I can always find a use for that.
6 giant cookies for 6 bucks. That's like a buck a cookie. It's a deal! Hmm… Jumble Nut or Chocolate Chip? Always Jumble Nut.
Then $200 and 20 extra not-on-the-list items later, I am thinking of a curse word that rhymes with pit. Except I am thinking of it like piiiiiiiiiiitttt!
Yeah, Whole Foods loooooves me.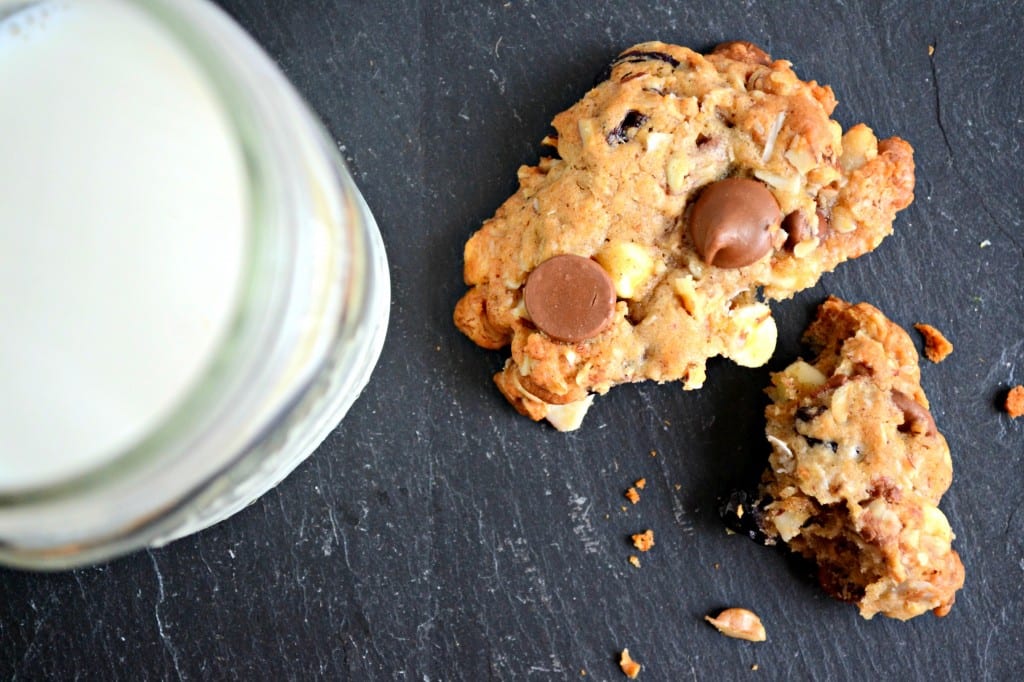 After buying these cookies every time I shop there and every time thinking I can so make these at home, I finally did.
So, take that, Whole Foods! I just shaved $6 off my bill and all of your bills too! Go buy yourself an expensive iced coffee with that money.
You deserve it.
If you like jumble nut cookies, try these brown butter chocolate chip m&m cookies. They are my kids favorites. If you ate too many cookies and need a lighter snack, try this super healthy cranberry pumpkin seed granola.
Copycat Whole Foods Jumble Nut Cookies
The ultimate large, soft, and chewy everything cookie! Filled with almonds, chocolate, cranberries, oats, raisins, walnuts, and white chocolate.
Prep Time
2
hours
10
minutes
Total Time
2
hours
25
minutes
Servings
8
-10 Large Cookies
Ingredients
¼

Cup

Unsalted Butter

softened

¼

Cup

Granulated Sugar

¼

Cup

Light Brown Sugar

1

Egg

¼

Teaspoon

Vanilla Extract

¼

Teaspoon

Salt

½

Teaspoon

Cinnamon

¼

Teaspoon

Nutmeg

½

Teaspoon

Baking Powder

¼

Teaspoon

Baking Soda

¾

Cup

plus 2 Tablespoons All-Purpose Flour

¾

Cup

Old Fashioned Rolled Oats

½

Cup

Jumbo Semi-Sweet Chocolate Chips

1/3

Cup

White Chocolate Chips

¼

Cup

Raisins

¼

Cup

Dried Cranberries

¼

Cup

Slivered Almonds

1/3

Cup

Chopped Walnuts
Instructions
In the bowl of an electric stand mixer fitted with the paddle attachment, cream together the sugars and butter. Scrape down the sides.

Add egg and vanilla. Mix on medium until combined. Scrape down sides.

In a medium mixing bowl, whisk together the salt, cinnamon, nutmeg, baking powder, baking soda, flour, and oats.

With the mixer on low, add the flour mixture all at once. Mix on low until almost combined. Add in the chocolate chips, white chocolate chips, raisins, cranberries, almonds, and walnuts. Mix on low or with a spatula until combined and no more flour is visible.

Chill the bowl with the dough in the refrigerator for at least two hours.

Preheat the oven to 350 degrees F. Line two large baking sheets with parchment paper.

Scoop 5 tablespoon portions of chilled dough on to the parchment paper lined baking sheets. Press each ball of dough gently with the palm of your hand to flatten into a cookie disc.

Bake the cookies for 14-15 minutes until golden around the edges. Let cookies cool on sheet.
Recipe adapted from Baked by Rachel.