I think I have explained my issues with snacking to you all before. I am so not a snacker. I mean, I loooooove snack food. For real. Chips, dips, trail mix, cookies, or maybe even a half pint of Ben & Jerry's. Those are all great snacks in my opinion.
I just try and stay away from snacks because for me, that is one slippery slope. Next thing you know, the whole bag of chips is gone and I have an hour before dinner and guess what? Surprise, surprise. I'm not hungry because my snack just became my meal.
Being pregnant, snacking is highly encouraged. All the baby books say so! Some books even suggest keeping a snack stash in the bedroom near your bed in case you wake up hungry. But out of fear of turning into George Costanza and ending up with full on sandwiches in my nightstand, I have refrained from taking it that far.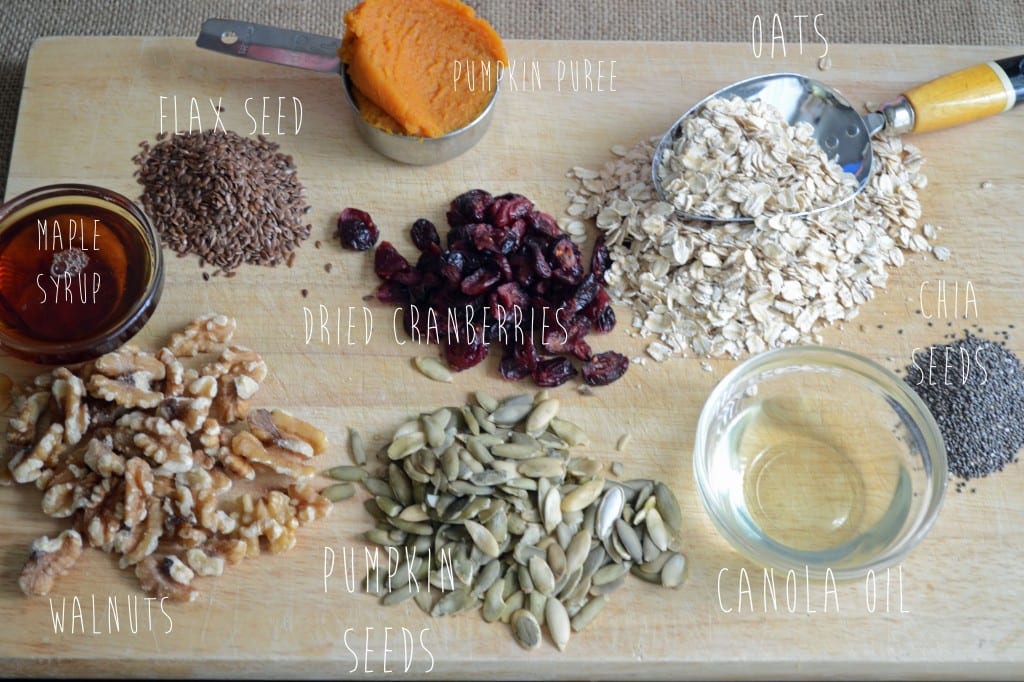 Now, when I say snacks, I'm not talking about chips or ice cream clearly. I am talking about mixed nuts, granola, or fruit. Those are a few of my faves at least.
So, now, as exhibited on Instagram the other day, I have taken to loading my purse up with emergency snacks just in case I get hungry while out and about. And when I say I get hungry, I mean I get huuuuuuungry! Like I will chew your fricken arm off Walking Dead zombie style hungry.
My go-to snack used to be a snack-sized plastic baggy filled with walnuts or almonds. But for some reason, lately, eating a handful of dry nuts is not something I really enjoy. (That's what she said. Sorry.)
Since it is fall and all, I have rediscovered my love for this granola made with pumpkin pie spices and pumpkin puree. Since I wanted to boost the amount of health benefits, I added some flax seed, chia seed, and pumpkin seed.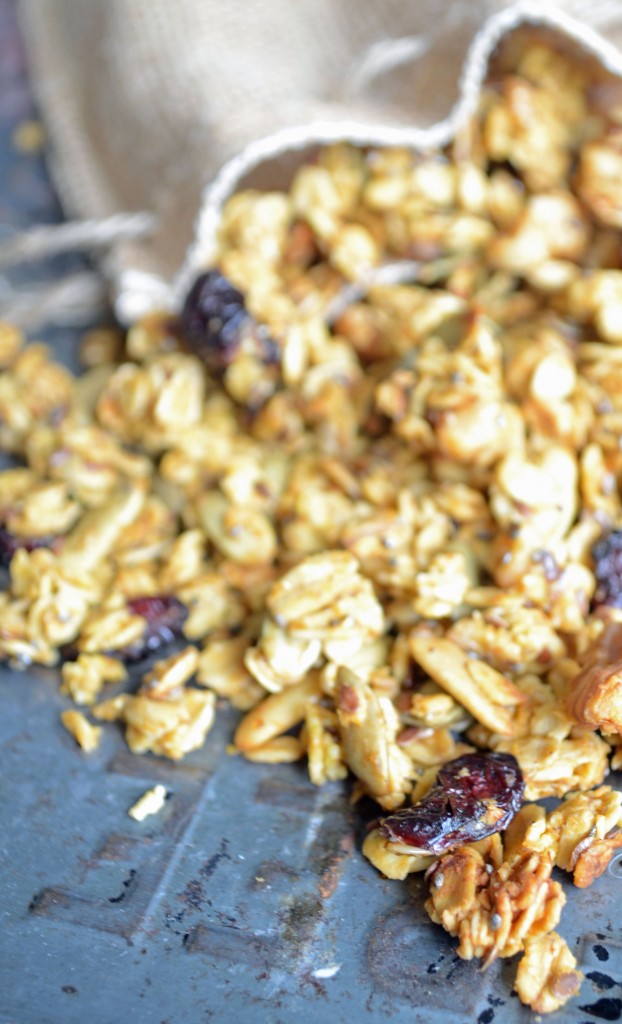 Chia seeds and flax seeds are jam packed with Omega 3's, fiber, and protein. They are so small and add so much to your diet. And for all you pumpkin fanatics out there, roasted pumpkin seeds aren't just super seasonal and super tasty; they are full of iron, zinc, protein, and a bunch of other minerals too! Who knew snacking could be so delicious and beneficial for your health!
Super Healthy Cranberry Pumpkin Seed Granola
Author:
Prep time:
Cook time:
Total time:
Serves:
Makes About 3-4 Cups
Ingredients
2 ½ Tablespoons Coconut Oil/Canola Oil
1/3 Cup Maple Syrup
1 Tablespoon Brown Sugar
1/3 Cup Pumpkin Puree
1 Teaspoon Ground Cinnamon
1 Teaspoon Ground Nutmeg
Pinch of Sea Salt
2 Cups Old Fashioned Rolled Oats
½ Cup Chopped Walnuts
1 Heaping Tablespoon Flax Seeds
1 Heaping Tablespoon Chia Seeds
1/3 Cup Dried Cranberries
1/3 Cup Pumpkin Seeds
Instructions
Preheat the oven to 325 degrees F. Line a large baking sheet with parchment paper.
In a large mixing bowl, combine the oil, syrup, brown sugar, pumpkin puree, and spices. Mix well.
Add in the oats, nuts, seeds, and cranberries. Mix until all bits are evenly coated.
Pour granola mixture on to lined baking sheet and bake for 20 minutes. After 20 minutes, remove from oven and stir/flip the granola, and then bake for an additional 15 minutes until golden.
Let the granola cool on the pan. Store in an air-tight container for up to a week,
Related posts: