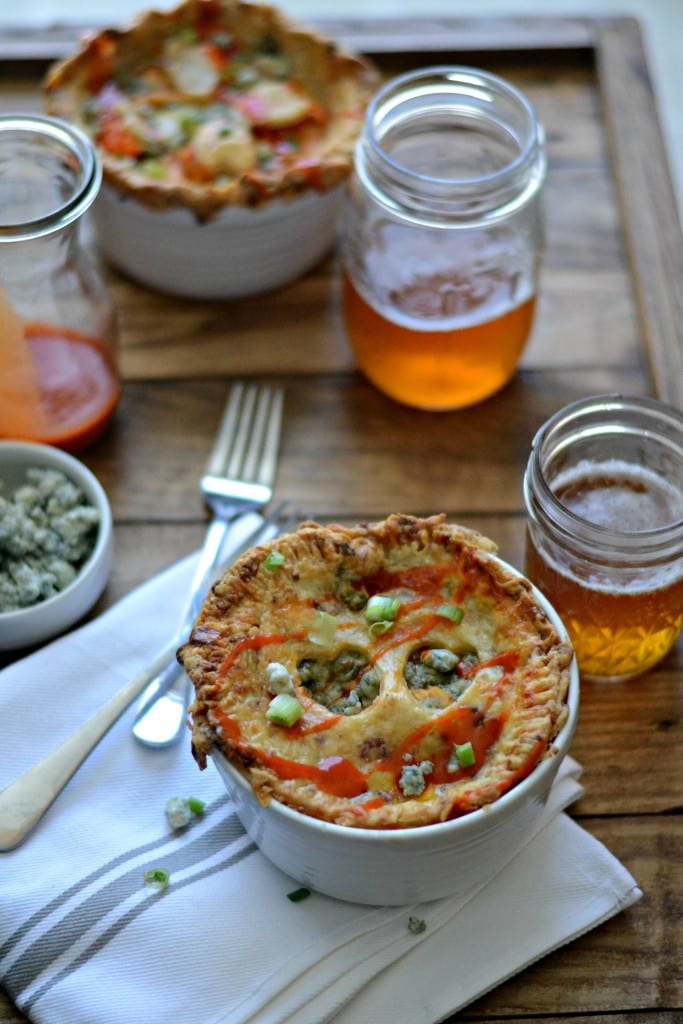 Hey Stephie. Yeah, you Stephie of Stephie Cooks!!! Surprise! Happy virtual bridal shower day!!!! Did we get'cha? I hope we surprised you because you deserve it and what's better to wake up to on a Monday than a bunch of friends showering you with recipes made just for you!
I have always made it well known on this site that I love Stephie. She was my first real blog friend. I can honestly say that meeting her on a blind friend date to meet Joy the Baker was one of the best things I ever did. Most times when you tell people you are a blogger, they look at you with a puzzled cockeyed face, so it really makes a world of difference having somebody who gets what you do and supports it 100%.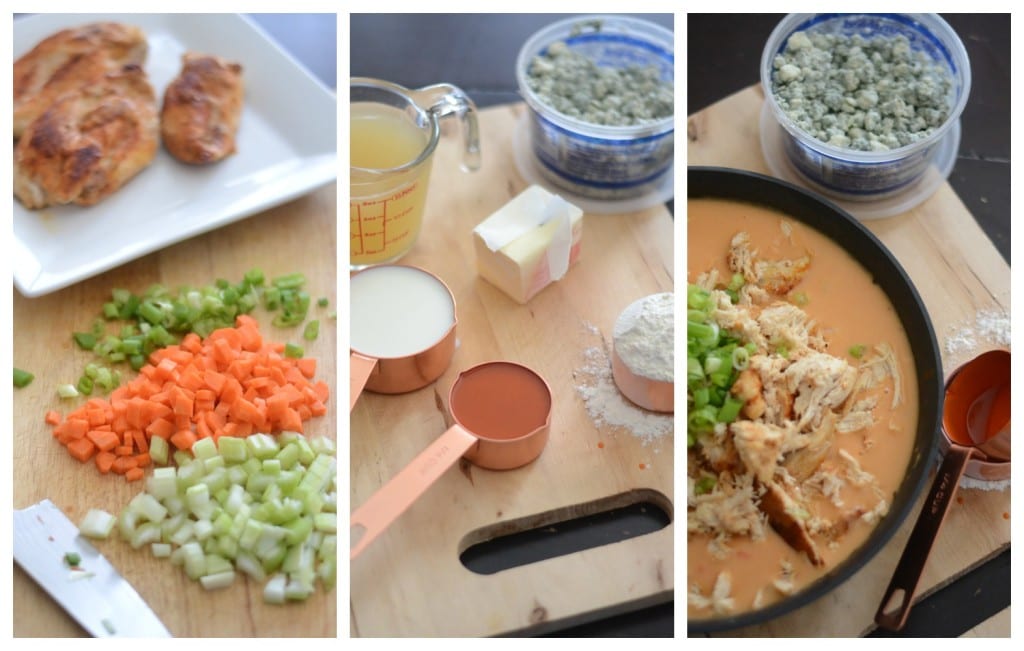 She has been my sounding board, ultimate source for blog related venting, teacher, and most importantly friend. We bonded over cooking and baking. Stephie convinced me to jump into baking, especially bread. I even started a sourdough starter because of her. However, mine died because I was lazy where as her starter, Methuselah, lived and prospered. I tried though! We have had sleepovers, cooking sessions, and soooo many emoji exchanges. I seriously love this girl.
When I first met Stephie she was in the midst of a dating dilemma and dealing with bad boyfriend issues. We spent many a conversations over sweet potato fries discussing said issues. Luckily, Stephie moved on from that ummm… how can I phrase it nicely, butthead… and then she met Alex! And she was so happy. She is happy. They moved in together, they got engaged. Awesome things are happening!!!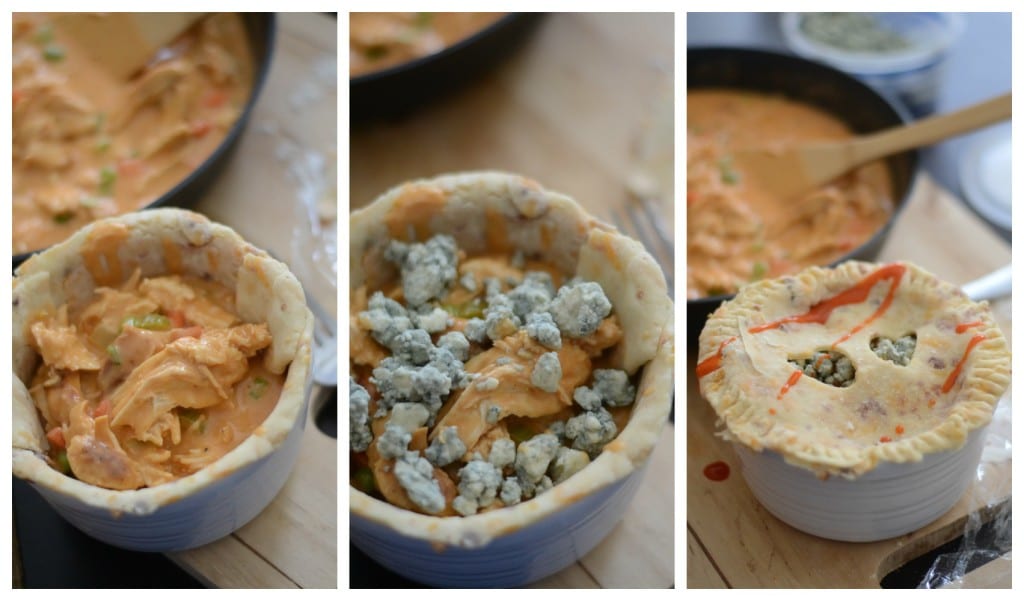 A lot of times life is not super awesome and can kind of get ya down, but having a person that gets you and brightens your day by your side makes all the difference. And for Stephie that is Alex.
Today a bunch of us made some food to shower you two, virtually of course.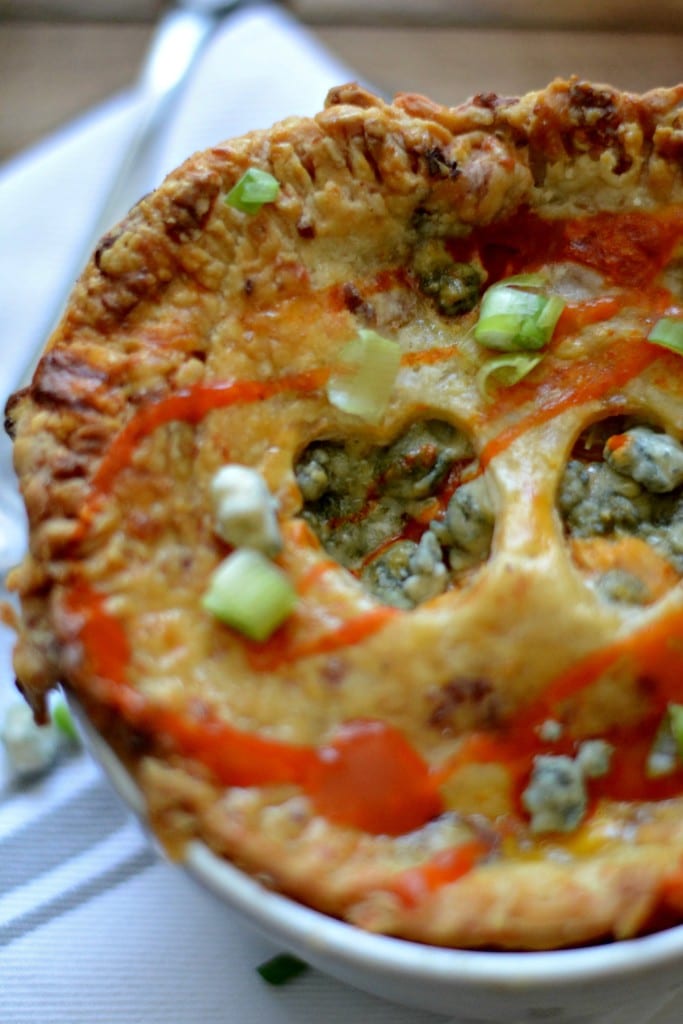 I think I have made the ultimate Stephie and Alex, all encompassing dish. I made bacon cheddar pie crust because Alex loves meat and Stephie is an expert pie crust maker. Then because Alex is a carnivore, I stuffed the inside with a creamy buffalo sauce, chicken, and blue cheese. This dish is definitely a labor of love, but if you break up the steps over a few days, it really isn't that bad.
Check out all the other lovely ladies contributing recipes today and be sure to leave Stephie some well wishes as her wedding day approaches (less than a month)!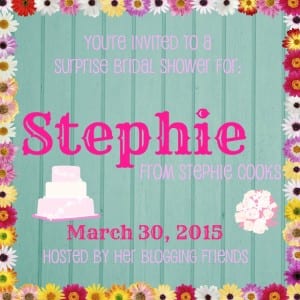 The Cooking Actress – Chocolate Shoofly Pie with Pecan Whole Wheat Crust
Girl Versus Dough – Mini Meyer Lemon Coconut Scones
Sarcastic Cooking – Mini Buffalo Blue Cheese Chicken Pot Pies
The Roasted Root – Sweet Potato Rounds with Guacamole and Bacon
A Cedar Spoon – Strawberry Mint Mascarpone Crostini with Lemon Honey Drizzle
Very Culinary – White Chocolate Raspberry Parfaits
Rachel Cooks – Broccoli and Bacon Beer Cheese Dip
Bluebonnet Baker – Maple Bourbon Balls
Nutmeg Nanny – Broccoli Bacon Salad
Laura's Mess – Spiced Apple and Buttermilk Cake
Seaweed and Sassafras – Herb and Cheese Scones
Stetted – Meyer Lemon Meringue Pie
All Day I Dream About Food – Chocolate Fudge Crumb Bars
Dessert for Two – Mini Lemon Cakes
Foodie with Family – Smoked Salmon Cucumber Pizza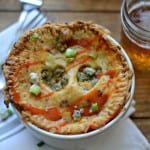 Mini Buffalo Blue Chicken Pot Pies with Bacon Cheddar Crust
The perfect mini pot pie with a twist! Buffalo chicken and blue cheese in a creamy buffalo sauce bubbled up inside crisp bacon cheddar pie crusts!!!
Prep Time
1
hour
20
minutes
Total Time
2
hours
20
minutes
Ingredients
For the Crust:

4

Slices

of Cooked and Chopped Bacon

2 ½

Cups

All Purpose Flour

1

Tablespoon

Sugar

1

Teaspoon

Salt

½

Teaspoon

Freshly Ground Black Pepper

1

Cup

Cold Unsalted Butter

cubed

1

Cup

Coarsely Grated Cheddar Cheese

½

Cup

plus 1 Tablespoon Buttermilk

For the Filling:

4

Large Boneless Skinless Chicken Breasts

2

Tablespoons

Olive Oil

½

Teaspoon

Salt

¼

Teaspoon

Pepper

¼

Teaspoon

Cayenne Pepper

½

Teaspoon

Smoked Paprika

¼

Teaspoon

Garlic Powder

¼

Teaspoon

Onion Powder

2

Celery Stalks

diced

2

Carrots

peeled and diced

2

Green Onions

chopped

1/3

Cup

Unsalted Butter

1/3

Cup

All Purpose Flour

1 ¼

Cups

Low Sodium Chicken Stock

½

Cup

Milk

½

Cup

Frank's Buffalo Sauce

½

Cup

Crumbled Blue Cheese

1

Large Egg

beaten
Instructions
To make the crust, whisk together the flour, sugar, salt, and pepper in a large mixing bowl. Use a pastry cutter to work the butter into the flour mixture until the butter is the size of peas. Mix in the cheese and bacon.

Pour in the buttermilk. Use a wooden spoon to mix the ingredients together until they are wet, sticky dough forms. Turn the dough out on to a heavily floured surface. Use your hands to slightly press the dough into a disk. Cut the disc into four equal portions. Form those into flat discs. Wrap each dough disc in plastic wrap and refrigerate for at least an hour and up to 24 hours. You can make the pie crust the night before you want to make the pot pies.

To make the filling, mix the seasonings together in a small bowl. Season each side of the chicken breasts with the mixture. Add olive oil to a skillet and heat over medium for a minute. Add the chicken to the pan. Cook for 10-15 minutes, turning once about half way through. After the chicken is cooked completely, move it to a separate plate, turn the heat down to low on the burner.

Add the butter to the pan. While the butter melts, use two forks to shred the chicken into bite sized pieces.

Once the butter melts, add the celery and carrots. Saute for only three minutes so the vegetables are still a little crunchy. Add the flour and whisk to combine and form a roux. Cook the roux for two minutes.

Slowly pour in the stock and milk while still whisking. Turn the heat up to medium and cook until the sauce thickens, about five minutes. Whisk in the buffalo sauce, add the chicken back to the pan and mix to combine evenly.

Preheat the oven to 350 degrees F. Take out a portion of crust and roll out as thin as you can, about 1/8 of an inch thick. Place your large ramekin on the dough and cut about an inch out around the ramekin. Place one dough circle inside of the ramekin, add two to three ladels full of the filling to the crust, sprinkle a big pinch of blue cheese on top, and then cover with the other dough circle. Cut a slit in the top, lightly brush the top crust with egg, and then crimp the two crusts together with a fork or pinch together using your fingers.

Place each prepared pot pie on a large baking sheet and bake for 35 minutes, until the top of each pie is golden brown.

Let the pot pies cool for 5-7 minutes before serving.